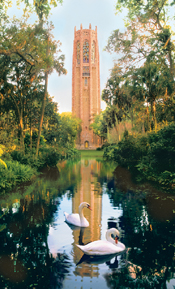 The Carillon Tower at Bok Gardens near Davenport.
Paardise Found
Hernando County
Hernando County has thousands of acres of glorious nature preserves, a grand Southern belle of a county seat and a thriving new-home market. Yet its national claim to fame is a spring full of faux mermaids.
Since 1947, tourists have visited Weeki Wachee Springs' underwater theater to watch the mermaids perform underwater feats, discretely breathing through air hoses placed strategically in the scenery. The venerable tourist attraction, which celebrated its
61st anniversary last year, is operated by the City of Weeki Wachee, population nine, and owned by the Southwest Florida Water
Management District.
Brooksville, the only other incorporated city in Hernando, is the county seat, and its history reaches back more than a century before mermaids began cavorting in the Weeki Wachee River.
Fort DeSoto was built on the northeastern edge of present-day Brooksville around 1840 to protect settlers from Indians. It also functioned as a trading post and a stop on the Concord Stage Coach Line, which ran from Palatka to Tampa.
Originally known as Melendez, Brooksville was renamed by
residents in honor of South Carolina Congressman Preston Brooks, a states' rights advocate before the Civil War famous for beating
an abolitionist senator over the head with his cane.
Today, Brooksville, population 7,500, retains its historic charm. Victorian homes line brick streets near the picturesque downtown, which is packed with antique shops, restaurants and the distinctive brick courthouse.
Unincorporated Spring Hill, on the county's west side, was first developed in the 1960s by the Deltona Corporation. Since then the population has more than doubled, from about 30,000 in 1990 to nearly 90,000 today.
Master-planned communities are sparking growth in central and eastern Hernando County, thanks in part to the Suncoast Parkway, a 57-mile toll road that runs from the Veteran's Expressway near Tampa International Airport to the Citrus County line.
However, substantial portions of Hernando County remain pristine. The Chassahowitzka National Wildlife Refuge comprises a portion of Hernando's northwest boundary, while the Withlacoochee State Forest and the slow-flowing Withlacoochee River frame its east side.
Nearer the coast, the 6,000-acre Weeki Wachee Preserve provides a home for black bears and bald eagles. And just off the coast lies a long expanse of shallow water stretching far out from land, creating excellent "flats" fishing. Hernando Beach, in fact, is thought to
be adjacent to the finest tarpon fishing grounds in the world.
Pasco County
Pasco County once had a split personality. The west-side communities of Holiday, New Port Richey and Port Richey were developed primarily for Midwestern retirees, who flocked to small, inexpensive homes up and down the U.S. 19 corridor.
Meanwhile, the county's east side, anchored by Dade City, remained vintage Florida. With the exception of Zephyrhills, which was—and still is—invaded by winter residents, the east side was populated mostly by natives, many of whom were longtime ranchers or citrus growers.
But in recent years, as both Hillsborough and Pinellas counties have begun to run out of developable land, growth has begun marching steadily into Pasco. New subdivisions have been appearing along the entire width of the C.R. 54 corridor on the county's southern boundary.
On the east side, New Tampa's growth has impacted Wesley Chapel and Zephyrhills, where pastures and groves are giving way
to neighborhoods. And in the central part of the county, around Land O' Lakes, the new Suncoast Parkway has opened up huge tracts for family-oriented, master-planned communities.
But long before anybody thought of doing anything more than raising cattle and harvesting lumber in central Pasco, there were several thriving towns and communities in other parts of the county.
Dade City became Pasco County's seat of government in 1887, when Pasco and Hernando counties separated. Before that, it was an Indian trading post. Today, Dade City's recently renovated, 1909 court-house remains a focal point. Downtown, with its quaint antique emporiums and eateries, draws visitors from all over Florida. Nearby San Antonio and St. Leo trace their origins to 1882, when Edmund F. Dunne, former chief justice of the Arizona territory, meandering through the hills north of Dade City with his cousin. The pair spotted an unusually clear lake and decided that its shores would be an ideal spot for a Catholic colony.
The pair named the lake Jovita because they had spotted it on the Feast Day of St. Jovita. In acknowledgement of
an answered prayer, Dunne named his planned town San Antonio, after St. Anthony of Padua. St. Leo, originally a spin-off of San Antonio, sits just to the east.
Its claim to fame is St. Leo University, a small liberal-arts college over-looking Lake Jovita.
Unincorporated Land O' Lakes is more of an area than a community. It didn't even have an official name until about 1950, when several residents came up with the whimsical moniker and installed it on the local post office. The name fits; there's more water than land in the area.
However all that waterfront, and its location just across the line from Hillsborough County, has made Land O' Lakes a desirable growth area. Developers have snapped up thousands of acres of ranchland and plan an array of new communities.
New Port Richey, Pasco County's largest municipality with 17,000 residents, was a quaint village on the Pithlachascotee River in the 1930s, when Works Progress Administration (WPA) writers dropped by to research their Guide to Florida. They extolled its abundant
petunias, snap-dragons and sweet peas, as well as the roads, which were shaded by oaks and magnolias.
New Port Richey's picturesque downtown is an ideal setting for the city's biggest annual event, the Chasco Fiesta, which honors a complicated romantic legend involving a Spanish boy and girl, a priest and a Calusa Indian tribe that captured them.
Zephyrhills, described in a 1912 newspaper article as "the healthiest place in Florida," is certainly the best-known Pasco County locale, thanks to Zephyrhills Brand Natural Spring Water, which is bottled here and sold around the world.
Polk County
Sandwiched between Orlando and Tampa Bay, Polk County is a bit like an overlooked middle child, sometimes overshadowed by flashier younger and older siblings.
But shine a spotlight on the county that sits in the geographical center of Florida and you'll realize that, despite its low profile, Polk County is a special place indeed. Larger than Rhode Island and as big as Delaware, with a population of more than a half-million, Polk County has a key selling point that also sometimes causes it to be overlooked: its location between two metropolises that are steadily growing toward one another.
Polk County has its share of bustling mid-sized cities, including its two largest: Lakeland, population 92,796, which is on Money magazine's "Best Places to Live in America" list; and
Winter Haven, population 32,577, which will soon be home to Legoland America, a new attraction to be built on the former Cypress Gardens property.
A thriving arts scene is also evident, with a string of museums, art centers and theaters. And architecture buffs can see the largest collection of Frank Lloyd Wright's work in one location on the campus of Florida Southern College.
But it looks like housing may be Polk's next big industry, particularly in the Four Corners area where Polk, Lake, Orange and Osceola counties meet. In addition, at the 365-acre former site of Boardwalk and Baseball at U.S. 27 and I-4, Boardwalk Land
and Development has built Posner Park, a pedestrian-friendly, mixed-use development, combining retail outlets with multifamily housing.