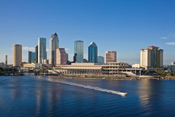 Paradise Found
THE WEST COAST IS HISTORIC AND MODERN, ARTSY AND SPORTS-CRAZED, BLUE-COLLAR AND TONEY.
The swath of west-central Florida beginning in Tampa and hugging the Gulf of Mexico south all the way through Sarasota is a microcosm of everything people love about the Sunshine State. There are major metropolitan areas bustling with activity; there are rural expanses dotted with Norman Rockwellian small towns; there are funky oceanfront communities where the living is easy; there are artsy enclaves where creativity is king. And, of course, there are beaches—miles and miles of sugar-sand beaches, including some of the most highly-rated in the country. Simply put, regardless of your age, your lifestyle or your circumstances, West Florida has a place ideal for you. But what's the best way to narrow your search? Well, you could start right here, by taking this county-by-county, city-by-city grand tour. We think you'll agree that when it comes to Florida living, the West Coast is truly paradise found.
Hillsborough County
Brandon
Settler John Brandon gave his name to this sprawling community in the 1850s and the railroad arrived in 1890. But not much else of significance happened here until 145 years later, when the giant Westfield Brandon mall opened.
Even then, plenty of cows were around to witness the hoopla. A herd of curious bovines, kept in a field near the mall, broke through a barbed wire enclosure and into the parking lot, startling drivers and pedestrians and leaving odorous souvenirs behind on an otherwise festive opening day.
Cattle are getting rarer in Brandon, which is located conveniently at the end of the Lee Roy Selmon Crosstown Expressway and near the junction of I-4 and I-75, creating easy access to both Tampa and Orlando.
In 1960, the first year a census was taken of Brandon, there were 1,655 residents. By 2007 there were 91,198. The geographic boundaries have grown as well, with Brandon now encompassing an area south of I-4, east of I-75 and south to Big Bend Road. The towns of Lithia, Seffner, Mango and a new rising star, Dover, are all considered part of the Brandon area.
In spite of its size, Brandon isn't a city. Instead, it's one of the largest unincorporated communities in Florida. And it's known for its family-oriented neighborhoods and its excellent local schools.
There are numerous entertainment venues nearby, such as The Florida State Fairgrounds, which holds year-round events and festivals while the theatre on the fairgrounds regularly presents pop, country and rock concerts.
The Seminole Hard Rock Hotel & Casino, complete with a 50-foot-tall guitar at the entrance, offers live entertainment, restaurants and bars and a full-service spa as well as slot machines, card games and roulette wheels.
DOWNTOWN TAMPA
Tampa started out as Fort Brooke, built in 1824 overlooking Hillsborough Bay. The peninsular Tampa area, which juts out into Tampa Bay, has had a military presence ever since.
In 1898, during the Spanish-American War, Tampa was a major staging ground for 30,000 of Teddy Roosevelt's Rough Riders,
who were preparing to invade Cuba. And MacDill Air Force Base is on the tip of the Interbay Peninsula, eight miles from downtown.
For many years, downtown Tampa was only a place to work. Now it's increasingly becoming a place to live as well, with condomin-iums planned from the downtown core through the Channelside District, adjacent to the Port of Tampa, and all the way to historic Ybor City.
The city's impressive skyline marks the bustling waterfront region and provides a gleaming glass-and-steel backdrop for many of the
area's high-profile attractions. The St. Pete Times Forum, Channelside entertainment complex, Florida Aquarium, Yacht Star-Ship and Ybor City provide plenty of opportunities for fun and relaxation on or near the water.
The west side of downtown, along the beautiful Hillsborough River, is home to the Tampa Convention Center, Tampa Bay History Center, Tampa Museum of Art, University of Tampa, Henry B. Plant Museum (formerly the Tampa Bay Hotel) and Tampa Bay Performing Arts Center.
But there's probably no place in Hillsborough County with a more active nightlife than Ybor (pronounced E-bore). This funky National Historic Landmark District—the second largest in Florida, after St. Augustine—was once home to cigar factories where Cuban immigrants toiled, hand-rolling cigars as el Lector read newspapers and novels to them.
Ybor's energy has attracted a burgeoning creative class, including architects, engineers and designers. And on the east side, there's an industrial area teeming with manufacturers and distributors.
NEW TAMPA
For generations, Bruce B. Downs Boulevard had been known as "the Road to Nowhere," carved out so a few prominent families could access their hunting camps in northeast Hillsborough.
Eventually, much of the land was sold off in large tracts to developers, including a Denver wheeler-dealer named Ken Good, who developed 9,100 acres as Tampa Palms. In 1985 he convinced the city of Tampa to annex the land, which was barely contiguous to Tampa proper. It became the city's largest annexation of residential acreage in 100 years.
Good's grasp eventually exceeded his reach, but Tampa Palms survived his personal and financial travails, eventually inspiring a generation of developers to build similar master-planned communities, which are now the backbone of New Tampa.
In 1993, business leaders formed the Northeast Area Council and christened the area New Tampa, a name intended to give it a distinct identity while firmly tying it to Tampa proper. Today the organization is known as the New Tampa Community Council.

NORTHWEST HILLSBOROUGH
Carrollwood is a rapidly growing community 15 miles northwest of downtown Tampa, although longtimers tend to view it as two communities: "Original" Carrollwood and "New" Carrollwood.
Original Carrollwood is defined as the 983 homes built from the 1950s through 1974 by developer Matt Jetton. Those 983 homes, all with access to 200-acre Lake Carroll, sold from $20,000 to $40,000.
Original Carrollwood residents are enthusiastic about the community's new recreation center and facilities for both lake parks that lie within its borders. New Carrollwood is far more diverse, with 30 communities offering homes in many styles and price ranges.

SOUTH TAMPA
Located just minutes southwest of downtown, South Tampa features the longest continuous sidewalk in the world— yes, the world— along beautiful Bayshore Boulevard overlooking Hillsborough Bay.
The bayfront is the site of Gasparilla, Tampa's longest-running and most renowned event. Since 1904, the city's movers and shakers in Ye Mystic Krewe Gasparilla have donned pirate garb, boarded a replica pirate ship and "invaded" the city. The colorful celebration, held each winter, has parades, balls, fireworks and other festivities.
But South Tampa is home to more than Gasparilla. It also boasts a huge number of eclectic neighborhoods.
The posh Palma Ceia Community and Country Club and Bayshore Yacht Club have traditionally been home to the city's power-elite. But all of Bayshore Boulevard, with its majestic homes and its see-forever views, is a magnet for the wealthy. One
prestigious address is Hyde Park, which has a healthy stock of renovated older homes and an eclectic outdoor shopping district called Hyde Park Village.
MacDill Air Force Base, activated in 1941, sits at the tip of the Interbay Peninsula. Today, MacDill is home to the U.S. Special Operations Command.
South Tampa also offers bicyclists and rollerbladers a link to Pinellas County via the "old" Gandy Bridge to St. Petersburg. After a new bridge was completed in 1997, the circa-1920s span was spared demolition at citizens' urging. Now, more than 500,000 people annually use the renamed Friendship Trail Bridge
SOUTH SHORE
South Shore is a relatively new name for an area previously known generically as "South County." The rapidly developing region includes the communities of Apollo Beach, Riverview, Gibsonton, Ruskin and Sun City Center. An estimated 15,000 new homes are on their way here and more are in the pipeline.
Following is a look at the five communities of South Shore from north to south.
Riverview, first named Peru, was settled on the banks of the Alafia River in 1856 and received its supplies from Tampa via a small steamboat. Now, thanks to modern roads, Riverview is just minutes from downtown yet maintains the feel of a small town, where residents can enjoy canoeing or fishing on the river or bay.
Gibsonton enjoys a global reputation for its ties to circus performers who winter there and affectionately call it "Showtown USA." The National Showmen's Association is headquartered there, and a permanent museum is planned to commemorate the community's wilder days.
Apollo Beach has a front-row waterfront seat on the bay as well as 55 miles of navigable canals, making it a haven for lovers of water sports. All that water provides a tranquil setting for outdoor events and festivals, including the Manatee Arts Festival.
Ruskin was founded in 1910 as a socialist colony by George M. Miller, a Chicago lawyer and educator. It was named for British social philosopher John Ruskin, an active promoter of art education and museums for the working class. But Ruskin is now more associated with the prized plump tomatoes grown there than with any social philosophy. In addition to its tomato patches, the community at the mouth of the Little Manatee River also boasts sun-dappled inlets and bright bay waters, mangrove islands and marshy canoe trails.
Sun City Center, about 25 miles southeast of Tampa, was one of the nation's first active-adult communities. It remains popular for busy 55-plus homebuyers. Residents enjoy more than 200 arts, social, craft and civic clubs as well as a plethora of activities—most notably golf—and special events year-round.

PLANT CITY
Plant City, the self-proclaimed "Strawberry Capital of the United States," is one of the area's older communities. As early as 1839, Fort Hichipucksassa—named for an Indian village—was here, housing several hundred intrepid settlers.
In 1843, a town was platted bearing the same tongue-twisting name. But when a post office was established six years later, an Irish postmaster is said to have re-named the community Cork because of the not-so-surprising difficulty even locals encountered when trying to spell or pronounce the original moniker.
The area was incorporated as Plant City in 1885, but the name had nothing to do with agriculture; it refers to railroad magnate Henry B. Plant, who extended tracks to the burgeoning community.
Today, Plant City's downtown is charming and picturesque, its brick streets lined with small shops, restaurants and antique emporiums. Three buildings are on the National Register of Historic Places.
Plant City, population 33,000, is also the world headquarters of the International Softball Federation and the future site of the World Softball Hall of Fame. But it's the city's agricultural heritage that's celebrated each spring during the 11-day Strawberry Festival. The big event, which attracts more than 800,000 people, features sweet strawberry shortcake, big-name country musicians, rides and exhibits.
Temple Terrace/Thonotosassa
Sandwiched between Tampa proper and New Tampa, Temple Terrace may appear to be just another difficult-to-distinguish suburb. But this city of 23,000 is one of only three municipalities in all of Hillsborough County—the others are Tampa and Plant City—and has a rich history all its own.
Developers Burks Hamner, Vance Helm and D. Collins Gillette bought the land that would become Temple Terrace in 1920 and 1921 from the Potter Palmer family, who had been using it as a hunting preserve. The trio began carving homesites and a golf course out of dense woods.
The city of Temple Terrace, named for the Temple orange, was incorporated in 1925. Sadly, however, most of the orange trees were wiped out by freezes in the winter of 1927 and 1928. The stock market crash in 1929 put an end to most development.
Growth in Temple Terrace resumed during the housing boom following World War II. And although the city is now mostly built-out, planners have revived the idea of building a downtown district.
Thonotosassa, located just east of Temple Terrace, was settled by the Seminole Indians and named for its abundant stocks of flint. With rolling hills, orange groves, mature trees and beautiful 900-acre Lake Thonotosassa, the area is drawing people seeking rural beauty near urban amenities.
Pinellas County
THE Beaches
Some of the region's best beaches are in Pinellas County, stretching north 35 miles from Fort De Soto to Fred H. Howard Park in Tarpon Springs. There are 12 beachfront communities, each with its own government and its own idiosyncrasies. Here are some beach community highlights.
Fort De Soto, a county park, was chosen the best beach in the United States again in 2005 by "Dr. Beach," a.k.a. Dr. Stephen Leatherman, a coastal scientist who issues an annual Top 10 list of beaches. The park also includes a beachfront campground where dogs are welcome.
For those seeking more luxurious beachfront accommodations, head south to the historic Don CeSar Beach Resort, a pink confection that opened in 1928.
There are three other substantial beach parks in Pinellas County. Sand Key Park, on the tip of the Sand Key barrier island, overlooks Clearwater Pass and the Gulf of Mexico. Honeymoon Island State Recreation Area, just across the causeway from Dunedin, was originally marketed in the 1940s as a getaway for newlyweds, who were invited to ensconce themselves in quaint thatched huts.
If you're looking to get even farther away, head to Caladesi Island. Accessible only by private boat or a ferry from Honeymoon Island, Caladesi is one of the few completely unspoiled islands left along Florida's Gulf Coast.
CENTRAL PINELLAS
While Pinellas residents play at the beaches, many live, work and shop in Central Pinellas. The cities of Seminole, Largo and Pinellas Park all seem to blend together, but their location in the middle of the Pinellas peninsula certainly makes them convenient.
Much of the county's industrial heart is here, too. While tourism remains Pinellas' biggest industry, manufacturing is making inroads. In fact, the county is second in the state in number of manufacturing employees.
Location has made condominiums near the west side of the Gandy Bridge popular for buyers who commute to Tampa yet want to remain close to Pinellas' beaches and other amenities.
This densely populated region began booming in the late 19th century, when the Orange Belt Railroad made it a vital center of the Florida citrus industry.
Heritage Village, in Largo, is a testament to that era. The park encompasses a village made up of 22 structures, some dating back to the mid-19th century. There's a log house, said to be the oldest existing structure in the county, and the Victorian-era Seven Gables House.
clearwater
Clearwater's charms were spotted early. Spanish explorers discovered freshwater springs burbling from tall bluffs overlooking the harbor and named the area Clear Water.
These days, that same harbor view is accessible to everyone at Clearwater's Coachman Park, home to the annual Clearwater Jazz Holiday Weekend.
Clearwater became the county seat when Pinellas County separated from Hillsborough County in 1912. It's now the county's second-largest municipality.
Tourism arrived early in Clearwater. When Henry Plant brought the railroad to town in 1897, he built the Belleview Biltmore Hotel on a bluff just south of Clearwater proper in Belleair. The 247-room wooden structure, which is listed on the National Register of Historic Places, is now the Belleview Biltmore Resort.
With land ever scarcer, new residential development in Clearwater tends to be multifamily. But it's the beaches, across the newly built Clearwater Memorial Causeway Bridge from downtown, that are seeing the most activity, as mom-and-pop motels are replaced with high-rises.
Dunedin
Dunedin's small but robust downtown should be the envy of many other cities that have tried but failed to breathe new life into their city centers.
The catalyst for its renaissance was the Pinellas Trail, an abandoned railroad corridor that now delivers gaggles of thirsty skaters and bicyclists directly to Dunedin's Main Street. Plenty of restaurants accommodate the crowds, some featuring outdoor seating.
Dunedin is the oldest city in Florida south of Cedar Key. It became a major seaport in the mid-1800s after a dock was built large enough to accommodate schooners and sloops. Originally called Jonesboro, after a general store owner, it got its present name in 1882 when two Scottish merchants circulated a petition calling for the post office to be named Dunedin, after the city in Scotland.
Proud of its Scottish heritage, modern-day Dunedin hosts a Highland Games each spring. Art lovers flock to the Dunedin Art Harvest each fall, while the Toronto Blue Jays come to town each year for spring training.
East Lake/Palm Harbor
East Lake and Palm Harbor sit side-by-side in northern Pinellas County, divided by huge Lake Tarpon. Both communities are unincorporated, although Palm Harbor boasts a charming downtown with historic buildings. Thousands enjoy its many festivals, including the Palm Harbor Chamber Arts, Crafts and Musical Festival in December.
While most of Palm Harbor is built out, two quaint villages with eclectic housing remain.
Ozona, west of Alternate U.S. 19, is older than Palm Harbor and boasts its own post office as well as a popular circa-1900 recreation center. The community, which began as a fishing village, was originally called Yellow Bluff because it sat on a high mound of yellow sand visible from the bay. The name was discarded because boosters feared it would bring to mind yellow fever.
The current, less frightening moniker may have been suggested by two doctors from Chicago and St. Louis who brought asthmatic patients to the area for treatment. Although "ozone" doesn't have entirely favorable connotations today, at the time it was thought to suggest invigorating breezes.
A little north of Ozona—and decidedly off the beaten track—is Crystal Beach, a tiny, Key West-style community with an eclectic assortment of homes.
Until about 20 years ago, there were more cows than people in East Lake, which was home to sprawling Boot Ranch. Today, the only vestige of the community's ranching heritage is the "Boot Ranch" name on a subdivision and an Albertsons/Target complex. A huge orange concrete cowboy boot that once marked the edge of Boot Ranch now welcomes grocery shoppers.
While most people call the area East Lake, residents typically have Palm Harbor, Oldsmar or Tarpon Springs addresses.
safety harbor
The springs bubbling up on the shores of Tampa Bay first brought people to Safety Harbor. The Timucuan Indians, who called the area Tocobaga, were here when the Spanish explorers Panfilo de Navarez and Hernando de Soto dropped by. De Soto, who was seeking the legendary Fountain of Youth, was particularly interested in the springs, which he named Espiritu Santo.
The springs continue to lure those seeking to stem the ravages of age. The world-famous Safety Harbor Spa and Resort, which attracts visitors from across the country, is built over the springs and still uses its healthful waters for some spa treatments.
Safety Harbor also was home to the first non-native settler on the Pinellas County peninsula. Count Odet Philippe, who claimed to be the personal physician of Napoleon Bonaparte, acquired 160 acres of land here in 1842.
Philippe is credited with introducing citrus growing and cigar making to the area. The 122-acre Philippe Park, overlooking the bay, was part of the original Philippe plantation.
St. Petersburg
St. Petersburg has undergone a complete personality
change in the past 15 years. The once-sleepy city, formerly nicknamed "Heaven's Waiting Room" for its plethora of senior citizens, is now bursting at the seams with new energy, new residents and new architecture.
In other words, this isn't your grandfather's St. Petersburg. In fact, the burgeoning city is a leader in urban redevelopment, channeling a series of bold new projects into its downtown waterfront district.
There's BayWalk, with restaurants, shopping and a 20-screen movie theater. Baseball lovers can cheer on the Tampa Bay Rays at Tropicana Field. And the city becomes an urban racetrack once a year when the Honda Grand Prix of St. Petersburg comes to town.
Excellent restaurants, antique shops, a historic pier and a series of waterfront parks along Tampa Bay add up to a community that ranks high on any quality-of-life index.
St. Petersburg proper got its start in 1875, when developer John Williams of Detroit bought 2,500 acres of land on Tampa Bay. He planned a city with parks and broad streets, features that are still there today.
But while Williams had a vision for a city, it was a Russian aristocrat who helped him make the vision a reality. Williams made a deal with Piotr Alexeitch Dementieff, an exile of noble birth, offering him an interest in the land if Dementieff would build a railroad into the territory.
In 1888, the enterprising Russian, who had simplified his name to Peter Demens, made good on his part of the deal when the first train on the Orange Belt Line chugged into town carrying empty freight cars and a shoe salesman from Savannah.
The story goes that Williams and Demens tossed a coin to decide a new name for the town. Demens won, and the city was dubbed St. Petersburg, after the majestic Russian city from which he hailed.
Downtown St. Petersburg is surrounded by neighborhoods boasting plenty of trees, wide streets and sidewalks ideal for evening strolls. Old Northeast, for example, is a shady historic district dating back to the early part of the 20th century with many architectural styles, including Bungalow, Colonial, Mediterranean and even Prairie-style homes.
The Old Southeast, a rapidly evolving community that starts where the University of South Florida St. Petersburg campus, Salvador Dali Museum and Poynter Institute for Media Studies end, is equally dynamic and desirable—but somewhat more affordable.
tarpon springs
More than 100 years ago, Greek sponge fishermen left Key West for Tarpon Springs when plentiful beds of the squishy sea creatures were discovered off the coast.
Their impact was immediate and lasting. To this day, Tarpon Springs remains steeped in Greek culture. The Chamber
of Commerce uses Greek alphabet characters along with traditional lettering on its Web site. Honey-laced baklava is a common dessert at restaurants. And St. Nicholas Greek Orthodox Cathedral, a replica of St. Sophia in Constantinople, remains a focal point.
The annual January 6 celebration of Epiphany, the baptism of Jesus by John the Baptist, is thought to be the biggest Epiphany celebration in the Western Hemisphere, attended by tens of thousands.
But there's plenty to see and do here all year round. Tourists flock to the historic sponge docks on the Anclote River, where there are shops and educational exhibits showing the cumbersome diving suits once worn by sponge divers.