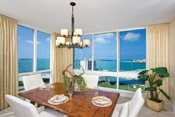 Water's Edge
Water's Edge
It's the very definition of cool.
Downtown Clearwater's emerging Cleveland Street District, dotted with funky boutiques, mom-and-pop eateries and a revived performing arts theater, is also flanked by a new $12.8 million deepwater marina and a waterfront park on sparkling Clearwater Harbor.
It's a picture-postcard setting that exudes a casual, artsy, beachy bustle. But what's driving the district's renaissance?
Overlooking the activity from its vantage point on a bluff adjacent to Clearwater City Hall is Water's Edge, which at 26 stories is downtown's tallest building.
The finely detailed, neoclassical-style building encompasses 153 condominium units, 85 percent of which boast panoramic views of the bay, the Gulf of Mexico, several barrier islands and, in the distance, the lights of St. Petersburg and Tampa.
And, despite what you've read about the stagnant real estate market, these units are selling. In fact since last July, more than 50 percent have been sold and the remainder are moving at a brisk pace.
The numbers do't lie. Water's Edge has become the bestselling condominium project in Pinellas County since its grand opening last July, according to statistics from the National Association of Realtors Multiple Listing Service (MLS).
Fred and Annette Arnoul recently purchased a unit at Water's Edge after living on Sand Key for 25 years. "The magnificent views and less seasonal tourist traffic was what drew us to Water's Edge," says Fred Arnoul. "Downtown Clearwater is undergoing a tremendous revitalization, and Water's Edge is in the center of it all, with its waterfront location that's within walking distance of new restaurants, shops, a theater and even a marina and city-owned tennis courts. It's perfect for us."
Quality, location and amenities are important, of course. But another factor driving buyers: units are available at prices up to 50 percent lower than in 2008, when the project debuted.
City Residences, encompassing two bedrooms and two bathrooms in 1,331 square feet, were originally offered at $422,000. Those same units are now priced at $204,900.
Even seven-figure units, topping 2,420 square feet with three bedrooms and two-and-a-half bathrooms, are now available for little more than $600,000.
Grant Wood, president of Stingray Asset Management, is overseeing the sales effort along with Smith & Associates Real Estate. He says the project's combination of posh appointments, stellar location and unprecedented value is working.
"This is a generational opportunity for people who want a primary residence or second home with spectacular views at an amazing value," Wood says.
Just two years ago, the building sat largely vacant, a victim of the real estate market's decline. But what a difference two years – and a new owner – can make.
The new owner is Concierge Asset Management (CAM), a San Francisco-based company that specializes in buying and relaunching troubled properties with potential. And Maxwell Drever, the company's founder, wasted no time in leaping on what he believed to be an unprecedented opportunity with Water's Edge – a project that had everything going for it, except timing.
"This is one of the nicest buildings I've ever seen," says Drever. "I don't think you'll see anything like this so favorably priced again in my lifetime."
Drever added that such steep discounts are possible because CAM bought the property for less than the cost of constructing it.
Plus, Water's Edge has Federal Housing Administration (FHA) approval while Fannie Mae approval is pending, making it possible for qualified buyers to obtain low down payment and fixed-rate mortgages at competitive rates.
Some residents for whom Water's Edge serves as a second home may offer their units for lease, but a minimum 90-day lease requirement means you won't be encountering new neighbors on a weekly basis.
Today, Water's Edge appears prepared to achieve its original promise as Clearwater's residential crown jewel and the catalyst to reinvigorate an ongoing downtown renaissance.
Clearwater Mayor Frank Hibbard put it succinctly: "What do Apple, Microsoft and Water's Edge have in common? They're all opportunities that you would have wanted in on, on the ground floor."
But despite what the owner and the sales team say, residents, of course, are any project's best sales people. And residents of Water's Edge are quick to sing its praises.
Craig Taylor, a fashion designer who moved to Clearwater from Los Angeles, said that he was impressed with the building's tasteful architecture and upscale finishes. "The original builders obviously spared no expense," he says. This is beautifully done."
Taylor says "I have to pinch myself" every day because his home seems more like a luxurious resort.
WATER'S EDGE OFFERS AN ARRAY OF CHOICES
The average-sized residence in Water's Edge is 1,981 square feet, which is bigger than many single-family homes in the region. Here are the styles from which buyers may choose.
n Tower Residences. Ranging in size from 1,383 to 2,425 square feet, Tower Residences feature floor-to-ceiling, solar-tinted windows and covered balconies with views in every direction. Spacious living areas adjoin gourmet island kitchens. Prices range from $253,000 to $764,000
n Poolside Residences. Ranging in size from 1,458 to 1,954 square feet, Poolside Residences feature private patios overlooking the fifth-story amenity level's resort-style heated pool, spa, cabanas, outdoor fireplace, grill and lounge. Prices range from $249,900 to $386,000
n City Residences. Ranging in size from 1,331 to 1,494 square feet, City Residences are Water's Edge's most affordable option – but they don't scrimp on upscale finishes. Prices range from $204,900 to $242,000.
AMENITIES MAKE HOME A RESORT EXPERIENCE
Water's Edge is distinguished by an amenity package that combines what you'd find in an upscale resort or a boutique hotel.
There's a fitness center with state-of-the-art equipment and his - and - her steam rooms, a social lounge with a billiards room, a private dining room with a catering kitchen and a business center.
Internet access is available in the social room and 24-hour security, including a doorman and gated entry, is provided. Every residence gets air-conditioned storage space and all but four one-bedroom residences get two covered parking spaces in the building's five-story parking garage.
The fifth-floor amenity deck features a heated pool and spa, an outdoor fireplace, a grilling area and cabanas. There are full-time, on-site property management and maintenance staffs as well.
URBAN LOCATION, SMALL-TOWN FEEL
Clearwater's Cleveland Street District is emerging as a Pinellas County treasure, boasting intriguing shops, excellent restaurants and live music.
The city's $10 million streetscape and revitalization effort is obviously bolstering the district's renaissance, as is the popularity of Water's Edge, which is bringing more potential customers to the businesses that are expanding or just opening their doors.
It's a welcoming place for families but also offers plenty of nightlife, say city officials. One of the district's cooler offerings is the 90-year-old Capitol Theater, a former vaudeville house that now hosts nationally known touring musicians, comedians and stage shows.
At the center of it all is Water's Edge, located just a block from the main branch of the Clearwater Public Library and just steps from waterfront Coachman Park, site of the annual Clearwater Jazz Holiday. The newly completed Clearwater Harbor Marina is also adjacent to the property.
If attractions are more your style, just across the bridge by car or pedestrian walkway, is recently redeveloped Clearwater Beach and its new Beachwalk Promenade.
And Tampa Bay's vibrant culture and nightlife, as well as its professional sports venues, business center and international airport, are just a short commute, meaning that Water's Edge truly offers a centrally located, low-maintenance lifestyle.
Water's Edge
331 Cleveland Street,
Clearwater, FL 33755
Now open for private tours. Call
727-290-4646 for an appointment.
clearwatersedge.com