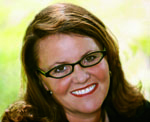 Kim Hannigan Publisher
Housing is Finally Back!
Mike Castleman, founder of MetroStudy, a company that tracks real estate trends, Makes no bones about it. Housing is back, he says.
In fact, Castleman predicts a severe shortage is in the offing, which will lead to rising prices. "Buyers will show up looking for a house in a subdivision, and all the houses will be sold," says Castleman." The builders will tell them it will take six months to deliver a house. But those folks will be set on buying a place. And they'll want it so bad they'll bid the prices up."
In other words: Beat the crowd.
More good news came from a recent Deutsche Bank study, which concludes that Florida will lead the way in the coming recovery. Prices in the state are, frankly, pretty much irresistible, the bankers say. And Florida – particularly the Tampa-St. Pete area – has lost little of its allure for boomers seeking warm weather.
In fact, of the Deutsche Bank Top 10 Markets for Buyers, three are in Florida: Orlando, Jacksonville and the Bay area. In all three markets, it's now considerably less expensive to make the average mortgage payment than it is pay the average rent – a situation that hasn't existed in recent memory.
Certainly, it's a good time to shop and see what's available. You can start in the pages of this issue and on our Web site at florida-homebuyer.com. After all, if brand-new Cadillacs were selling today for one-third less than they sold for several years ago, you'd be in the market for a car.
That's the situation we're in. If you're a buyer, enjoy it while it lasts.
KIM HANNIGAN
Publisher