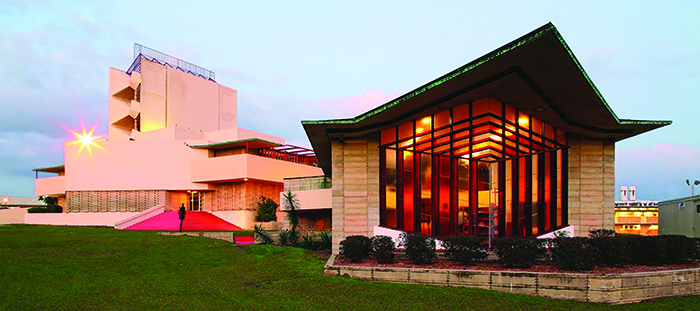 One of the major attractions in Polk County is Florida Southern College, which encompasses the largest number of buildings designed by legendary architect Frank Lloyd Wright. Just about every structure on the campus is a distinctive modernist masterpiece, all carefully restored and maintained.
OUR TOWNS — POLK & VOLUSIA COUNTY
Polk County
Shine a spotlight on Polk County, which sits in the geographical center of Florida, and you'll realize that, despite its low profile, the county is both distinct and growing — particularly in the Four Corners area where Polk, Lake, Orange and Osceola counties meet.
Growth is happening there by virtue of neighboring communities, including Horizon West and its five designated mixed-use villages, plus the bulging megadevelopments Celebration and Bay Lake, among others.
Polk County has picturesque small towns and giant master-planned communities; historic tourist attractions; a college (Florida Southern in Lakeland) designed by legendary architect Frank Lloyd Wright; a vibrant arts community; and a diversified economy.
Tourism was thriving here many years before Walt Disney started buying land in Central Florida, and visitors continue to boost the local economy at attractions such as the Legoland Florida Resort in Winter Haven and the historic Bok Tower Gardens in Lake Wales.
Polk County has its share of bustling midsized cities, including its two largest: Lakeland (population 102,700) and Winter Haven (population 36,700). Laid-back Bartow (population 18,500) is the county's seat, while Davenport (population 7,300) has emerged in recent years as one of the region's hottest boomtowns for new development.
Lake Wales (population 16,000) has been named Florida's population center by the U.S. Census Bureau — the result of a geographic calculation done every decade to summarize population shifts across the country. It's the closest city to the middle of Florida's population.
A thriving arts scene also is evident in Polk, with museums, art centers and theaters. Sports tourism is also a very big deal.
In fact, Polk County Tourism and Sports Marketing (PSCM) — part of Visit Central Florida — is the only organization in the state to earn both the Sports Organization of the Year award from the Governor's Council on Physical Fitness and the Florida Sports Foundation's Sports Commission of the Year Award.
Also, PCSM has been recognized as the Sports Organization of the Year by both the Independent Softball Association and Youth Basketball of America. It's an official division of Polk County government.
How's this for a tourist attraction in youth athletics? Lake Myrtle Sports Park in Auburndale is a multipurpose sports complex that encompasses nine collegiate-size baseball fields (sodded with type 419 Bermuda grass on all playing surfaces) and 11 lighted soccer fields.
Events hosted there have ranged from the National Dog Agility Championships and regional rugby championships to the RussMatt Central Florida Baseball Invitational — which is the nation's largest collegiate baseball tournament.
Similarly, the AdventHealth Fieldhouse and Conference Center in Winter Haven features a 58,400 square foot multiuse gymnasium space that accommodates six basketball courts or 12 volleyball courts and a second-floor observation area.
Polk County is home to more than 220 annual sporting events and serves as the headquarters for USA Water Ski and the Florida Youth Soccer Association.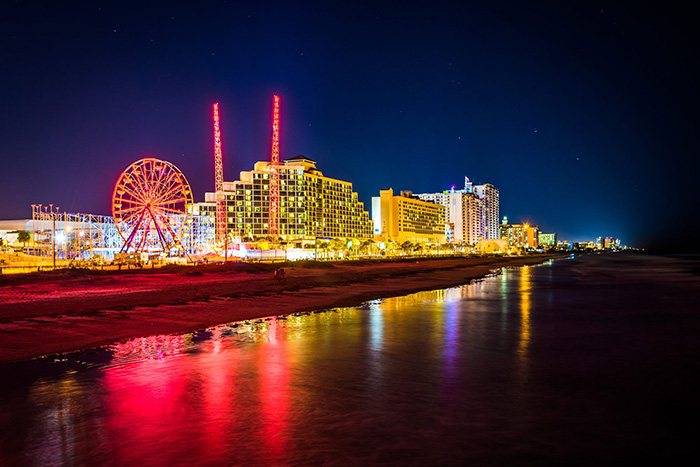 Volusia County
Geographically, Volusia County sits 50 miles northeast of Orlando, between the St. Johns River and the Atlantic Ocean. But these days, in a region where the growth is pushing outward in all four directions, geography doesn't mean as much as it once did.
Indeed, as metro Orlando spreads north and east along Interstate 4 through Seminole County, west Volusia is directly in growth's path.
Today the area, once identified almost exclusively with Daytona Beach (population 72,600), is emerging as a suburb of Orlando. For example, with 96,000 residents, Deltona has long since surpassed Daytona Beach as the largest municipality in the county. It has seen monumental growth since 1980.
Much of the activity is spurred by commercial development along the High-Tech Corridor, which runs the length of Interstate 4 between Tampa and Daytona Beach.
In addition, the widening of the Interstate 4/St. Johns River Bridge alleviated one of the region's most annoying traffic bottlenecks, making the western portion of Volusia an easy 30-minute commute to downtown Orlando.
Buyers have discovered the impressive stock of historic homes west of downtown DeLand (population 37,700), which is clearly one of the coolest small towns in Florida.
The quaint downtown district, which is on the National Register of Historic Places, is thick with eateries and antique shops. And stately Stetson University, which has been located here since 1883, adds an air of permanence.
Meanwhile, tiny Lake Helen (population 2,800) is holding its breath as Victoria Park adds 4,000 homes and 10,000 residents right near the city's border. The rural enclave is expected to grow nearly 20 percent by 2025.
Those interested in more natural settings, plus an unusual lunch, may head north on U.S. 17 to De León Springs State Park, where you can cook your own pancakes at the Old Spanish Sugar Mill and then paddle a canoe through the wilderness.
In the winter, manatees seeking warmer water can be seen lolling around at Blue Springs State Park. In the summer, humans seeking relief plunge into the same bubbling blue oasis.
Many of the changes in Volusia County involve Daytona Beach, especially around Interstate 95 and LPGA Boulevard.
Five or six years ago, big stories included the arrival of a Trader Joe's distribution center, the opening of Tanger Outlets Mall and the Tomoka Town Center, and the completion of a new headquarters site for TopBuild Corp., a Fortune 1000 company.
Then came more retail, restaurants, apartment complexes and the massive live/work/play communities of Mosaic and Latitude Margaritaville.