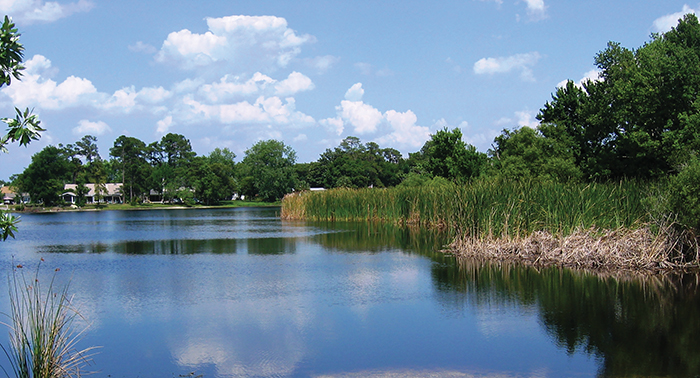 If all you know about Seminole County is what you see while driving along U.S. Highway 17-92, then you need to get off the beaten track and check out the county's natural beauty, such as Lake Triplett in Casselberry. Seminole County has 148 lakes, 29 parks, 89 miles of trails and 6,000 acres of preserved wilderness areas.
OUR TOWNS — SEMINOLE COUNTY
Altamonte Springs
Although Altamonte Springs was incorporated in 1920, its population totaled only 5,000 as recently as 1970. But that was before developers turned this erstwhile whistle-stop into a thriving suburb.
Today, Altamonte Springs, population 45,300, is known both for the Altamonte Mall, built in 1974 as the area's first regional mall, and the newer Uptown Altamonte, as well as for the presence of virtually every franchised eatery in the world.
Uptown Altamonte, which spans more than 25 acres on the shores of a 40-acre manmade lake, now has established itself as the pulse of Altamonte Springs and serves as an economic and aesthetic focal point.
Many of the city's subdivisions can be found along Palm Springs Drive, Maitland Avenue and Montgomery Road, not far from the mall. Some of the older developments are nestled around hidden lakes that seem far removed from the hustle and bustle.
Multifamily housing also is plentiful, with approximately three-dozen apartment developments located within the city limits, primarily along Semoran Boulevard, also known as State Road 436. Apartment living, plus the convenience of shopping and entertainment venues, has made Altamonte Springs popular among young adults.
Casselberry
Founded by World War I veteran Hibbard Casselberry, who in 1926 bought 3,000 acres to grow ferns, Casselberry emerged as a suburban residential community after World War II.
By the time it was incorporated in 1965, Casselberry encompassed numerous family-oriented subdivisions and a budding business district near the intersection of State Road 436 and U.S. Highway 17-92.
In the decades that followed, the city continued to grow, and its population today stands at more than 30,000 people. As such, Casselberry is a quintessential bedroom community, also boasting more than 15 parks, two-dozen lakes and a municipal golf course.
The 2,500-square-foot Casselberry Art House in Lake Concord Park offers community space for art classes, art exhibitions, educational programs, workshops, artist lectures and musical performances for all ages. The park also has a sculpture garden.
Adjacent to Casselberry is unincorporated Fern Park, which, as the name suggests, also traces its beginnings to the fern-growing industry. Like Casselberry, it developed into a bedroom community for Orlando, starting in the 1950s.
Lake Mary
Lake Mary became one of Central Florida's hottest growth areas, thanks in large part to the dogged persistence of Jeno Paulucci, a self-made millionaire who made his first fortune selling frozen Chinese food and a second one selling frozen pizza.
The city today continues to sit at the epicenter of Florida's High-Tech Corridor, which follows Interstate 4 from Tampa through Seminole County and northeast to Daytona Beach. Along the route, government and industry have joined forces to attract leading-edge companies in such fields as telecommunications, medical technology and microelectronics.
In Lake Mary, with a population of about 18,000, dozens of such companies have set up shop in several sprawling business centers that have combined to create a Central Florida version of Silicon Valley.
But it all started as an isolated railroad station known as Bents Station, named for a local grove owner. In 1900, industry arrived in Bents Station when Planters Manufacturing Co. built a factory to produce starches, dextrins, farina and tapioca. The facility closed in 1910, however, and Bents — later renamed Lake Mary for the wife of a local pastor — seemed destined to remain an out-of-the-way country town.
That was the case for another half-century, until the construction of Interstate 4 and a successful campaign by community boosters to get a Lake Mary interchange tacked onto the project.
The resulting tracts of easily accessible land caught the eye of Paulucci. In the late 1970s, he announced plans to build a luxurious residential development and business hub called Heathrow, where the American Automobile Association (AAA) has its headquarters.
Today, such developments — both pricey and more moderate — are plentiful, along with an array of complementary mixed-use developments featuring shops, restaurants and apartment complexes.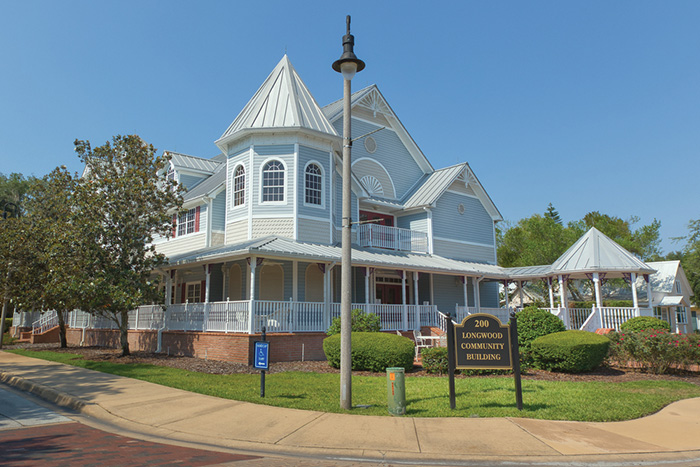 Longwood
Of all Seminole County's municipalities, Longwood, population roughly 17,500, has the most history to preserve, and has done the best job of preserving it. But it's still a modern place, with a plethora of exclusive country club communities, office parks and shopping centers.
In 1873 a New Englander named Edward Henck homesteaded a tract of land that he named Longwood, after a Boston suburb he had helped plan. Henck was also the town's first postmaster and its first mayor.
And in what may have been his spare time, Henck co-founded the South Florida Railroad and built a line connecting Sanford and Orlando, which enabled Longwood to boom as a citrus- and lumber-shipping center as well as a winter resort destination.
But as crucial as Henck was to Longwood's development, it was a carpenter named Josiah Clouser, a Henck employee, whose legacy is most visible.
Clouser, a Pennsylvanian, constructed most of the buildings still standing in Longwood's remarkable historic district, a two-block area on Warren and Church avenues near the intersection of County Road 427 and State Road 434.
Among the notable buildings are the Inside-Outside House, built in 1872, which is so-named because its construction features support studs on the outside. The prefabricated structure was built in New England by a former sailing captain and is believed to have been patterned after 19th-century whaling ships.
There are plenty of events to keep Longwood residents occupied. The annual Arts and Crafts Festival, held in November, features more than 200 artists and handcraft exhibitors selling unique items, fine jewelry and seasonal décor. Also, the Founders Day Spring Arts and Crafts Festival is held each March.
The city also has a Farmers' Market every Saturday as well as a Cruise-In Car Show twice monthly and concerts and events at well-equipped Reiter Park. There are numerous annual events, including a Pirate Seafood Festival every March.
Oviedo
While Oviedo might be one of Central Florida's oldest communities, first settled some 140 years ago, this boomtown knows how to embrace newcomers.
Indeed, few Central Florida municipalities witnessed the kind of growth Oviedo saw beginning in the early 2000s and continued for much of the past 15 years. The town's population is about 45,000, more than a tenfold increase since 1980. Oviedo has a mall, too — called, appropriately, the Oviedo Mall.
Oviedo's growth was a long time coming. The area's first settlers, who put down stakes near Lake Jesup in the 1860s, called it Solary's Wharf. In 1883, postmaster Andrew Aulin dubbed it Oviedo, supposedly after seeing a Spanish town of the same name on a map.
Longtime locals point to 1964 as perhaps the most significant year in Oviedo's history. That's when a desolate 1,145-acre tract in rural northeast Orange County, about seven miles east of the city, was selected as the site for Florida Technological University (now the University of Central Florida). The adjacent Central Florida Research Park, originally established in 1978, has since become the largest research park in Florida.
Since that time, Oviedo's history has been rewritten, to a large extent, with orange groves and celery fields giving way to housing communities and a new mixed-use downtown, Oviedo on the Park, to accommodate the city's soaring population. Most of the original two-block town was demolished so that State Road 434 (known as Central Avenue in Oviedo) could be widened.
But the small-town quirkiness isn't gone. For several decades, broods of chickens have roamed the "old" downtown area, sometimes wandering into traffic. This, of course, gives literal meaning to the question: "Why did the chicken cross the road?"
The chickens, whose origins are unknown, have been featured on Oviedo T-shirts and coffee mugs and a poster commemorating one of Oviedo's yearly festivals, "A Taste of Oviedo." A rooster is painted on signs designating the city limits.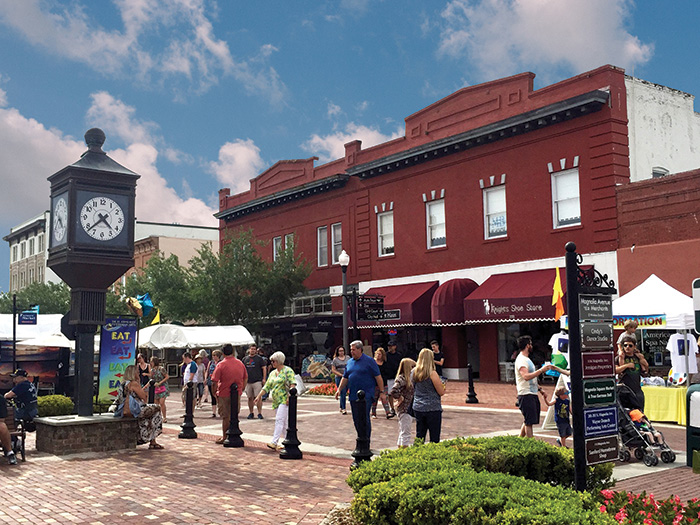 Sanford
Located on the shores of Lake Monroe, Sanford once rivaled Orlando as the region's largest city. A major distribution center for vegetables and citrus, it was known as "The Celery Capital of the World."
But agriculture is no longer king in Sanford (population 62,000, making it Seminole County's most populous city). Today, it's the Seminole County seat, making county government the leading employer.
And, after years of stagnation, Sanford also is a city on the rise, thanks to a burgeoning airport, Orlando-Sanford International Airport — one of the fastest-growing in the country — and a downtown redevelopment initiative that has given life to a new dining, shopping and entertainment district, highlighted by the scenic Sanford Riverwalk along the shores of Lake Monroe.
Relocators to Sanford can choose from an array of new subdivisions on the city's outskirts, or they can latch on to Victorian fixer-uppers in the city center or they can enjoy emerging apartment living as part of downtown's rebirth.
Leading that rebirth is San Leon, a, new mixed-use development that hearkens back to the founding of the city and consists of ground-level retail with residential uses on top floors. The hope, according to city officials, is that the project will spark a resurgence of new projects in the downtown area.
Sanford is home to Seminole State College of Florida and the Central Florida Zoo and Botanical Gardens as well as the Ritz Theater, a restored art-deco style movie house that hosts films and stage productions.
Winter Springs
Until the mid-1950s, Winter Springs was nothing more than several square miles of scrub pine and palmettos. That's when developers Raymond Moss and William Edgemon bought the land, subdivided it and introduced the Village of North Orlando.
At the start of the 1970s, a time of rampant growth throughout Central Florida, the area contained one small grocery store and roughly 300 homes straddling State Road 434.
Tuscawilla, eastern Seminole County's first upscale golf course community, changed all that, along with a new city charter getting adopted in 1972, which gave the city the new name of Winter Springs. In the past two decades, the city's growth has rivaled that of adjacent Oviedo.
The population is now 38,500 and growing, bolstered by projects such as the sprawling Town Center at the corner of State Road 434 and Tuskawilla Road.
Perhaps Winter Springs' best-known annual activity is the
ARToberFEST Festival of the Arts, held in October, which features German food and displays of arts and crafts.