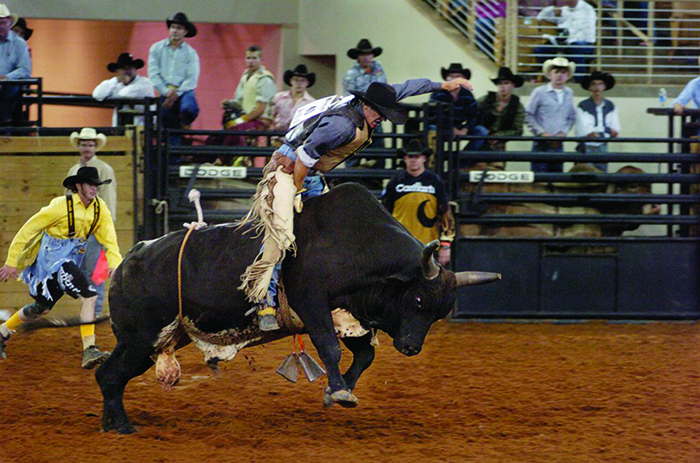 Osceola County's Silver Spurs Rodeo, still held every year in Kissimmee, is a throwback to the days of the county's stature as a cattle-ranching mecca. There are still plenty of cowboys, along with others who like the area's affordable homes and array of recreational opportunities.
OUR TOWNS — OSCEOLA & LAKE COUNTY
Kissimmee
As a whole, Osceola County had Florida's second-largest growth in population from 2010 to 2020, according to the U.S. Census Bureau. That growth has been especially evident in Kissimmee, its largest city at approximately 75,000 people.
At the same time, by virtue of the vibe that continues to permeate the community, the one-time slogan for Kissimmee of "Big-time attractions, small-town hospitality" still fits.
A friendly, down-to-earth place, Kissimmee is still recognized for its biannual Silver Spurs Rodeo and its genuine cowboy panache. It just happens to exist alongside Walt Disney World, the world's No. 1 tourist attraction.
Formerly called Allendale, the city began as a tiny trading post on the northern bank of Lake Tohopekaliga. It was incorporated in 1887 as Kissimmee — a Native American term meaning "long water." It later became the Osceola County seat and, by the 1930s, cattle rivaled citrus as its main industry.
But housing now powers the economy. With developable land becoming scarce in Orange and Seminole counties, much of the region's residential growth for the next decade is expected to take place in and around Kissimmee, according to a study by the Urban Land Institute.
To make certain that at least some of Kissimmee's heritage is preserved, the city's Community Redevelopment Agency continues to actively improve the historic downtown district near Main Street and U.S. 192 with appealing mixed-use projects.
One example: City Centre Kissimmee, which consists of luxury residential units plus parking garages as well as retail, restaurants, financial institutions and professional offices.
Also spurring growth around Kissimmee is NeoCity, a mixed use "smart city" and technology incubator that will eventually contain, in addition to its research and manufacturing facilities, a 1.4 million-square-foot retail and entertainment hub and 1,150 condominiums with nearly 400,000 square feet of amenities and common space.
In addition, Kissimmee remains a sporting paradise, with numerous boat ramps on the shores of Lake Toho, which is known for excellent bass fishing.
Southport Park, for example, offers covered pavilions, grills and campgrounds, while picnic areas abound at Partin Triangle Park and Whaley's Landing. Hunters can enjoy the wide-open Osceola Plain, home to turkey, white-tailed deer and fox squirrels.
Kissimmee is also culturally diverse. About 68 percent of its population identifies as Hispanic, and many arts and entertainment venues reflect that burgeoning international flair.
St. Cloud
St. Cloud, located on the southern shore of East Lake Tohopekaliga, has been called "A Soldier's Colony," "The Friendly Soldier City," "The Wonder City" and "The City of Schools." Also, it was known as an inexpensive place for tourists to stay while visiting Walt Disney World.
In the 1970s, St. Cloud teamed with much-larger Kissimmee to market itself internationally as an affordable alternative for vacationers wishing to explore the theme parks without paying resort hotel prices.
Yet, these days, city officials are working to downplay that tourism connection while promoting the charms of St. Cloud as a great place to live.
The military references hearken back to 1909, when the Grand Army of the Republic, an organization for Union soldiers who had served in the Civil War, bought 35,000 acres for development as a community for veterans.
More than a century later, St. Cloud boasts one of Central Florida's most charming downtown districts. It's replete with antique shops occupying vintage storefronts, several excellent restaurants, a historical museum and Veteran's Memorial Park.
Meanwhile, growth continues, with St. Cloud's population now exceeding 57,000. And there are some exciting community amenities on the way for them to enjoy.
For example, the city's first-ever splash pad, inspired by Puerto Rico's El Yunque National Forest, opened earlier this year in the 65th Infantry Veterans Park in the expansive community of Buenaventura Lakes.
The park, which already includes a highly acclaimed disk golf course, serves as a tribute to the 65th Infantry Regiment, which was nicknamed "The Borinqueneers." The storied Puerto Rican regiment of the U.S. Army distinguished itself during the Korean War.
However, considerable eye-popping growth is slated for just outside St. Cloud proper. This summer, a St. Cloud developer purchased the nearly 6,000-acre Green Island Ranch property south of Lake Tohopekaliga that could eventually encompass more than 17,000 homes along with office and commercial development.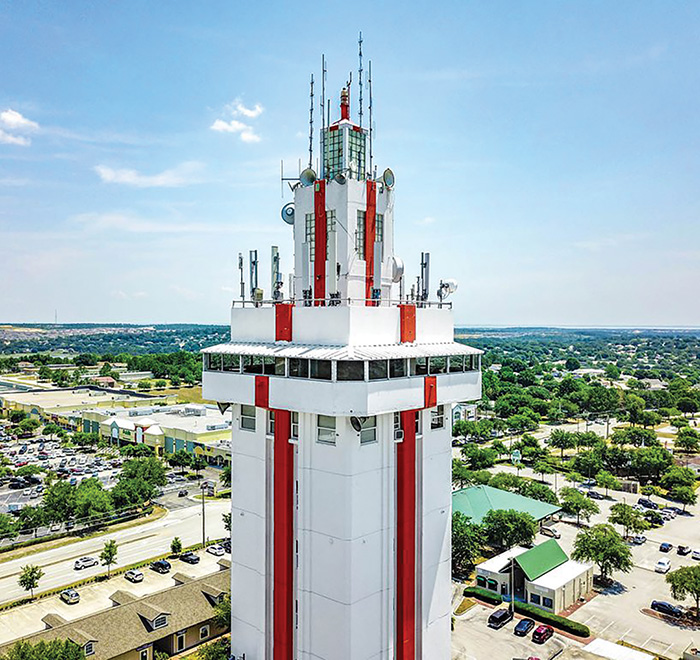 Clermont and South Lake County
The Citrus Tower, built in 1956, was once an awesome attraction that invited picnickers and tourists to its observation deck for panoramic views of Lake County's sprawling citrus groves.
The tower — now considered a kitschy relic of a bygone era — is still there, but the landscape has starkly changed. Now you'll see thousands of new homes on the rolling hills that have always distinguished burgeoning Lake County from its geographically challenged neighbors.
That isn't to say sprawl has destroyed Lake County's charm. There are still groves, woods, barns and more than 1,400 lakes scattered across 221 square miles. The county's unpretentious municipalities still boast quaint business districts with mom-and-pop shops.
Yet, like other previously rural areas in Central Florida, Lake County is growing fast — particularly in south Lake County, which has increasingly become an attractive suburban alternative for people who work in more populous Orange and Seminole counties.
The city of Clermont, population of more than 44,000 and steadily rising, is ground zero for the county's housing boom. The stage was set with construction of metro Orlando's Western Beltway, which has made a once-daunting commute quite manageable.
Clermont is truly at the crossroads of Florida, located at the intersection of State Road 50, which runs east and west, and U.S. 27, which runs north and south. Bordered by Lake Minnehaha on the south and Lake Minneola on the north, Clermont is on a chain of 16 lakes connected by the Palatlakaha River in the Ocklawaha Basin of tributaries of the St. Johns River.
"The Gem of the Hills," as Clermont is sometimes called, also is popular among triathlon enthusiasts. Orlando Health South Lake Hospital's all-in-one campus is home to the USA Triathlon National Training Center, which is designed to meet the needs of all ages and fitness levels.
Growth, then, is both literally and figuratively healthy in and around Clermont. And it's about to get even more so with Wellness Way.
The southeast portion of the county, formerly known as the South Lake Sector Planning Area, encompasses nearly 15,500 acres east of U.S. 27 and south of State Road 50. The mostly rural expanse has been poised for major development as a sort of expansion — or even a duplication — of booming Horizon West in bordering west Orange County.
Comparable to Horizon West, multiuse Wellness Way is divided into smaller sectors, including a Town Center. It will eventually include about 16,500 residential units, but that number remains somewhat fluid for now. Suffice it to say, it'll be big.
Infrastructure is being planned or is underway with multiple new roads designed to literally connect into the future. This includes several new connector roads that will connect Horizon West to neighboring communities in Lake County.
Clearly, there are big visions for this rustic setting, which today is marked primarily by citrus groves, bumpy dirt roads, lakes and hills, and pastures where cows contentedly graze. All the while, homebuilders (and developers) have been watching and taking notice — and already have gotten busy with what surely will accelerate stark changes to the landscape.
At the center of the initial activity is master-planned Olympus, a 243-acre community in Clermont bordered to the west by U.S. 27 and 4,372-acre Lake Louisa State Park. Proximity of a development like Olympus to Clermont makes a lot of sense, if you know anything about Clermont.
While some cities tout the names of corporations they land or public lands they acquire, Clermont lists the names of Olympians who train in their town. Last year, Triathlete magazine named the city one of the nation's top 10 for triathletes — putting the Lake County hamlet in the same league as San Diego, California; Austin, Texas; and Charlotte, North Carolina.
"This suburb of Orlando is quickly building a reputation as one of the country's true tri meccas," magazine editors wrote.
Athletes come to the rolling, lake-dotted area to train year-round on some of Florida's rare hills. Nowhere else in Central Florida — or perhaps the state — do road signs declare "Caution: High Cyclist Activity" and "Cyclists May Take the Full Lane."
Essentially marking the start of Wellness Way, Olympus features uncommon elevations and vistas, a natural lake and full entitlement for more than 1,000 residential units to accompany 1 million-plus square feet of office, medical, retail, restaurant and industrial space.
The planned centerpiece of this initial community will be the Olympus Athlete Center. It comes with all the right buzzwords: "sports performance," "athlete nutritional services" and "media and broadcast facilities."
As planned, the sports campus would include a tennis center, an ice sports arena, an aquatics center, an area for beach volleyball and a field sports complex for lacrosse, soccer and rugby.
You can kind of imagine svelte bodies sporting the Olympus logo on T- shirts: "Epic Every Day." The arena, by the way, might accommodate concerts and other events.
Activity has come in stages, beginning in 2018, when master plans were first outlined to the Lake County Commission by Winter Park-based Olympus Sports and Entertainment Group, the community's developer.
Although the infrastructure phase of Olympus didn't begin until last summer, during the next decade — if all goes as planned — Olympus is expected to create more than 5,000 jobs and generate more than $1.4 billion in local economic impact.
As part of the approved plan, the development will contain 48 acres of nonresidential land focused on agribusiness and community recreational facilities, along with a 200-foot buffer of trees and five miles of interconnected community trails for walking, hiking, biking and horseback riding.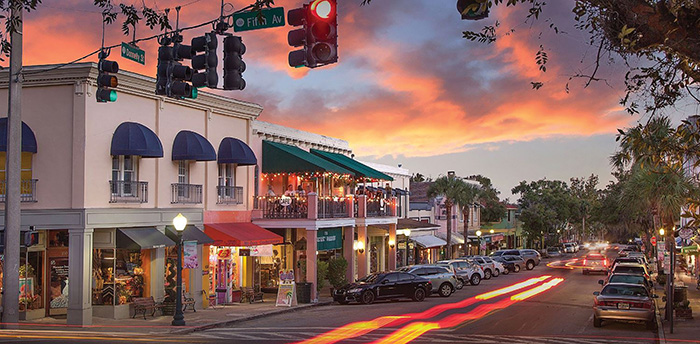 Mount Dora
To the north, Mount Dora, population 15,200, continues to be a center of development, with Eustis and Tavares also attracting significant attention to the so-called Golden Triangle.
Mount Dora, the aptly named "New England of the South," was founded in 1874, when homesteaders first discovered the gently sloping lakeside hills that rise to 184 feet -- hardly a mountain, but a formidable height by Central Florida standards.
The city hugs the shores of 3,600-acre Lake Dora, named for Dora Ann Drawdy, who homesteaded two miles south with her husband in 1846.
Today, downtown Mount Dora contains dozens of historic buildings housing antique shops, art galleries, boutiques and restaurants. Tree-shaded Donnelly Park occupies a full block in the center of town, inviting picnickers and tennis players to enjoy the lush surroundings.
Within walking distance is Palm Island Park, adjacent to Gilbert Park, which boasts one of the most beautiful nature trails in the state.
The downtown area also hosts an annual art festival, as well as numerous antique and craft fairs, specialty auto shows and historic home tours. The city has a respected community theater, too, along with an art center and a historical museum.
But this old-fashioned setting, like many others, is chasing high-tech growth. For example, the 850 acres along State Roads 46 and 453 comprise the Wolf Branch Innovation District, a partnership begun in 2019 between the city and Lake County to attract new business.