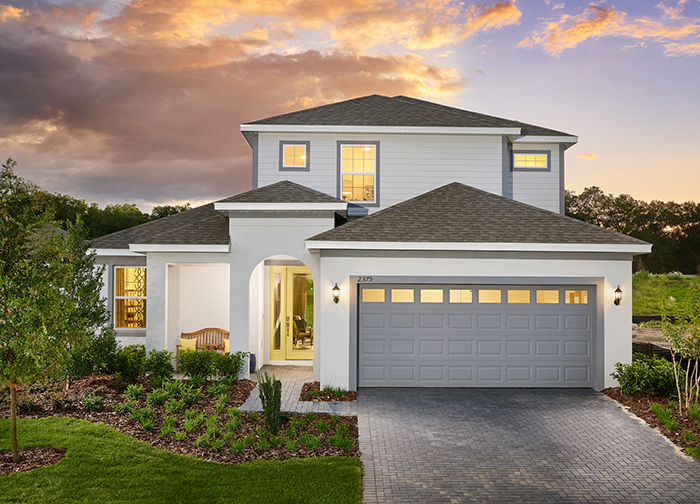 Summerbrooke is located just two miles from Mount Dora's variety of restaurants and its historic downtown shopping district. The community also offers heavy amenities such as a community clubhouse with a pool, and recreation areas. The Pensacola model features three to five bedrooms and two to three bathrooms in 1,525 to 3,075 square feet.
THE FIRST TIME AROUND
LOCAL BUILDERS ARE CHASING FIRST-TIME HOMEBUYERS DESPITE HIGHER INTEREST RATES — AND STILL CATCHING THEM.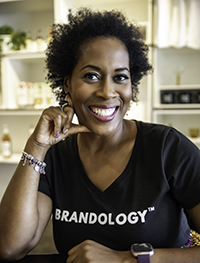 Tee-Ta Walker, originally from Seattle, had been in the Orlando area since 2016. A divorce had changed her life circumstances, so she decided to remain in the area and begin looking for a new permanent home.
Walker's mother, learning of her plan not to move back to Seattle, wanted to live with her daughter because of problems related to advancing age. So, Walker's search began to become a first-time homebuyer.
She was renting in Lake Nona, where home prices — like those in most of the region — were rapidly rising. Further complicating matters, her potential new home had to be both affordable and meet her mother's specific needs.
That meant a bedroom and laundry downstairs, so Mom wouldn't have to worry about climbing stairs. Also, Walker didn't care for the typical multigenerational floorplan, where living quarters are distinctly separated. She wanted to be nearby if needed.
Walker's initial searches left her increasingly frustrated. "I just could not find a home, and I was getting like a little down, a little depressed," she says. "I was thinking, 'OK, how's this going to work?'"
A co-worker led Walker to Park Square Homes, where a discussion left her with another question: Where the heck is Mount Dora? Park Square Homes had a model in a community there that met all of her needs — except location.
She consulted her smart phone's GPS and found the commute time to be less than expected. The model was the unbuilt Pensacola, and the community was Summerbrooke, represented by renderings and an "imaginary" road, respectively. Upon arrival, however, it didn't take long for Walker to be sold.
On paper, Walker saw that the Pensacola had four bedrooms, 3.5 bathrooms with flex space, a sizeable loft, walk-in closets and 2,570 square feet of living space along with a covered patio. The price was $478,990.
Also, Walker was able to "visualize" the community through a virtual tour. "I think the tipping point for me to move forward was that Park Square still wanted to show me where my house was going to be, even though there was nothing I could see," says Walker, who has a marketing consulting business.
She adds: "I'm a very visual, analytical person. They took me down this virtual road, and we got to the spot where my home was going to be built. I remember putting my hands out and felt like, 'Oh, my God; this is my home!'"
Walker signed a contract in April 2022 but didn't close until this July, as construction work was slowed, just as it had across the nation, due to building materials and labor challenges due to lingering supply chain issues from COVID-19.
She was able to finally move in this August: "It took longer than anticipated, but they kept me connected. I received a call every week. I felt like I was literally part of the process."
Adds Kelley Desjardins Ruiz, a new-home counselor with Park Square: "Handholding is probably too strong a word, but there are education and guidance components, absolutely. It's about trust with the not just the new-home sales counselor, but with the builder in general."
Park Square Homes isn't alone in its effort to attract first-time homebuyers. In 2022, first-time homebuyers accounted for approximately 26 percent of all homebuyers in the United States, according to published data.
In that quest for market share, where are other builders active across Central Florida? Here's a sampling.
KB Home has Deer Run Estates in St. Cloud (Osceola County), which is convenient to Florida's Turnpike, U.S. Highway 192, Narcoossee Road and Lake Nona. Prices range from $361,990 to $461,516, with sizes ranging from 1,393 to 3,016 square feet.
The company's two-story Plan 2320 model has four bedrooms, 3.5 bathrooms and features "green" construction. The open floorplan comes with 9-foot ceilings and an inviting family room along with upgraded tile flooring.
And the stylish kitchen features 36-inch upper cabinets, Brazilian white granite countertops, a dining nook, a large pantry and an island for food preparation and casual meals.
Upstairs, a loft provides space for study or play. The primary suite boasts an expansive walk-in closet, a tray ceiling and a roomy connecting bath that showcases a linen closet, a raised, dual-sink vanity and a shower surrounded by tile.
In Leesburg (Lake County), Liberty Preserve, a community by Taylor Morrison, offers homes ranging in size from 1,500 to 2,669 square feet and priced from $299,995 to $414,935. Community amenities include a park, a playground and a pond tucked away in the rolling hills.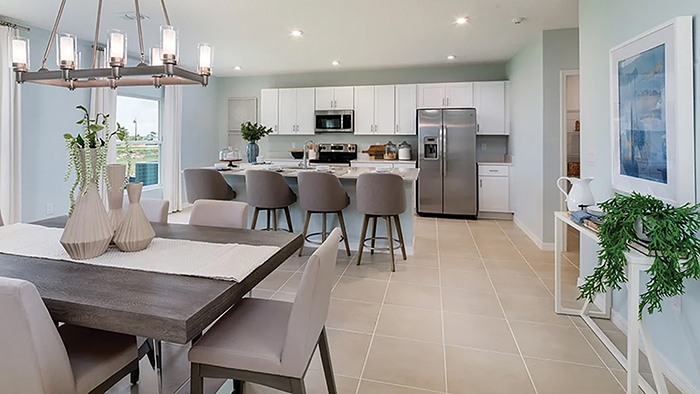 The five-bedroom, two-story Redbud contains 2,273 square feet, with a guest bedroom downstairs, plus a master bedroom and three secondary bedrooms upstairs. An extensive living area comprises most of the ground floor, with the kitchen on one end and a gathering room on the other.
A casual dining room connects the two spaces and leads outside to the patio via sliding glass doors to a covered lanai. An oversized walk-in pantry is located next to the owner's entrance, and a powder room and coat closet are adjacent to the foyer.
Minto Communities is busy at Latitude Margaritaville Daytona Beach (Volusia County) with homes that start at $299,500 (for 1,205 square feet) and go up to $495,990 (for 2,564 square feet).
Latitude Margaritaville — part of the late Jimmy Buffet's business empire, has a community center, a pool and clubhouse with a cabana (and tiki huts!) as well as tennis courts and trails.
The company's one-story Bamboo, a model that's part of the Conch Collection, is a two-bedroom, two-bathroom cottage with walk-in closets, dining and living rooms, a porch and a two-car garage.
Lawson Dunes by Lennar, located in Winter Haven, offers homes from $299,990 to $379,755 with sizes that range from 1,444 to 2,370 square feet. Onsite amenities include a swimming pool, a tot lot, a dog park and multiuse trails.
As part of its Manor Collection, the company offers the Columbia model. At 2,370 square feet, it has five bedrooms and 2.5 bathrooms, with the primary bedroom downstairs and a two-car garage.
In Ocoee (Orange County), David Weekley Homes is building at Lake Meadow Landing, a community highlighted by a playground, a pool, a lake, a dog park and nature trails.
Townhomes that range in size from 1,807 to 2,104 square feet are priced from $396,999 to $467,619. There's a private, gated entrance and yard maintenance is included.
The spacious townhomes feature open floorplans, as exemplified by the two-story Josephine. The four-bed, three-bathroom model spans 2,104 square feet, with an upstairs primary bedroom that includes an en suite bathroom and an oversized walk-in closet plus two more bedrooms.
At Winding Meadows in Apopka (Orange County), Pulte Homes is banking on the convenience of the popular new S.R. 429/Kelly Park interchange with homes priced from $376,990 (for 1,848 square feet) to $602,290 (for 3,416 square feet). Parks and walking trails highlight the community amenities.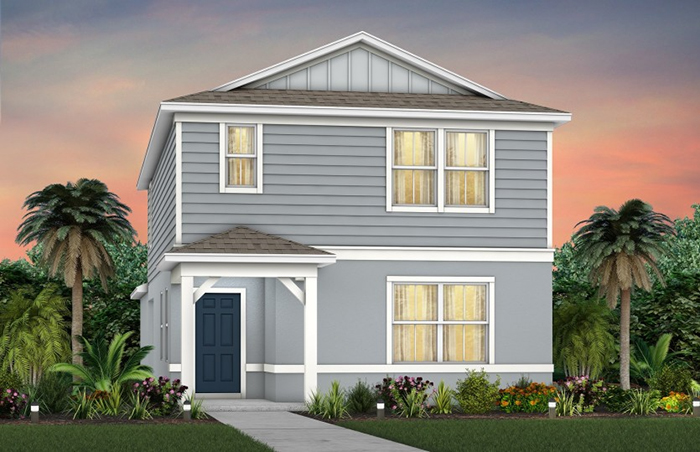 The company's two-story Jasmine is a model that comes with four bedrooms — with the primary bedroom upstairs — and three bathrooms. There are walk-in closets and a spacious loft along with a covered lanai and two-car garage.