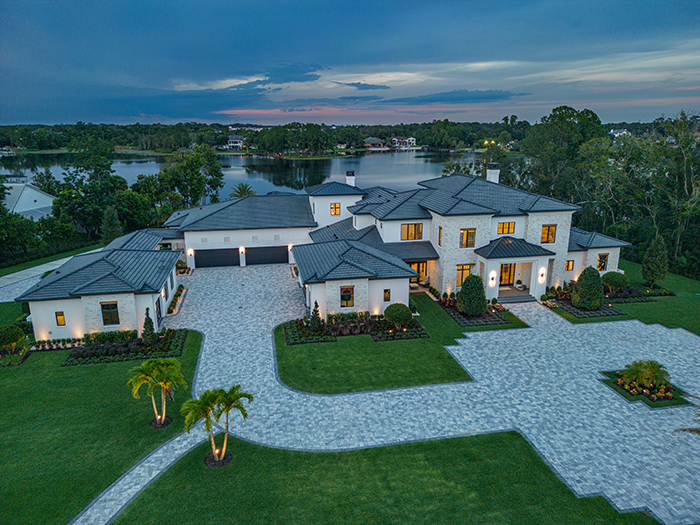 Modern lakefront home in Lake Mary by Dave Brewer Inc.
THE BOLD AND THE BEAUTIFUL
BIGGER HOMES WITH MORE AMENITIES ARE BACK. AND THAT'S GOOD NEWS FOR DAVE BREWER INC.
Walking into Dave Brewer Inc.'s offices in Sanford is like entering an art gallery since poster-sized photos of the award-winning estate homes built by the company over the last 20 years or so adorn the walls.
And there are plenty of them — with clean, modern sophistication and beautiful coastal-inspired architecture contrasting with Old World and Mediterranean designs.
The company, which has been around for almost 49 years, boasts a portfolio of more than 1,500 custom homes built throughout metro Orlando and the coastal areas. Behind that track record of success is founder Dave Brewer and current president and owner Matt Trask.
Brewer, who moved his business from Indiana to Orlando in the 1970s, joined forces with Trask in the early 2000s when a family friend introduced them.
Trask recalls the conversation that catapulted him into the homebuilding industry: "Dave and I talked, and he said, 'l'll give you an opportunity to work,' and I said, 'Well here's what I'm looking for. I will work with you, but I won't work for you — or I'll compete with you. It's really up to you.'"
Brewer laughed, says Trask, and said, "Oh, that's what I like to hear." The rest, of course, is local homebuilding history.
Today Brewer is more of a mentor, with Trask at the helm for 18-plus years. Yet the Dave Brewer brand, which the two fostered together, continues to be synonymous with quality.
Trask, whose passion for architecture began in high school, grew up in a family of entrepreneurs with interests in land development, building and real estate.
Although he earned his degree in business and finance at the University of Central Florida, he knew his career path would eventually follow that of other family members.
"He [Brewer] taught me everything he knows about building, which was extremely important," Trask says. "And as far as the business and marketing side, I got to share that side with him and it just kind of worked."
Dave Brewer Inc. is considered a large company in terms of custom homebuilding, with 15 to 20 homes built each year. The company's focus is on executive-style homes starting at 4,000 square feet — with the biggest one measuring a castle-like 31,000 square feet.
The company's homes typically start at $1.4 million. You'll find Dave Brewer projects spread across Central Florida, from Windermere and Winter Park to Heathrow and Lake Mary as well as in Volusia and Lake counties. Many are on the water.
Trask admits that for years the company's bread and butter has been in gated luxury communities such as Heathrow Woods, Alaqua Lakes and Bella Collina, where they were featured builders.
Over time, however, gated communities have become smaller and established communities are recycling themselves as older homes are torn down because of their prime locations.
Dave Brewer Inc. has a staff of about 10 people and works often with architect Bernie Johnson of Johnson Design and interior designer Pam Neiman of Neiman Interiors, who specialize in luxurious high-end homes.
Trask points out that before COVID-19, the trend was toward smaller, smarter, simpler homes that could be built cost-efficiently. However, during pandemic quarantines and a trend toward working at home, that trend reversed itself.
"Since then, homes have gotten back to being bigger, with more entertainment options," Trask says. Homeowners are opting for game and home theater combos and gyms as well as kid's entertainment space and luxurious outdoor areas.
Every custom home has a summer kitchen, Trask notes, but homeowners are dreaming bigger these days — asking for basketball courts, putting greens and pools with lazy rivers. Many Dave Brewer homes include outbuildings, such as detached workshops, and almost all have mother-in-law suites.
When it comes to design style, Trask says transitional, contemporary and modern are the most popular.
"We've always been known for our quality, but there are certain things we do that are standard in our homes," he adds. Signature elements include the use of glass to create openness plus craftsman-quality detailing and well-laid-out spaces.
"All these little things seem petty, like who cares?" notes Trask. "But when you see the big picture, that's what gives you the details that everybody appreciates. We have high standards."
For Trask, it's all about designing a home that's livable, not just a pretty home that can be featured in a magazine.
"I'm still one of those guys who really loves and has a passion for, not just home building, but home design," he says. "I'd spend a Saturday afternoon walking through homes, if I had the time these days, just looking and appreciating them."
He also enjoys the personal side of the business. In an age where everything is automated and done online, he maintains an old-school mentality. "That personal face-to-face interaction, I feel like it's by the wayside, but it's really important to me," he says.
For Trask that means regular office meetings with clients. "We do A to Z," says Trask. "They [clients] don't have to feel like, 'What do I have to do next, how do I get there?' The goal is to build them a home that we are all proud of, with an experience second to none and then in the end we're all friends."