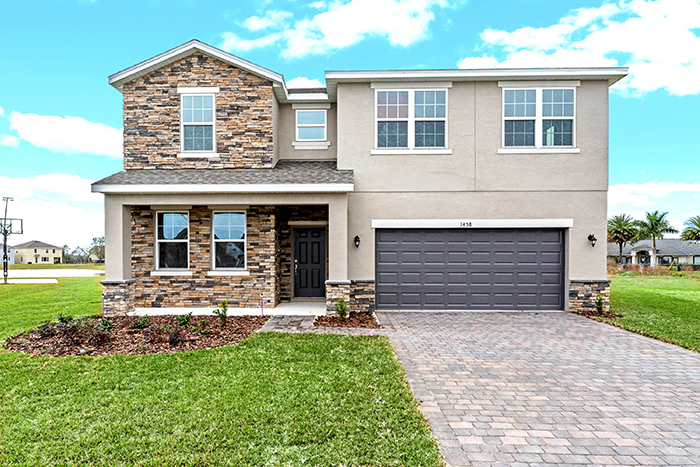 Residents of Avalon Park Tavares by Stanley Martin Homes will enjoy not only affordable, energy-efficient homes but also ample recreational opportunities such as a pool and a cabana, as well as a playground and nearby marina. The Chester at Sorrento Pines (above) is a 3,000-square-foot model that boasts a smart design with an open floorplan.
AFFORDABILITY IS STILL THE KEY FOR STANLEY MARTIN
Stanley Martin Homes may be one of the new builders to make its Central Flordida debut, but its expertise goes back to 1966 when partners Stanley Halle and Martin Alloy founded the company in Maryland.
In 2021, Stanley Martin moved into the Central Florida market with the purchase of Avex Homes, a company with more than 4,500 homesites and a seasoned team with knowledge and expertise. In fact, when the deal was made, Avex was already building 300-plus homes per year.
Stanley Martin's vision at the time of acquisition was twofold, says Rich Browning, the company's vice president of land: to become a top-five homebuilder in the market and to use the existing Avex operation as a jumping off point to expand into new markets throughout Florida.
"Both visions are still in place today, and the company is making significant progress in its goals," says Browning.
For Stanley Martin, Lake County is proving to be a particularly strong market these days, one where they can provide homes at affordable prices — something that's becoming very tough to do in Orange and Seminole counties, Browning admits. The company is also actively working in Brevard, Osceola, Volusia and Polk counties.
With a focus on first-time buyers, Stanley Martin has designed a portfolio of single-family homes priced from the low $300s. Models range from three to five bedrooms, two to three full baths and measure 1,350 to 2,856 square feet.
Browning admits that affordability is the biggest challenge today. "As a builder, it's our responsibility to continuously push to provide new homes to our customers within an affordable price range," he says. "I believe we're successfully doing so, while also providing an excellent homebuying experience."
One of the builder's top selling models is the Craftsman-inspired Juniper, priced in the mid-$300s. It's a four-bedroom, two-bath home, measuring 1,839 square feet. It boasts an open floorplan, a covered lanai and a two-car garage. Models can be visited at the Sunset Lakes Estate and Sorrento Pines communities.
Actively engaged in Lake County, Stanley Homes is building and selling homes in several communities: Avalon Park Tavares, Mayhill in Eustis, Sorrento Pines, Silver Lake Point in Leesburg and Sunset Lakes Estates in Mascotte, a city of 6,600 near Clermont.
Browning cites Sunset Lakes Estates as an example of the communities in which Stanley Martin builds.
While prices in Clermont have risen, "this community allows us to offer well-priced new construction homes while still providing convenient access to Central Florida's employment centers, attractions and recreational activities," he notes.
The company also has created the SMart Selected Homes program, where each community offers a wide range of homes at or near completion with a variety of finishes.
Adds Browning: "We do this to ensure that we can meet our buyers' needs when they're ready to purchase, rather than saddling them with uncertain time frames for construction and overwhelming option-selection processes."