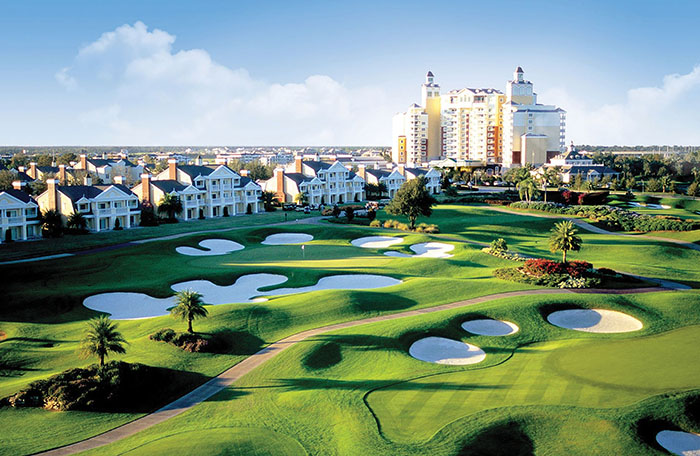 Reunion Resort offers an endless array of features to explore, including three signature golf courses, a 5-acre water park, tennis center and a variety of dining options.
HOME SWEET VACATION HOME
THANKS TO THE POPULARITY OF ORLANDO, BUILDING OR BUYING A SECOND HOME FOR SHORT-TERM RENTALS CAN OFFER SOME ATTRACTIVE RETURNS.
How big is the vacation home market in Florida? It's $27 billion big, at least according to a 2020 study by the University of Central Florida that measured economic contributions to the state through vacation-home rentals.
In the words of one UCF official: "Our research confirms that Florida's lodging industry for vacations, beyond traditional hotels and resorts — which includes rentals like houses, apartments and condos — boosts the economy significantly."
Plus, although that UCF study is now three years old, other reports indicate that the numbers are rising. For example, according to a springtime analysis by San Francisco-based Pacaso, a company that helps people buy and co-own luxury second homes, eight of the top 15 counties nationwide for most second-home transactions are in Florida.
Central Florida's popularity with buyers is near the top of the reasons for those impressive numbers. Consider that the Orlando-Kissimmee-Sanford metro area is surpassed by only one other Florida market as a destination for vacation homes: Miami-Fort Lauderdale-West Palm Beach, which is buoyed by buyers from Latin America.
Further, metro Orlando is widely recognized as the Vacation Capital of the World, totaling 74 million visitors in 2022. Meanwhile, Kissimmee — boasting an inventory of more than 30,000 "second" homes — is increasingly thought of as a Vacation Home Capital of the World.
Of course, that distinction equals big opportunities for buyers, including local buyers, who want a nearby vacation home with income potential.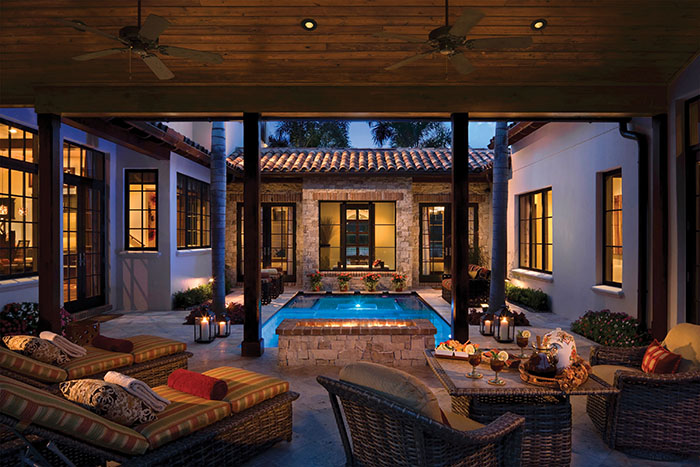 COMMUNITIES TO WATCH
Such facts certainly aren't lost on Garrett Kenny, who founded the Feltrim Group in 1996 and has turned it into a development and investment giant for vacation-home resorts, property management and related commercial development. With headquarters in Haines City (Polk County), just beyond the Osceola County line, the company has deep roots in the region.
For proof, one only needs to look at the growth of the Feltrim Group's Balmoral Resort. Opened in 2017, the gated, 115-acre community now totals approximately 250 single-family homes, each with its own pool. The amenity package includes a restaurant, game room, water park, wedding pavilion, resort-style pool and spa, multiple lakes and gardens and more.
New and existing homes typically consist of four bedrooms and range in size from about 1,500 to 2,700 square feet, with prices that range from $309,000 to $479,000 — although some homes are priced higher.
Years earlier, the Feltrim Group had acquired hundreds of lots in the luxurious Reunion Resort near the Walt Disney World Resort to begin building there, as well as in nearby ChampionsGate.
Today, gated Reunion Resort, opened in 2005 on 2,300 acres about 5.5 miles south of Disney World, has homes for sale in 14 neighborhoods. They range from one-bedroom condos to grand estates exceeding 25,000 square feet, with new home construction continuing apace.
In the Centre Court Ridge neighborhood, condominiums offer spacious dining and living rooms, granite countertops, stainless-steel appliances and private balconies. Prices, on average, are about $475,000.
At the Heritage Crossing neighborhood, condominiums and townhouses are surrounded by two community swimming pools and views of the Arnold Palmer Legacy golf course. As an example, one three-bedroom that measures 2,069 square feet is priced at $399,990.
ChampionsGate, also gated and master-planned, has luxury condominiums and villas as well as single-family and estate homes that sit amid numerous resort-style amenities. There are a wide variety of builders active, with homes priced starting in the low $400s.
Then there's Disney's Golden Oak. If ever there was a prototypical gated community of luxury single-family vacation homes tailor-made for Orlando, here it is.
Opened in 2010, the 980-acre community still has available homesites available, with a current capacity of 299 homes ranging in size from 1,800 to 12,000 square feet and priced from about $2 million and (way) up. The homes are divided into eight neighborhoods that were laid out by Walt Disney Imagineering — the same division that leads the design and construction of the theme parks..
With those marketplace dynamics as the backdrop, vacation-home construction continues throughout the region's short-term (less than six months) rental zone, which encompasses nearly 100 different types of vacation-home resorts and communities.
Generally, the zone lies southwest of Orlando and consists of areas within Kissimmee, Davenport, Haines City and Clermont. (Even within those areas, however, some homeowners' associations don't permit such rentals.)
As a general rule, Orange County does not allow short-term rentals except in communities that were originally zoned and approved for that purpose. The City of Orlando, however, does allow short-term rentals, but requires the owner to live on the premises and to be there during the term of the rental. The City of Winter Park allows short-term rentals, but they must be for a minimum of 28 days.
FINDING THE HOT SPOTS
Where are the hot spots? Short-term rentals — including condominiums, townhomes and single-family homes — are mostly being constructed under the "vacation home" banner along U.S. Highway 27 in Polk County, south International Drive, Lake Buena Vista and U.S. Highway 192 (east and west) near Disney.
For directions to those communities, perhaps ask someone from abroad. International buyers may well be your neighbors in both Orlando and across the state.
For international buyers looking to build or to purchase an existing property, Florida remains a bargain compared to many other locales nationwide. According to reports, 92 percent of foreign buyers visited Florida before purchasing in 2022 — with buyers from Canada, Colombia, Argentina, Brazil and Peru counted as the top five countries of origin for international buyers in the Sunshine State.
Some of the newest communities? Lennar Homes' Storey Drive Resort, located on International Drive, is the company's most recent. The 77-acre development will consist of 526 homes, including detached single-family homes, townhomes and condominiums.
Amenities will include multiple lakes, a clubhouse with resort-style pool and lazy river, beach volleyball and basketball courts, and the nearby Shingle Creek Regional Trail. Prices hadn't been announced at press time.
In Reunion Resort, Spectrum+ will feature 296 luxury vacation townhomes adjacent to the Spectrum+ Clubhouse, which is complemented by lush landscaping and near the development's three golf courses and its five-acre AquaPark.
The community is located next to Encore Resort at Reunion as well as the Condos at Spectrum+ in Reunion. The average home price is $543,108, with the lowest price clocking in at $420,000.
A stone's throw from Disney, the Townhomes at Tranquility by Zenodro Homes is a collection of 112 luxury vacation townhomes that sit on 25-plus acres. Each three- and four-bedroom floorplan — ranging in size from 2,256 to 2,266 square feet — features a spacious open layout, standard premium finishes and a private heated pool.
Every kitchen has stainless steel appliances, quartz countertops and modern cabinetry. The townhomes feature the Zen-Eco Home, which boasts state-of-the-art, eco-friendly construction technologies. Prices hadn't been announced at press time.
Windsor Cay Resort by Pulte opened for preconstruction sales in December of last year. Located in Clermont (Lake County), the community consists of five-bedroom townhomes measuring 2,271 square feet, as well as six different models of single-family homes that range from five to 10 bedrooms and offer up to 4,383 square feet. Prices hadn't been announced at press time.