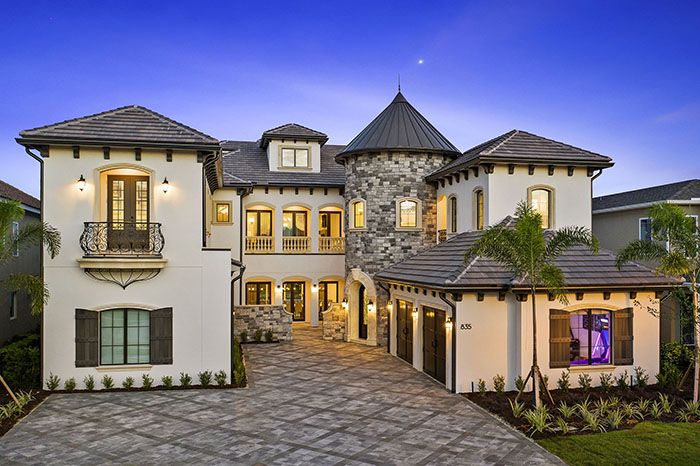 McNally Construction Group has become known for castle-style homes like this one in Reunion Resort. But as a versatile custom builder, the company can do any kind of project in any architectural style.
WHEN YOUR HOME IS TRULY YOUR CASTLE.
RYAN MCNALLY IS KNOWN FOR EXTRAORDINARY SHOWPLACES, BUT HE'LL BUILD ANY KIND OF CUSTOM HOME IN ANY STYLE YOU CHOOSE.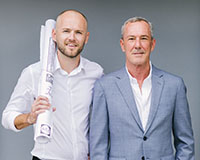 Ryan McNally build castles. Enter his conference room and you'll spot the oversized blueprint of the Chandler Chateau, a design with towers, turrets and even a portcullis. A sculpture of a medieval-style gargoyle sits on the floor awaiting placement within one of the spectacular homes that the McNally Construction Group will build in Reunion Resort in Kissimmee.
Although it may seem far-fetched, there is indeed a market for castles in Central Florida, where the lure of fantasy vacations complete with princesses and dragons draws millions of visitors every year — many of whom come back to build their permanent homes or vacation homes to occupy part-time and rent out when they aren't in residence.
The castle concept took hold in Reunion Resort, where McNally Construction Group is a featured builder. The company's earlier projects in the community were 8,000-square-foot homes with eight bedrooms, a home theater and other amenities that have become almost routine.
"But now we're getting up to 23,000-square-foot castles with bowling alleys, grotto pools, laser tag arenas and crazy-themed bunk rooms," says Ryan McNally, vice president and owner.
The villas and mega mansions, usually rented on a weekly basis, boast up to 10 bedrooms with multiple master suites for extended families who enjoy staying and playing together in these over-the-top properties. That's where McNally has found a niche.
McNally can trace the family business back to 1850 in the United Kingdom — coincidently a country that's home to hundreds of medieval castles — where his ancestors were builders of schools and mills. The McNallys came to the United States and established themselves as homebuilders in New England.
Some 35 years ago, McNally's grandfather came south to Florida and set up an office in Orlando. McNally's father eventually changed the name to McNally Construction Group.
"I'm sixth generation and everyone has been in construction," the younger McNally points out. Today, he's expanding the business and has already added real estate and interior design departments.
As a boy growing up around job sites, McNally recalls being fascinated by the drawing of floorplans. After graduating from high school in 2005, he attended Valencia Community College and the University of Central Florida and worked off and on for the family business.
However, when he was ready to enter the workforce full time, construction was in a slump. Playing it safe, McNally joined AT&T and worked his way up the ranks doing front-end web testing until the company outsourced his department.
That's when his father, E.J. McNally said: "Hey, you want to come and work with me? I can use the help."
Without hesitation, McNally came on board. Newly energized with the goal of expanding the company, he got his real estate license and recruited interior designer Debby Dearth, who is director of design.
Today, in addition to McNally and Dearth, the team consists of McNally's father, who serves as president; a CFO; four project managers and supervisors; and two designers.
Complementing the castles in the McNally portfolio are smaller yet still elaborate custom homes that range in size from 6,000 to 8,000 square feet, with the occasional 10,000-square-foot project on the boards.
When it comes to architectural style, McNally says, "we thrive on being eclectic. We've done a lot of modern, contemporary California-style homes, as well as transitional. We're building a castle right now — then we're building a Victorian home and a modern flat-roof home."
Also a featured builder in Celebration, McNally has built Southern-inspired homes true to the architectural standards of that community. In addition, the company has become known for building homes for sports celebrities. The client list includes NFL players Robert Griffin III and Chris Johnson, and the former Magic player E'Twaun Moore.
McNally offers clients a full package, including an architect, an interior designer, a landscape architect and a team of skilled craftspeople. "We are flexible to the client's needs," says McNally, adding that many customers prefer a one-stop-shopping approach.
Others, though, have their own architects, and McNally is happy to work collaboratively. "We do a lot of work that's hands-on," he adds. "We'll look at the plans, the form and the functionality. Whether they want to take our input or not is up to them, but we're certainly going to give it."
Craftsmanship, from millwork to cabinetry and countertops to fine finishes, is another area where McNally excels. The company prides itself on making sure that no shortcuts are taken.
"No one in my office is restricted from walking a job site and looking for errors or imperfections and pointing them out," says McNally, who believes that clients expect perfection. "It's a difficult thing building custom homes. It's not for the faint of heart. That's for sure."
Moving forward McNally is keeping his eye on land acquisition, mostly infills and teardowns. He's also ramping up the real estate and design sides of his business and seeking opportunities in commercial development.
At the end of the day, when you ask McNally what he enjoys most about the business, he replies with a smile: "My favorite thing about building homes is finishing them."
By that he means experiencing the feeling of accomplishment after a complex project comes to fruition and the buyer is thrilled with the result. Which is no small thing when you consider that for McNally, the phrase "every home is a castle" is almost literally true.