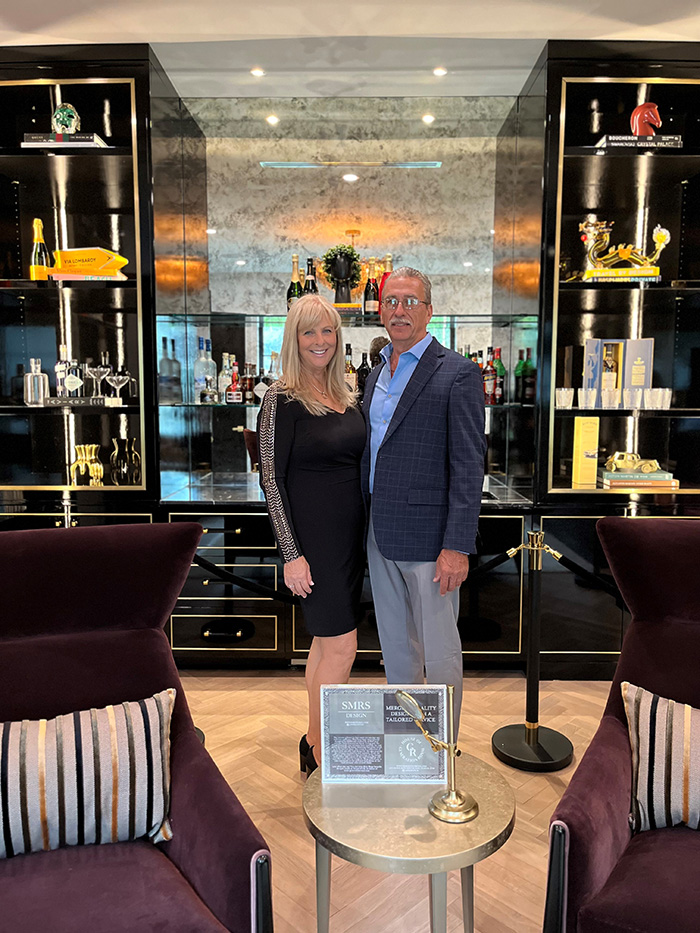 Aside from elegant floorplans and superior craftsmanship, Bruce Cole (above with wife Kathy) an offers an approach that has been cultivated through the decades by doing. "I am hands-on. I am in the field. I meet with the clients," Cole says, adding that he emphasizes client involvement.
BRUCE COLE IS THE VERY DEFINITION OF A BUILDER WHO LEARNED BY DOING.
Being a builder is like being a cowboy riding a wild bull, sometimes holding on for dear life. But Bruce Cole, who loves the business — he's been at it since he was a teenager — says he wouldn't have changed a thing.
He started in construction at age 13, working in the evenings for an electrical contractor who was dating his mother. That was mostly on remodeling projects when the family lived in rural New York state.
A few years later, after a move to South Florida, Cole made a decision about pursuing building as a career: "I enjoy this. This is something I can do — and I happen to be pretty good at it."
Cole worked his way from punchout guy to carpenter and, ultimately, to manager, superintendent, head of purchasing, general manager and division manager. He worked for such major companies as Silliman Homes, Maronda Homes, Park Square Homes and K. Hovnanian Homes, among others.
He recalls: "I was wiring houses at 13 and14; I hung drywall at 15. I made cabinets. I was a trim carpenter. I've done most, if not all." Cole has held a State Certified General Contractor license since 1987. He also holds a State Certified Home Inspectors license.
In 1993, Cole was appointed to the Structural Subcommittee for the South Florida Building Code. Afterward, he helped to consolidate various codes across Florida into a single statewide building code.
Finally in 2008, he opened Cole Additions and Remodeling. In 2016, he established Longwood-based Cole Homes, where he now builds about three homes a year, mostly in Winter Park and surrounding areas. Currently, he's building two homes: one measuring roughly 2,800 square feet and the other about 5,200 square feet, priced at approximately $800,000 and $5 million, respectively (excluding the lots).
Not coincidentally, aside from elegant floorplans and superior craftsmanship, Cole offers an approach that has been cultivated through the decades by doing. "I am hands-on. I am in the field. I meet with the clients," Cole says, adding that he emphasizes client involvement.
"On my last build, I told my client, 'You're going to spend two-and-a-half to three days with me in the field, nine hours a day," he says. "They didn't believe me — and we almost went three-and-a-half days."
That, Cole explains, is because "I go over everything. Most people can't see the plan. So, I walk the house multiple times with them, placing everything in the house — every outlet, every switch. I talk about furniture placement. I bring their lifestyle into their spaces."
It's a learning process for the client as well as for Cole, who says the more he knows the better he'll be able to build a home that's exactly what the client expects. A favorite architectural design? "No," says Cole. "It's all about, 'What does my client want?'"
Notably, as part of his process, Cole in July traveled to a Lutron facility in Austin, Texas, where he learned about the latest in personalized programmable LED lighting technology. He makes it a point to stay ahead of the curve on new building products and technologies.
Cole is an award recipient, too — winning three honors this spring in the Greater Orlando Builders Association's Parade of Homes. Also, looking to the future, he has begun a new business partnership with Rikhil Amin, whom Cole calls a "designer extraordinaire" with "the kind of vision I have not worked with, ever."
Amin is the principal/creative director of SMRS Design, a Winter Park-based interior design, home staging and concierge home building firm.
Turning 64 this year, Cole — who has two grown sons and a granddaughter — has no plans to slow down. When he does take a break, he's likely with his wife, Kathy, riding their Harley in the mountains. Clearly, for now and for the foreseeable future, Cole prefers the accelerator, not the brake.