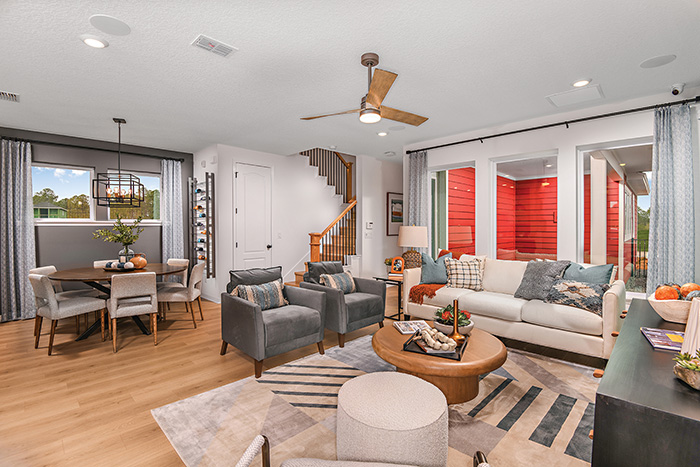 The Voyage boasts limitless livability potential with a sunlit, open-concept family room (top) on the first floor. The kitchen (below left) includes ample room devoted to presentation, meal prep, dining and storage. And the owner's retreat (below right) has a peaked ceiling that adds to the spacious feel.
David Weekley Homes showcases tradition with a modern flair.
Although David Weekley can boast building more than 100,000 homes since launching his business from a construction trailer from the middle of a field in the 1970s, it's always been about the American dream for the owner/founder of David Weekley Homes.
Weekley overcame recessions and survived real estate crises as he honed his skills as a homebuilder and sharpened his business acumen. One thing he always did was question run-of-the-mill designs and look for ways to blur the line between custom and production homes.
For Weekley it was all about what became his company's slogan: "Building Dreams, Enhancing Lives."
With that forward-thinking approach, David Weekley Homes has introduced a new model, The Voyage. Its look is best described as "modern farmhouse," a style that has soared in popularity over the last few years.
And it's no wonder. The combination of both country and contemporary design elements results in a warm, approachable and versatile home, which at two stories measures 2,309 square feet and has three bedrooms, 2.5 bathrooms and a three-car garage.
The first floor welcomes you with a study adjacent to the entrance, which leads to an open-concept kitchen-dining-and-family room. This ample living space is ideal for family gatherings — from dining to television watching to entertaining.
The kitchen features both an island counter and wall counters that make meal prep easy. It's equipped with a cooktop with a vent hood and a built-in oven and microwave. Across from the kitchen is a powder room. A shady lanai separates the first floor from a two-car garage in the rear.
From the family area, a staircase — with extra storage beneath the stairs — leads to the second floor's two bedrooms and full bathroom.
A space called the retreat — a multipurpose open area that's ideal for a reading nook, a student study space or even a craft workshop — along with a utility room for washer and dryer separates the bedrooms from the owner's retreat (known in the olden days as a master bedroom).
The Voyage is among the homes available in the Weslyn Park neighborhood at Del Webb Sunbridge, a master-planned community in Saint Cloud. With 27,000 acres, Del Webb Sunbridge encompasses homes, schools, parks, recreational amenities and extensive nature offerings, from trails and waterways to forests, lakes and wetlands.