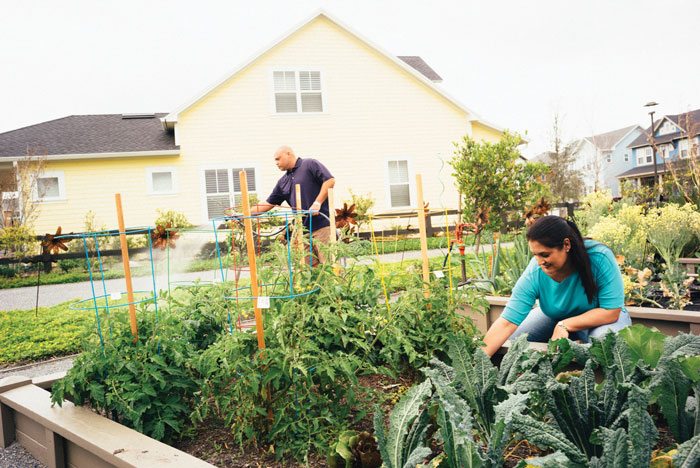 Laureate Park is one of the most technologically advanced neighborhoods in the U.S. But many of the homes have an Old Florida vibe — and it's difficult to get more down-to-earth than the community gardens, where residents become weekend farmers.
FROM HOTELS TO HEALTHCARE FACILITIES TO CORPORATE HEADQUARTERS, IT'S ALL HERE
LAKE NONA'S GOT A MEDICAL CITY. BUT THAT NOT'S ALL.
One of the fastest-growing master-planned communities in the U.S., Lake Nona — which is being developed by Tavistock Development Company in south Orlando — is a 17-square-mile community recognized for its thoughtfully designed neighborhoods, top-rated education facilities, leading-edge business and research clusters, and diverse retail and entertainment centers.
Bisected by S.R. 417, Lake Nona sits southeast of the Orlando International Airport and just north of Osceola County. While thousands of residents call Lake Nona home, there also are many nonresidential projects in the community — and many more on the way.
TOWN CENTER
At the intersection of Lake Nona Boulevard and Tavistock Lakes Boulevard, the Lake Nona Town Center encompasses hotels, offices, restaurants and apartment buildings. Plans call for the open-air, urban district to eventually contain 4 million square feet of entertainment, shopping and dining space.
Newly opened Boxi Park Lake Nona is in the Town Center just south of S.R. 417 on Lake Nona Boulevard. Boxi Park offers a mix of restaurants and bars, beach volleyball courts and a live entertainment venue to create an outdoor entertainment destination built using 14 repurposed shipping containers arranged in one- and two-story configurations.
Among the first of its kind on the East Coast, the 30,000-square-foot district is family- and dog-friendly. Customers can find food and beverage options showcasing different cuisines, along with two full-service bars serving a selection of cocktails. A beer garden features its own craft beer line.
Other dining options in the Town Center include Chroma Modern Bar + Kitchen, Park Pizza & Brewing Co., Bosphorous Turkish Cuisine, Island Fin Poke Co. and Foxtail Coffee Co., with more new options in the pipeline.
Visitors have two hotel choices with Marriott: Courtyard for short-term guests and Residence Inn for long-term stays. The Town Center buildings are adjacent and share a lobby. Each hotel offers more than 100 rooms and fitness centers.
Both include Stay Well rooms with amenities such as aromatherapy, circadian mood lighting, water-filtering systems, memory foam mattresses built from plant extracts, air-purification systems and vitamin C-infused showers. The Residence Inn also features rooms with separate bedrooms and living areas, fully functioning kitchens and grocery delivery service.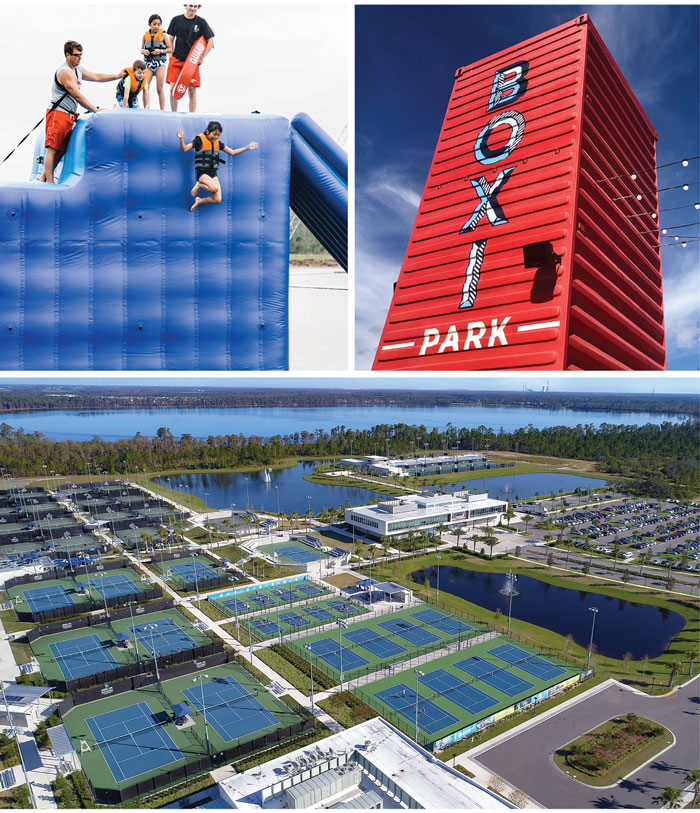 UNITED STATES TENNIS ASSOCIATION NATIONAL CAMPUS
The largest tennis facility in the country, the USTA National Campus features 100 courts and innovative developmental programs that make it a training destination for professional, collegiate and amateur players.
Home to thousands of training players and teams and to hundreds of tournaments each year, the 64-acre campus is open to the public and serves all levels of play for all ages. The campus has hosted 675,000 visitors and attendees since opening in 2017.
Current and former professionals who have visited, trained, coached and played at the facility include James Blake, CiCi Bellie, the Bryan Brothers, Jim Courier, Chris Evert, Ivan Lendl, Bethanie Mattek-Sands, Madison Keys, Billie Jean King, Jack Sock, Frances Tiafoe and David Young.
The facility was selected as the host site of the NCAA Division I
Men's and Women's Tennis Championships in 2019 and 2021, as well as the NCAA Division III Men's and Women's Tennis Championships in 2022.
NONA ADVENTURE PARK
On Adventure Lake adjacent to the City of Orlando's Heroes Community Park, the Nona Adventure Park is a new watersports park that features a two-track Rixen Cable System for waterskiers and wakeboarders.
It also offers an inflatable aqua park with a series of floating pathways, climbing obstacles, slides and trampolines. There's a 60-foot climbing tower with a ropes course and climbing walls and a pro shop — and the Wi-Fi-enabled main entrance houses an upscale café with food and beverages and a dry seating area for spectators.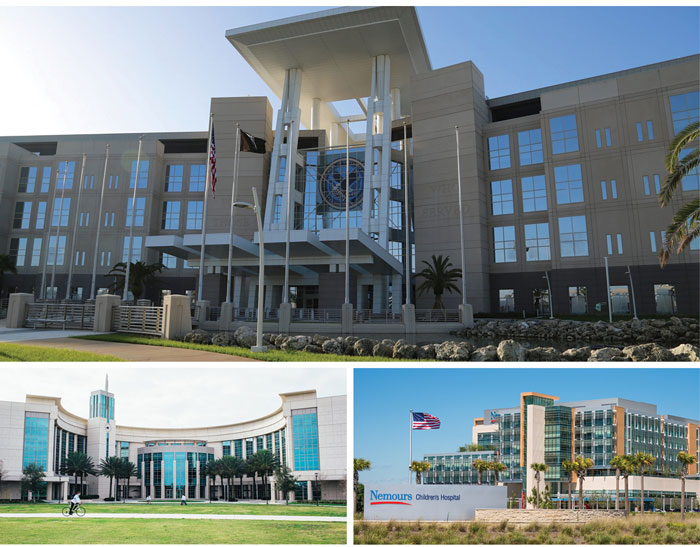 MEDICAL CITY
Lake Nona's health and life sciences cluster, also known as Medical City, is home to top medical and research facilities, including the University of Central Florida Health Sciences Campus and the Lake Nona Cancer Center as well as Nemours Children's Hospital, the University of Florida Research & Academic Center and the Orlando Veterans Affairs Medical Center.
Together they provide a unique collection of medical care, research and education. So, let's have a look at what, exactly, Medical City encompasses.
The UCF Health Sciences campus includes several facilities. Established in 2006, the UCF College of Medicine is one of the first U.S. medical schools in decades to be built from the ground up.
Included is a 170,000-square-foot medical education facility, featuring the latest in lab and classroom technology, as well as the 198,000-square-foot Burnett Biomedical Sciences building.
The college is unique nationally because of large undergraduate and graduate programs in biomedicine through the Burnett School of Biomedical Sciences. The Burnett School has almost 3,000 undergraduate majors — making it the third most popular major at UCF.
Cancer patients soon will benefit from a one-stop research and treatment center through the new UCF Lake Nona Cancer Center. The repurposed facility will become a comprehensive cancer research and treatment center housing cancer researchers, clinical trials and treatment for patients.
In addition, the UCF Lake Nona Medical Center, a partnership hospital between HCA Healthcare's North Florida Division and UCF Academic Health, is scheduled to open early next year.
The $175 million, 100-bed teaching hospital will provide healing for patients throughout Central Florida and beyond. It will also educate healthcare providers of the future and support the work of brilliant medical researchers that will lead to lifesaving care.
There are other key players at Medical City.
The 1.2 million-square-foot Orlando VA Medical Center serves the region's 400,000 veterans by providing acute care, complex specialty care, advanced diagnostic services and a large multispecialty outpatient clinic as well as administrative and support services.
This campus is also home to the SimLEARN National Simulation Center, which is dedicated to improving the quality of healthcare services for veterans through the application of simulation-based learning strategies to clinical workforce development.
UF's center houses a nationally ranked Doctorate in Pharmacy program, world-class research facilities and a team dedicated to advancing the field of pharmaceutics and improving public health.
The GuideWell Innovation Center, located near the UF facility, is a medical innovation hub for startups and healthcare entrepreneurs. The three-story building includes co-working space for startups on the first floor, and houses clinical and research companies on the upper floors.
Designed to promote collaboration and acceleration of groundbreaking ideas, the Innovation Center provides the resources and collaborative environment innovators need to develop new solutions — and the connections to take concepts to market.
The 30,000-square-foot, first floor collaboration space offers leaders from around the globe access to the best thinking in health innovation.
The Johnson & Johnson Human Performance Institute works to help everyone from athletes to executives be more productive and perform at their personal best in high-stress situations.
The Institute's campus offers the Corporate Athlete Course, a conference center, testing and diagnostic facilities, a state-of-the-art fitness center and a world-class tennis center.
Its products and services emphasize Johnson & Johnson's commitment to promoting health and wellness. The 35,000-square-foot facility is the global training center for Johnson & Johnson employees.
Nemours Children's Hospital is part of a state-of-the-art health campus that also includes Nemours Children's Clinic, an ambulatory diagnostic center, and extensive research and education facilities.
Healing gardens, nature trails, pet therapy areas and water features help create a peaceful environment that fosters both mental and physical healing.
KPMG LAKEHOUSE
Big Four professional services firm KPMG selected Lake Nona for its national training center from a competitive field of 50 prospective cities nationwide.
The high-tech, $450 million campus opened in early 2020 and focuses on enhancing the skills and services of KPMG professionals through immersive training in cutting-edge classroom and field environments. About 50,000 employees worldwide will train each year in various accounting disciplines.
The 55-acre campus includes 800,000 square feet of facilities for meeting, classrooms and dining. An expected 330 new jobs will be created through the center over the next three years.
AUTONOMOUS TRANSPORTATION SYSTEM
Lake Nona has a small fleet of fully electric, driverless shuttles in service that operate daily on a fixed route connecting the Lake Nona Town Center with the neighborhood Village Center in Laureate Park.
Each shuttle holds up to 10 passengers and operate at a maximum speed of 15 miles per hour. The shuttles operate daily, and there are plans to increase their number and expand the route network in the future.
The vehicles are operated by a Lake Nona-based mobility company called Beep and manufactured by a French company called NAVYA. They use multisensor technology to interact in real time with their surroundings.
Although the shuttles are driverless, they'll always have an attendant on board who's trained to manually override the vehicle if needed. Currently, there's no charge to ride.
---
STAY TUNED: THERE'S LOTS MORE TO COME
Lake Nona is in constant motion, with major projects on their way.
LAKE NONA WAVE HOTEL
The Lake Nona Wave Hotel will be the centerpiece of the Town Center, the community's premier entertainment and shopping district. With its dynamic urban design, the hotel will further establish Lake Nona as a world-class destination for discerning business and leisure travelers.
The 17-story tower will include 239 guest rooms and suites, a fitness center, a rooftop pool, a signature restaurant and more than 5,400 square feet of meeting and event space. Currently under construction, the Wave Hotel is scheduled to open in 2021.
LAKE NONA WELLNESS CENTER
As part of the of the Town Center's second phase, the Lake Nona wellness center will feature a medically based fitness center, a sports performance training center, physician offices, community education spaces and community-based programming at the 110,000-square-foot campus.
Plans for the facility also include childcare facilities with outdoor play areas, a demonstration kitchen, an indoor climbing wall, indoor and outdoor pools, a sports performance area with a 40-yard sprint track and even a Zen garden. Plans call for the Wellness Center to open in 2021.
XL SOCCER WORLD
XL Soccer World will open a new 50,000-square-foot indoor athletic complex off Narcoossee Road, near Valencia College's Lake Nona campus. The facility will feature two six-versus-six 4G boarded turf fields and two multisurface fields.
In addition to soccer, the fields can be used to play futsal ball, lacrosse, flag football and volleyball. XL Soccer World is scheduled to open this summer.