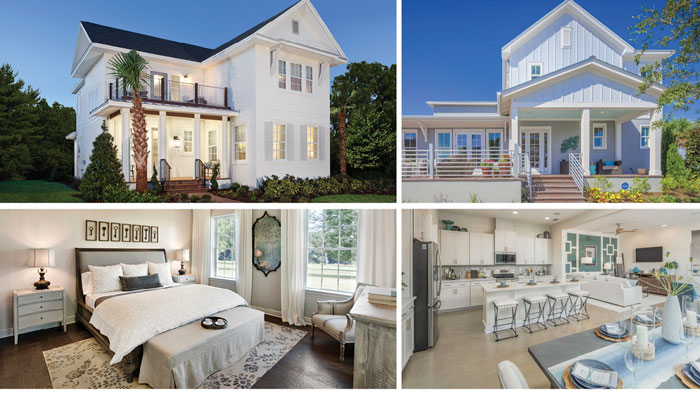 New-home opportunities in Lake Nona are abundant. Here are two examples: The Anderson model (top and bottom left) by Ashton Woods Homes is priced from $473,990, and encompasses 2,525 to 3,465 square feet with four bedrooms, three bathrooms, one half-bath and a two-car garage. Craft Homes is offering the Tailor townhome (top and bottom right), which encompasses 2,059 square feet, three bedrooms, 2.5 bathrooms and a two-car garage. It's priced from the low $350s.
LAKE NONA REMAINS THE BESTSELLING COMMUNITY IN THE REGION FOR A REASON
ACTUALLY, THERE ARE MANY REASONS. HERE ARE A FEW.
Home to more than a dozen residential communities, Lake Nona offers something for everyone — from new homes to apartments to assisted-living facilities. And everyone, it seems, is finding the master-planned community.
While the COVID-19 pandemic impacted sales in many communities, Lake Nona enjoyed its best month just as the state had begun its reopening process earlier this summer.
There were 65 sales in May, the most recent month for which figures are available, beating the previous monthly record of 61. That's certainly a tribute to Lake Nona's draw during a time of economic and health uncertainty. Regardless of the circumstances — through booms as well as recessions and pandemics — more than 6,000 homes have been built within the community's borders.
In fact, Lake Nona's focus on health and wellbeing may have become an even more appealing draw for buyers. Its variety of neighborhoods are near a growing cluster of businesses in the Lake Nona Town Center and the burgeoning, 650-acre Medical City life sciences hub.
But health scares come and (hopefully) go. Rob Adams, vice president of residential development for Lake Nona developer Tavistock Development Company, says it's all about planning.
Lake Nona, like the best master-planned communities, offers a cohesive sense of place with varying home styles and recreational opportunities relatively close together. Plus, many residents work in the various life sciences facilities within the community.
Laureate Park, Lake Nona's largest and best-selling neighborhood with more than 2,300 homes, closed 2019 with 337 sales. Among the offerings are single-family homes, townhomes, cottages and urban bungalows situated among pocket parks, miles of trails, a Village Center, a waterfront restaurant, an event venue, a state-of-the-art fitness facility and a resort-style aquatic facility.
"People are able to see in a master plan that there's some stability," Adams says. "Uncertainty attracts you toward places like a master-planned community."
Sales were further bolstered by a new neighborhood: Isles of Lake Nona. Sales for the mixed single-family home and townhome development, built by Atlanta-based PulteGroup began in April and — despite the pandemic — has accounted for 25 sales as of press time, Adams reports.
Meantime, Somerset Park and Somerset Crossings had a record 48 sales in 2019, and the Enclave at VillageWalk had a strong year with 40 sales. And volume within the Lake Nona Golf and Country Club totaled more than $46 million, making it a banner year for residential real estate in the exclusive community that many sports celebrities call home.
Regarded as one of the top private golf and country clubs in the world, the neighboorhood is a sanctuary of luxury real estate and amenities, featuring a Tom Fazio-designed championship golf course as well as a clubhouse, a lodge, year-round children's programming and 24-hour gated security.
Indeed, the coronavirus seems to have enhanced interest in master-planned communities across the board, according to RCLCO, a real estate consultant with an office in Baldwin Park. Many such developments across the country reported higher sales in April and May of 2020 — during the peak of the pandemic — than the same period in 2019, the company reports.
Lake Nona, for one, notched 267 sales between January and May throughout its neighborhoods. That's a 40 percent increase over the first five months of 2019.
However, a heightened sense of security and stability explains some, but not all, of the community's success. There's much more to the story.
Lake Nona, defined by cutting-edge technology, offers its residents fiber-optic lines that deliver gigabit-capacity internet, plus a commitment to reducing energy, emissions and water usage in every home.
In 2019 Laureate Park welcomed Orlando's Heroes Community Park. The park features a playground, four multiuse fields lighted for night activities and trailhead parking for the Orlando Southeast Trail.
Here's a look at the neighborhoods within Lake Nona.
Enclave at VillageWalk features Mediterranean-inspired homes with barrel-tile roofs and spiral oak staircases. Homes are built on large lots and offer open gathering areas perfect for entertaining. They also boast added storage and spacious 10-foot ceilings.
Gatherings of Lake Nona, built by Beazer Homes, is a 55-plus community adjacent to the VA Medical Center. It offers 216 condominiums, and residents enjoy a variety of amenities.
The Isles of Lake Nona, built by PulteGroup, offers single-family homes and townhomes nestled among a large network of ponds. More than 500 homes are planned, and the neighborhood will feature a clubhouse, sports courts and a resort-style pool with a splash pad.
Lake Nona Golf and Country Club, one of the top private golf and country clubs in the world, is a sanctuary of luxury real estate and amenities nestled along the shores of Lake Nona. The community features a Tom Fazio-designed championship golf course, a 40,000-square-foot clubhouse with an 18-room guest lodge, a bath and racquet club with all-inclusive fitness and tennis facilities, a resort-style pool, year-round children's programming, 24-hour gated security and outstanding water-based recreation on three lakes.
Lake Nona WaterMark is a luxury apartment complex anchored by a 7,515-square-foot clubhouse with a resort-style pool, a fireside veranda, an outdoor kitchen and a business center. It's located near Lake Nona's Sports and Performance District, which is anchored by the USTA National Campus.
Laureate Park is a vibrant, multibuilder neighborhood of brightly colored bungalows, townhomes, cottages and multi-story homes decked out with state-of-the-art technology. The neighborhood sits alongside community gardens, an LP FIT fitness center, a resort-style aquatic center, an event venue, miles of trails, pocket parks and plenty of playgrounds. The Preserve at Laureate Park, a gated neighborhood, offers privacy as well as all those world-class amenities.
Somerset Park is a gated neighborhood in the western portion of the community with stylish single-family, two-story offerings from Century Homes and M/I Homes. Located just minutes from Medical City, the neighborhood offers a wide variety of home styles and amenities that include a community pool and cabana, a playground and walking trails.
Somerset Crossings, located near Somerset Park, is a low-maintenance townhome community by PulteGroup that features open-concept floorplans, one- and two-car garages, and amenities that include a pool, a cabana and a playground.
Somerby Assisted Living, formerly named Watercrest, is a senior-living community with apartments that feature high ceilings, spa showers, kitchenettes, and washers and dryers. It offers assisted living, memory care and respite care.
The following neighborhoods are built out, but resale homes may be available:
VillageWalk blends resort-style homes with a unique design for the neighborhood, which features a neighborhood center connected by bridges and canals leading to lighted walking trails, swimming pools, parks, sport courts and conveniences such as a café, a salon, a post office, a bank, a gas station and a fitness center.
NorthLake Park is home to single-family and multifamily homes and stylish apartments. This expansive neighborhood features the A-rated NorthLake Park Elementary school and YMCA, an Olympic pool, sport courts and fields and a dog park. In 2020, the city of Orlando opened its McCoy Community Park near the neighborhood. The 25-acre park features four baseball/softball fields with spectator bleachers, scoreboards and lighting for night games.
Upscale apartments are also popular in Lake Nona. Ariel Apartments, located in the western portion of the community, features one-, two- and three-bedroom units designed for energy efficiency.
Residents can access 1GB high-speed internet and a 24-hour fitness club featuring Technogym equipment and virtual classes. It's even pet friendly and includes a dog park, a pet-washing station and a canine agility course.
Pixon and LandonHouse apartments are in the community's Town Center for those who want to be where the action is.
At LandonHouse Apartments, residents can rent one-, two- or three-bedroom apartments as well as open studio spaces for true urban living. All 279 apartments are accented by 10-foot ceilings and great views of the quickly expanding Town Center and Medical City.
At Pixon, a 200-unit modern flat community, features an impressive roster of innovative community conveniences that include a car-share program featuring Tesla vehicles and a concierge delivery system.
It also offers 32,500 square feet of retail space on the ground floor, where you'll find such businesses as Foxtail Coffee Co., Rukus Cycling, Club Pilates and Island Fin Poke Co. Pixon includes the region's first micro-units, which are just under 400 square feet.
---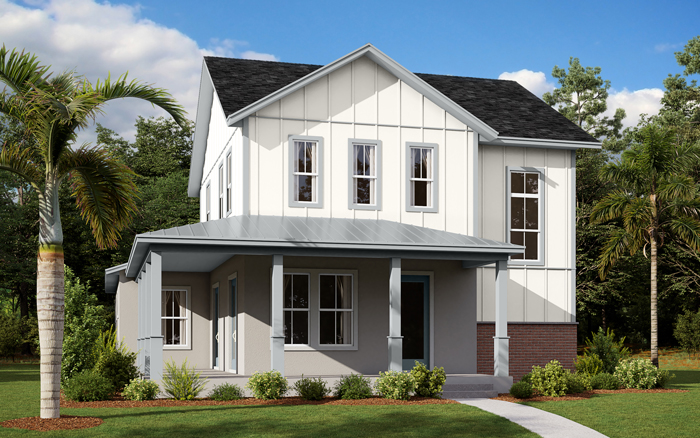 CARDEL HOMES JOINS LAKE NONA BUILDERS
Cardel Homes will begin later this summer on six new one- and two-story floorplans with options that include the ability to expand to a three-car garage, add a garage apartment, include a pool and more.
Prices for the homes, slated for completion early next year, will begin in the $400s. Cardel Homes Design Center allows buyers to select from a wide range of leading brands in flooring, cabinets, lighting, appliances and other interior finishes to fit their taste and budget.
"Cardel Homes is ecstatic to be joining one of the top 10 homebuilding markets in the country," says Brian Phillips, vice president of sales and marketing for Cardel Homes Florida. "The Orlando market is slated for ongoing growth and our team is committed to delivering quality homes — just as we have in Tampa for over 20 years."
Cardel Homes, which has been in operation for more than 45 years, is an international builder with divisions in Calgary, Ottawa, Denver and Southwest Florida. The company is highly selective about the communities in which it participates.
For more information on Cardel Homes, visit cardelhomes.com or follow the company on Facebook.