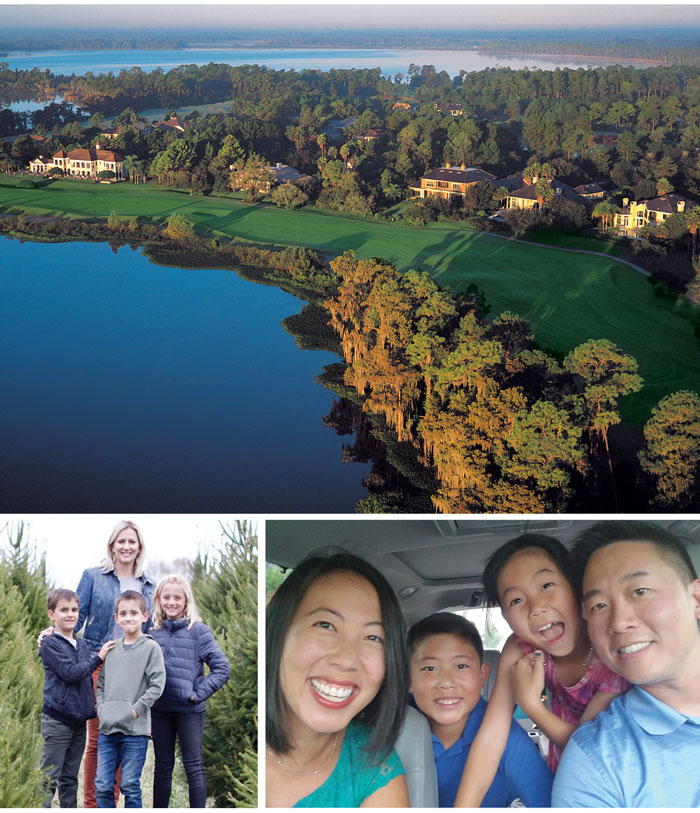 The Lake Nona Golf and Country Club is spectacular from ground level, but even more impressive from the air. Still, the Lake Nona master-planned community isn't only for the country club set. Elizabeth Diaz (above left), an executive with the United States Tennis Association, wanted to live near her workplace and to have a safe environment for her three children. She was thrilled to find that "everything I do happens within a two- to four-mile radius" of her home in Laureate Park. It's that secure sense of community that attracted Katie Wu and her family (above right), to Laureate Park, Lake Nona's hottest-selling community. The family moved there in 2016, when Katie's husband, Rayn, was transferred to Orlando.
ADJECTIVES INCLUDE VITAL, EXCITING, INNOVATIVE AND FORWARD LOOKING
BUT RESIDENTS PREFER TO JUST CALL IT HOME.
When her job took her to Lake Nona four years ago, Elizabeth Diaz knew what she wanted in a community to call home: to live near her workplace, and to have a safe environment for her three children. She found that and much more.
An executive with the United States Tennis Association (USTA), Diaz moved to Lake Nona to help open the USTA National Campus, a $100 million, state-of-the-art training facility within the burgeoning master-planned community.
"I was looking for a location to live, work and play after spending many years in New York and South Florida driving or spending two hours a day in my car to commute to work," says Diaz, 42, USTA's business operations director for player development. "In Lake Nona, everything I do happens in a two- to four-mile radius."
Diaz, who also owns Neighborhood Barre in Lake Nona's Town Center, adds that her kids can ride their bikes to school and that she can ride her bike to work or to her studio. Plus, she says, she can walk, ride her bike or take the Beep (an autonomous shuttle) to several restaurants — all within five minutes of her Laureate Park neighborhood.
"It's been a complete lifestyle change," she notes, with more than a hint of gratitude.
In a nutshell, that's the idea behind Lake Nona, a 17-square-mile community in South Orlando that's home to well-planned neighborhoods, business and research clusters, education facilities, and retail and entertainment districts.
Since 1996, Tavistock Development Company has been transforming open fields and cow pastures into an urban oasis. Today, more than 16,000 people call Lake Nona home, with more than 500 families moving in each year.
Lake Nona boasts A-rated public schools, medical facilities and corporate headquarters. It's undergirded by innovation and healthy living. It's growing and building with the future in mind.
"Our mission is to create the ideal place that inspires human potential through innovative collaboration," says Rob Adams, vice president of residential development for Tavistock. "It's that mission that motivates us to do things that no one else has done before."
Things like putting autonomous shuttles on the road, opening Central Florida's first container park (a funky dining and entertainment district fashioned from repurposed shipping containers), co-locating an elementary school and YMCA and building out a 5G network. "That mission attracts like-minded innovators to collaborate with our community," adds Adams.
Lake Nona residents enjoy a true sense of community, says Adams. From neighborhood design and amenities to a robust calendar of community events, they're given a multitude of opportunities to get to know each other.
Katie Wu and her family are among those residents. They moved into Laureate Park in 2016, when Katie's husband, Rayn, was transferred to Orlando.
"We weren't looking for just a house," says Katie. "We were looking for a place that we could call home. Something unique stood out to me immediately as we drove through Laureate Park."
The Wu's have made the most of their new community. They're avid tennis players and frequent visitors to the USTA Campus, while their two children play competitive soccer at Nona Soccer Academy. The family also participates in the Lake Nona Life Project, a long-term study that examines how lifestyles affect health.
"We were interested in a community where people connected with one another outdoors," Katie says, adding that she was impressed with the many miles of trails along which people walked, jogged and rode bicycles. "It's common to see a cute lemonade stand, friends doing yoga in a community space, a band playing at a local park and biking groups pedaling by while enjoying the beautiful Florida sunsets."
Just a quarter of a century ago, however, there were no trails, lemonade stands or yoga classes in parks. There were, however, plenty of cows grazing in pastureland southeast of Orlando International Airport.
The real growth was happening in Osceola County, just a few more miles south. What would become Lake Nona was home to fewer than 15,000 souls, according to Don Long, CEO of the Lake Nona Regional Chamber of Commerce.
"Another sign of rapid growth has been the jump in the chamber's membership: a 200 percent increase in the past five years," adds Long.
The Lake Nona Golf and Country Club, which would later become part of the master-planned community, was founded in 1986. It takes its name, as does the rest of the region, from 600-acre Lake Nona, which is encompassed by the country club.
In 1996, the Tavistock Company bought the country club. Two years later the company started building NorthLake Park, its first residential neighborhood in Lake Nona. About that same time, a new section of S.R. 417 opened, serving the growing community.
Today, the Lake Nona Boulevard exit on S.R. 417 spills directly into the Town Center, the home of apartments, restaurants, hotels, entertainment venues and the Medical City facilities. A short distance away — past fields where cows still graze — are residential communities and recreational areas.
Orlando and Orange County officials have been impressed by the contributions and financial benefits Lake Nona has provided to the area.
City Commissioner Jim Gray, whose District 1 includes Lake Nona, notes that one out of every three building permits issued by the city, residential and commercial, are related to something happening in the master-planned community.
"Lake Nona's growth over the last 10 years has resulted in a true 'live, work and play' development," says Gray. "High-paying jobs, housing options at various price points, new schools and parks and retail shopping certainly provide residents with an enjoyable lifestyle."
Of the area's financial impact, Gray notes: "Lake Nona has provided more opportunities for businesses to be established, homes to be constructed and entertainment venues to be opened — all resulting in greater economic opportunity for residents and a higher tax base for the city."
Orange County Commissioner Maribel Gomez Cordero, whose District 4 also includes portions of Lake Nona, says the community has made a significant contribution to unincorporated southeast Orange County.
"Lake Nona stands out for its innovation and combination of residential, business, medical, sports and entertainment offerings," she notes. That economic vitality has brought both an outstanding quality of life and thousands of high-paying jobs to a region often knocked for its tourism-heavy workforce.
"Each new family, business and community partner is a new piece added to the already dynamic culture," adds Cordero. It's that culture and lifestyle that attracts — and keeps — new residents.
Says Katie Wu: "I think we're all looking for that perfect place we can call home — a place where we feel safe, accepted and have a mutual desire to make a positive impact in our communities.
"In a world of so much uncertainty, I'm proud of my neighbors for coming together and being united in helping each other out in times of need. I want my children to grow up accepting others and letting kindness guide them. A community is only as good as its people — and when you have a group of people passionate about this unity, you'll see the heart of Lake Nona."
---
Lake Nona by the Numbers
Size: 17 square miles, 11,000 acres
Number of residents: More than 16,000 (an increase of more than 40 percent since 2015)
Median age: 36
Residents with college education: 84 percent (four-year degree), 40 percent (graduate degree)
Household income: 60 percent have a combined income of more than $100,000
Average home price: $520,000 (in 2019)
Number of families who move to Lake Nona each year: More than 500
Number of students attending Lake Nona schools: More than 14,000
Number of people employed in Lake Nona businesses/institutions: More than 12,000
Source: Lake Nona Media Resource Guide