A stone-lined pool highlights the outdoor living area in the Massiano model by Toll Brothers in Royal Cypress Preserve.
WHEN STAY-AT-HOME ORDERS ARE A PURE PLEASURE
MAKE YOUR ABODE THE SORT OF PLACE WHERE A QUARANTINE IS NO HARDSHIP.
While there may be little — if any — positive outcome from the coronavirus pandemic, the stay-at-home guidelines have produced at least one noticeable consequence: We've rediscovered our backyards. Whether it's a new home or an existing one, step out the back door and you'll find many opportunities to put the space to good use.
Maybe your new home needs a summer kitchen or a lanai. Or maybe a swimming pool could replace that crabgrass-infested expanse of grass. After all, we're in Florida — where outdoor living is possible practically 365 days a year.
"Central Florida is renowned for its fantastic, year-round weather — so it's no surprise that an expansive outdoor living space is a sought-after feature," says Brock Fanning, Central Florida division president for Toll Brothers (tollbrothers.com).
He continues: "Homebuyers enjoy a morning cup of coffee on their lanai, then to bask in the afternoon sun by the pool and entertain friends and family for an al fresco dinner."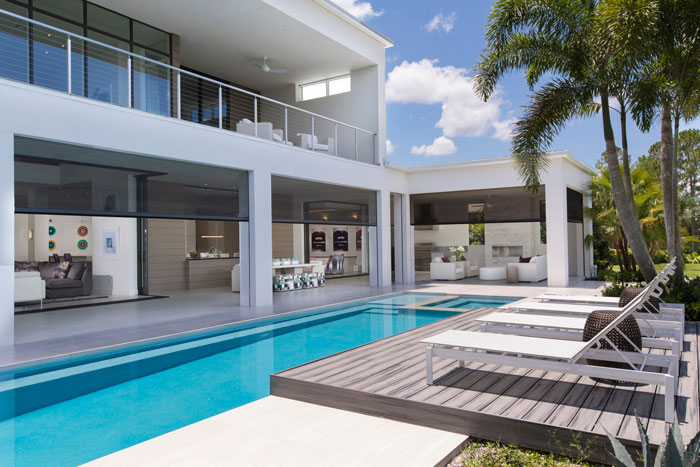 Many homes are designed to create a seamless transition from indoors to outdoors, providing an extension of the living space.
"Outdoor living areas — whether a lanai, a garden or a yard — serve as another room of your house," says Phil Kean, president of Phil Kean Design Group (philkeandesigns.com) in Winter Park.
"These are areas where you can entertain or just spend time relaxing in the fresh air and enjoying the outdoor beauty Florida has to offer."
Landscape architect Corey Mills, owner of Mills Design Group (millsdg.com) in Oviedo, adds: "Outdoor living spaces are essential to a home and allow homeowners the opportunity to transform their very own backyards into resort getaways."
He continues: "If properly designed, these spaces can blend art with natural aesthetics to create unique, lasting environments."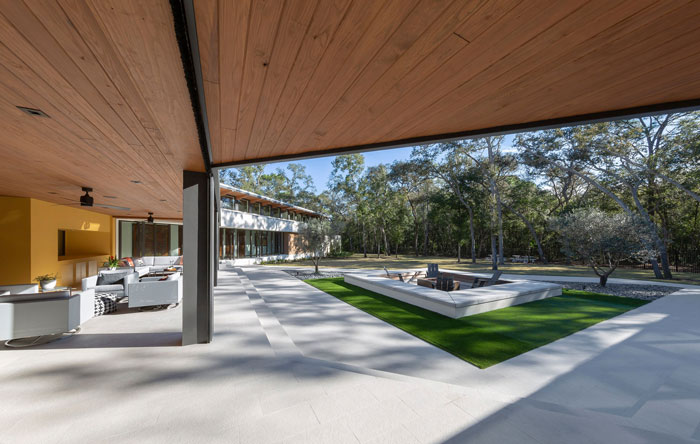 WHAT HOMEOWNERS WANT OUTDOORS
Potential homebuyers will find many popular features — from the basic swimming pool to outdoor living rooms to summer kitchens. The specific choices made may say a lot about the homeowner.
"The outdoor features we choose to accent represent which parts of the outdoor environment that we wish to embrace," says David A. Pillsbury, principal designer at Keesee Associates (gokeesee.com) in Apopka.
He continues: "A swimming pool makes a great center of outdoor entertainment most months of the year in Florida. It brings people together responsibly and adds significant beauty to the backyard. Right alongside the pool is the summer kitchen or barbeque."
Piilsbury notes the way in which people tend to gather near a kitchen when entertaining indoors. The same is true of the outdoors, he says, with the advantage of sun and fresh air.
"Shedquarters" — detached air-conditioned retreat rooms for work or hobbies — also are popular features, according to Tony Weremeichik, principal with the Architecture Design Studio at Canin Associates (canin.com) in Orlando.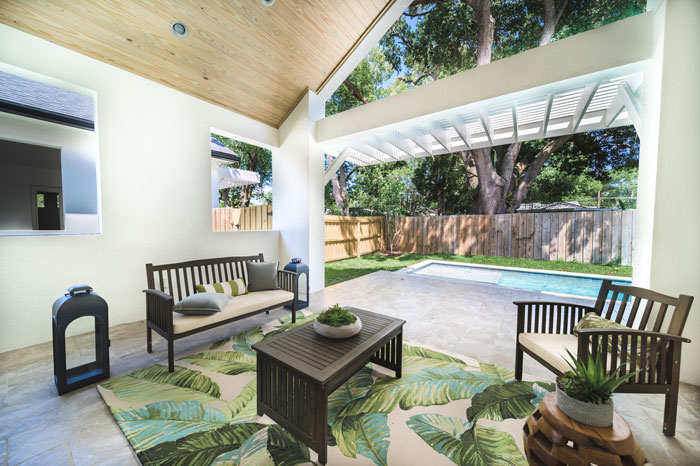 "Other popular features are screened back patios, front porches and courtyards," he adds.
Mills lists several other features as well, including spas; water features, such as fountains or ponds; fire pits; trellises/pergolas; putting greens; and herb gardens.
"The combination of fire and water has become very popular," Mills says. "Something about the blend of two natural elements works very well."
Both features change constantly and provide visual interest from indoors, he says. But the idea is to create environments that entice people from the indoors to the outdoors.
Also popular are lanais with motorized screens and outdoor dining areas with music, says Kean, who added: "A new product we've started incorporating into our homes are sleek radiant heaters that are built flush into outdoor ceilings and can be covered when not in use."
In addition to the backyard pool, Kean said other water features that are gaining popularity include "spools" — small pools for homes with limited outdoor space, and pools with sunken, dry conversation pits so that you can have water around you without getting wet.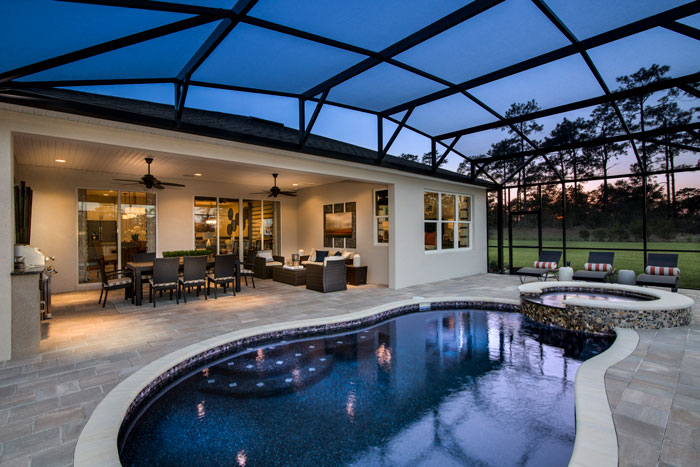 In DeLand, Kolter Homes (kolterhomes.com) is building and selling new homes at Victoria Hills and its 55-plus community at Cresswind at Victoria Gardens.
Each home includes a covered lanai, while many plans also include covered entries and front porches, says John Manrique, vice president for marketing for Kolter.
"Many home shoppers are also interested in extended lanais and patio areas to accommodate outdoor furniture, entertainment, fire pits and more," he adds.
Toll Brothers, which has new communities throughout Central Florida, offers homes with covered lanais that buyers can personalize to suit their lifestyles, says Fanning.
"A covered lanai enables homebuyers to enjoy Central Florida's outdoor lifestyle without leaving home."
Many buyers enhance the space with a summer kitchen and bar perfect for blending indoor and outdoor living, Fanning says, while others create a tropical oasis with lush landscaping and a custom swimming pool and spa.
"These outdoor spaces serve as an ideal 'stay-cation' for Central Florida residents."
HERE'S SOME ADVICE
Homebuilders and architects have solid advice for potential homebuyers when it comes to features for outdoor living.
"If outdoor living with a pool and other features is a priority, be sure from the start to let your builder know what you're interested in," says Manrique with Kolter Homes. "He or she can lead you to a piece of property that works."
He adds that buyers, who may want to install features later, need to find out beforehand what the homeowner association — if one exists — will allow.
Canin architect Weremeichik made two specific points: Avoid outdoor appliances in Florida. And if the outdoor kitchens are too expensive initially, ask the builder to provide pre-wiring or pre-plumbing for the future.
"Be true to yourself," says Keesee's Pillsbury, "Find a home with the features you find important, ones that enhance activities that you know you already enjoy. Then pull the proper team together who can make it happen."
Of course, outdoor features come with a price tag. "Depending on the homeowner's budget, outdoor features will have a varying level of importance," Kean said. "For first-time homebuyers, outdoor features are not as important as the number of bedrooms and bathrooms. Best yet, they can be added as the budget allows."
But if money is no object, Kean adds, "homeowners like to have all the bells and whistles."
He suggests hiring an interior designer or a landscape designer to develop the outdoor living areas. "Since these areas are an extension of your home, it's beneficial to hire someone with the expertise to achieve the best results for your desired purpose," he says.
For example, if you're adding an outdoor dining area, an interior designer will have sources for outdoor furniture and fabrics that look like they were made for the indoors.
Mills' projects have included both new design and remodels of existing outdoor spaces. "There are pluses and minuses to both," he says. "In buying a home with existing outdoor features, it's important to ensure that these existing features suit your family's wants and needs."
He continues: "Every client we work with has a different list of likes and dislikes. We work side by side as design partners to ensure that the landscapes we create fit the lives of the people experiencing them."
Central Floridians were taking it outdoors long before the COVID-19 pandemic and will continue to do so — with or without stay-at-home rules. Homebuilders and architects will identify and develop innovative and popular features.
"For most homebuyers, the outdoor space is as important as any indoor one," says Fanning with Toll Brothers. "Living in Central Florida, they'll spend hours each week on their lanai — whether that's grilling with neighbors, enjoying an evening swim or relaxing with a book on a breezy morning."
The space should reflect the buyers' lifestyle and complement the beauty of their home's interior, Fanning says. Mills echoes that sentiment.
"Outdoor features have become very valuable to potential homebuyers," he says. "Properly designed outdoor spaces can be the sole reason for potential homebuyers to pull the trigger on a purchase."
Pillsbury adds a philosophic note: "We have a part of us that appreciates the privacy of our dwelling, and another part of us that longs to be outside to take in whatever nature has available to offer us."
The most recent shift in our global situation has forced us to rethink the things we find most important, he adds: "The situation has offered us a reset of sorts — if we take the opportunity to find the brighter side of staying at home."