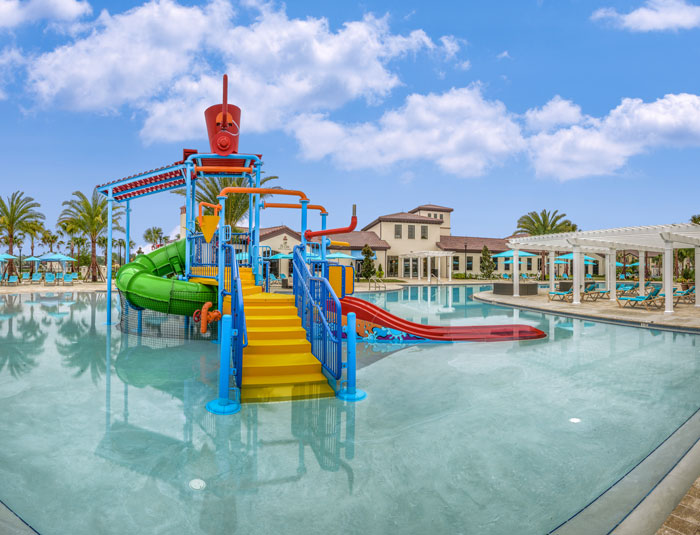 Among the many amenities at Windsor at Westside is a colorful, elaborate waterpark that kids are sure to enjoy.
CORNERING THE MARKET
THE FOUR CORNERS AREA, ONCE CONSIDERED REMOTE, HAS BECOME A GROWTH HOT SPOT.
Today the area known as Four Corners in southwest Central Florida teems with new residential and commercial construction, vacation resorts, heavy traffic and a whole lot of people. That's a common sight in the tourist-rich region not far from Walt Disney World and other popular attractions.
"The Four Corners area is one of the fastest growing areas in Central Florida," said Chandra Frederick, Polk County's assistant county manager for planning and development. "The proximity to the I-4 corridor with easy access to theme parks and the area's hospitality jobs makes it appealing to residents and visitors."
But it was a completely different world 65 years ago. The then-undeveloped swaths of land were home to citrus groves, two-lane roads, remote lakes and plenty of wide-open spaces. It was pre-Disney Old Florida.
That's when Orlando attorney Jerry Bornstein and a group of investors bought about 1,000 acres to grow citrus in the area where Polk, Osceola, Lake and Orange counties meet — hence today's Four Corners moniker.
Bornstein named his acreage Polo Groves — an acronym for the nexus of the four counties. Killer freezes in the early 1980s spelled an end to Polo Groves but gave birth to one of the first housing developments in the area: Polo Park, which exists today with 718 homes on the west side U.S. Highway 27, just south of U.S. Highway 192.
"The then versus now description is about as stark and contrasting as you can get," says Bornstein's son David, who took over the development company after his father's death in 1992.
"When my father bought the property in 1955 it was all citrus — miles and miles of rolling, verdant hills covered in abundant fruit trees," adds Bornstein, president of Insite Land Inc., a real estate development and consulting company in Winter Park.
"When the projects began, there were only dead groves as far as you could see," he continues. "No shopping, no supermarkets, no retail, no medical facilities."
Because Polo Park was the first significant housing development in the Four Corners area, subsequent development in this once-remote region can be attributed to Jerry Bornstein's vision.
ORANGES WERE EVERYWHERE
Judy Berube, 77, and her husband, Donald, relocated to Polo Park 27 years ago from Massachusetts.
"When we first moved to Polo Park, there were oranges everywhere," said Berube, president of the homeowner's association. "We had to go 20 miles away for most of our shopping. We're now surrounded by homes, stores, restaurants and emergency rooms. But I miss the orange blossoms."
Berube's sentiments are shared by Helen Lewis, a winter resident in Polo Park East, another community built on the original Polo Groves land. Located just across U.S. 27, Polo Park East sits adjacent to Old Lake Davenport.
"When Polo Park East was first established, the area was mostly open land, a few orange groves, a couple of campgrounds and not much else," Lewis says. To go to a grocery store — or any other kind of store or restaurant, for that matter — required a trip to Clermont, Kissimmee or Haines City.
Four Corners may have been considered the boondocks then, but no more.
Its general boundaries run west along the U.S. 27 corridor through Lake and Polk counties, north to near Clermont, south to Davenport, and east along S.R. 429, U.S. 192 and I-4. It includes the Champions Gate resort at I-4 in Osceola County.
Four Corners covers about 90 square miles, according to Allison Beeman, chairwoman of the Four Corners Area Council, which is charged with making sense of a rapidly growing region that falls under the jurisdictions of four counties, four school districts and multiple state and regional agencies.
Even trying to determine a population number proves difficult because so many of the homes are short-term rentals and so many of the residents are snowbirds, says Beeman. In addition, she notes, the precise boundaries "depend on who you ask."
The U.S. Census Bureau says the population of Four Corners grew from 26,116 in 2010 to 37,400 in 2017, a 43 percent increase. But Beeman believes it could be double that number today.
The council "spearheads collaboration between Lake, Orange, Osceola and Polk counties to focus on issues that affect residents and business owners in the Four Corners area," states the group's mission. Its key objectives are:
• Review of land-use regulations in the four counties and their implications for future development. (For example, the rules along U.S. 192 differ depending on which side of the road you're dealing with).

• Review of transportation planning initiatives in the four counties, which encompasses both roadway planning and mass transit.

• Respond to the need for additional affordable, workforce housing. Many residents work in the nearby hospitality and theme park industry.
Created by the Kissimmee/Osceola Chamber of Commerce, the council in January issued its "One Vision" report that outlines findings and makes recommendations on implementing a coordinated approach to growth, development and economic opportunity in the Four Corners area.
COUNTY BY COUNTY
In Polk County, there more than 200 subdivisions in Four Corners with another 10 developments in the planning or construction stage, says Frederick with the county manager's office. She estimates that Polk's population in Four Corners could be as high as 50,000.
"We believe that many of these subdivisions are seasonal or short-term rental communities," she says. "However, there are also many full-time residents who work in the resort areas but choose to live in this portion of Polk County for affordability and access."
In addition, notes Frederick, "We've also seen a noticeable spike in the number of new multifamily developments in the past couple of years in this area. The diversity in housing type is a good thing for our residents."
In Osceola County, there are many residential communities in Four Corners and more on the way, according to the county's Community Development Department. As in the other counties, there's a mix of part-time, full-time and seasonal residents.
Visitors and homebuyers are attracted to the area by housing and job opportunities, along with proximity to major roads and theme parks, according to Osceola officials.
In Lake County, Four Corners development is concentrated along U.S. 27, just north of U.S. 192. There are numerous commercial and residential developments, including Cagan Crossings, an expansive apartment project with retail areas and a library.
In Orange County, Four Corners sits just south of the fast-growing Horizon West development — and planning administrator Eric Raasch says the county expects growth to spill over into that area.
He adds that the county has just approved a 360-unit, multifamily project on the west side of Avalon Road, and notes that that there's only one existing subdivision in the Orange County portion of Four Corners.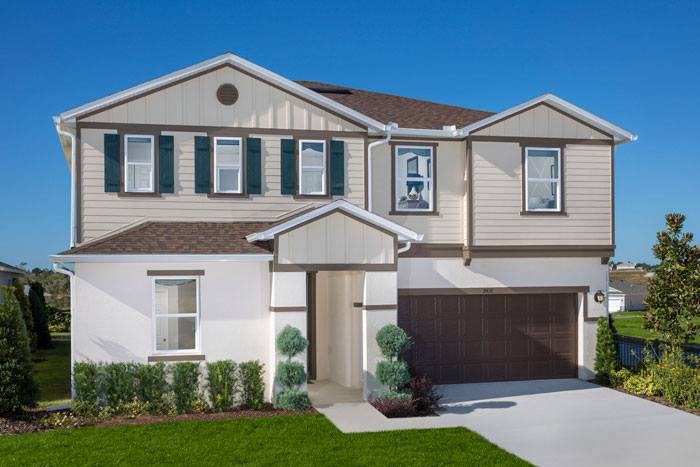 BUILDERS HAVE TAKEN NOTE
The booming area has not gone unnoticed by Central Florida builders. Several are busy along Westside Boulevard, which runs south of U.S. 192 between U.S. 27 and S.R. 429.
KB Home (kbhome.com) is particularly active in Four Corners with Magnolia at Westside and Sawgrass Bay. Both communities consist of single-family homes priced starting in the mid-$200s with square footage ranging from 1,500 to 3,500.
Magnolia at Westside, located south of U.S. 192 and east of U.S. 27, is within walking distance of the Westside K-8 School in Osceola County, says Cara Kane, senior director of public relations for KB Home.
The community's 11 home designs feature large kitchens with an island, an oversized great room, and a walk-in closet in the master bedroom. Community amenities include a pool, a cabana, playing fields and a dog park.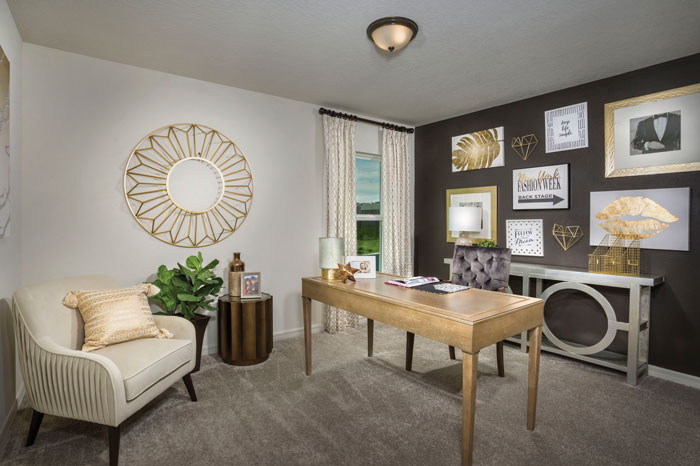 KB Home also is one of several builders in Sawgrass Bay, a development located east of U.S. 27 and south of Clermont in Lake County, near Lake Louisa State Park. The community is surrounded by ponds and conservation areas.
There the company offers 10 home designs, also with kitchen islands and large great rooms. "Homebuyers at Sawgrass Bay are enticed by its convenient location and beautiful natural surroundings," says Kane.
Pulte Homes (pulte.com) is building two vacation-home communities in Osceola County between U.S. 27 and S.R. 429. Windsor at Westside and Windsor Island Resort will offer homes priced starting in the mid-$300s with four to 10 bedrooms and four to eight bathrooms. Square footage ranges from 2,263 to 4,398.
Community amenities include a lazy river, children's water park, fitness center, game room, sports courts and spa.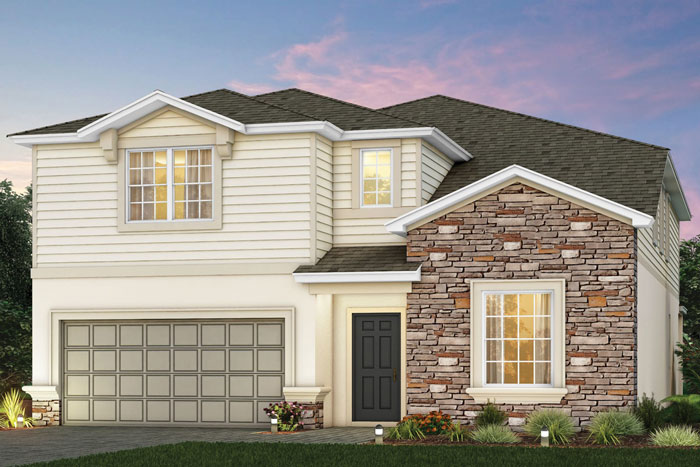 Four Corners appeals to buyers because of the proximity to the attractions, resort-style amenities and large homes with plenty of storage space plus up to 10 bedrooms, says Tristan Knop, marketing manager of PulteGroup's North Florida division.
Pulte also has plans for another community farther east toward Kissimmee. Initial plans call for 286 townhomes as primary residences, not vacation homes.
K. Hovnanian Homes (khov.com) is building in two developments in Four Corners: Magnolia at Westside, between U.S. 27 and S.R. 429, and Four Seasons Orlando, located east of S.R. 429 and west of I-4.
Magnolia at Westside will offer 245 single-family homes priced from $293,990 to $369,990, with square footage ranging from 1,969 to 3,636.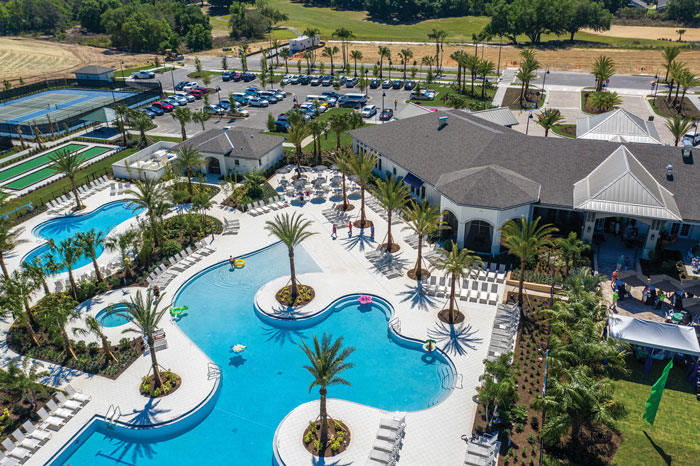 Four Seasons Orlando, a 55-plus community, offers 164 villas and 393 single-family homes priced from $236,990 to $355,990. Square footage ranges from 1,436 to 2,328.
"Both communities can be used as full-time residences or vacation homes," says Anna Almirall, marketing director for K. Hovnanian.
Because Four Seasons Orlando is an age-restricted community, the company's traffic consists of many snowbirds who are ready to retire or are very close to retiring. At Magnolia at Westside, shoppers tend to be families who work either in or around Walt Disney World as well as some investment buyers.
Four Corners has long attracted snowbirds looking to avoid the cold weather up north. Polo Park East resident Helen Lewis, 86, is one of them.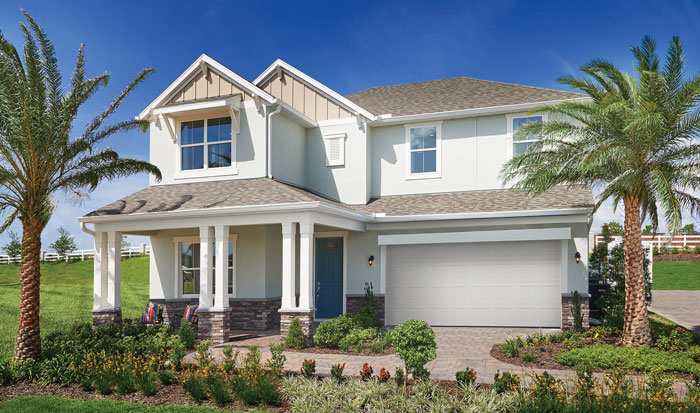 The secretary of the Resident Owners Association and resident since 1998 typically stays about eight months a year in Four Corners and the remaining four months in her Maryland home.
Lewis has had a front-row seat to the drastic changes that development brings — for better or worse.
"Today the growth is unbelievable," she says. "New homes, a six-lane highway that's already obsolete, grocery stores, shopping centers, restaurants, service stations, banks, health centers, doctors and anything else you may want — it is here."