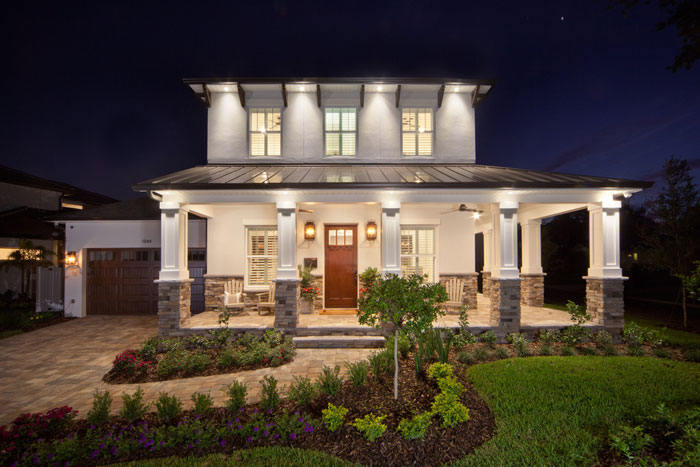 The Montage model in College Park (above and facing page) was a 2015 Parade of Homes winner.
FORTIS PILOTS ITS WAY TO SUCCESS IN CUSTOM BUILDING
Ed Valley has seen the homebuilding horizon in Central Florida, literally — the peaks and, well, the valleys.
Valley, principal of Fortis Enterprises LLC, based in Winter Park, is a licensed private pilot who sees the sights — and sites — from above, often flying a Cessna 172 or a Piper Archer 2 out of Orlando Executive Airport. Married and the father of two children, Valley heads a company in a competitive marketplace and believes the flights are good for his nerves.
"It's just something I've always wanted to do and love doing," he says. "You get a different perspective, looking from the air. It's relaxing. I can concentrate on one thing. And I can get a perspective of what's around — the growth, how communities look and where people are living."
In much the same big-picture way, Valley manages his day job at Fortis, where since 2007 he has been responsible for all facets of construction, sales, operations and management of seven full-time employees. In 2008, John Mazzone joined as business partner and spends most of his time supervising the field work.
Fortis builds from six to 10 homes annually, with prices ranging from the $700s to more than $2 million. The bread-and-butter markets are downtown neighborhoods, such as Winter Park, College Park, Delaney Park and Colonialtown, where "creative thinking outside the box," as he describes it, comes into play.
Additionally, the company specializes in whole-house renovations and additions, particularly for former clients, with projects that include kitchens, baths, pools, outdoor living spaces and summer kitchens. "We never say no to past clients," he says.
That, basically, is the what about Fortis. The how is born from Valley's regular flights as well as the company's nimble approach, which comes from his trial-and-error background dating back to college.
Although born in California, Valley was raised in southwest Florida and attended the University of Florida, intent upon becoming an architect. Less than two years into that program, while a love for buildings remained strong, something, he felt, was missing.
So, the next obvious career path, Valley figured, was construction management, which was offered in the same building at UF. He changed directions and graduated in 1993, with a degree in construction management and an emphasis on green building.
Eventually, Valley's training brought him to another intersection — the corner of commercial and residential construction — and he initially chose commercial work, mostly high-rise condos and some hospitals in southwest Florida.
Yet, again, still something was missing. In 1995, Valley shifted his focus to homebuilding. "I had always really wanted that more intimate experience, I guess, of building," he says. "I wasn't quite there with the commercial stuff."
That year, Valley took a "leap of faith," moved to Orlando and wound up working for a national homebuilder. There, he began his local journey to Fortis. "I would say I matured into the role of custom homebuilder," he reflects. "I certainly didn't start that way — but it ended up being what I really liked about the construction business."
Today, Valley looks to his past and emphasizes flexibility as a custom homebuilder. That way, he's able to shift, adapt and yield in ways that some builders find difficult to do.
"We have clients who come to us with a dream, a certain vision," he says. "And it's either a little too complicated or they need help figuring it out. And I think we have the experience and the patience to sit down with our clients and to [make it work]."
Similarly, Valley seeks staff members who are proactive and willing to suggest new and innovative approaches when confronted with difficult building challenges. In fact, he demands those characteristics
"It's important as a company — it's a goal of ours — that we don't have a structure where people are afraid to make decisions, or they're afraid of expressing their views," Valley explains, noting that half of the staff is under age 40.
"It's part of our company's culture to allow workers to learn new things and stretch their duties. They're involved in everything, including client interactions. That sends a message that even though we're a small company, there's plenty of support and expertise."
How the company interacts with clients, Valley says, is a direct reflection of how staffers interact with one another. "We're very much not a 'talk-down' sort of company," he adds. "All of our employees are empowered."
Experience is important if you work at Fortis, says Valley. But it isn't necessarily the entire determining factor. "I want people who are generally interested in the industry and have critical thinking skills," he notes. "But they need to have the 'want' to learn about the business."
Two LEED AP managers (Leadership in Energy and Environmental Design Accredited Professionals), along with the company's EPA Lead Safe certification, represent another company distinction. That focus on the environment dates to Valley's college days studying green construction management.
For Valley, his path to homebuilding success certainly hasn't been a direct path. Like his flights, though, a few changes in direction have reaped rewards.