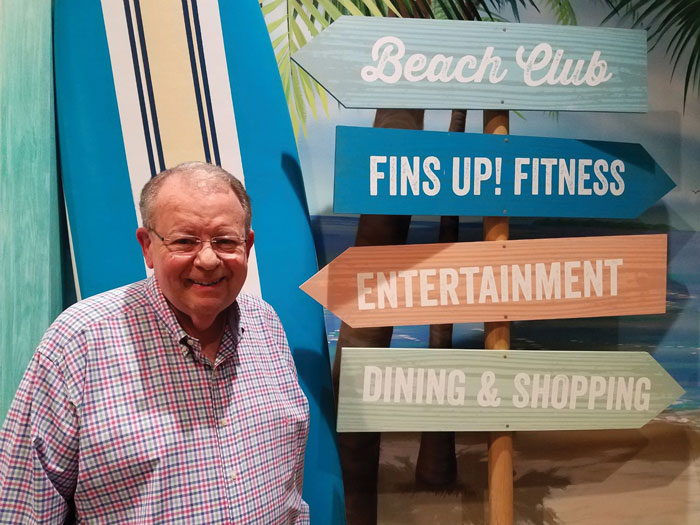 Among those attracted to the Jimmy Buffet-themed community was retiree Steve Grew, 69, who moved there from North Carolina. Says Grew: "I was visiting my nephew in Ponte Vedra Beach last year, and we drove down to check it out. We saw the models and looked over the prices and lifestyle they were promoting."
GET READY FOR THE BEST YEARS OF YOUR LIFE
CENTRAL FLORIDA'S 55-PLUS COMMUNITIES OFFER FUN AND WORRY-FREE LIVING, WITH AS MANY ACTIVITIES AS YOU CAN PACK INTO A DAY.
When retiree Steve Grew was looking to relocate from Charlotte, N.C., he checked out a couple of 55-plus communities near St. Augustine, but none fit the bill. Then he heard about a new active-adult community in Daytona Beach and decided to have a look.
That search lead him to Volusia County's Latitude Margaritaville Daytona Beach, a joint project by developer Minto Communities and Jimmy Buffett's Margaritaville Holdings.
"I was visiting my nephew in Ponte Vedra Beach last year, and we drove down to check it out. We saw the models and looked over the prices and lifestyle they were promoting," says the 69-year-old Grew, who retired in 2012 from hotel sales management.
He was sold. Grew bought a two-bedroom villa in October 2018 and moved in last July.
Initially attracted by the quality of the homes and the fact that the community is gated, Grew discovered something less tangible but no less important once he became a resident: a great vibe.
"Folks here just get along," notes the self-described Parrothead. "We're here to have fun. We don't talk about money or politics. We all enjoy music."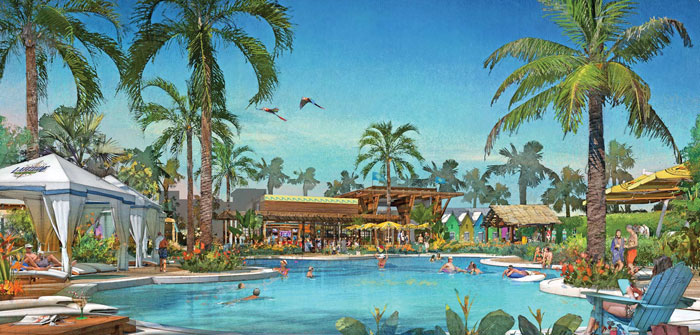 For example, Grew says some musicians who live in Latitude Margaritaville have jam sessions at their homes. And recently Mac McAnally, a guitarist in Buffett's Coral Reefer Band, performed for residents at the Town Center Stage.
Grew is one of about 900 people who move to the Sunshine State every day. Many are active adults, which is unsurprising considering that Florida consistently ranks as one of the most popular states for retirees who are relocating.
Census numbers show that more than 20 percent of Florida's population is age 65 old and older. In Volusia County, where Grew lives, more than 24 percent of the county's population fit that demographic.
Such statistics aren't lost on homebuilders and developers of 55-plus communities for active adults in Central Florida. Consequently, there are a wide range of choices, from single-family homes to villas and carriage homes.
Prices can run from the $200s to more than $400,000. Most feature open floorplans, flexible spaces and energy-efficiency designs.
"Baby boomers are retiring as the last generation with pensions," says Larry Mull, vice president of sales for Taylor Morrison (taylormorrison.com), a prominent homebuilder in Central Florida with two active-adult communities in the area — Solivita in Kissimmee (Osceola County) and Esplanade at Highland Ranch in Clermont (Lake County).
"These robust pensions, along with the equity of their current homes, have afforded them the ability to retire and buy new. They still believe in the value of homeownership. And Florida's friendly tax environment makes it financially beneficial for the 55-plus buyer."
In addition to having no state income tax, Florida has plenty to offer seniors looking to take it easy and enjoy life: mild winters, outdoor living and recreation, arts and culture, ocean and beaches — and, of course, theme parks.
"Central Florida provides a mild climate that's conducive to living an active lifestyle and enjoying the outdoors," says William Bullock, Minto's Latitude Margaritaville (latitudemargar-itaville.com) division president.
"The region also offers beautiful natural surroundings, proximity to beaches, parks and a huge range of world-class cultural, dining, shopping and entertainment offerings as well as great healthcare systems."
Bullock adds that 55-plus buyers are more health conscious, more active, and want to live in communities that provide comprehensive, resort-style amenities that promote an active lifestyle and social interaction with neighbors.
For those who want to stay in shape and follow a healthy lifestyle, most active-adult communities provide fitness centers with exercise classes, walking and biking trails, and other activities.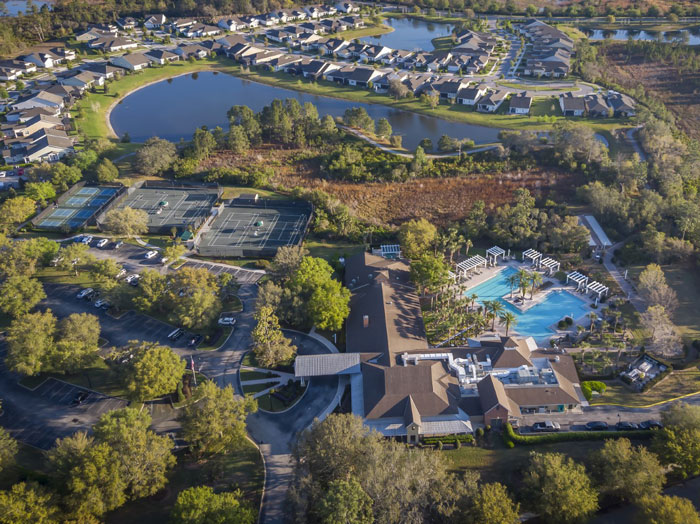 For example, amenities at Volusia County's Cresswind at Victoria Gardens (cresswindvg.com) in DeLand include pickleball courts and a fitness center.
Options at Twin Lakes in St. Cloud include tennis and bocce courts, while choices at East Lake at Harmony include a new fitness center and more than 12 miles of walking trails. Jones Homes (joneshomesusa.com) developed both communities, which are located in Osceola County.
Personal trainers and health coaches stress the importance of staying fit as seniors age. "Physical activity has a range of physical and psychological health benefits for people of all ages," says Julie Logue, training resources manager for Tivity Health's SilverSneakers, a nationwide fitness program aimed at seniors.
"For older adults, the benefits reach far beyond aesthetics. Regular physical activity is important for the prevention and management of chronic disease, in delaying the onset of functional limitations and loss of independence, and in reducing cognitive decline and the risk of falls."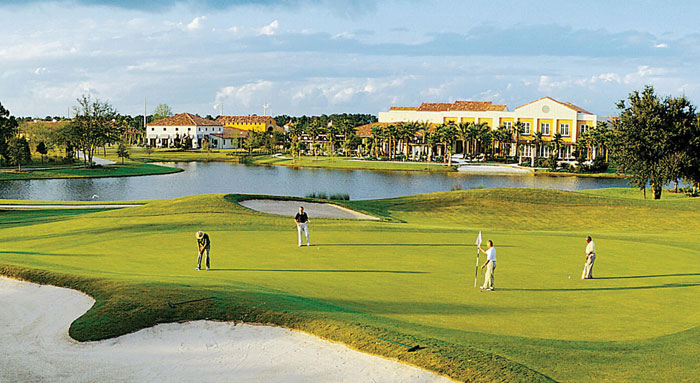 Many active-adult communities provide trainers at their fitness centers. At Osceola County's Solivita, one of the pioneering 55-plus communities in the region, residents can attend weekly lectures on healthcare, participate in sports tournaments, and take classes in everything from yoga and zumba to ballroom dancing and self-defense classes.
The community has two full-time trainers and four nonstaff trainers, according to Jamar Edge, director of fitness and wellness for Evergreen Lifestyles Management, which operates the programs.
Seniors are motivated to stay fit for several reasons, Edge says, including looking and feeling good, and maintaining their health and independence for as long as possible.
"We've heard stories of many of our homeowners who have cut down on their prescription medication intake, lowered their cholesterol and glucose readings, improved their blood pressure and generally led more active lifestyles."
Solivita residents have access to an indoor walking track, indoor and outdoor heated pools, a fitness centers, tennis and pickleball courts, golf courses and more.
Launched in 2000, Solivita has 5,500 single-family homes, with another 500 planned. Prices start in the low $200s; square footage ranges from 1,364 to 2,929.
The golf-cart friendly community in Kissimmee has received a number of awards, including being named multiple times as one of America's Best Master-Planned Communities for Active Adults by Where to Retire Magazine. It has earned more than 70 design and community planning honors, says Mull, the vice president for sales.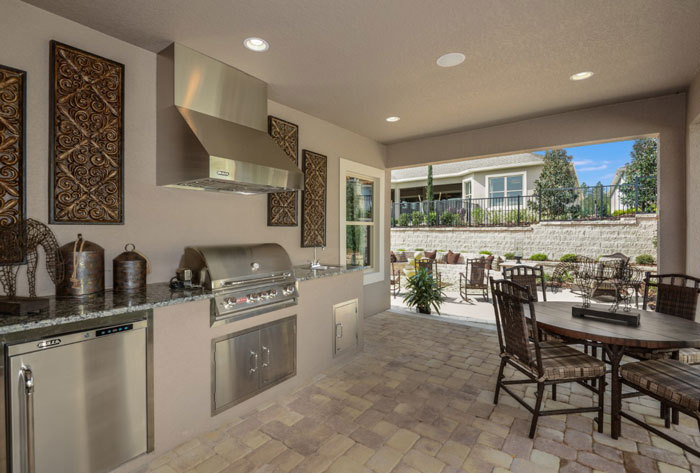 Taylor Morrison's other active-adult community in the Orlando area is Esplanade at Highland Ranch in Clermont in Lake County. It opened in 2014, and there are currently 240 single-family homes, with plans for a total of 484. Home prices start in the high $200s, and square footage ranges from 1,722 to 3,006.
"Highland Ranch is oriented around an extensive network of parks and open spaces that meander through the community and provide residents opportunities to stay active, meet their neighbors and have direct access to nature," says Mull.
The community also provides a clubhouse with a fitness room and a multipurpose room for yoga and exercise classes, plus a card room. In addition, there's a pool and hot tub, a covered lanai and a summer kitchen as well as pickleball and tennis courts. Conservation areas are found along elevated boardwalks and nature trails.
"Our residents are never bored," Mull says of both communities.
In DeLand, Kolter Homes developed Cresswind at Victoria Gardens, which was founded in 2000. It recently sold its 1,000th home, with plans for about 100 more, says John Manrique, vice president of marketing for Kolter. The community's single-family homes are priced from the $220s to the $400s, with square footage ranging from 1,500 to more than 3,500.
"Central Florida, especially Volusia County, gives you access to everything, including beaches, attractions, parks, outdoor recreation, shopping, dining, culture, universities, sports, medical care and more in 30 minutes or less," says Manrique.
Homebuyers are attracted to Cresswind, he adds, for its convenient lifestyle, walkable community designs and fully programmed clubhouses that offer a range of activities and social interaction opportunities — including on-site dining and events in the ballroom.
"Our homes are designed specifically for active adults with a wide range of personalization options so buyers can get what they want and nothing they don't," Manrique adds.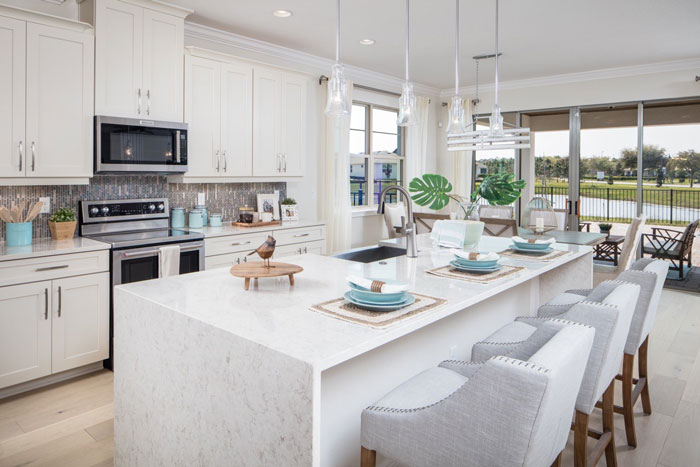 Jones Homes has developed two 55-plus communities in Osceola County: Twin Lakes in St. Cloud, and East Lake at Harmony near St. Cloud.
Twin Lakes, which opened in 2016, offers single-family homes and carriage homes with prices starting in the $200s, and square footage ranging from 1,270 to 3,802. At East Lake, which opened in 2019, single-family homes start in the $250s, with square footage ranging from 1,317 to 2,975.
"Our homes come complete with innovative designs, the latest in energy features and home technology, and many standard features that are considered upgrades with other builders," says Deb Marton, vice president of sales and marketing for Jones. "Along with our outstanding amenities to fit any lifestyle, buyers are attracted to our development because of the quality and value of our homes."
Marton adds that buyers appreciate other features as well: "The latest in smart-home technology, brick paver walkways, driveways and patios and oversize tile in all living areas."
Another new choice for 55-plus buyers, as Steve Drew discovered, is Latitude Margaritaville in Daytona Beach. The first residents arrived in March 2018. Today there are 600 homes, with plans for a total of 3,000.
Buyers have their choice of duplex cottages, villas or single-family homes. Cottages are priced starting at $209,900, with square footage starting at 1,204 square feet. Villas are priced starting at $253,990, with square footage ranging from 1,503 to 1,862, while single-family homes are priced starting at $298,990, with square footage ranging from 1,684 to 2,564.
The community's island-style architecture, palm tree-lined (and golf cart-friendly) streets with names like Lost Shaker Way, Island Breeze Avenue and Coral Reef Way. Colorful beach-themed conch cottages, villas and single-family homes create an authentic "no worries" tropical ambience that resonates with everyone who visits, says Bullock, Minto's division president.
He notes that Latitude Margaritaville has been ranked the nation's most popular active-adult community of 2018 by 55Places.com, and 2019's 55-plus Community of the Year by the National Association of Home Builders.
Home features include spaces that flow seamlessly from indoor to outdoor living areas. Bathrooms include large walk-in showers and raised countertops. Kitchens have multifunctional, easy access cabinets and large service and seating islands. Master suites include walk-in showers and soaking tubs, double vanities and large walk-in closets.
Community features include a Town Center with a restaurant and bar, a thatched room bandshell, a fitness center, a pool and a nature trail as well as tennis and pickleball courts. Also planned is a private beach club with free shuttle service for residents.
Steve Grew loves it all. "Living here is conducive to enjoying life. My only regret is that I didn't come sooner."