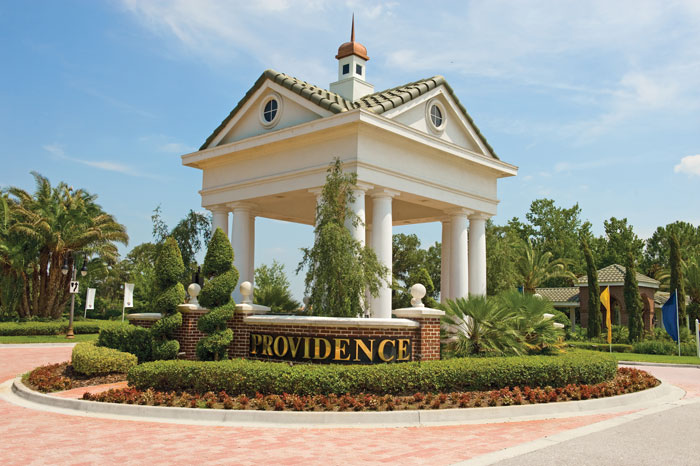 Opened back in 2006, Providence and its 2,200 acres are earmarked for 4,800 units, with approximately 1,500 already built — including some multifamily homes. That leaves another 2,000 or so homes to be built before the project is completed.
THE PROMISE OF PROVIDENCE IS BEING KEPT
Matt Brown knew the timing was right. Before arriving at ABD Development Company as vice president of sales and marketing, Brown worked at a large media company, with expertise in both media and real estate.
Brown was drawn by ABD's innovation, flexibility and nimbleness along with its large-company financial backing. Mostly, he was drawn by the possibilities of Providence, a gated community being developed by ABD in Davenport, southwest of Orlando.
In Brown's view, Providence ranked somewhere between great potential and gold mine. "I just saw that there was so much growth coming this way," Brown remembers from December 2015. "I knew that we would be very, very busy for the next decade."
Likely even longer. Opened back in 2006, Providence and its 2,200 acres are earmarked for 4,800 units, with approximately 1,500 already built — including some multifamily homes.
That leaves another 2,000 or so homes until buildout. "Sections are opening and selling out all the time," Brown says. "We'll be here a long time."
In each of the past two years, more than 200 homes have been sold in Providence, where, as promotional materials accurately describe it, "manicured landscapes meet rippling lakes."
Just as the community's Phase One closed in late 2019, Phase Two has launched, with ABD — which is the community's developer as well as a builder — joined by Lennar Homes and FID Homes.
ABD's homes typically are priced highest, ranging from the high $300s to approximately $1 million. "We always have multiple builders and multiple price points and products to choose from," Brown says.
This new activity comes on the heels of Sherbrook Springs selling out in October. The golf-cottage neighborhood features views of the Providence Golf Club's course, at prices starting at $290,000.
"That was far below what was typical for the Orlando area," said ABD President Yuval Botansky in a press release last fall. Botansky added that Sherbrook Springs has been a "very clear success story from the start."
As he looks into 2020 and beyond, Brown acknowledges the "market is only so deep." At the same time, he points to surrounding growth — a sort of rising tide that lifts all boats and attracts many to Davenport.
While residents of Providence primarily are full-time occupants, vacationers are also a part of the ownership mix, with a few sections of the community allowing short-term housing rental.
For the record, Providence is 30 minutes from Orlando, 45 minutes from Tampa and 20 minutes from Kissimmee. Those are facts not ignored by real estate agents, whom Brown lauds for their efforts in steering prospective buyers the community's way.
"The area is exploding because Polk County is just so big with growth. And that's exciting for us," Brown explains. "Basically, when we opened up out here, we were in the middle of nowhere. And now we're in the middle of somewhere."
Also, much is available to enjoy "out here" in Providence. Among the highlights is an 18-hole championship golf course designed by Mike Dasher, whose affection for European-style courses is evident on many of the undulating greens at Providence Golf Club.
Additionally, among other amenities, you'll find a resort-style pool and lap pool; lighted tennis courts; a fitness center; a 24-hour manned gatehouse; wide sidewalks and trails for walking/hiking; and, for canine residents and their people, a dog park.
Plus, the homes are top quality. Providence has been recognized with the Grand Award for Community Development from the Greater Orlando Builders Association's Parade of Homes for four years in a row.
And in June, ABD's signature home, The Courtyard model, won first place in the Parade's Custom Home category. The model features living space that surrounds a private courtyard and pool. ABD won its first award for the Courtyard model in 1997.
In all, Providence represents a vision that Brown saw years ago upon his arrival. He says: "This is a place that's worth taking a look at."