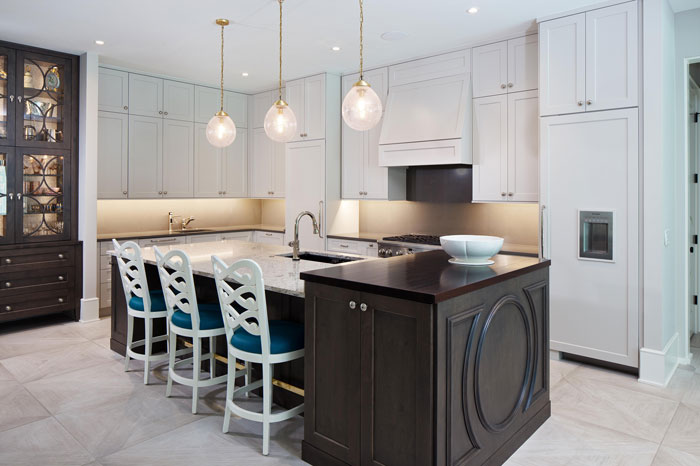 The kitchen in the Hollywood Regency, a custom home by Keith Groninger, is elegant and uncluttered.
HE'S TINKERING, TEACHING AND ALWAYS BUILDING
Groninger Custom Homes has been around since 1988. The reasons behind the company's staying power? A "like" for people and a "love" to create.
Barely into elementary school, Keith Groning-er didn't leave much doubt about what he wanted to do with his life. "My mom would tell you that I've been drawing house plans since I was 7 years old," Groninger says. "I've just always loved building houses. I'm not sure where it came from. I built a lot of treehouses when I was a kid."
Now, as the owner of Groninger Custom Homes, he builds in the midst of trees on some of Central Florida's finest real estate. And he does it quite well, according to his customers and his peers.
Groninger is a 10-time Parade of Homes winner who has served on the board of the Greater Orlando Builders Association and is a National Association of Home Builders' Certified Green Professional. Also, since 1997, he's been a member of NAHB's "Builder 20 Club," a group of builders focused on solutions to industry challenges.
So Groninger is a pretty big deal in homebuilding circles — in fact, a Winter Park custom home he had just built at press time (he dubbed it Narrow House) was named a finalist for the NAHB's "Home of the Year" in the 55-plus market category. It went on to win top honors at the national association's annual convention in January.
Yet, he is quick to defer. He would just as soon talk about his classroom teaching or his classic-car tinkering.
Groninger, a resident of Winter Park since 1973, first showed an inclination to teach others while at the University of Florida, where he received bachelor's and master's degrees in construction management. He taught construction scheduling there as a graduate assistant.
Then, when the economic downturn struck a decade ago, he decided to teach about construction locally at Everglades University, calling it "a sort of a bucket-list thing to do."
Says Groninger: "I didn't expect it to happen, but when everything crashed about 10 years ago, I heard something about it and thought I'd do it. I have a lot that I can bring to the table. It's just kind of a synergistic thing that I can offer, and it's gratifying."
The tinkering is an even more consuming passion. Groninger is a motorhead who's an expert in automotive restoration and customization. He drives two of his projects: a 1961 pickup truck and a 1969 station wagon.
Today, Groninger Custom Homes — which was founded in 1988 — builds three to five homes annually. Much of the work is design-build, putting Groninger's talents on display. Every home, he says, is close to his heart.
"I like working with people," he says. "I also love the creative side of things, especially in terms of design, and I enjoy just making things."
A glimpse at the volunteer activities on Groninger's resumé is telling. The father of two grown children, he's certified as a coach by US Lacrosse and the Positive Coaching Alliance; he's announced lacrosse games for Winter Park High School; and he's been a Cub Scout Den Leader and Cub Master.
"You don't just hire any old contractor to put together a special home for yourself and your family," he notes. "There's a lot more to it. There's so much of the customer involved. And we really have to understand each customer, because they have different needs."
Some want to get right to the bottom line, Groninger says, while others are "touchy-feely." Reading which approach his customers prefer — and then delivering it — has made him successful.
Results speak for themselves. Last December the company completed a home for its ninth repeat customer: "They come back to us and want to do it all over again."
Not coincidentally, Groninger leans on education, both for his clients and himself. A tutorial on the company website addresses a myriad of topics for buyers, ranging from property evaluation to maintenance and warranty issues.
In similar fashion, each home can offer lessons for its builder. "Personally, I'm a lifetime scholar; I'm always learning and reading," Groninger says. "I'm always trying to learn a little something new. Every home we build is an opportunity to learn how to improve the process for the next home."
And there are tests. Groninger has long believed that in building a home, clients — often spouses — have important decisions to make collaboratively.
Groninger reasons that 80 percent of those decisions aren't difficult, while 10 percent require considerable discussion and negotiation. "The remaining 10 percent, you fight over," he says.
Two years ago, Groninger and his wife, Camie, built their own home, prompting him to joke that "my wife is one of my most difficult customers."
In the end, Groninger had to teach a little, tinker a lot and, ultimately, do what he's done since childhood — create. "The house," he notes, "turned out a lot better than she envisioned it was going to be."
No surprise there.