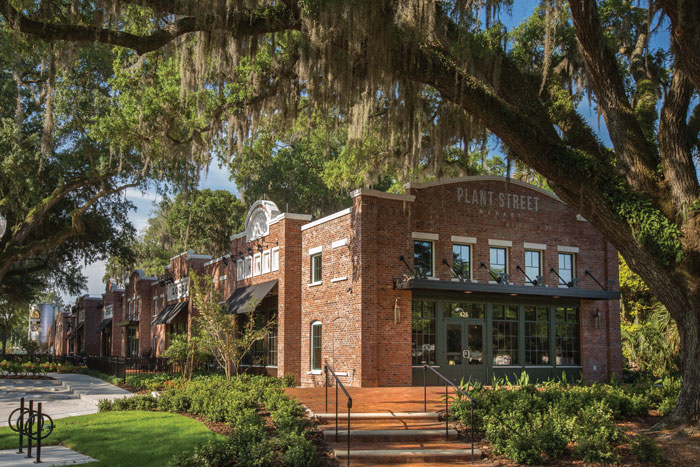 Plant Street Market encompasses more than 20 merchants and houses a microbrewery. The project, which opened last year, further solidified Winter Garden's reputation as a foodie mecca.
RETRO CHIC
ONCE A QUIET FARM TOWN, FUN AND FUNKY WINTER GARDEN IS NOW AN EMBRACEABLE HIPSTER HAVEN.
By Randy Noles
Winter Garden, dubbed "the charming little town with a juicy past," honors its agricultural heritage. But it's also strengthening its position as a magnet for those whose only interest in citrus is sipping it with their morning croissants.
Indeed, a generation ago it would have been hard to imagine this isolated farming community, which encompassed eight citrus packing plants, as the alluring hipster mecca it has become. But with Horizon West booming and southwest Orange County emerging as the fastest-growing sector in the region, the bustling city of more than 45,000 residents is stepping up its game even further.
Today, Winter Garden is best known for its vibrant Downtown Historic District, one of the most interesting and picturesque of any in the region. The district, which was added to the National Register of Historic Places in 1996, encompasses about 100 acres bounded by Woodland, Tremaine, Henderson and Lake View streets.
West Plant Street, the city's lively main drag, has emerged as one of the most desirable destinations in Central Florida for dining, shopping and strolling. "Downtown Winter Garden is everybody's downtown," says Stina D'Uva, president and CEO of the West Orange Chamber of Commerce, who believes that Horizon West's growth can only benefit the city. "There's such great synergy there."
Residents of Horizon West, of course, will enjoy their own Village Centers and a major Town Center at which Hamlin is the heart. But refreshingly retro Winter Garden offers a decidedly different diversion for area newcomers.
The neighboring cities of Winter Garden and Ocoee have joined forces to develop an economic corridor linking their downtowns, seeking to transform a forlorn 6-mile stretch of roadway lined by old warehouses and automobile repair shops into complementary city gateways at the S.R. 429 interchange.
Revitalizing the road, named East Plant Street in Winter Garden and West Franklin Street in Ocoee, was the subject of an economic study partly funded with a $100,000 state grant.
"We envision a total redevelopment all the way out to the beltway and beyond," says City Manager Mike Bollhoefer. Part of that development includes The Heritage at Plant Street, an M/I Homes community of single-family homes and townhomes on East Plant Street.
The effort to upgrade that once-neglected stretch of road comes on the heels of even more activity on already-thriving West Plant Street. Plant Street Market, which encompasses more than 20 merchants including the popular Crooked Can microbrewery, opened in 2014 on the site of a demolished apartment complex. The market contains farm-to-table restaurants, a bakery, a butcher, a chocolatier, a wine bar and various sellers of artisanal food items.
The $2 million project extended downtown's footprint beyond City Hall and further solidified Winter Garden's reputation as a foodie mecca. The concept is similar to that behind the wildly successful East End Market in Orlando's Audubon Park neighborhood.
There's a satisfying full-circle feel to Winter Garden's continued association with food. The city's earliest settlers were primarily farmers, and not just of citrus. A year-round growing season, fertile soil and easy access to railroads serving Northern markets meant that agriculture of all varieties flourished.
Later, as Central Florida's economy became more dependent upon tourism, the city's proximity to Walt Disney World and other attractions provided another economic shot in the arm.
But it's fair to say that Winter Garden didn't really come into its own until the Rails-to-Trails Conservancy was established in 1986. The Washington, D.C.-based nonprofit worked with local governments around the country to convert abandoned rail beds into trails for walking, hiking and biking.
One result of that effort was the popular West Orange Trail, a 22-mile route that rambles right through the middle of Plant Street. In fact, the Winter Garden Station quickly emerged as a favorite stop for thousands of trail users every month.
Local boosters and businesspeople were happy to welcome the visitors, many of whom had never been to Winter Garden and were delighted by its picture-postcard ambience and its neighborly attitude.
Today, about 1.3 million people annually visit downtown Winter Garden. And there's plenty to do and see.
The lovingly restored Garden Theatre, a circa-1930s movie house, is in the heart of the Historic District. Now a performing-arts center, it hosts live theater, dance and musical programs as well as the annual Starlight Film Festival, which celebrates inventive, micro-budget productions.
In addition, the city partnered with the Winter Garden Arts Association to convert the old Boyd Street Fire Station into a hub for visual art that now houses a gallery and a teaching facility. It's the first step toward creation of an Art and Design District, which will offer artists both living space and studio space.
And, of course, there's eating. At the critically acclaimed Chef's Table at the Edgewater Hotel, you can savor the likes of foie gras, terrine with oven-toasted brioche and apricot balsamic gastrique.
Then there's the fire-grilled filet with celery root and potato purée at Thai Blossom, the seared tuna and homemade soup at the Moon Cricket Grille, and what's been touted by various critics as some of the best pizza in Central Florida at family-owned Winter Garden Pizza Company.
Sure, it's all very hip — except when it isn't. Need to stock up on insecticides? Get a bottle of tail-and-mane shampoo for your horses or a 50-pound bag of feed for your catfish farm? Try Winter Garden Feed Company, which changed its name and moved from downtown Winter Garden to West Colonial Drive.
And the city's Heritage Foundation operates two museums: the Winter Garden Heritage Museum, located in the old Atlantic Coast Line Depot, and the Central Florida Railroad Museum, located in the old Tavares & Gulf Railroad Depot. Both museums offer free admission.
The Winter Garden Farmers Market — here we go with food again — won an "America's Favorite" award from America's Farmland Trust a couple of years back. It's held every Saturday and features locally grown produce, fresh flowers, baked goods and even live entertainment.