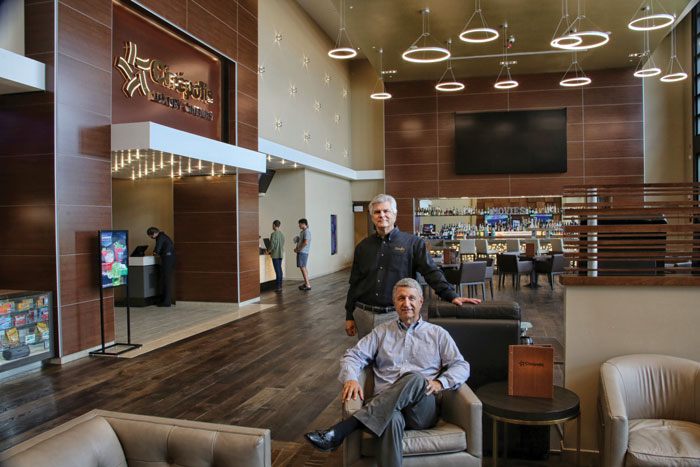 Ken Kupp (above left) and Scott Boyd (above right) of Boyd Development are focused on making Hamlin a lively and inviting place. The success of Hamlin is one reason why southwest Orlando is the region's fastest-growing sector. Boyd and Kupp, checking out the sleek lobby at Cinépolis Hamlin, are pleased — but not surprised — at the speed with which retail and commercial development is proceeding at Hamlin. A Walmart Supercenter and a Publix supermarket have also opened, as have dozens of retail shops and restaurants.
LIFE IS SWEET
HAMLIN HAS HOMES, BUSINESSES AND AN EMERGING LIFESTYLE CENTER THAT WILL BE A REGIONAL DESTINATION.
By Randy Noles
The 950 acres comprising Hamlin, the vibrant heart of the 3,624-acre Horizon West Town Center, was a verdant, lake-dotted blank slate on which developer T. Scott Boyd could create a regional destination that would rival, for example, Winter Park.
And he's doing just that. Hamlin is rapidly morphing from an expanse of old groves — tangy Hamlin oranges were once grown there — into what will soon become a shopping and entertainment mecca to rival anything else in Central Florida. Not surprisingly, the homes there are selling as quickly as they can be built.
Boyd and his team at Boyd Development Corp. are focused on making Hamlin a lively and inviting place, where residents will enjoy proximity to every imaginable amenity. Plus, they say, it'll be a place where Central Floridians, regardless of where they live, will be eager to visit.
How about a movie in a state-of-the-art movie theater, followed by a late-night dinner at a gourmet restaurant? Or window-shopping along a lively, tree-lined street bordered by intriguing boutiques?
Or a leisurely stroll along a scenic boardwalk that hugs the shores of a pristine lake? Or a bracing jaunt through a series of beautifully landscaped parks linked by a pedestrian trail network?
Then, when it's time to call it a night, perhaps home is just minutes away in a brand-new lakefront neighborhood, where the top builders in the U.S. have pulled out all the stops with eye-popping designs and state-of-the-art technology.
"We want Hamlin to be a destination," says Ken Kupp, a Boyd Development principal. "It'll have an actively programmed town center, with 100 to 150 events a year. It's a classic live/work/play community."
Valued at $1 billion, Hamlin was kick-started in 2014 when the New Independence Parkway interchange was opened off S.R. 429. New Independence Parkway was extended east for nearly a mile to Schoolhouse Pond Road, which leads to the community of Independence.
A four-lane road, Hamlin Grove Trail, was built parallel to S.R. 429, and runs south from New Independence Parkway to Summerlake Park Boulevard, which leads to the community of Summerlake. Once the roads were in place, the pace quickened.
Now open on the 64-acre northwest quadrant of the interchange is a 400,000-square-foot retail complex that includes a 193,000-square-foot Walmart Supercenter as well as about a half-dozen out-parcels with shops and restaurants.
A second retail complex, this one 200,000 square feet, occupies the 66-acre southwest quadrant. It's anchored by a 54,000-square-foot Publix supermarket, which opened earlier this year.
The southeast quadrant — the Lake District — encompasses a 40,000-square-foot, dine-in movie theater boasting 10 screens and stadium seating. Operated by Dallas-based Cinépolis USA, the complex offers perhaps the most luxurious moviegoing experience in the region.
"Cinépolis Hamlin" is the brand's seventh upscale dine-in movie theater in the U.S. and only its second in Florida (the other is in Jupiter). It features fully reclining leather seats, waiter service, gourmet dining and a full bar.
Coming soon are some exciting fast-casual restaurants that are new to the market, including Ford's Garage, a national gourmet-burger chain, and Capone's Coal Fired Pizza, which specializes in house-made pastas, as well as pizzas, sandwiches and calzones baked in its 800-degree coal-fired ovens.
British-themed pub and restaurant Yeoman's Cask & Lion is also on the way. The Tampa-based eatery will dish up U.K. staples such as bangers and mash, fish and chips, and Shepherd's pie as well as American classics such as Philly cheese steaks and macaroni and cheese.
A longtime local favorite, Bosphorus, based in Winter Park and with locations in Lake Nona and Dr. Phillips, has opened a Hamlin location, offering its delicious Turkish cuisine to Horizon West residents. Also announced is A.G.'s Market, a food hall encompassing a variety of small eateries under one roof. The concept is comparable to Plant Street Market in Winter Garden or East End Market in Orlando.
Boyd Development has moved to the Westside Shoppes, a 117-acre retail center at the corner of Winter Garden Vineland Road and Lakeside Village Lane. There are already seven buildings with 26 tenants — and no vacancies. Like much of the commercial architecture in Hamlin, the center's look is sophisticated with a touch of industrial chic.
Anchored by the theater is the jewel of Hamlin — a charming lifestyle center built around 28 acres surrounding Lake Hancock. There, visitors will enjoy an Old Florida ambience and plenty of inviting parks and public areas. There'll also be events galore, such as music festivals and art shows. A recent health fair, Kupp said, attracted more than 2,000 people.
"The opportunity to have access to Lake Hancock makes this a really special place," adds Kupp. "There aren't many opportunities like that left in Central Florida."
The lifestyle center will be packed with retail and dining options as well as a boardwalk and a small marina, so the area can be reached by boat. The boardwalk will link to a multiuse trail system — which will eventually be connected to the existing 22-mile West Orange Trail — and a lakefront park accessible by foot, bike or golf cart.
East of the lifestyle district, an upscale 316-unit apartment complex dubbed LakeWalk at Hamlin, has been completed and an additional 250-unit complex called The Lodge is being built. The apartments offer breathtaking views of Lake Hancock.
Land is being cleared on the northwest quadrant — the last of the four quadrants on which development is getting underway. Coming soon are a variety of commercial projects, including a bank, an auto repair facility and fast-casual restaurants among other types of businesses.
There are three active neighborhoods in Hamlin, including Wincey Groves at Hamlin by Dream Finders Homes (priced from the mid-$300s). Ashton Woods Homes is closing out Hamlin Reserve (priced from the high $300s) while Taylor Morrison is seeing strong sales activity at Overlook at Hamlin (priced from the high $500s). The company will soon launch Enclave at Hamlin and has already started an interest list.
Orlando Health, which owns about 80 acres along the south side of Porter Road, has just opened an emergency room and a medical pavilion. Scheduled to open in 2021 is a six-story, 214,000-square-foot hospital with 103 inpatient beds as well as an on-site laboratory and outpatient imaging services.
In addition, a new proton therapy center is under construction across New Independence Parkway from the LakeWalk apartment complex. The center is a joint venture between Knoxville, Tennessee-based Provision Healthcare and Hamlin Retail Partners West, an affiliate of Boyd Development and Schrimsher Properties. Proton therapy is a type of radiation treatment that uses protons rather than X-rays to treat the disease.
The center, which started construction in the fourth quarter of 2018, will encompass three treatment rooms and use the latest proton systems technology of Provision Healthcare affiliate ProNova Solutions LLC. It'll be able to treat an estimated 1,000 patients per year when it opens next year.
There are fewer than 25 proton therapy centers operating in the U.S., including one at the UF Health Cancer Center-Orlando Health campus near downtown.
In addition, the Provision Healthcare-Hamlin Retail Partners West joint venture also plans to develop related medical office buildings and cancer-treatment facilities around the center.
"The Hamlin proton center will be a great addition to the medical community and a real benefit to the residents of Central Florida," said Scott Boyd, president of Boyd Development, in a press release. "We look forward to Provision bringing their state-of-the-art technology, along with their culture of care, to our Central Florida community."
Elsewhere in Hamlin, Valencia College has 150 acres on Schofield Road and will likely build a branch campus, although specific plans haven't been announced.
Clearly, there's a lot going on in Hamlin. Helping to guide the design process is Shook Kelley of Charlotte, North Carolina, a diversified urban planning firm that specializes in "perfecting a process for convening people around a physical place, space, idea, forum and experience."
"We have the ability to create a great plan and to execute it," Boyd told Homebuyer: Central Florida Edition last year. "We can do something that will stand the test of time."