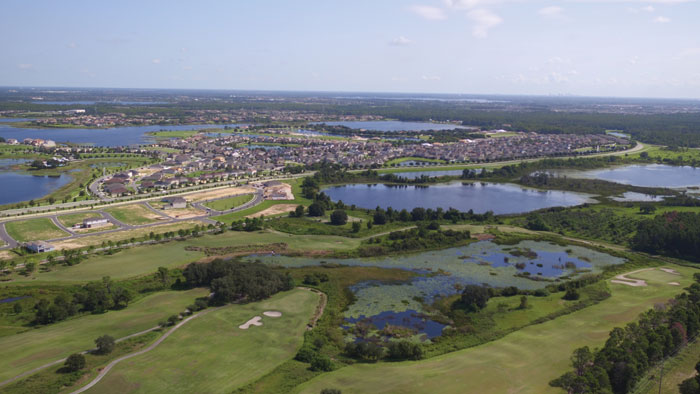 Orange County National Golf Center and Lodge, with its Panther Lake and Crooked Cat golf courses, predates Horizon West. But now, because the sprawling complex abuts the development, it's become an extraordinary amenity for golf-loving residents.
THE NEW WEST
THERE'S A REASON NEARLY HALF OF THE NEW HOMES BUILT IN ORANGE COUNTY ARE BEING BUILT IN THIS MASTER-PLANNE COMMUNITY.
By Randy Noles
They're having a heat wave way out west. No, we don't mean the western United States, nor do we mean sweltering temperature. We mean west Orange County — and the heat can be measured not on a thermometer but in new-home starts.
The New-Urbanist (or New-Suburbanist) Horizon West master-planned community remains the hottest growth area in Central Florida and one of the busiest master-planned communities in the country.
There had been fewer than 20 active neighborhoods underway in 2014. But by 2019, there were more than 30 — with plenty of new ones in the pipeline. Today, homes being built in Horizon West account for 42 percent of residential construction permits issued in Orange County.
Plus, commercial and retail projects to serve all those new residents — 61,000 is the latest population estimate — are now opening or are soon to open.
In Florida, only The Villages, the massive retirement community located mostly in Sumter County, is growing faster than Horizon West, which is generally defined as bordered on the east by State Road 535, the north by Tilden Road, the south by Walt Disney World and west by the Orange County/Lake County line.
The community, which will have about 40,000 homes at build-out, will likely take another 20 years to complete and will ultimately be home to some 85,000 people — about as many as Ocoee and Winter Garden combined and nearly three times the size of Winter Park.
And it's generally affordable, considering its location. Homes in Horizon West, on average, have sold for $418,036 compared with $467,095 in nearby Dr. Phillips and $975,318 in tony Windermere, one of the region's most affluent pockets of wealth.
So, in terms of sheer activity and energy, it's unquestionably sizzling in Horizon West these days — and smudge pots that used to protect rolling acres of citrus groves can now be found only in museums.
And it's a charmingly cohesive place despite its size, and despite the sometimes-confusing fact that residents may have Winter Garden, Windermere or Orlando addresses.
There are Horizon West networking groups, book clubs, sports leagues and business groups. The Horizon West Alliance, a volunteer advocacy group of residents, is always finding new ways to create connectivity
A CHILLY PROLOGUE
Remarkably, the concept behind this history-making project was dreamed up in 1992 by a cadre of property owners — many of them citrus growers — who regularly met for breakfast at a local diner. Over coffee and eggs, they pondered what might be done with tens of thousands of acres that hadn't been practical for agricultural use since a ruinous Christmas Day freeze in 1989.
Why not sell it to developers, like so many other growers had done? In this case, it wasn't quite so simple. The county's land-use plan called for the vast tracts upon which groves had once flourished to remain rural.
Under the plan, which placed a large swath of southwest Orange County outside the urban service area, housing would be limited to one unit for every 5 or 10 acres. Property now unsuitable for citrus would be unsuitable for subdivisions, too.
Without water and sewer lines, the county's theory went, developers would be forced to find land within the urban service area's boundaries, thereby minimizing sprawl.
In fact, developers simply leapfrogged the rural expanses of southwest Orange and began building thousands of new homes in Lake County to the west and Osceola County to the south. Many buyers of those homes worked in Orange County.
Further vexing to the property owners — dozens of them, who cumulatively held more than 38,000 acres — was the fact that their land abutted Walt Disney World to the south. With more than 74,000 jobs, Disney was, and remains, the largest single-site employer in the U.S.
Clearly, keeping southwest Orange rural didn't make sense. Still, the property owners knew that to get the designation changed, they'd have to propose something more comprehensive, more carefully thought out and more cutting edge than anything county officials had seen before.
Not-for-profit Horizon West Inc. was formed in 1993 with the mission of putting a development plan forward. The organization hired the land-planning firm of Miller, Sellen, Connor and Walsh (now VBH MillerSellen) to craft an approach that regulators would buy into.
AN INNOVATIVE APPROACH
Jim Sellen, then president of the company, was Orange County's planning director in the late 1970s. He knew that county officials would never agree to extend the urban service area for piecemeal projects.
He also knew that the county had been pushing growth east, not west, because of the University of Central Florida and the Central Florida Research Park as well as Orlando International Airport.
However, Sellen agreed that saddling the decimated groves with a rural designation was counterproductive under the circumstances. The land was adjacent to major employers and it was high and dry, ideal for building. Plus, far from discouraging sprawl, the situation was making it worse.
"I encouraged the landowners to think beyond their individual parcels and present something unified," said Sellen in a 2016 interview with Homebuyer: Central Florida Edition.
In devising a master plan for Horizon West, Sellen and his colleagues drew in part upon the pioneering work of Sir Ebenezer Howard (1850-1928), whose 1898 publication, To-Morrow: A Peaceful Path to Real Reform, described self-sufficient communities linked by road and rail. Those "garden cities" would surround a larger, central city.
But the planners also looked at current trends in New Urbanism, Disney's Celebration development being a prime local example. In addition, they studied well-established communities such as Winter Park, which remained a model for smart planning a century after its founding. Added Sellen: "What we came up with was so simple that it was powerful."
A VILLAGE CONCEPT
Horizon West, as it was originally envisioned, would contain six to eight Howard-style villages consisting of two to four neighborhoods. Schools and community parks would be within walking distance — a half-mile or less — of the homes, and the size of each neighborhood would be pegged to the capacity of its school.
Each village would have its own Village Center with such essentials as a grocery store and a drugstore. A major mixed-use Town Center encompassing homes, shops, offices and public areas would serve all the villages.
Bicycle and pedestrian paths would line every street and connect Village Centers and neighborhoods to one another. Thousands of acres of green space would be preserved.
Bob Freeman, the county commissioner whose district encompassed southwest Orange, pushed hard for the project, in part because he knew that the prospect of a large-scale development would expedite extension of S.R. 429. (Today the limited-access toll road, formally known as the Daniel Webster Western Beltway, runs from U.S. Highway 441 in Apopka south through Horizon West to I-4 south of Disney.)
Then-commission Chairperson Linda Chapin was also supportive, and even pressed the county to pitch in money and staff time to help finalize the presentation. Dozens of community meetings were also held to get feedback.
The next task was to convince the state Department of Community Affairs, which had the authority to approve or reject changes to local land-use plans. (The agency is now called the Division of Community Development and is part of the Department of Economic Opportunity.)
Charles Gauthier, then the DCA's director of community planning, was initially skeptical — but changed his mind after seeing what Sellen and company had cooked up.
"Our thought was, 'Boy, now's the time to get out ahead of this,'" Gauthier said in a 1998 interview with the Orlando Sentinel. "In 20 years of experience, this was the most sophisticated planning I'd seen."
To facilitate the project, the state and the county adopted an innovative, two-tiered approach that allowed Horizon West to bypass the cumbersome Development of Regional Impact review process.
The Optional Sector Planning Program, a pilot to accommodate Horizon West and four other demonstration projects throughout the state, called for the creation of a conceptual buildout plan for the entire area.
Once the larger-scale sector plans were vetted and approved, they'd be augmented by more targeted specific area plans for the individual villages and the Town Center.
Orange County approved the conceptual plan, entitled A Village Land Use Classification and Horizon West Study Report, in July 1995. In the years that followed, specific area plans have been submitted and approved as new phases have gotten underway.
A LIFESTYLE TO LOVE
The appeal of Horizon West is further enhanced by two major amenities immediately to the northeast and the southwest.
In 2010 ground was broken on what was then called the Horizon West SportsPlex, which is off Tiny Road and abuts the development to the north and the northeast. Today the 220-acre site is called Horizon West Regional Park.
The park, about one-third the size of Central Park in New York City, is mostly raw land. But county officials hope that one day it will encompass natural areas, botanical gardens, sports fields, performance venues and an array of other amenities. At press time, the county was accepting bids for a master planner.
In February 2019, Orange County Commissioner Betsy VanderLey — whose district encompasses Horizon West — discussed ideas for the park in a public meeting with Orange County Mayor Jerry Demings, who described the property as having the potential to be one of the county's crown jewels.
"The vision we cast for this park will impact generations to come," VanderLey wrote Horizon West Happenings, the community's new magazine.
Abutting Horizon West to the south is the Orange County National Golf Center and Lodge, which was opened in the 1990s and has now enabled the development to offer world-class golf as an amenity without having to build a golf course.
Orange County National consists of two 18-hole courses — the Panther Lake and Crooked Cat courses — as well as a 9-hole course, a 42-acre practice facility, a 22,000-square-foot lighted putting green, an on-property lodge and a beautifully appointed clubhouse with a restaurant and meeting/event facilities.
HEALTHCARE AND EDUCATION
Southwest Orange County has two premier hospitals, Health Central Hospital and Dr. Phillips Hospital, both operated by Orlando Health, as well as urgent-care centers operated by Health Central and Florida Hospital.
Orlando Health has opened an emergency room and medical pavilion on a 74-acre campus near S.R. 429 and Porter Road. Scheduled to open in early 2021 is a six-story, 214,000-square-foot hospital with 103 inpatient beds as well as an on-site laboratory and outpatient imaging services.
AdventHealth, which operates eight hospital campuses across Central Florida, opened its ninth in early 2016 across from Winter Garden Village, between Daniels Road and State Road 535.
The 97,000-square-foot hospital features a state-of-the-art emergency department staffed 24 hours a day, seven days a week. Other highlights include imaging equipment, lab facilities and an outpatient surgical center as well as rehabilitation and sports medicine services.
And in May 2019, AdventHealth opened a 72,000-square-foot medical office building next to the hospital. "This building will allow us to further gather physicians of various specialties in one central location and offer even more outpatient services right here in West Orange," said Amanda Maggard, campus CEO, in a news release.
In addition to an expanding healthcare scene, educational opportunities are more abundant than ever in southwest Orange. The area is home to highly rated public and private elementary and secondary schools as well as Valencia College's bustling 180-acre West Campus. Valencia owns a parcel in the Horizon West Town Center for future expansion.
Although Horizon West is served by many public schools, perhaps none was more needed than a high school. Windermere High School, with 2,205 students opened in 2017 at S.R. 535 and Ficquette Road.
The 350,000-square-foot high school relieved crowding at West Orange High School, which had 4,100 students on a campus designed for just 3,000. Another high school is expected to open in 2021 on Seidel Road.
Independence Elementary, on New Independence Parkway, opened in August 2015, while Sunset Park and Bay Lake elementary schools opened last year in the Lakeside Village area. Two additional elementary schools — Castleview and Water Spring — opened earlier this year along with Horizon West Middle School.
In fact, the Orange County School District plans to open 19 new schools by 2028, seven of them in Horizon West.
TOWN AND COUNTRY
Southwest Orange County has always been both rural and urban. It's wealthy and middle-class. It's defined by internationally known attractions and picture-postcard small towns. It's forward looking and steeped in history.
And, of course, it's dotted by shimmering lakes — more than 200 of them — along with pristine natural areas where wildlife still thrives.
Today southwest Orange County is also a regional shopping and dining mecca. For example, Central Florida's famed "Restaurant Row" stretches along Sand Lake Road near the upscale Mall at Millenia, with its world-class department stores — Macy's, Bloomingdale's and Neiman Marcus — and premium boutiques.
Southwest Orange County is also home to much of Walt Disney World, including the Magic Kingdom, Downtown Disney and Epcot as well as Disney's resort properties and its four championship golf courses.
Universal Orlando Resort and SeaWorld Orlando are also in southwest Orange, as are major shopping destinations such as the Winter Garden Village at Fowler Groves and West Oaks Mall.
The sector encompasses three incorporated areas: Winter Garden, Windermere and Oakland. Windermere proper is nestled on an isthmus between several lakes on the beautiful Butler Chain, which includes lakes Butler, Tibet, Down, Sheen, Louise and Chase as well as Pocket Lake, Lake Blanche, Wauseon Bay, Lake Isleworth and Little Fish Lake.
Few areas of Central Florida are more beautiful and unspoiled than the parks and preservation areas found in southwest Orange County. The Tibet Butler Preserve, for example, contains more than four miles of interpretive hiking trails and elevated boardwalks radiating from the Vera Carter Environmental Center, which features wildlife exhibits and hosts a special environmental studies series for fifth graders.
The Oakland Nature Preserve encompasses 128 acres of natural shoreline on Lake Apopka, Florida's third-largest lake. The boardwalk to Lake Apopka is the centerpiece, offering dramatic views along the lakeshore.
The preserve's Green Trail is a loop off the boardwalk through a shady oak hammock, where you might see antelope or emus on an adjacent wildlife preserve. And its Uplands Trail is a network of short pathways through the sandhills that connect to the West Orange Trail.
EASY ACCESSIBILITY
Also key to the area's appeal is its convenient transportation network. In addition to S.R. 429, which opened in 2005, interchanges and local roads have been completed to make getting in and out of Horizon West less daunting.
The New Independence Parkway interchange (Exit 15) was created when New Independence Parkway was extended from S.R. 429 east for nearly a mile to Schoolhouse Pond Road, which leads to the community of Independence. (Today it is the main artery through the community's 850-acre, mixed-use commercial hub, which includes several restaurants, a Publix grocery, a Walmart Supercenter and the Cinépolis Luxury Cinemas Hamlin.)
A four-lane road, Hamlin Groves Trail, parallels S.R. 429. It originates at New Independence Parkway and runs south to Summerlake Park Boulevard, which leads to the community of Summerlake.
These roads jump-started development of Hamlin, a major component of the 3,700-acre Horizon West Town Center, by creating easily accessible tracts for big-box commercial development.
Nearing completion is a 1.5-mile extension of Hamlin Groves Trail that runs north and then east, where it wraps around the SportsPlex and connects to Tiny Road near the entrance to the community of Orchard Hills.
Also nearing completion is Shoreside Way, which originates in the southwest quadrant of the interchange and runs east about a half-mile to Hamlin's waterfront lifestyle center.
About two miles to the south on S.R. 429, another interchange was opened at Schofield Road (Exit 13). That interchange, which marks the southern boundary of the Horizon West Town Center, is about six miles north of Western Way, which leads to the Magic Kingdom and Disney World.
But the biggest transportation news impacting Horizon West is the announcement of Wellness Way, a western extension of New Independence Parkway through a vast undeveloped tract between the Horizon West Town Center and U.S. Highway 27 in Lake County.
Boyd Development, the company behind Hamlin, is building the 5.5-mile-long road, which currently ends at Avalon Road west of S.R. 429. The company doesn't own the land flanking the road, which will take three years and at least $15 million to build.
But the road's completion will enable other developers to potentially build at least 16,000 homes. That's a lot of new customers for businesses in and around Hamlin — and an easy way for them to get there. In all, about $30 million in road projects are under way in Horizon West.
In short, Horizon West, in addition to being a self-contained community rich with its own amenities, has the added advantage of a location squarely in the center of Central Florida's most dynamic and exciting region.
---
PUBLIC SCHOOLS
ELEMENTARY SCHOOLS
Bay Lake Elementary (Opened in 2016)
Castleview Elementary (Opened in 2019)
Independence Elementary (Opened in 2015)
Keene's Crossing Elementary (Opened in 2009)
Sunset Park Elementary (Opened in 2007)
Water Spring Elementary (Opened in 2019)
MIDDLE SCHOOLS
Bridgewater Middle (Opened in 2007)
Horizon West Middle (Opened in 2019)
HIGH SCHOOL
Windermere High (Opened in 2017)
---
IT TAKES A VILLAGE (OR SIX VILLAGES)
Horizon West's master plan organizes each village around a village center and its larger neighborhoods around an elementary school. Here are the villages:
Lakeside Village (5,202 acres, established in 1997): A variety of retail and restaurants can be found in Lakeside Village, located in the eastern part of Horizon West. The village includes the communities of Lakes of Windermere, Oasis Cove, Windermere Trails and Mabel Bridge.
Village of Bridgewater (4,223 acres, established in 1999): At the heart of the Village of Bridgewater, located in the northeast section of Horizon West, is the Summerport Village center, with an array of retail centers and restaurants. Bridgewater encompasses the neighborhoods of Summerport, Independence and Summerlake.
Town Center (3,624 acres, established in 2004): The heart of the Town Center, located in the west section of Horizon West, is Hamlin and its burgeoning Lakeside District. Eventually, the total Town Center will have nearly 2 million square feet of mixed-use commercial space.
Village F (2,551 acres, established in 2006): Although homes are underway, commercial development has not yet begun. Village F, located in the southeast section of Horizon West, will be home to a new high school and a village center developed by Compass Rose Corp. (a subsidiary of Walt Disney World Resort). A 75-bed assisted-living facility has been proposed.
Village H -Hickory Nut (2,975 acres, established in 2006): Village H, located in the southwest section of Horizon West, will be home to a future elementary school and middle school and encompasses the neighborhoods of Waterleigh and Story Grove. There'll also be a village center, but specific plans haven't been announced.
Village I -Southern Tip (2,129 acres, established in 2008): Village I is still wide-open spaces, but will eventually be developed. No specific plans have been announced, however.