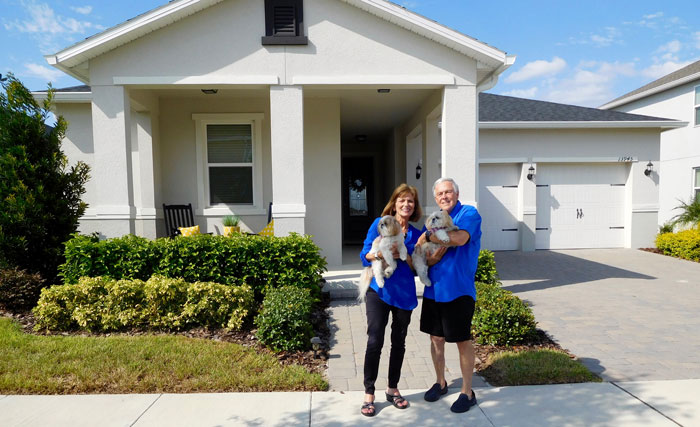 Linda and Bob Martin — shown here with housemates Tucker and Oliver — worked with a builder's sales agent when they decided to buy in Orchard Park, a KB Home community in Winter Garden.
YOU'RE NOT ALONE
EXPERT HELP ABOUNDS WHEN YOU'RE BUYING A NEW HOME.
Buying a newly built home can be exciting. You're not inheriting a previous owner's problems. The appliances have never been used. The kitchen and bathrooms are spotless. You can make it yours from the get-go.
But there's a sobering side to that euphoria. There are any number of issues that you'll have to deal with before and after you decide to buy. Those include such stress-provoking concerns as builder warranties and contracts, financing, upgrades, closing costs, commissions, homeowner association rules and more.
Not to mention inevitable second-guessing. It all can be just a little intimidating.
Luckily, you don't have to make the journey alone. A homebuilder's sales agent and your real estate agent — if you choose to use one — are both experienced experts who can help you navigate buying a new home.
Just ask Linda and Bob Martin. When they were ready to buy in Orchard Park, a KB Home development in Winter Garden, they forged a working bond with the builder's sales agent, whom Linda met when she first visited the community's model homes.
"That relationship is huge," says Linda. "We never thought about it when we were looking. It's not something at the top of your mind, but it becomes so important when you're buying."
She praised the builder's agent for his patience. "He gave us the time we needed to look through the paperwork," she adds. "We didn't feel rushed. It's a big step, but you need somebody that will explain things very clearly and be patient and find out the answers to all the questions. Once you're in the process, communications matter so much."
That's how it is supposed to work, according to Central Florida homebuilders and real estate agents. They said the two groups work together to ensure that the buyer is satisfied with the deal.
First, a bit of explanation is required. Realtors and real estate agents are not the same, but they are related. Not all real estate agents are Realtors, but all Realtors are real estate agents.
A real estate agent has earned a real estate license in the state where he or she conducts business. In Florida, a real estate agent must be age 18 or older, have at least a high school diploma or a GED and complete a 63-hour sales associate pre-license course. A license is granted upon passage of an examination administered by the state's Department of Real Estate.
A Realtor is a real estate agent who is a member of the National Association of Realtors, the world's largest professional trade association for real estate professionals. Also, only Realtors have access to Multiple Listing Services (MLS) through which members share listings and have access to many more properties than nonmembers.
"This is a relationship business," notes Jeffrey M. Fagan, 2019 president of the Orlando Regional Realtor Association. "It's important to have a good, strong and open relationship with the potential buyer. A good Realtor will have the buyer's back." The best relationship, he adds, is having a good Realtor working with the builder's salespeople on site.
"Our new-home counselors genuinely bond with their customers," says Laurie Tarver, vice president of sales and marketing for Park Square Homes (parksquarehomes.com), which has 28 communities in the Orlando and Tampa areas.
"The counselors are warm and friendly, and sincerely want to help everyone coming through the door to find the home that perfectly matches their needs, wants and budget."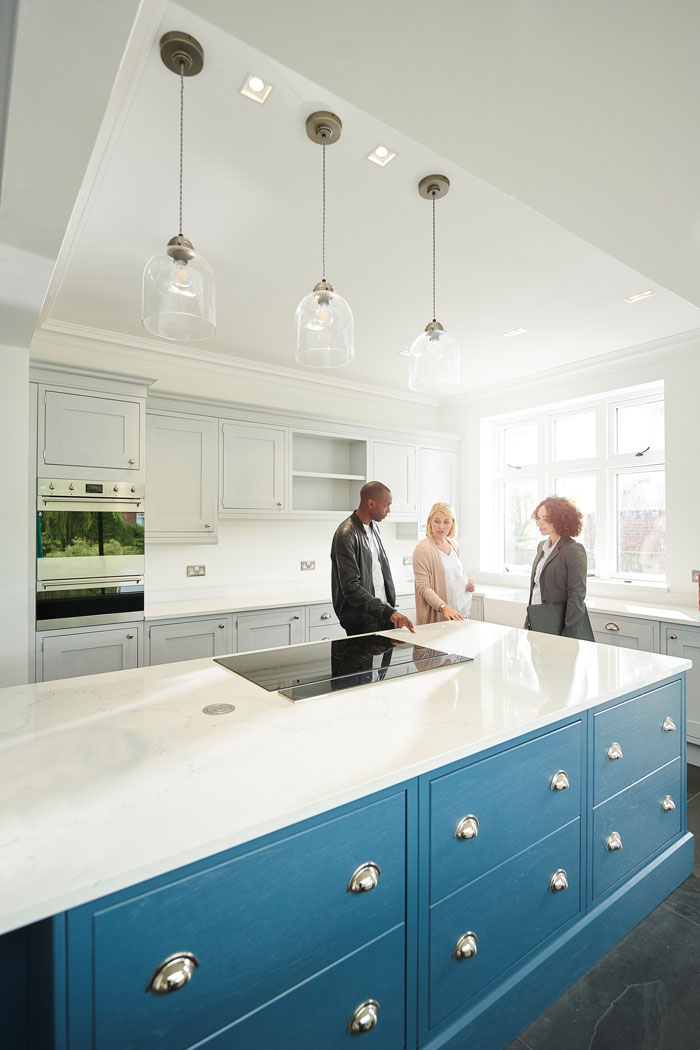 AGENTS PLAY A KEY ROLE
The role of the builder's agent comes into play quickly. From the initial meeting, they're there to explain the sales process, answer all buyer questions about contracts, the community, the builder and more.
"The sales agent plays a very important role when dealing with a potential buyer," says Drew Hill, partner in Hill/Gray/Seven (hillgrayseven.com), which has two projects in Winter Park.
"They're the face for potential buyers. They'll help the buyer navigate the sales process from start to finish. This isn't an easy task, as each step has its issues and needs someone who can guide the buyers to the finish line."
The role of the builder's agent is to be the expert on their new-home community, adds Kelley Finley, director of marketing for Taylor Morrison (taylormorrison.com), which has 26 projects in Central Florida.
"They'll work with the prospect to find out their needs in a new home and homesite to help them make the best decision for their family."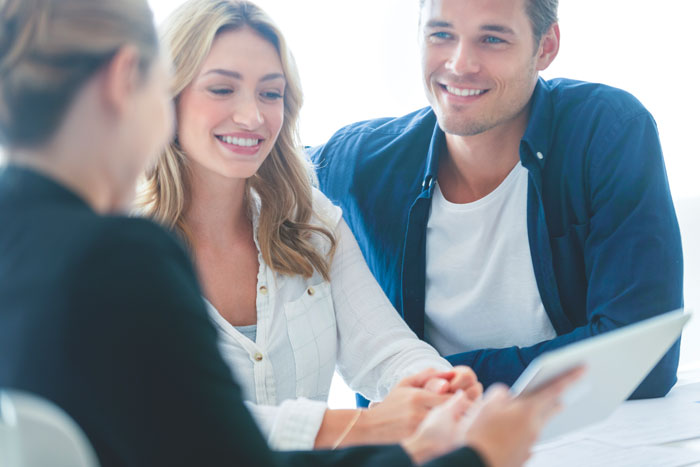 WHAT BUYERS CAN EXPECT
Potential buyers can expect sales agents and real estate agents to be straightforward and timely with answers. "Buyers should expect professionalism always from their sales agents," says Matt Brown, vice president of sales marketing and land for ABD Development (abddevelopment.com), which has two communities in Central Florida.
"Our salespeople work as a team, so we're in constant contact about the status of prospects and customers. It should be fairly easy to get answers to your questions, even if the person you're asking needs to ask someone else."
Agents for KB Home (kbhome.com), which built the Martins' new home, have "strong relationships with each homebuyer every step of the way and serve as partners throughout the home-buying process," notes Carmen Sierra, vice president of sales for the company, which has 19 projects in Central Florida.
"The buyer can expect full service and weekly contact throughout the building of their home. We offer a simpler buying process and a dedicated, customer-focused team that removes the anxiety of building a new home."
Fagan, with the Realtor's association, says that the buyer can expect the real estate agent "to hold their hand through the process, review the contract and point out things that could be a risk to the buyer, such as change orders and upgrade packages."
Adds Fagan: "A Realtor can give good counsel on such things as cabinet upgrades to avoid over-improving" for the neighborhood.
"A buyer should expect a sales agent to be courteous, knowledgeable and expedient in their responses," he says. "A sales agent should be able to help a buyer feel more comfortable with their decision by providing comparables for similar products in the area."
A knowledgeable agent should also be able to answer all questions that pertain especially to the quality of construction. It's important for buyers to know whether the home they're buying will stand the test of time and hold its resale value.
"A sales agent can assist in getting the information that a buyer needs to make this decision," Fagan says.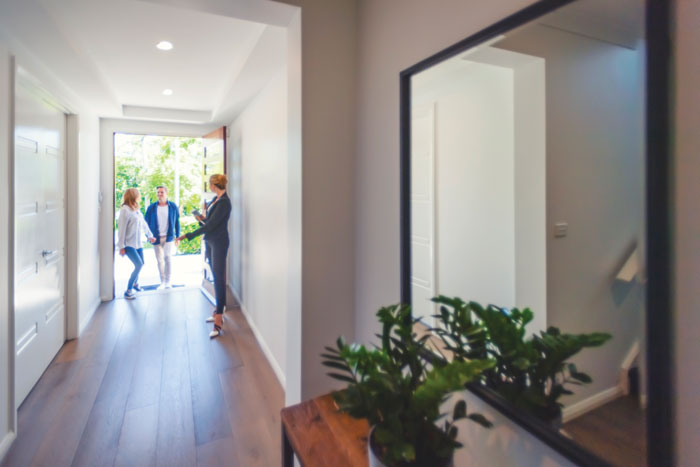 SALES AND REAL ESTATE AGENTS WORK TOGETHER
It isn't uncommon for buyers not to use real estate agents. For example, Bob and Linda Martin used a real estate agent to sell their previous home in Clermont but found their new home on their own and were comfortable working with the KB Home agent.
But homebuilders welcome real estate agents and sometimes even recommend their involvement.
"We always recommend that a buyer bring an agent so they can have someone knowledgeable on their side and get the best deal," says Hill. "Ideally, the buyer's agent and the sales agent will work together through the process until the property is sold."
Tarver, with Park Square Homes, adds: "Members of the real estate community are partners to us. They bring us clients who are looking for a quality home, and we treat them like family. We partner with local Realtors to ensure we're catering to the needs and wants of their buyers."
Sierra, with KB Home, echoes those sentiments: "Our sales counselors work hand in hand with a homebuyer's real estate agent to ensure both the homebuyer and agent are regularly updated throughout the homebuilding process.
"Partnering with Realtors is a huge focus at KB Home. We consistently provide event collateral and marketing material to the real estate community to help educate their customers about the company and its communities."
Fagan agrees that it's important for buyers to have their own agent: "They're there to represent the interest of the buyer in negotiations. Most people buy four or five homes in a lifetime, but most Realtors sell many more than that. We've done this a lot and know what to expect. We can guide buyers better than anybody else."
Many people just go into a community and develop a relationship with the onsite agent, he says, but a Realtor can help evaluate the entire market.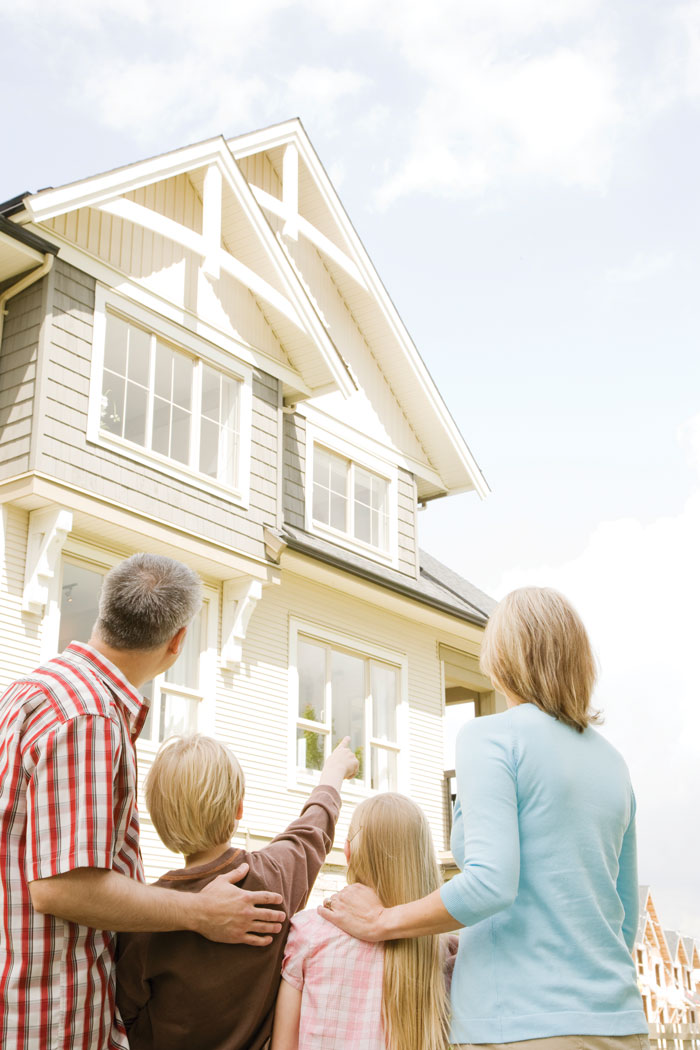 AGENTS HELP RESOLVE ISSUES
Agents for both the builder and the buyer have experience dealing with the array issues that can arise during the process. Such issues can include contracts, financing, floorplan and lot decisions, completion timing, upgrades and inspections.
"The biggest challenges where an agent can help is through the mortgage process and the building of the new home," says Finley with Taylor Morrison. "They'll be available to answer questions and to keep the buyers updated throughout the process."
Adds Tarver with Park Square Homes: "Agents can help resolve many issues, including matching a buyer's home with their needs and wants, directing them to a loan professional if they are obtaining a mortgage, advising them on available upgrades and structural options, and setting expectations about the building process and time frames."
ADVICE FOR BUYERS WORKING WITH AGENTS
Fagan offers advice on selecting a real estate agent: "Ask questions about their experience, how they feel about new-home construction, what builders they have worked with and what neighborhoods they are familiar with."
Builders, too, pointed out a few tips for buyers dealing with real estate agents.
"Remember, first of all the sales agent works for the builder, not you," says Hill. "That doesn't mean they're going to be working against you, but they're going to push the builder's product over anything else. They'll probably not discuss drawbacks to buying one product over another. Knowing this ahead of time can help you come prepared to get the answers you need to make an informed decision."
Tarver says buyers must be honest with agents: "They should share openly what they're looking for. They should look for a sales agent who'll listen to them, not just tell them what they have to sell."
At KB Home, "we encourage homebuyers to bring in ideas of what they like," says Sierra. "Our sales counselors will ask questions to better understand their needs and to help them feel comfortable and confident in their home search."
Adds ABD Development's Brow: "My advice is to keep your sales agent informed of how ready you are to buy. If they know you're a few years away from deciding, they won't bother you. But, if they know you're looking for just the right lot or home to come available, keep in close communication since you want to be the first customer they call when opportunity knocks."
Finley, with Taylor Morrison, says: "The more the buyer knows about what their family's needs are, the easier it is for the sales agent to steer them in the right direction to make their purchase."
Whether working with a builder's agent or a real estate agent or both, a potential buyer can draw upon plenty of professional assistance to close on their dream home.
Adds Finley: "Buying a newly constructed home is an exciting time. The sales agent's job is to make the process as fluid as possible and to be available through every step to answer questions the buyer or real estate agent might have."
FOR MORE INFORMATION
Realtor.com
Orlandorealtors.com
State27homes.com