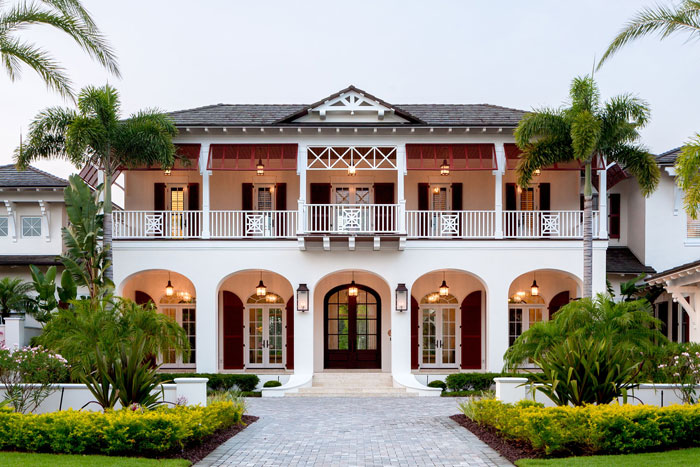 Rick Watson's custom homes are known for striking elevations and one-of-a-kind outdoor living areas. Watson's company remains busy, usually building about five homes per year.
STAR PERFORMER, TEAM PLAYER
RICK WATSON QUARTERBACKS HIS COMPANY TO SUCCESS WITH CUSTOM LUXURY HOMES IN PRESTIGIOUS LOCATIONS.
Rick Watson never quite got the chance to play quarterback in a college football game. Watson was close — receiving a scholarship offer in high school to attend Clemson University, only to have the head coach retire and see Clemson's commitment to him diminish.
Then after winding up at the University of Tennessee-Chattanooga, wrecked knees shattered his dream of playing before he could make it on to the field.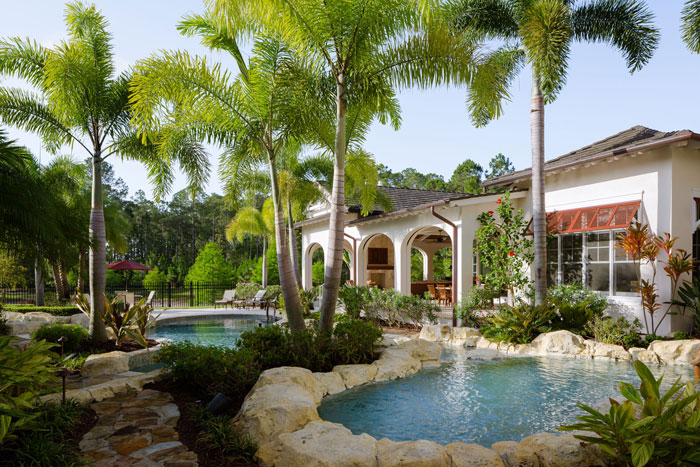 Yet, these days, Watson — who still quarterbacks a top-notch team — is racking up wins in the uber-competitive world of custom-home building in Central Florida. "That's probably pretty true," he says of the quarterback analogy. "And I've always looked at myself as one of the guys, just one of the team members."
Watson is the signal-caller (or founder and president) of J. Richard Watson Construction Company Inc., which since 1986 has built luxury homes in many of the region's most exclusive neighborhoods, including Golden Oak, Keene's Pointe, Isleworth, Waterstone and Lake Butler Sound.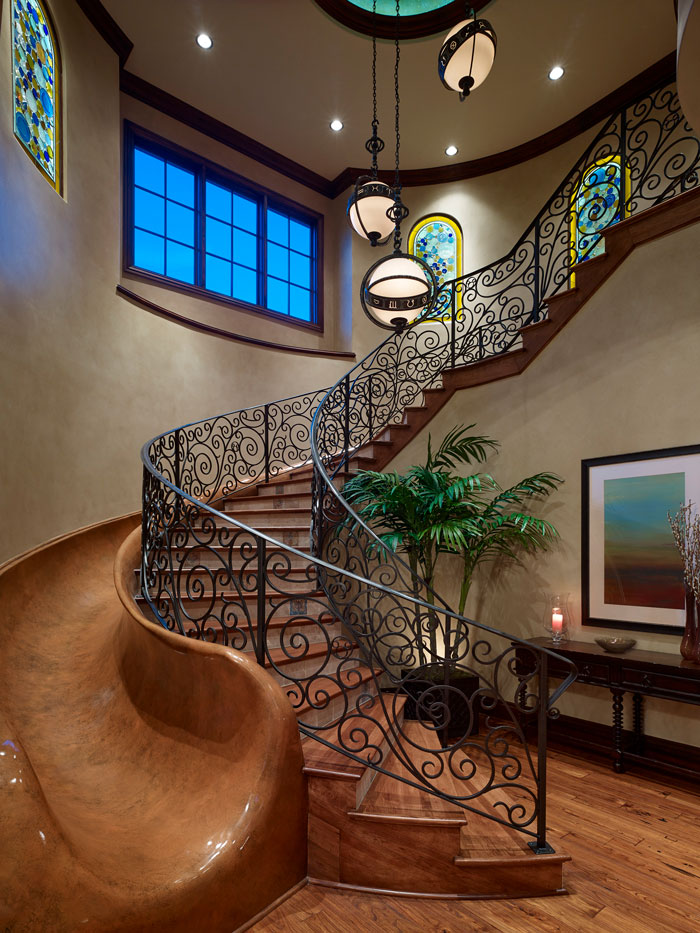 While a budding career in football was ruined by misfortune, Watson's success as a homebuilder has come without a hint of accident. Born to build? Quite possibly.
As a preteen in Tennessee, Watson would watch as homes were built nearby. Curious, he would walk through the homes under construction, just to get a better look. At 16, he put together a 14-by 42-foot houseboat in his back yard.
After dropping out of UT-Chattanooga in 1978, he worked the graveyard shift at a refinery. When he got off work at 7 a.m., he would remodel homes. He did that for four years before finally entering the building industry full time.
Watson built homes in Tennessee for nine years and moved to Orlando in 1986. "I started out doing all the work myself," he says. "I'm one of the few builders who has actually built; I'm not just a manager. I've dug and poured footings; laid block; I do carpentry, drywall and roofing."
And, in a sense, he's done it with a smile. Watson is a "people-pleaser." That's how he's described by Susan Ettinger, owner of Variations Design, who has collaborated with Watson for more than a decade. "He's very understanding," she says. "He's certainly not all business. And he treats his clients the same way. He wants to make them happy."
Adds Ettinger: "When you're building at that level, buyers can have anything they want. And they're used to getting it. They've usually built two or three homes. They'll come up with all kinds of unusual stuff and Rick will produce it. If he can't, he'll find someone who can produce it for him."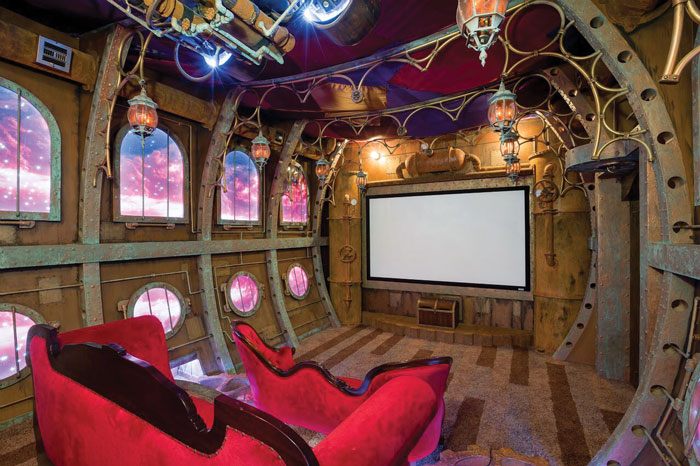 Watson says he views his business through the eyes of his customers: "My philosophy is the whole company's philosophy. We look at every situation like we're the buyer, not the builder. So, if I were building you a house, the first thing I want everybody to do is look at the situation like I'm on your side of the table."
He cites an example of a roof repair that was made to a home in Keene's Pointe: "We took care of it, and that was 12 years after the home was built. We've always done that for everybody. That's the key. You treat people right; you treat them with respect."
Watson labels his approach the "VIP experience." And it's working. Watson has held leadership positions in the prestigious and highly selective Master Custom Builder Council and is a past MCBC Builder of the Year.
As a result, despite decades of uneven economic times, Watson's company remains busy, usually with as many as five homes underway in various stages of completion. A project typically takes 15 to 20 months, depending upon its size and complexity.
Since 2010, Watson has been busiest in the hugely popular (and prestigious) Golden Oak at the Walt Disney World Resort. Watson was among the original builders there. And his work can be found on just about every street in Keene's Pointe, where he's built 96 homes.
Watson is on job sites daily. And on occasion, he can even be found still swinging a hammer. He might be a beat-up old football player, he jokes, but he still loves to build: "It's something I've always wanted to do."
---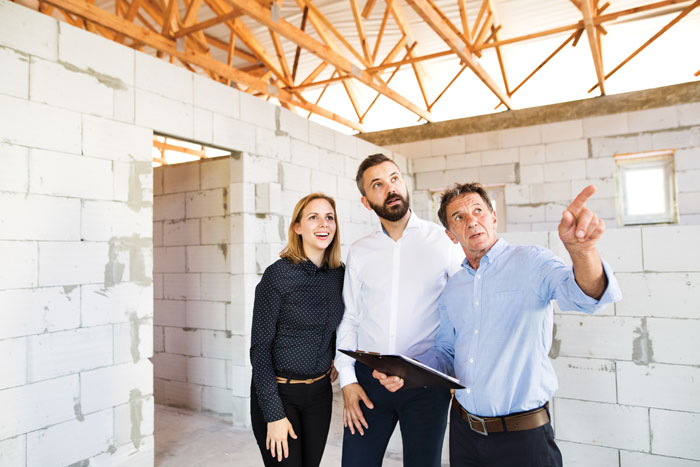 A REFLECTION OF YOU
A true custom home is a major investment.
That's why experts say picking the right builder is key.
A true custom home reflects the individual tastes, needs and dreams of the homeowner. Building it is one of the largest investments you'll make during your lifetime — so the highest-quality craftsmanship and the most attentive service possible are mandatory.
Yet many people spend more time researching and investigating the purchase of a new car than the building of a custom home.
These days, people in every profession are pressed for time. So, how can you ensure that you'll get your money's worth from a custom builder — both during and following completion of your project?
The Master Custom Builder Council (MCBC), based in Winter Park but with members throughout Central Florida, can help you find the right custom-home builder. MCBC is a highly selective consortium of competitors who actually root for one another.
"MCBC builders have ideas that they don't share with others," says Pamela Davis, the group's executive director. "However, they recognize that if their competitors are successful and profitable, it might be easier for them to be successful and profitable as well. One member isn't the least bit threatened when another member is doing well."
All 22 MCBC members have undergone a detailed vetting process before membership is offered. In addition to checking on MCBC membership, though, there are other steps a buyer should take before signing a contract:
Speak to at least five former clients. These references can provide invaluable information, and a builder should readily offer their names when he or she makes an initial presentation.
Verify licensing. Is the builder a state-registered or state-certified contractor? All MCBC builders have a contractor's license from the State of Florida and own their companies. Visit myfloridalicense.com, call 850-487-1395 or download the free Department of Business and Professional Regulation (DBPR) mobile app to check for yourself.
Evaluate track records. How long has the builder been in business? To become an MCBC member, a builder must be a permanent resident of Central Florida and must have been in the business of building custom homes for at least the preceding three years.
Scrutinize business practices. Ask the builder for at least five credit references and contact the vendors to find out how the builder meets his or her financial commitments. MCBC members have their credit monitored monthly.
If everything checks out, you should then consider what style home you'd like. Look for a builder who has experience working in your chosen architectural genre and can make valuable suggestions on designs, material and finishes.
"Many of our members have niches," says Davis. "A niche isn't just a specific location. It can also be a style or design of a home, a marketing technique, a price range or a customer profile."
Also, consider personal rapport. All the ingredients of a good relationship — including trust, communication and compatibility — must be present. After all, the builder you select will be a constant presence in your life for at least eight months.
MCBC members believe you can't cut corners on integrity, craftsmanship or personal service. That's why they follow a strong Code of Ethics set forth by the organization.
Finally, a builder who is truly astute about buyer relations will continue to offer service after your home has been completed and you've moved in.
And remember: MCBC membership is an honor reserved for builders whose reputations have been established and sustained over time. Only MCBC builders' homes carry the MCBC Seal; The Seal of Homebuilding Excellence.
Contact the MCBC at 407-875-2121 or visit custombuilt.com for more information.
---
HERE'S WHAT'S HOT IN CUSTOM BUILDING
Master Custom Builder Council (MCBC) members keep up with what's going on in the industry. The group visits innovative homes across the U.S. and hosts speakers who discuss what's new and what's coming. Knowledge — along with craftsmanship, creativity, stability and service — is their competitive edge.
So, when we wanted to find out what's hot in custom-home building, we naturally asked MCBC members first. Here's what they pinpointed as the latest trends:
Although custom homes are usually larger, today's homeowners are placing less emphasis on square footage and more on the quality of materials. Also topping the wish list are more elaborate outdoor dining spaces with courtyards and fireplaces.
First-floor guest suites are popular these days, while secondary bedrooms now often have private bathrooms. Taller vanities, fireplaces and fountains adorn lavish master bathrooms, as well as his-and-her vanity areas with stone flooring and lots of mosaic tiles. Black accents are being used along with polished nickel and brushed chrome fixtures.
As for kitchens, cooktop hoods are getting special attention. Hoods, of course, are essential for proper ventilation. But today they've become akin to signature pieces of art, handcrafted from copper, glazed tile, stainless steel and various stones.
It's common now to see more contemporary kitchens equipped with large commercial stainless-steel appliances. Colored concrete countertops are now being used for outdoor summer kitchens.
There are also notable trends in flooring. Lower-pile carpets with woven patterns and textures and even high-end commercial carpeting is being used in new custom homes. More exotic woods, such as bamboo, are becoming more popular.
Entry doors are much larger, with wrought ironwork, glass etchings and detailed panels. Interior doors are also taller and wider, with glass and wood inlays and unique detailing.
Exteriors include more architecturally correct details and deeper colors. Large, intricately detailed fixtures that complement the home's architecture are being used extensively. Oversized chandeliers, for example, are popular in dining rooms.
Large patios that offer a resort-style vibe with comfortable furnishings and fireplaces are important — particularly to homeowners who enjoy entertaining.