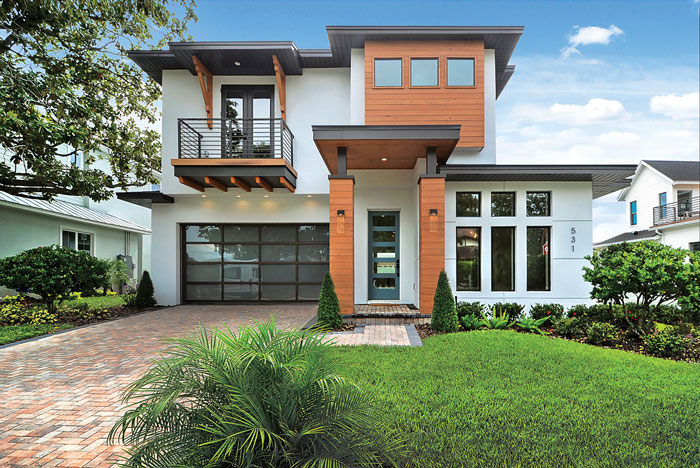 Homes in Lake Killarney Shores of Winter Park are being offered by a selected group of builders, including Lazarus Development Group (above) and Native Homes. The homes they're building in the community feature distinct looks, encompassing blends of modern, classic, traditional and coastal styles.
DEVELOPERS REELED IN AN OPPORTUNITY ON LAKE KILLARNEY
John Lazenby is a relieved and confident man these days. His latest project is ready for its closeup. Finally. Lake Killarney Shores of Winter Park has been more than two years — of plans, approvals, permitting and gradual progress — in the making.
In 2017, Lazenby, a principal of Colony Realty Group, along with the company's two other principals — wife Carol Lazenby and Tom Lightsey — began discussing what sort of infill project would work on property just off Lee Road in Winter Park, not far from the State Road 17-92 intersection and just a stone's throw from Winter Park Village.
Lazenby saw opportunity — the ability to transform an enclave of 60-year-old duplexes and rundown cinderblock homes smack in the middle of a rapidly gentrifying area in prestigious Winter Park. So, Colony Realty went to work.
The company was established more than 20 years ago, although it wasn't formalized until 2001, about the time Carol Lazenby joined the team. John Lazenby and Lightsey had worked together since the mid-1990s.
The result is Lake Killarney Shores of Winter Park, which consists of nine single-family homesites on 230-acre Lake Killarney plus a variety of 21 additional homesites. Spec homes are being built by Native Homes, Lazarus Development Group and Classic Homes, with prices that top out at $1.95 million.
The most expensive home is the two-story lakeside Casa de la Ensenada — with 4,242 square feet, six bedrooms, 5.5 bathrooms, a deluxe pool, a covered lanai, a summer kitchen and an adjacent community dock.
The Casa de la Ensenada and two others became ready in September; another three homes will be completed by the end of the year. A community dock is planned. Phase One lots are priced from $225,000 to $500,000. "This was a unique opportunity," Lazenby said. "I'm going to have a collection of 30 custom homes."
And more. The neighborhood's infrastructure is entirely new. A sewer system replaced septic tanks, and a change was made to supply natural gas for all lots. Underground utilities and cable were added. All except two of the old duplexes were razed, and Country Club Drive was torn apart.
Meanwhile, the first building permits were obtained by Colony Realty, which handled "the whole nine yards" of development, and by early June the street work was finished. "All the wheels were working concurrently," Lazenby says, pointing to the physical upheaval and the permit-approval groundwork that came before it.
Not coincidentally, with that work done, marketing has commenced.
"We wanted to have a neighborhood that had the bells and the whistles on day one," says Lazenby, noting that all homes will have a pool and a summer kitchen in addition to super upscale finishes and intriguing designs.
"When somebody is spending more than $800,000 for a home, and certainly $1 million or more, I think they should expect to have all of the amenities that they can imagine," Lazenby notes.
The three homebuilders all have extensive experience in Winter Park and elsewhere in Central Florida. The homes they're building in Lake Killarney Shores feature distinct looks, encompassing blends of modern, classic, traditional and coastal styles.
"I couldn't feel more confident, because I feel like we've done this right," Lazenby says. "Many developers and sales teams want to sell the dream. I want to sell the reality. And we have the reality in the building process."