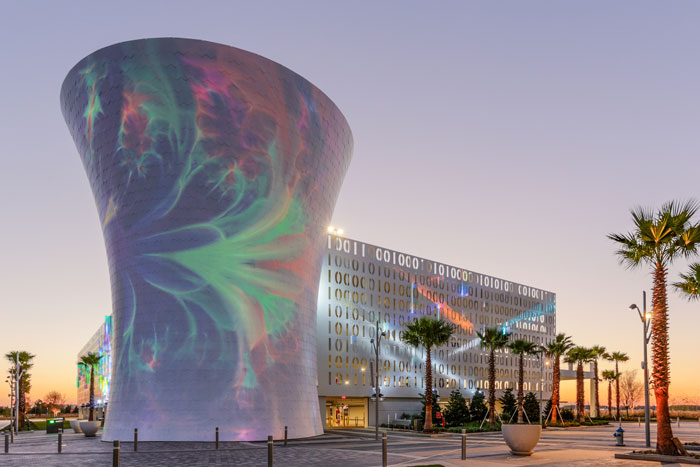 The attention that developers paid to the Town Center's parking garage — often the crudest type of building — may provide hints of what's to come. The sculpture, called The Beacon, is wrapped with high-definition video projections that bring it to life at night.
DESTINATION FUN
LAKE NONA AIMS TO BE AN ENTERTAINMENT EPICENTER.
As Lake Nona continues to evolve, entertainment options expand with new dining, retail and hospitality amenities including two planned hotels: Tavistock Hotel Collection's Lake Nona Resort and Town Center Hotel.
Tavistock Development, part of the Tavistock Group, sees itself as a steward of Central Florida with Lake Nona being its "legacy project." Developers, building on synergies with Tavistock's varied worldwide holdings, are focused on making Lake Nona a regional shopping and entertainment destination.
Town Center serves as the entertainment and retail hub of Lake Nona, with 4 million square feet of shops, restaurants, hotels, office and entertainment opportunities at buildout.
In 2020, a new Cinépolis movie theater will open with nine movie screens, a bar and lounge, stadium seating and in-theater waiter service.
Also coming: an integrative wellness center envisioned as a one-stop, health hub with an exercise gym and medical offices. Plans call for a comedy club, bowling alley, brewery and live performance venue.
Tavistock Restaurant Collection, a sister company to Tavistock Development, is cultivating Lake Nona's culinary scene with dining concepts including Park Pizza & Brewing Company, Canvas Restaurant & Market and Chroma Modern Bar + Kitchen. More retail tenants moving into the Town Center include Foxtail Coffee, located on the ground floor of Pixon apartments, and Island Fin Poké.
Also check out a new foodie concept, Boxi Park, a collection of repurposed shipping containers that serve as open-air, counter-serve restaurants. It's an outdoor district with a mix of restaurants, bars, shops, beach volleyball courts, a dog park, a playground and an outdoor stage.
Brightly painted shipping containers double as public art, housing food and beverage offerings. Many of the counter-serve restaurants feature dishes by world-class chefs with Michelin-rated restaurant experience.
The repurposed shipping containers are permanent installations, but the restaurants will evolve with new concepts rotating in. Plans call for a Boxi Park test kitchen to incubate new restaurant concepts as Tavistock Restaurant Group partners with local chefs.
Lake Nona's hospitality offerings expand in 2019 with the opening of Lake Nona Resort, one of the latest additions to the Tavistock Hotel Collection.
The 215-room resort is located on the southern shore of Lake Nona and features a 15-acre lagoon-style water park — one of the largest swimming pools in the nation.
Lake Nona Resort will feature a fitness and spa, a beach volleyball venue, guest rooms and condominium units. The resort joins two existing hotels: a Marriott Residence Inn and Courtyard by Marriott, both owned by Tavistock Hotel Group.
---
Brain Trust
LAKE NONA IMPACT FORUM IS A MEETING OF THE MINDS.
Envisioned as a prototype for the rest of the nation, Lake Nona attracts a brain trust of health and wellness thought leaders, innovators and companies.
Each year, experts in health and well-being converge at Lake Nona Impact Forum to collaborate and exchange ideas about creating sustainable, healthy communities. This international meeting of the minds produces entrepreneurial ideas that are transforming human performance.
The annual event is hosted by the Lake Nona Institute, a nonprofit entity that leads community initiatives including a multimillion-dollar longitudinal study, the Lake Nona Life Project, that monitors the health of residents over decades.
Year-round, Lake Nona attracts leading wellness experts including bestselling author Deepak Chopra, who customized a health app he co-founded called Jiyo. Chopra launched the app during his visit to the community in 2018.
The Jiyo Lake Nona wellbeing app holistically examines all aspects of physical and emotional health by tracking behavior and offering insights to enhance quality of life.
Also throughout the year, executives nationwide travel to the Johnson & Johnson Human Performance Institute to learn how to better harness their energy for improved professional and personal outcomes.