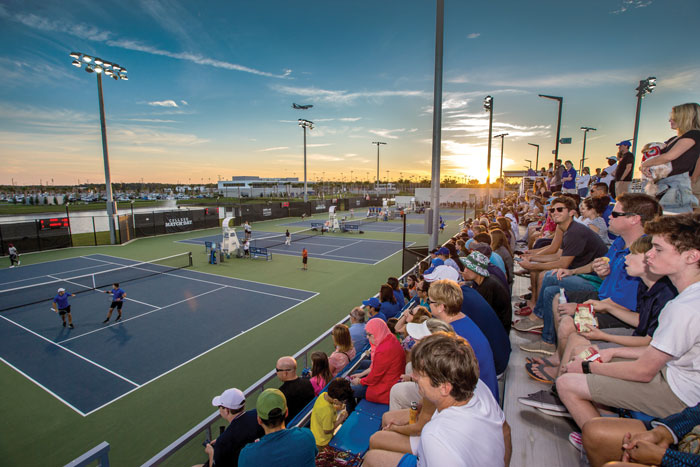 Lake Nona is home to the United States Tennis Association's National Campus, billed as the largest tennis facility in the world. The 64-acre campus has 100 lighted courts, all of which have live-streaming capability, for training and competition.
PEAK PERFORMANCE
LAKE NONA'S SPORTS DISTRICT ISN'T JUST FOR ATHLETES.
Lake Nona Sports & Performance District works to advance sports science and human performance with a supporting infrastructure of athletic facilities, research programs and health and medical resources.
The district is anchored by the United States Tennis Association (USTA) National Campus, which opened in 2017 with 100 courts open to the public spread across 64 acres. USTA courts include six indoor courts, Har Tru championship green clay courts, red clay courts that mimic the conditions of European competitive tennis, progressive courts to train children and a family zone.
The 270,000-square foot, state-of-the-art facility is home to the United States Professional Tennis Association (USPTA) Headquarters, the USTA Florida Headquarters and UCF's varsity tennis program.
The campus is training ground for several Lake Nona residents, including local pros Madison Keys, Donald Young, CiCi Bellis and Frances Tiafoe and others from around the world.
In May 2019, the campus hosted the NCAA Division I Championship broadcast live on The Tennis Channel. The facility provides playing, training and educational experiences for recreational players, competitive players, coaches and spectators.
As home of USTA Player Development, more than 600 current and aspiring professional tennis players are assisted by Team USA coaching, training and medical staffers.
Other programs offered include after-school and weekend youth programming, daily adult sessions and camps for children and adults, special programs for those with autism, military service members and a competitive wheelchair tennis program with sports chairs available for wheelchair players.
That program trains elite wheelchair tennis players including Mackensize Soldeno, slated to be on the Paralympics team in 2020. USTA also hosts the NEC Masters Wheelchair Championships.
In one of several synergistic relationships in the Sports & Performance District, Nemour's Childrens Hospital in Medical City has partnered with the Andrews Institute for Orthopaedics & Sports Medicine to become the campus's official medical providers.
Meanwhile, the Johnson & Johnson Human Performance Institute works within the district to harness sports science and athleticism to help business leaders perform at their peak.
The district also includes Lake Nona Golf & Country Club, XL Soccer and Drive Shack Golf Experience, a three-story, 57,000-square-foot driving range with 90 outdoor driving bays plus restaurants, bars, meeting rooms and an expansive free-play arcade lounge.
And there's more. The Lake Nona Adventure Park, which opened in 2019 next to Heroes City Park in the Laureate Park neighborhood, boasts is the world's first solar-powered water ski and wakeboard cable park.
The Adventure Park also features an inflatable aqua park, a 60-foot climbing tower, a ropes course and climbing walls, a pro shop with equipment rentals and sales plus a café.
In 2020, the Lake Nona Wellness Center opens in Town Center providing additional training facilities and resources for the Sports & Performance District. The 110,000-square-foot center will have first-class equipment as well as a sprint track, an indoor climbing wall and indoor and outdoor pools.
The center will offer personalized health and wellbeing programs that are data-driven and tailored to every fitness level, providing customized programs for residents, families and elite athletes.