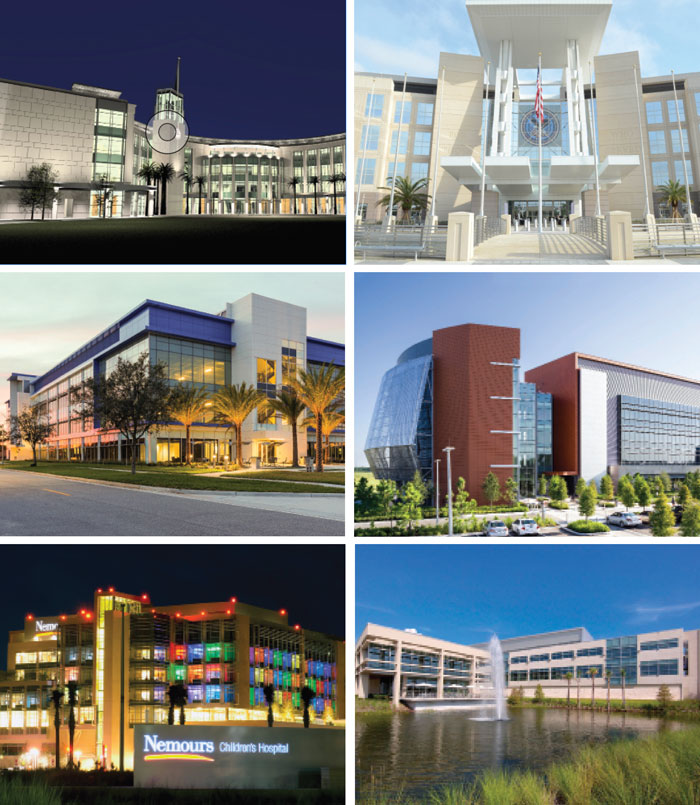 Clockwise from top left: University of Central Florida College of Medicine, Orlando VA Medical Center at Lake Nona, University of Florida Research and Academic Center, UCF Lake Nona Cancer Center, Nemours Children's Hospital, The GuideWell Innovation Center
GOOD MEDICINE
LIFE SCIENCES ARE AT LAKE NONA'S HEART.
The heart of Lake Nona is Medical City, an evolving cluster of hospitals, clinics, medical schools and wellness companies spanning 650 acres.
The University of Central Florida (UCF) Health Sciences Campus anchors Medical City and includes the College of Medicine and the Burnett School of Biomedical Sciences. Opened in 2010, the College of Medicine has one of the fastest growing residency programs in the U.S. with plans to open a teaching hospital next door in early 2021.
UCF is partnering with Hospital Corporation of America (HCA) to build the UCF Lake Nona Medical Center, a 100-bed hospital with medical residencies and research programs. The $175 million facility will create 600 additional slots for residency and fellowship programs, including the first ever psychiatry residency program for Central Florida.
As of July 2018, the UCF-HCA consortium had 360 students in medical residents and fellowships. In addition, the medical school added 22 new programs during the last four years.
UCF also has created an Academic Health Sciences Center at Lake Nona that brings many health-related disciplines to one campus so students in nursing, medicine, social work, athletic training and physical therapy can train together on better ways to care for patients.
The UCF Lake Nona Cancer Center recently moved into the 175,000-square-foot facility vacated by the Sanford Burnham Prebys Medical Discovery Institute, the first tenant in Medical City.
The cancer research and treatment center combines clinical research with leading-edge cancer treatments. Patients needing hospitalization will have the convenience of receiving care at UCF's medical center just steps away.
Other components of Medical City include the University of Florida (UF) Academic Research Center, which opened in 2012 and houses the UF College of Pharmacy's doctoral program. More than 450 UF faculty members, students, administrators and staff work in the center within the colleges of medicine and pharmacy, carrying out research in drug discovery and development.
The UF College of Pharmacy offers a doctorate in pharmacy, a four-year advanced degree program that enrolls approximately 340 students. Other programs include the Center for Quality Medication Management, focused on medication therapy management, and the UF Institute of Therapeutic Innovation, which develops drug therapies for diseases that are public health threats. The Center for Pharmacometrics and Systems Pharmacology is focused on improving drug safety.
Three hospitals located in Medical City serve thousands of residents throughout Central Florida and beyond. Orlando Veterans Affairs Medical Center and SimLearn Center opened in 2015 for outpatient, inpatient and emergency services. The 1.2-million-square-foot facility is one of the largest in the VA hospital system, with 134 inpatient beds and 60 bedrooms to accommodate a residential rehabilitation treatment program and a 120-bed community living center.
The hospital serves as a training hub for the entire VA hospital system, which is delivered through The Simulation Learning, Education and Research Network (SimLEARN), a health care training simulation program.
Nemours Children's Hospital, one of only two in the nation, opened in 2012 and brings state-of-the-art pediatric medical services to the region. In 2019, the hospital welcomed its inaugural class of pediatric residents — 12 medical students who will spend three years completing their training.
The hospital is focused on clinical trials in rare, complex pediatric conditions with world-renowned experts researching childhood disease prevention, diagnosis and treatment.
Nemours Children's Hospital works with UCF to provide highly specialized schooling to chronically ill, hospitalized children in a way that's tailored to their specific disease through its PedsAcademy (PEEDS-Academy).
More than 50 UCF faculty and student teachers work closely with physicians to deliver daily STEM instruction to hospitalized patients using high-tech learning tools such as virtual reality, robotics and more.
The pediatric hospital also has a Ronald McDonald House on-site, with accommodations for families with children in treatment at the hospital and a Publix pharmacy.
The UCF Lake Nona Medical Center, when it opens in 2021, will become the third hospital in Medical City.
The Johnson & Johnson Human Performance Institute, also located in Medical City, recently doubled its size after moving into a larger location. The center opened in 1991 and works with anyone interested in optimizing energy management to achieve their personal and professional best.
Nearby, GuideWell Innovation Center provides office space for companies in health and wellness industries. The center connects entrepreneurs, research-and-development experts and healthcare leaders with ideas, funding and resources. The 92,000-square-foot facility works with early-stage companies as an incubator as they develop new technologies and solutions for health care.
GuideWell Innovation Center features a 250-seat theater in the round, coworking space for startups and entrepreneurs, a "startup garage" featuring the latest 3-D printing technology and industrial engineering expertise from Edison Nation Medical.
There's also a living lab for testing new products and technology as well as an audiovisual production studio, an executive boardroom and a screening room.
---
Pre-K to Ph.D.

LAKE NONA OFFERS EDUCATIONAL OPPORTUNITIES FOR EVERYONE.
Lake Nona, which prides itself as being "obsessed with education," offers A-rated schools with programs from pre-K to Ph.D.s. Three institutions of higher learning are within three miles of each other: the UCF College of Medicine, the UF Research & Academic Center and College of Pharmacy and Valencia College at Lake Nona.
Together they provide a synergistic learning environment that engages students with researchers, doctors, professors and businesspeople. Top-rated primary and secondary public schools serve the community starting with Laureate Park Elementary — Lake Nona's newest school — located in Laureate Park neighborhood.
Equipped with cutting-edge technology, each classroom has interactive SmartBoards to encourage collaboration among educators and students. The elementary school also has a STEM-based preschool to teach children about science, technology, engineering and math.
NorthLake Park Community School, another elementary school, is co-located with the YMCA in an innovative public-private partnership.
Lake Nona Middle School serves the entire community and feeds into Lake Nona High School, which partners with Valencia College in a Collegiate Academy. The academy offers select college-level courses to complete an Associate of Arts degree.