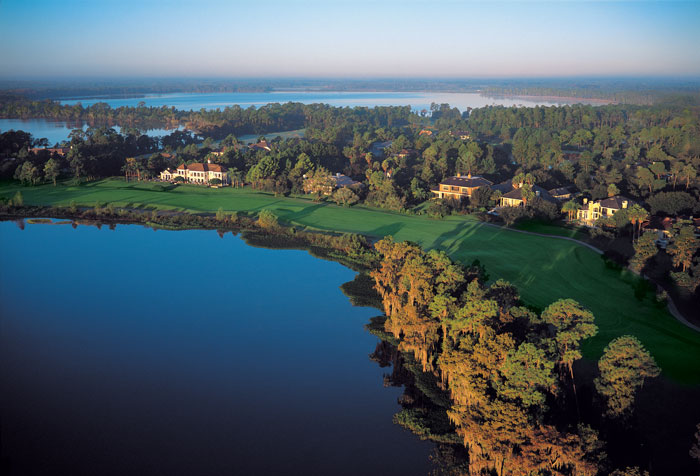 Saying that a community is a great place to "live, work and play" has almost become a cliché these days. But at Lake Nona, it's not a slogan. It's an essential aspect of what the community's all about.
WELCOME TO LAKE NONA
THE REGION'S NEO-URBANIST MASTERPIECE IS ALL ABOUT FAMILY, HEALTH, TECHNOLOGY AND THE ARTS.
As transplants from Texas, the McNeil family's search for a community-minded neighborhood lead them in 2007 to Tavistock Development Company's Lake Nona, where they settled in the NorthLake Park neighborhood with their young daughter.
"NorthLake Park was fantastic family neighborhood," says Dan McNeil, who works as an air traffic controller at Orlando National International Airport. "The friends we made are still very good friends 12 years later."
The McNeils, with a school-aged daughter who attended Northlake Park Elementary School, quickly became immersed in this 17-square mile, master-planned community — an internationally acclaimed neo-urbanist development. Now they're Lake Nona's biggest boosters. But they aren't alone.
Artist Jefre Manuel, who frequently travels internationally, chose a home in Lake Nona for its proximity to the airport and the community's pedestrian-friendly layout.
"Lake Nona's neighborhoods are designed as walkable communities with trails, parks and open spaces," says Manuel. "This allows residents to get to know each other and creates a sense of security and safety with many eyes on the streets."
Manuel has created several public art pieces for the community, including The Beacon and Code Wall and a large mirrored dog sculpture. "Integrating art and cultural programs in the planning of cities is what gives them heart, soul and spirit of place," notes Manuel.
He lauds Lake Nona's development guidelines for integrating public art by requiring commercial tenants to feature and integrate art within their specific commercial spaces. "It provides different scales of both local and international art."
Today more than 15,000 residents call Lake Nona home, with approximately 500 new families moving in annually. Strategically located in southeast Orange County close to the airport and major transportation arteries, Lake Nona is built on a philosophy of neo-urbanism and wellness.
"The well-being of our residents, employees, and visitors is a priority that's illustrated in everything we do, from hosting a longitudinal health study to the way we design neighborhoods," notes Juan Santos, vice president of brand experience for Tavistock Development.
The McNeils moved from NorthLake Park, but not very far. They now live in Lake Nona Golf & Country Club, the first residential community in Lake Nona, founded more than 30 years ago.
"The best thing about the community is the people," says McNeil. They come from all over the world with different backgrounds and everybody gets along great. I wouldn't want to live anywhere else."
Lake Nona is known for its Tom Fazio-designed championship golf course, which hosts PGA and LPGA tournaments. It wraps around Lake Nona, a natural lake from which the entire development gets its name.
"With all of the amenities within the club, you really don't have to leave the neighborhood," says McNeil. "We have a well-equipped gym with several class options, tennis courts, a clubhouse and direct access to the lake. And, of course, there's is the world-class golf course. The club offers many events throughout the year and it seems like there is always something going on for adults and children."
Lake Nona Golf & Country Club has plans to expand the award-winning community to the southern shores of Lake Nona, adjacent to the new Lake Nona Resort opening in 2020 and United States Tennis Association (USTA) National Campus.
Plans call for the addition of luxury condominiums, custom homes and a Lake Club on the beaches of the crystal lagoon at Lake Nona Resort. Members will enjoy not only these new amenities, but all the benefits club members currently enjoy.
"I think we're just seeing the tip of the iceberg when it comes to the growth and what the area will have to offer," says McNeil. "You'll not need to leave Lake Nona for anything you need or want to do. The plans are not just to build and grow Lake Nona — but to build and grow it right."
The Global Wellness Institute calls Lake Nona "one of America's healthiest communities and the most sophisticated example in the world of what master planning for wellness can accomplish."
The community thrives in a synergistic relationship with Lake Nona's Medical City and a growing cluster of biotech, pharmaceutical, research, medical and wellness companies.
The vision for this health-, education- and technology-oriented community belongs to Tavistock Development Company, a diversified real-estate firm owned by Tavistock Group. Developers founded Lake Nona in 1996 with the purchase of Lake Nona Golf & Country Club, pioneering neo-urbanism with a mix of urban and suburban amenities including a robust public arts program.
Residents live in walkable neighborhoods with backyards and front porches and the convenience of nearby shopping, dining and entertaining options in the Lake Nona Town Center — all soon to be serviced by autonomous shuttles, the first in Central Florida.
Lake Nona offers 15 distinct neighborhoods from townhomes, active-adult condos, sustainable single-family homes, custom estates and multifamily housing.
As one of nine Cisco Smart + Connected Cities in the world and the first gigabit community in Florida, every resident is connected with internet service at speeds 200 times faster than the average household.
---
An Epicenter for Business
Lake Nona is fast becoming an epicenter for biotech, healthcare and life sciences companies seeking the infrastructure to innovate and collaborate.
Lake Nona Health & Life Sciences campus in Medical City offers more than 2.6 million square feet of clinical, institutional and laboratory buildings plus the expertise and resources of three hospitals, two state university campuses and a Valencia College campus.
GuideWell Innovation Center provides office and lab space for healthcare and life-science companies seeking high-tech facilities and high-speed data processing systems. The state-of-the-art, 92,000-square-foot facility houses a next-generation workspace known as CoRE (Collaborative Resource Ecosystem) designed to foster health science collaborations among business leaders, global academic communities and entrepreneurs.
One of its newest tenants is the med-tech company Invel, which makes healing clothes of mineral-infused fabric. Companies working at GuideWell can test their products at WHIT (Wellness Home Based on Innovation and Technology), which serves as a working lab and simulates a home environment.
Located in the Lake Nona neighborhood of Laureate Park, WHIT is a project of the Lake Nona Institute along with its collaborative partners. WHIT demonstrates how the home can function as a personal-care center capable of monitoring the health of residents and connecting them with health professionals in real time.
Global accounting firm KPMG is one of Lake Nona's newest business residents. The KPMG Learning, Development and Innovation Campus opens in 2020 on 55 acres as the accounting firm's national training headquarters.
The $450 million facility spans 800,000 square feet, and plans are that it will host 800 people a week for training. Located next to Lake Nona Resort, the KPMG training center includes its own hotel accommodations with 800 rooms.
Lake Nona is also home to several corporate headquarters, including VOXX International Corporation, BBA Aviation, Signature Flight Support and an Amazon Fulfillment Center.