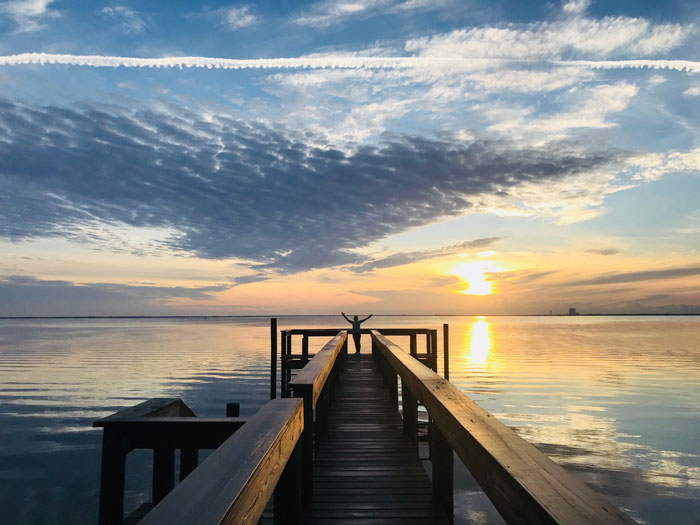 The Indian River Landing Pier in Melbourne Beach offers stunning sunset views. But it isn't unique along Florida's coastal areas.
TIME TO COAST
VOLUSIA, BREVARD AND FLAGLER COUNTIES OFFER WATERFRONT LIVING IN THE FLORIDA TRADITION.
Donna Woods and husband Bryan Owen found just what they were looking for in Marina del Palma, a new development in Flagler County's Palm Coast (population 87,600). It's just a few minutes from the Atlantic beaches — perfect for visiting grandkids — and there's easy access to the Intracoastal Waterway for boating.
Owners of a company in Ocala, they currently live on a 23-acre horse farm. Marina del Palma, no more than a two-hour drive, will serve as a second home.
"One of the reasons we purchased the lot with the intent to build is so that when our grandchildren come to visit (from Wisconsin), we would have a beachy place for them," says Woods.
She adds: "We fell in love with the community. What really sold us was being in a boating community where your boat in the water is just a phone call away." Amenities include a private, on-site boat storage facility with a valet service.
Woods and Owen, Florida residents for nine years, recognized what both recent arrivals to the Sunshine State and longtime residents know: Central Florida's east coast beaches and rivers never disappoint.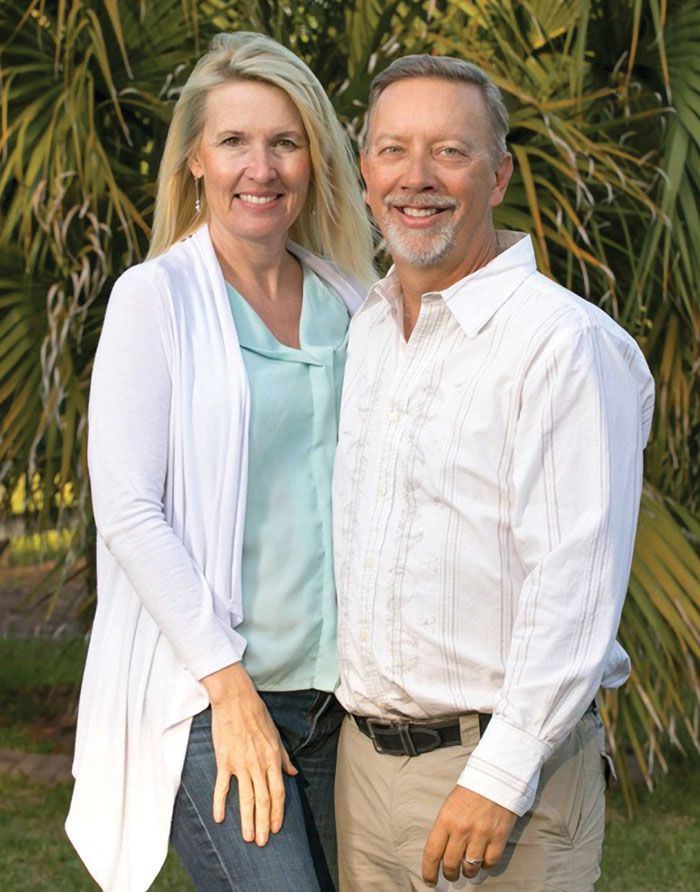 Locals love the getaway — whether it's simply driving over from Orlando for a few days of R&R, buying a second home or relocating to one of the area's many beachside communities.
From the northern tip of Flagler County through Volusia County and to the southern point of Brevard County, there are nearly 150 miles of beach sand. Just a few miles to the west lies the Intracoastal Waterway, which includes rivers and lagoons. There's no shortage of water recreation opportunities — just remember the sunscreen.
Towns and cities — ranging in population from a few hundred to nearly 90,000 — line the waterfront. While not as plentiful as in metro Orlando, new single-family homes and condominiums are underway in all three counties.
"Buying a waterfront home along the coastline allows for a uniquely Floridian lifestyle that some may only get to dream of," says Ken Belshe, senior sales director for SunBelt Land Management, developer of Marina del Palma (marinadelpalma.com). "Whether you feel like relaxing and sunbathing or finding adventure in our natural surroundings, it is all available year-round."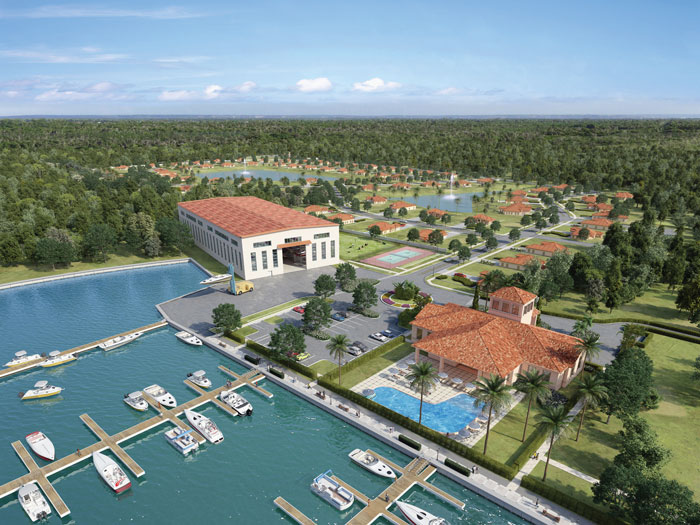 Brevard County boasts 72 miles of beaches, Kennedy Space Center and Port Canaveral.
"Coastal living gives lots of benefits and opportunities that winter climates don't provide," says Suzanne Cummins, executive director for the Home Builders and Contractors Association of Brevard County.
She adds: "With average temperature of 81 degrees year-round, weather is one of the main reasons homebuyers move to the beach. And if you like to swim, boat or snorkel, or if you like the soothing sounds of the ocean and the warm rays of sun, then the Space Coast of Brevard County is the place to live."
Buying a beach home can bring an excellent return on investment, Cummins says, as well as access to a top vacation and a reliable income stream if you're a seasonal resident and rent out your home the rest of the year.
"If it is a vacation home, you and your family and friends will always have a place to come and eventually a retirement home," she adds.
Of course, owning a home on or near the beach is not all fun in the sun. The salt air can hasten outside repairs, condo associations can levy special assessments in addition to monthly dues — and then there are the hurricanes.
The hurricane season runs from June 1 to November 30. Today's beachfront construction is built to stand up to Mother Nature's fury, but some damage is inevitable when storms are especially potent.
"Owning a home on the water is a matter of preference," says Robert Camporese, vice president and general manager for Silvestri Investments of Florida, a condo developer in New Smyrna Beach in Volusia County.
He adds: "Most significantly, the cost of owning a home on the water is not within every buyer's budget. However, everyone agrees that the most important feature desired by any potential buyer is access to the ocean or the Intracoastal Waterway."
Silvestri, which has built and sold condos in New Smyrna since the mid-1980s, is now developing Riverwalk Condominiums (riverwalk-condos.com), a 252-unit gated community on the Intracoastal at the North Causeway.
"We've been attracted to this quaint beach town for a long time," Camporese says. So have a lot of other people:
"New Smyrna Beach (population over 27,000) reflects the quintessential beach-town way of life. It hosts many festivals and community events, and attracts visitors from Central Florida, the Northeast and Canada. Many end up relocating."
Riverwalk broke ground in 2015, and its 35-unit first building sold out in six months. Units in the second building are selling now, priced from $390,000 to $530,000. At completion, the community will have eight buildings, 252 units and 92 boat slips.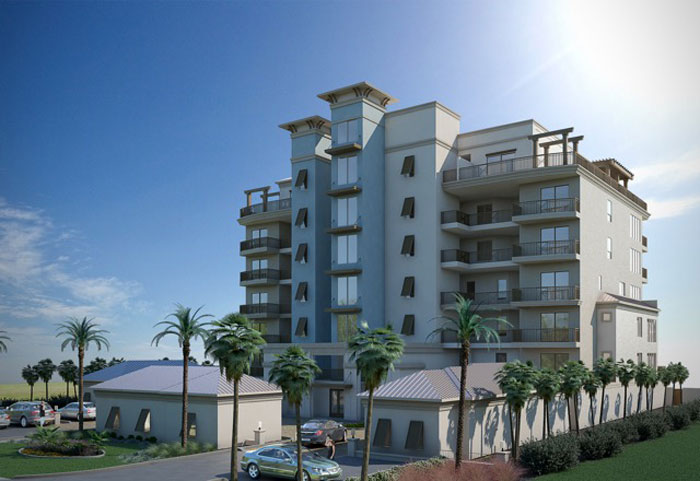 Also in New Smyrna, Homes by Towne (homesbytowne.com) offers oceanfront living in TydeMark Condominiums. Its 19 units are scheduled to be move-in ready this summer, according to Jessica Hayes, real estate broker for Homes by Towne.
Each unit features oceanfront views, 10-foot ceilings, wood-look tile floors, stainless-steel appliances and quartz or granite countertops. The three-bedroom, three-bathroom floorplans range in size from 1,845 to 2,282 square feet. Prices start from the low $800s.
Resort-style amenities include a recreation center with fitness equipment overlooking the ocean and a beachside heated swimming pool. The rec center includes a gathering room and a catering kitchen and fitness center. There are two elevators in the building, and each residence will have two deeded parking spaces.
New Smyrna Beach, a charming city located along the ocean's edge between Ponce Inlet and the Cape Canaveral National Seashore, "features something for everyone, including historical landmarks, beach and river activities, shopping and dining," notes Hayes.
A few miles north lies the barrier island city of Daytona Beach Shores, population 4,500, where two new condo projects are underway. Work started on the Aruba Condominiums (thearubacondos.com) last year, with completion expected in the spring of 2020. Also under construction is Max Daytona (maxdaytona.com), scheduled to be finished in the first quarter of 2021.
Located near the Sunglow Pier, Aruba will offer 84 units, of which 60 will be three bedrooms and 24 will be four bedrooms. Prices will range from $400,000 to $700,000, with square footage from 1,400 to 1,800, according to Jim Mack, the development manager and listing broker for Aruba. The developer is Aruba Ventures, and the contractor is Peck and Associates.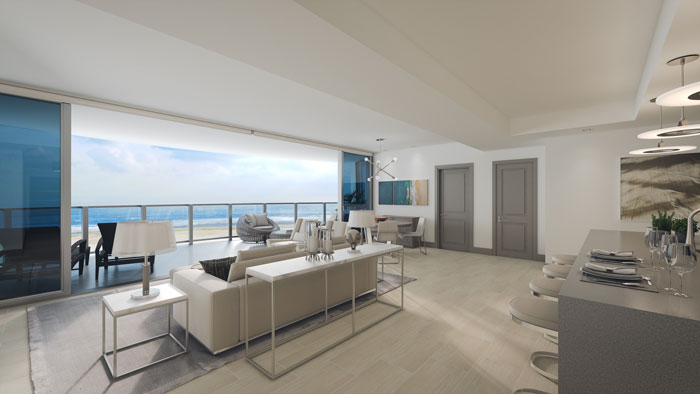 The units will be luxuriously appointed, with the buyer selecting the interior finishes, including granite tops, wood cabinets and porcelain floor tile. Amenities will include a resort pool, an adult spa, a fitness center and a clubroom.
Mack expects to attract "primarily second-home buyers, with a mix of primary home owners — they're mostly professionals, empty nesters and some retirees."
"Beachfront living offers walking, bike-riding, swimming, fishing and tanning, all at your front door," Mack says, adding that "resort towns offer great retirement options for families to visit and have fun."
Nearby, Max Daytona will offer 72 units that will be priced from $425,000 to $1,275,000, with sizes ranging from 1,435 to 2,018 square feet. The builder is Coastal Construction; the developer is Bayshore Capital.
There'll be two bedrooms, and either two or two-and-a-half bathrooms, according to Kari Fleck, Max Daytona broker and owner of the Real Estate Collection. Amenities include the SkyMax Rooftop Club that will be available to all owners.
It will feature a 1,440-square-foot lounge, two big-screen TVs, a 1,000-square-foot fitness center with a yoga/barre studio and a 1,600-square-foot Sunset Terrace.
In addition, beachside amenities will include a 3,500-square-foot pool deck surrounding the 80-foot saline lap pool and a 2,800-square-foot terrace with a TV lounge, as well as gas grills and a kitchen with a stone communal table for 12.
A 1,200-square-foot lower terrace will overlook the beach, while a 2,700-square-foot private pet park and an oceanfront lawn for play or events will also be among the resident perks.
With Daytona Beach Shores just minutes from the city of Daytona Beach and major highways, residents will find plenty to do.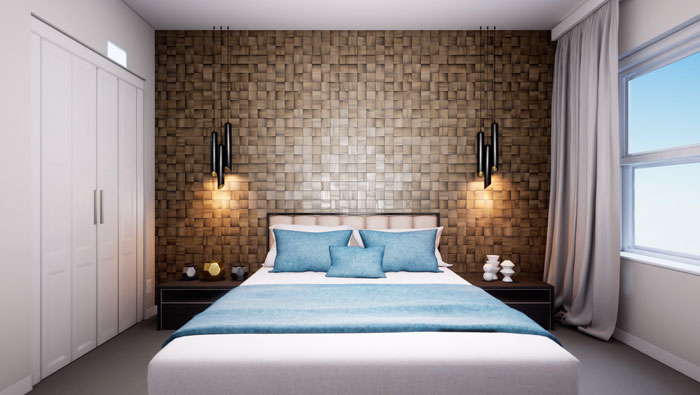 "What makes the Max Daytona condos so unique is they were designed to embrace the benefits of coastal living combined with ultra-luxury lifestyle," says Fleck. "Residents enjoy large, expansive terraces with access from the living space and every bedroom."
She continues: "Daytona's real estate market is continuing to prove itself as a wise investment choice whether buying ocean or riverfront property. Location is the biggest factor to consider based on a buyer's lifestyle. Unlike other inland cities, Daytona offers the best of both waterfront options."
Homebuyers interested in waterfront but not directly on the ocean have several choices on the Intracoastal Waterway. In Brevard County, that body of water is also known as the Indian River.
That's where Homes by Towne has developed a riverfront community of 22 single-family homes called Indian River Landings in Titusville (population 46,497), directly across the Intracoastal Waterway from the Kennedy Space Center.
"The homes within this community are characterized by cherished architectural details of the old Florida style," says real estate broker Hayes. "The homes offer large front porches, ribbon driveways, private courtyards, detached garages and covered lanais."
Floorplans range in size from 1,952 to 3,812 square feet, with three- and four-bedroom models. Prices range from $384,280 to $588,690. The more expensive homes are on riverfront homesites.
"All plans offer the option to add living space over the garage, which is perfect for extended families or as a guest suite," she says. "Outdoor living is emphasized in each home, with a private courtyard and an optional swimming pool and a covered lanai. The direct river homes offer an opportunity for a private dock."
The community also offers a walking path, an area to launch kayaks and a day dock on the Intracoastal Waterway.
It's that access to the Intracoastal that appealed to Donna Woods and Bryan Owen at Marina del Palma in Palm Coast, population 87,600.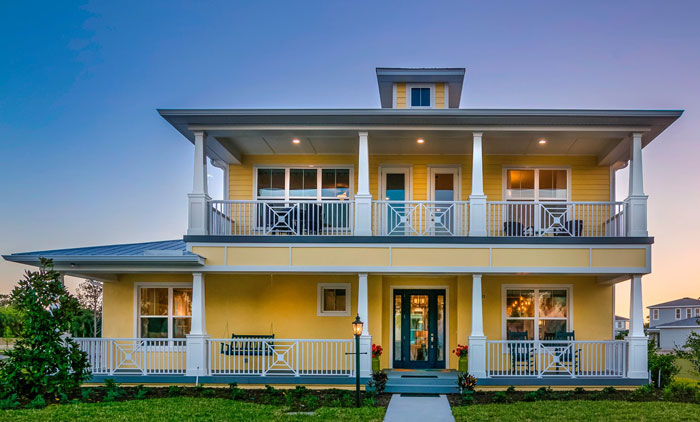 That 154-home community will soon boast its first model home, and developers expect work to start this summer on the lots that have been bought. Owners have five years to build after purchase.
Named the Showcase Community in the 2019 Flagler Parade of Homes, the 113-acre community will include these amenities: indoor, on-site storage for boats up to 30 feet; valet boat service; and a pool; a clubhouse with a fitness center; and tennis courts as well as a dog park.
Home amenities include Mediterranean styling and architecture, open floorplans, designer kitchens and bathrooms, outdoor kitchens and pools. Homes range in size from 1,800 to 4,500 square feet.
Homesites are priced starting at $129,880, and home/homesite packages start at $399,880, according to Ken Belshe, senior sales director for SunBelt Land Management.
"These could potentially be second homes," says Belshe. "With our proximity to the Intracoastal and the pristine beaches along the Atlantic Ocean, this could be an especially desirable location for those whose primary residence is located inland or who are looking to escape on the weekends."
His comments square with the sentiments of Woods: The location was a huge factor in that we have water access, it's close to Flagler Beach with its laid-back beach vibe, and it's close to great shopping."
Belshe agrees: "Flagler County is a laid-back, quaint waterfront area that has become strongly desirable for its pristine, uncrowded beaches, locally owned beachside restaurants, scenic waterways and more than 125 miles of connecting trails to explore."