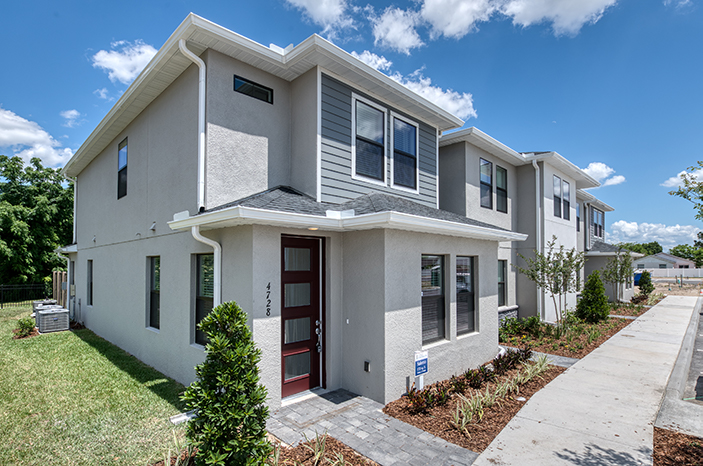 Terra Esmeralda (exterior above), in Kissimmee, offers 50 townhomes. Bellavista Building Group hit the ground running, says Aldo Martin, company president, a veteran Central Florida builder.
INDUSTRY ICON ALDO MARTIN HAS HIT THE GROUND RUNNING
It doesn't take long for Aldo Martin to recall his first job in the homebuilding industry: "Making coffee and picking up kids from school." That was 1988, when Martin began working for a family-owned builder in Orlando. Within a few years, he was vice president of that company and eventually became president.
Martin also held the titles of assistant superintendent, superintendent, sales and marketing manager, operations director and a few others he may have forgotten. He was also 2012 president of the Greater Orlando Builders Association and was named the organization's "Builder of the Year" in 2013 and 2014.
"I grew up within the business from the ground up," Martin says.
Now, he and his Bellavista Building Group are introducing their first townhome communities. Under their own name — finally.
Bellavista Building Group, based in Maitland, was established in 2014 and hit the ground running in 2015. Just not quite as planned. Most of the initial work was private-labeled for developers and other builders. And as word got out about the company's ability to deliver for clients, the phone kept ringing.
"We put together a team, started with a big contract and never looked back," says Martin, noting that his first employees remain company principals: business partners Steve Hiss (chief financial officer) and Dennis Perez (chief operating officer).
Meanwhile, the company grew. Fast. In 2018, for the second consecutive year, Bellavista Building Group ranked atop the Orlando Business Journal's Fast 50, which is a compilation of the region's fastest-growing companies.
Martin likes to joke that the percentage of growth is impressive because "we started at zero." Yet, he says, 8,900 percent growth between 2015 and 2017 means "it's been very busy since day one."
This year, it's gotten even busier and much different as the company has its own product offerings in Kissimmee and Sanford. "We're shifting a bit more into being a traditional builder — from business to business to business to consumer," says Martin, adding that "we'll also be doing the other business, too, until that phone stops ringing."
In Kissimmee, the Bellavista Building Group has launched Terra Esmeralda, encompassing 50 townhomes. Lago Buendia in Kissimmee/St. Cloud is underway, as is Alexander Park in Kissimmee. Later this year more townhomes are planned at Rivers Edge in Sanford near the St. Johns River.
At each community, prices range between $220,000 and $260,000.
"The term I like to use is attainable housing," Martin comments. "I'm working to create a home payment that people can live with."
Additionally, two other communities are in the works for 2020, located in the Kissimmee area and Davenport. "It's challenging," Martin continues. "Every cost is extremely important when you're working in this price range. The competition is fierce in Central Florida."
Then Martin pauses to reflect further. "It was time to do something on my own [a few years ago]," he concludes. "And right now is a good time."