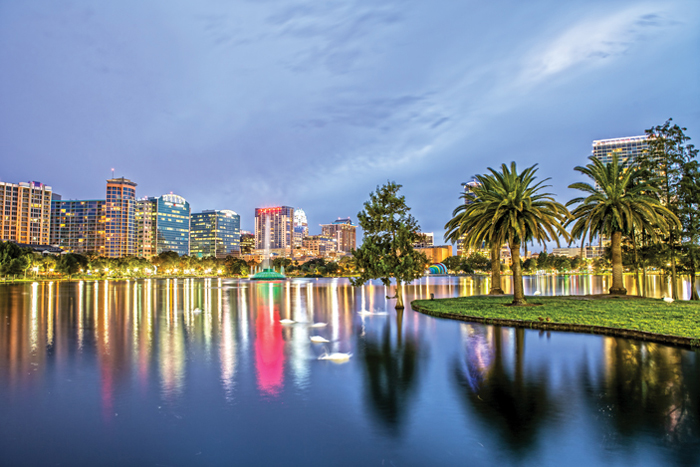 Orlando's compact but lively downtown is highlighted by its iconic fountain on Lake Eola in the city's signature park.
GRAND TOUR
Theme parks can be fun, but there is a lot more to Central Florida for those who live here — and for those who are thinking about relocating to one of the area's six counties: Lake, Orange, Osceola, Polk, Seminole and Volusia.
While each county and its cities provide their residents with specific amenities and character, they all share the qualities that have long attracted newcomers to Florida. Here are a few highlights to make you feel at home.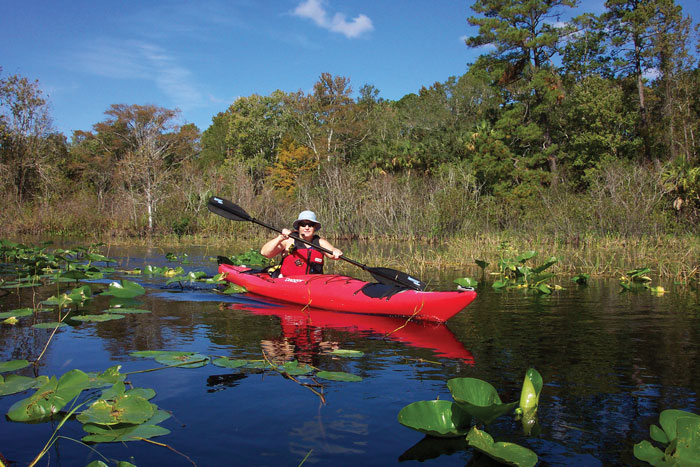 LAKE COUNTY (LAKECOUNTYFL.GOV)
Population: 346,000
Number of housing units: 157,233
Median value of owner-occupied homes: $155,100
Mean travel time to work (in minutes): 28.8
Median household income: $49,734
Like much of Central Florida, Lake County has seen rapid growth for the past several years. That's not likely to change anytime soon as more homebuyers and developers extend their march north and west out of Orange County.
Forecasts predict Lake's population to grow to more than 427,000 by 2030 and to more than 484,000 by 2040. County officials cite two notable hot spots: South Lake, including Clermont, Groveland and Minneola; and northeast Lake, east of Mount Dora.
Named for the abundance of lakes within its borders, the county reaches south to Polk and Osceola counties, while the northeast section touches Volusia. Florida's Turnpike provides easy access south to Orlando and Interstate 4 and north to Interstate 75.
Nature lovers find plenty of open spaces, including the Lake Woodruff National Wildlife Refuge, the Ocala National Forest and Lake Louisa and Lake Griffin state parks. Those are in addition to many city and county parks.
With 14 municipalities and more than 20 smaller communities, Lake offers an array of choices for folks who relocate — whether it's from another state or another part of Central Florida.
New residents will find a bounty of cultural and recreational opportunities, along with new developments and historic downtowns. Let's have a look:
CLERMONT
The city's current population of more than 35,000 is expected to climb to more than 54,000 in the next decade. Part of that growth is driven by the Wellness Way Urban Service Area, a 16,000-acre mixed-use project south of the city. It will include about 16,000 homes and 12 million square feet of non-residential uses. Clermont also is home to the annual Pig on the Pond community festival that features barbecue, live entertainment and carnival rides.
LEESBURG
Lake County's oldest city, with a population of more than 21,000, lies along U.S. Highway 441 and is sandwiched between Lakes Harris and Griffin. It is home of Lake-Sumter State College and the annual Leesburg Bike Fest, which attracts thousands of festivalgoers for music and entertainment — and motorcycles.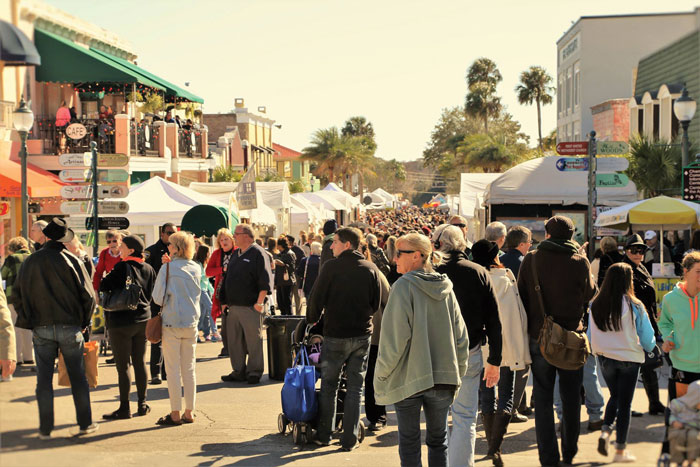 MOUNT DORA
The city of nearly 14,000 may be the most famous city in Lake County because of national publicity. For example, Southern Living magazine in a story on "Small Towns We Love" called it one of "five great little communities that are well worth a visit — or perhaps even a move." It hosts several large festivals throughout the year, including the annual Mount Dora Arts Festival. Growth is heading to the eastern edge of the city because of the Wekiva Parkway (State Road 429), which will connect the city to Interstate 4 in Sanford and complete the beltway around metro Orlando by 2022.
TAVERES
The county seat is home to about 16,000 residents, with another 10,000 expected to live there in the next 10 years. The Tavares Seaplane Base & Marina is a seaplane airport and recreational boating marina located on the Lake Dora waterfront in Wooton Park. Visitors can take seaplane rides and learn to fly.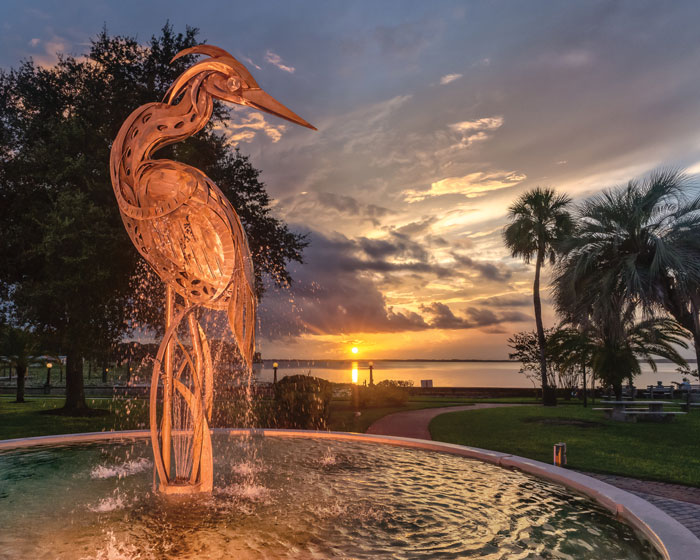 EUSTIS
Along with Tavares and Mount Dora, Eustis makes the third point of the so-called Golden Triangle of cities in Lake County. About 20,000 people live in the city that sits on the east side of Lake Eustis. Residents enjoy Ferran Park on Lake Eustis, the Bay Street Players community theater and the George Washington Birthday Festival and Parade, which is the second longest ongoing annual event held in honor of the first president of the U.S.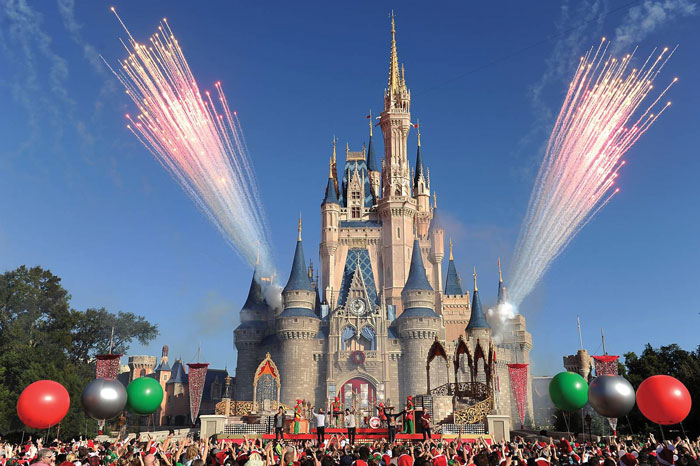 ORANGE COUNTY (ORANGECOUNTYFL.NET)
Population:1,348,975
Number of housing units: 536,788
Median value of owner-occupied homes: $192,400
Mean travel time to work (in minutes): 27.6
Median household income: $51,586
The center of Central Florida, Orange County has a lot going for its 1.3 million residents. From professional sports to arts and culture and family-friendly tourism, the county serves as the hub of business and residential growth in Metro Orlando.
For residents relocating from outside of Florida or from another part of the state, the county, its 10 municipalities and smaller communities offer a wide range of options of places to move — either to retire or work or raise a family.
Living close to well-known universities, including the University of Central Florida, Rollins College, Full Sail University and Valencia College, high school graduates and adult students have premier educational choices at their fingertips.
Two major health-care providers — AdventHealth (formerly Florida Hospital) and Orlando Health — are based in Orange and operate facilities throughout Central Florida.
There are several public parks in the county for outdoor recreation, including Wekiwa Springs State Park near Apopka.
And, of course, visitors and residents alike flock to the long list of attractions, including Walt Disney World, Universal Studios, Sea World and more. The Atlanta Braves play their spring training games at the ESPN Wide World of Sports complex near Disney.
Orange also consists of many individual communities with their own identities. Here they are:
APOPKA
The county's second largest city after Orlando, Apopka's population of more than 51,000 has grown more than 23 percent since 2010. And that's just within the expanding city limits. It sits at the northwest corner of the county where development continues to boom. A couple of major projects contribute to that growth. A new hospital — AdventHealth Apopka — opened in the southern part of the city, replacing an old facility downtown. On the north side, residential and commercial development will follow completion of the Wekiva Parkway, a toll road that will connect Apopka to Interstate 4 in Sanford to the east and Mount Dora to the west. Apopka also has begun work on its City Center at the intersection of U.S. Highway 441 and State Road 436. Plans call for it to include residential areas, along with shopping and entertainment.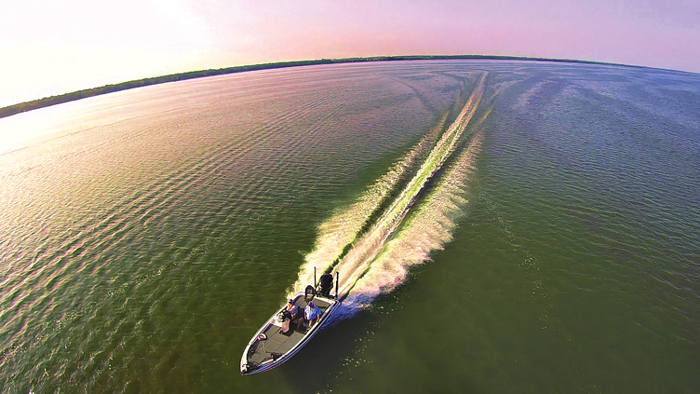 EATONVILLE
Founded in 1887, the town was one of the first all-black municipalities in the U.S. With a population of about 2,360, Eatonville was the girlhood home of noted writer Zora Neale Hurston, who writer about her memories in such semi-autographical books as Dust Tracks on a Road and Their Eyes Were Watching God. The Zora Neale Hurston Museum of Fine Arts opened in the 1990s, and each year the town stages the Zora! Festival to honor her and the town's heritage.
MAITLAND
Bisected by both Interstate 4 and U.S. Highway 17-92, the city of 17,500 lies at the north Orange-south Seminole county line. Its residents and visitors have numerous water recreation choices on Lakes Maitland, Minnehaha and Sybelia, among others. As with other Central Florida cities, Maitland has a station for SunRail, the region's commuter rail service. Cultural events and venues abound; the annual Maitland Art Festival sets up on the banks of Lake Lily. The city also is home to the Maitland Art Center — a designated National Historic Landmark — the Jewish Community Center of Greater Orlando, the Holocaust Memorial Resource and Education Center of Florida and the Enzian Theater, a beloved independent movie house.
ORLANDO
The county seat is also a major metropolitan city of more than 280,000 residents. Its notable neighborhoods include College Park, Metro West, Lake Nona and Baldwin Park. The Orlando International Airport is one of the busiest in the country. Sports lovers have the Orlando Magic NBA team, Orlando City and Orlando Pride soccer clubs, Orlando Apollos professional football team, Orlando Solar Bears hockey team and the Camping World Stadium, home to the annual college football Citrus Bowl, Russell Athletic Bowl and Cure Bowl. Lake Nona Medical City is a 650-acre health and life sciences park that includes the University of Central Florida's Health Sciences Campus, Nemours Children's Hospital, University of Florida Academic and Research Center and the Orlando Veterans Administration Medical Center. Performance venues include the Dr. Phillips Center for the Performing Arts, the Amway Center and the Bob Carr Theater.
WINTER GARDEN
The historic downtown of the former citrus hub is a popular destination for both residents and visitors. Located on the south side of Lake Apopka and short drive west of Orlando, Winter Garden is home to more than 43,000 people. The West Orange Trail, popular with bicyclists and hikers, runs through the downtown area, which is filled with shops and restaurants and a Farmers Market on Saturdays. The district includes the Garden Theatre, which first opened in 1935 and was the first movie house in Central Florida built for "talkies." Restored, it reopened in 2008 and today hosts more than 450 events each season, including plays, concerts and movies.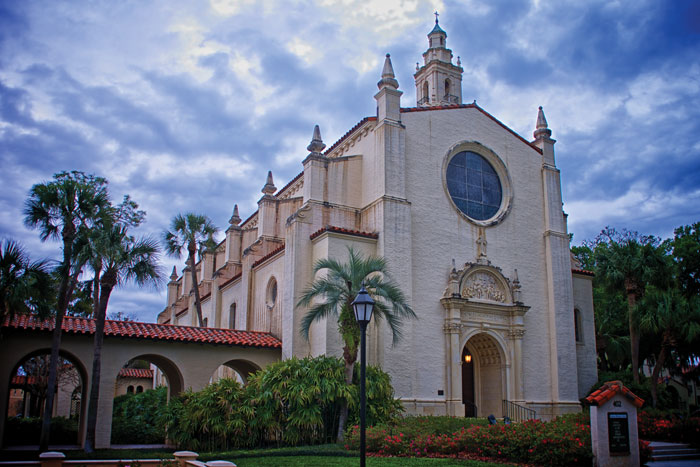 WINTER PARK
Arguably the gem of Central Florida cities, Winter Park is known for its art and culture, elegant homes, fine dining and eclectic shopping. The city of more than 30,000 is home to two nationally acclaimed institutions of higher learning — Rollins College and Full Sail University — as well as a branch campus of Valencia College. Must-see museums include the Albin Polasek Museum and Sculpture Gardens and the Charles Hosmer Morse Museum of American Art, which houses the world's most comprehensive collection of works by Louis Comfort Tiffany. Housed at Rollins College, the Bach Festival Society of Winter Park presents performances by the Bach Festival Choir and Orchestra. The Scenic Boat Tour takes passengers on a relaxing ride through the Winter Park Chain of Lakes. Park Avenue is a paradise for shopping and dining. It runs alongside Central Park, site of the annual Winter Park Art Sidewalk Festival, which attracts artists from around the world, as well as the smaller Autumn Art Festival, which features only Florida artists.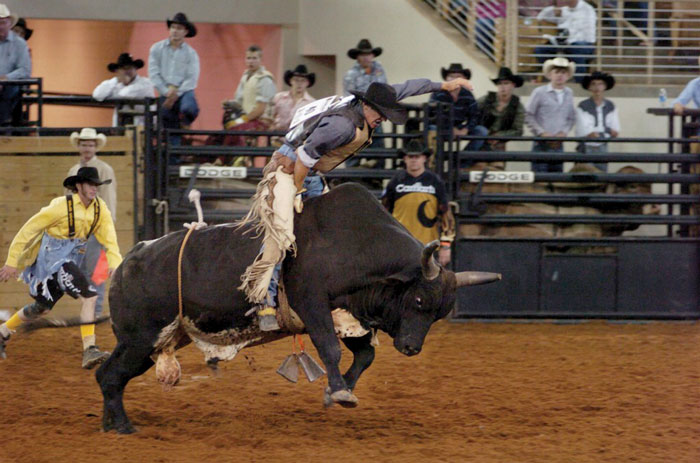 OSCEOLA COUNTY (OSCEOLA.ORG)
Population: 352,180
Number of housing units: 148,901
Median value of owner-occupied homes: $164,500
Mean travel time to work (in minutes): 32.2
Median household income: $47,343
Osceola County may be the ideal place for newcomers to Central Florida who want to live near "Old Florida" but still have access to the urban lifestyle of Orlando.
Covering more than 1,500 square miles (compared to Seminole County's 300 square miles), Osceola stretches more than 60 miles from the Orange County line south to Okeechobee County.
In between are the county's two cities, a handful of unincorporated communities and plenty of nature in the form of ranchlands and undeveloped prairie, woods and marsh.
By far, most of the county's 352,180 residents — up 31 percent since 2010 — live in the northwest part of the county, which borders Orange and Polk counties. That puts them within a half-hour drive to Walt Disney World and other area attractions.
It's no surprise that Disney is the county's second largest employer, just behind the county school system.
Away from the traffic congestion and tourist draws, there are several state wildlife management areas, lakes and preserves. The area is also the headwaters of the Lake Okeechobee-Florida everglades ecosystem. Lake Tohopekaliga, Florida's the sixth largest lake at 19,000 acres, sits next to Kissimmee.
KISSIMMEE
The county seat is home to more than 72,000 residents. Its proximity to major theme parks encouraged several smaller attractions, such as Old Town and Fun Spot, to spring up near U.S. Highway 192, which runs through the heart of the city. Paying tribute to the county's cowboy roots, Kissimmee also hosts the annual Silver Spurs Rodeo. The city's Waterfront Park on Lake Tohopekaliga features walking paths, playgrounds and a fishing pier.
ST. CLOUD
Located just a few miles east of Kissimmee and about an hour from the beaches in Melbourne, St. Cloud was founded in the early 1900s as a retirement community for Civil War Union veterans who paid $50 for five-acre lots. Today more than 51,000 residents live there. The city is located on the southern shore of East Lake Tohopekaliga, approximately 26 miles southeast of Orlando.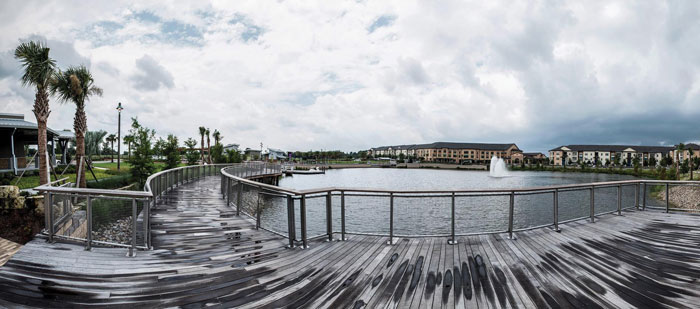 POLK COUNTY (POLK-COUNTY.NET)
Population: 686,483
Number of housing units: 295,126
Median value of owner-occupied homes: $121,100
Mean travel time to work (in minutes): 26
Median household income: $45,988
Located along Interstate 4 midway between Orlando and Tampa, Polk County benefits from its proximity to both high-growth urban areas. It's home to about 670,000 people and lies along the so-called "I-4 Corridor," which runs from the state's west coast to the east coast.
County leaders say citrus, cattle, agriculture and the phosphate industry remain key players in the local economy. But tourist revenue has increased in recent years, thanks in part to attractions such as Legoland Florida and Bok Tower Gardens.
The county also was home to a couple of historic firsts: The first Publix Supermarket was built in Winter Haven. That city also was the location of Cypress Gardens, the first tourist attraction in Florida (which was later bought and reopened as Legoland).
One of the fastest growing areas in Polk is around the small city of Davenport. While the city's population is less than 4,000, its location near the Osceola line and near several major roadways has attracted a growing list of builders and developers.
Other municipalities in the county, including Lakeland and Winter Haven, are south of Interstate 4 toward the center of the county.
LAKELAND
With a population of more than 108,000, Lakeland is the largest city in Polk County. It's 35 miles from Tampa; 56 miles from Orlando. It's home to several institutions of higher learning, including Southeastern University, Florida Polytechnic University and Florida Southern College, which houses the largest on-site collection of Frank Lloyd Wright architecture in the world. The MLB Detroit Tigers hold spring training in Lakeland.
WINTER HAVEN
The city of about 41,000 lies just east of Lakeland. Winter Haven boasts 50 lakes, 22 boat ramps, 14 public docks and 30 waterfront parks. In 1936, the city welcomed Cypress Gardens, a botanical garden that was well known for its water ski shows and Southern Belles. Today it's the site of Legoland.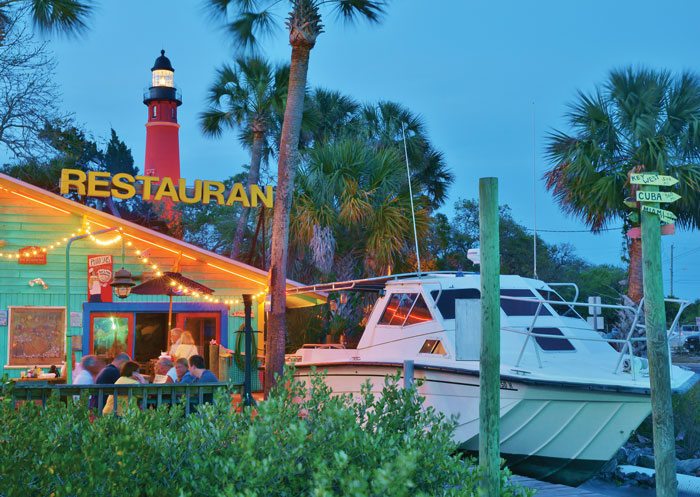 SEMINOLE COUNTY (SEMINOLECOUNTYFL.GOV)
Population estimate: 462,659
Number of housing units: 190,321
Median value of owner-occupied homes: $201,900
Mean travel time to work (in minutes): 27.1
Median household income: $60,739
With a population of more than 462,000, Seminole County is one of the fastest-growing counties in Florida — jumping 9.4 percent since 2010. The county government and Seminole's seven municipalities boast a variety of recreational opportunities, such as parks, trails, wilderness areas, libraries, museums and local attractions.
Seminole sits between the major Central Florida theme parks and the Atlantic Coast. It's an easy drive to visit Mickey Mouse or to get sand between your toes.
Named after the Seminole Indians, the county has evolved over the years from a rural and agricultural area — Sanford long ago was known as the "Celery Capital of the World" — to a bedroom community for Orlando
Today, however, many residents live and play — and work — in Seminole. Each of the county's seven cities offers its own appeal:
ALTAMONTE SPRINGS
The city of about 44,000 residents straddles Interstate 4 and abuts Orange County to its south and west. An outdoor town center called "Uptown Altamonte" features retail and residential areas and is home to the annual July 4 celebration called "Red, Hot, and Boom."
CASSELBERRY
The city of more than 28,000 lies just to the east of Altamonte Springs. Water recreation is popular in Casselberry, which has more than 30 lakes and waterways, including Lakes Howell, Kathryn and Concord and the Triplet Chain of Lakes. The city's main roadways are U.S. Highway 17-92 and Semoran Boulevard.
LAKE MARY
A few miles north along I-4, Lake Mary is home to about 16,000 residents. It's also home to the county's top private employer — the software company Convergys. In addition, several other of the county's top employers are just next door in the Heathrow community. Those include Chase Bankcard Services and the American Automobile Association.
LONGWOOD
Sitting on the northern edges of Altamonte Springs and Casselberry, Longwood has a population of about 15,000. With its first settlers arriving in the 1870s, Longwood is proud of its heritage and showcases it through its Historic District, which covers about 190 acres encompassing nearly 40 structures. Located near the intersection of State Road 434 and County Road 427, the district includes the Longwood Hotel, the Inside-Outside House and the Bradlee-McIntyre House.
OVIEDO
Located in eastern Seminole County, Oviedo's population has exploded since the 1970s. Much of that growth can be attributed to its proximity to the University of Central Florida and its research park, which is just down the road in Orange County. Oviedo's population today tops 40,000. Its town center, called "Oviedo on the Park," features townhomes, apartments, restaurants and retail areas. Its focal point is Center Lake Park, a man-made lake, a playground and an amphitheater.
SANFORD
Hugging the southern shore of Lake Monroe, the county seat has a population of more than 59,000. Among destinations of interest are Seminole State College, the Central Florida Zoo and Botanical Gardens and the Orlando Sanford International Airport. Visitors and residents enjoy Sanford's historic downtown and lakefront walking trail.
WINTER SPRINGS
Sandwiched between Casselberry and Lake Jesup, the city got its start through agriculture, as did other Central Florida cities. Settlers transported their products across Lake Jesup to Lake Monroe and the St. Johns River. The city originally was called North Orlando, with about 600 residents. Today it's home to more than 36,000. One of its signature events is the annual Scottish Highland Games.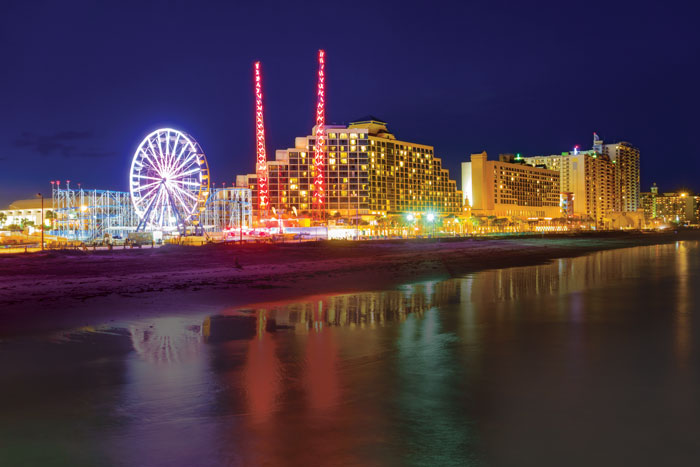 VOLUSIA COUNTY (VOLUSIA.ORG)
Population estimate: 538,692
Number of housing units: 260,524
Median value of owner-occupied homes: $149,900
Mean travel time to work (in minutes): 25.4
Median household income: $43,838
This county likely marks off most must-haves on relocation checklists: Good schools, outdoor recreation, miles of clean beaches, historic communities and new homes. There's even a town — Cassadaga — famous for its large number of psychics and mediums.
But it doesn't take a fortune-teller to see growth in Volusia's future.
The Forbes 2017 List of Fastest Growing Cities in the country ranked the Deltona-Daytona Beach-Ormond Beach Metropolitan Statistical Area, which includes Flagler County to the north, at No. 4.
Volusia's population of about 538,000 is divided into east and west Volusia. The St. Johns River flows north along the west side, which includes the inland cities of DeLand and Deltona.
The Atlantic Ocean provides the county's eastern border, within which are the oceanfront cities of Daytona Beach and Port Orange. Interstates 4 and 95 offer easy routes to Orlando, Jacksonville, Tampa and Miami.
In addition to water sports along the beach and Intracoastal Waterway, the St. Johns River and Lakes George, Monroe and Harney provide opportunities for boating, fishing and other water recreation. The SunRail commuter train makes its northernmost stop in DeBary.
There are several choices for higher education: Daytona State College, a branch campus of the University of Central Florida, Bethune-Cookman University, Embry-Riddle Aeronautical University, Keiser College, Stetson University and Nova Southeastern University.
Among the 16 municipalities, DeLand and Deltona to the west and Daytona Beach and Port Orange in the east are the largest. Here's a look:
DELAND
Located between Interstate 4 and the St. Johns River, the county seat is home to more than 32,000 people. Founded in 1876, the city boasts a downtown historic district with many 19th-century buildings. Nationally recognized Stetson University was founded in DeLand in 1883. Today it has an enrollment of more than 4,000. Skydive DeLand, a nationally known skydiving facility, is based in DeLand.
DELTONA
The most populous city in Volusia, with more than 90,000 residents, Deltona sits alongside I-4 and just to the north of Lake Monroe. Originally called Deltona Lakes, it started in 1962 as a planned residential community. It has remained mostly residential, serving as a bedroom community for neighboring cities, including Orlando and Daytona Beach. For the city's younger residents, there's the Lake Butler Recreation Complex, which includes a skate park, a playground and basketball courts.
DAYTONA BEACH
It has long called itself "The World's Most Famous Beach." While that contention may draw arguments from some, Daytona Beach does have many things going for it and its 68,000 residents. There are 23 miles of beaches with the Daytona Pier and Boardwalk. The city is home to the Daytona Beach International Airport, NASCAR, the Daytona International Speedway and the LPGA. It's also is the site of Bethune-Cookman University, Daytona State College and Embry-Riddle Aeronautical University.
PORT ORANGE
Just a few miles south of Daytona Beach sits Port Orange, with a population of more than 63,000. The city got its start after the Civil War when Dr. John Milton Hawks, an abolitionist and U.S. Army surgeon, brought 500 freed slaves to the area. The history of their community, known as Freemanville, can be traced in a display at the Mount Moriah Baptist Church, which was built in 1911, on Orange Avenue.
Statistics: U.S. Census Bureau, as of July 2017