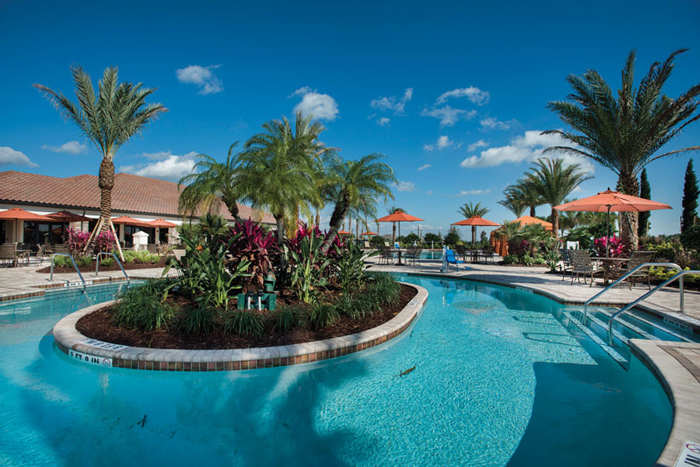 Taylor Morrison's Havencrest, a gated community near Windermere in southwest Orange County, features one- and two-story homes ranging in size from 3,002 to 4,882 square feet and priced starting in the $600s. It also has an elaborate clubhouse and pool among its many amenities.
SOMETHING FOR EVERYONE
Thinking about buying a home and relocating to Central Florida? You're not alone. Among the more than 900 people who move to Florida each day, a great many of them find their way to Central Florida.
From 2016 to 2017, the Orlando Metropolitan Statistical Area — Lake, Orange, Osceola and Seminole counties — grew by 2.3 percent to more than 2.5 million people, according to the Orlando Economic Partnership. Estimates today put that number above 2.7 million. That's the fastest growth rate of the 30 largest MSAs in U.S.
Who can blame potential new residents when you consider what awaits them? An affordable real- estate market with plenty of new-home choices, a strong jobs market with an unemployment rate of about 3 percent, good schools, tons of outdoor recreation, culture and sports — and, of course, the weather.
"Orlando is well known for its mild weather, centralized location and world-class recreational and entertainment facilities," says Jeffrey Fagan, president of the Orlando Regional Realtors Association (ORRA) and regional vice president with Watson Realty Corp.
"Orlando also boasts economic factors — such as strong job growth — that supports a healthy real-estate market with a wide variety of neighborhood types and community settings."
Homebuyers like what they see. In 2018 more than 42,000 homes were sold in the MSA's four counties, according to the ORRA. The median sales price for that area was $226,500. While most of those sales were single-family homes, condominiums and townhouses also figured strongly in the mix.
Home hunters will find all manner of options, from one- and two-story dwellings to gated communities with resort-style amenities. Prices range from the low $200s to well into seven figures. If you're looking for it, you'll find it in Central Florida.
"Central Florida is a culturally diverse region with great year-round weather," says Brock Fanning, area division president for Toll Brothers, which has several communities throughout Greater Orlando.
The area also offers an array of distinct activities to suit residents' varying needs and lifestyles, Fanning says. In addition to being home to some of the world's biggest theme parks and several large corporations, Central Florida features popular annual events, numerous restaurants and shopping destinations, top-rated golf courses and state parks.
And there's just about every kind of professional sports team, except an NFL franchise — although the Tampa Bay Bucaneers (one of the state's three NFL teams) are less than two hours away.
Be they retirees or working folks, those looking to relocate to Central Florida should have no trouble finding a place to call home.
A 2018 WalletHub study found that Orlando is the country's top destination for retirees. The City Beautiful scored big on criteria such as affordability, activities, quality of life and healthcare.
To attract non-retirees, Orlando consistently lands on "best of" lists for jobs and business opportunities as well as recreational options and affordable housing — although affordability has become more problematic in a tightening market.
"Of course, we expect the recent polar vortex and other extreme weather events to lead Northerners to consider relocation," adds Fanning. And there are more plusses, not the least of which is the lack of a state income tax. Plus, of course, the beach is just a short drive away.
Homebuilders know Central Florida is a growth hot spot that can only gain in popularity with relocators buyers. Builders offer a huge array of housing choices, and some provide relocation incentives for buyers.
K. Hovnanian Homes (khov.com), for example, offers a "fly-and-buy" program that applies up to $2,000 of the buyer's travel cost toward closing costs, upgrades or other options.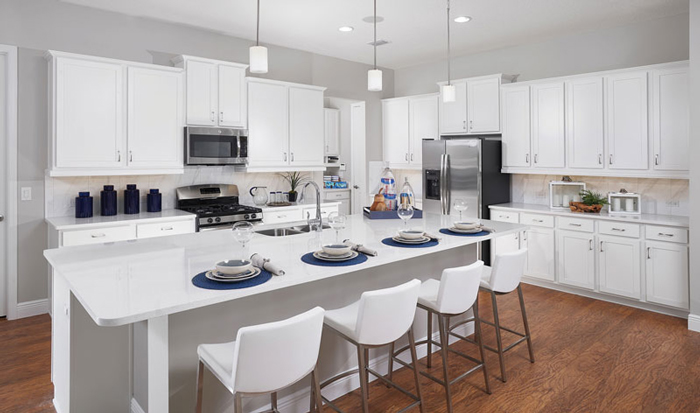 "The Orlando market is a very affordable market compared to housing prices in the west and southeast," says Anna Almirall, the company's marketing director. "The weather is another huge draw for people to relocate from the harsh winter states."
K. Hovnanian has several communities in the area, including Four Seasons Orlando, a 55-plus community in northwest Osceola County, and the Highlands at Summerlake Groves in Winter Garden.
Four Seasons offers both single-family homes and villas. Prices range from $226,990 to $340,990, with sizes ranging from 1,435 to 2,328 square feet.
Amenities in the 557-home community include pickle ball and tennis courts, a clubhouse with a fitness center, social halls, craft rooms and a resort-style pool. "We're also located in the heart of the Mystic Dunes golf course for avid golfers," Almirall adds.
The 121-home Highlands community offers single-family homes that range in size from 2,614 to 4,098 square feet and cost from $384,990 to $820,990. Community features include a pool, tennis courts and a tot lot. "Amenities and proximity to shopping, highways, Disney and good schools are the draw for this community," Almirall adds.
David Weekley Homes (davidweekleyhomes.com) offers a variety of communities in several settings, from lakefront living to downtown urban life.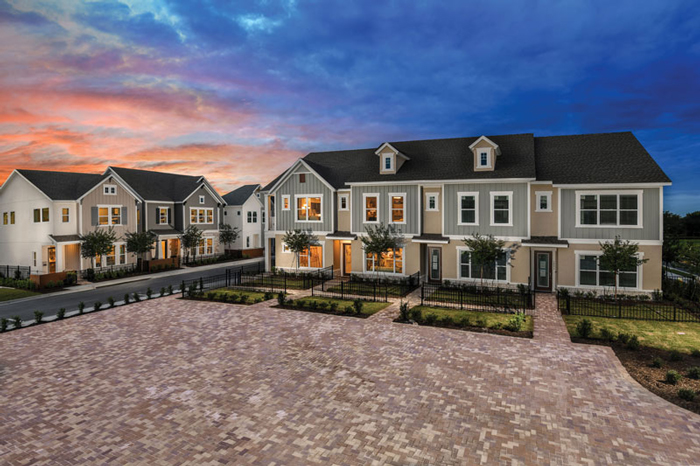 "We've worked with countless buyers who are building their home from afar as they prepare to relocate," notes Brent
Bartholomew, division president for David Weekley Homes in Orlando.
Among the builder's communities are:
• GRIFFIN PARK: The gated community in Lake Mary in Seminole County offers two-story single-family homes and townhomes. Prices start in the $290s with floorplans ranging in size from 1,529 to 2,979 square feet.
• JOHN'S LAKE LANDING: Located in Clermont in Lake County, the community features lakefront sites and clubhouse amenities. One- and two-story homes range in size from 1,629 to 3,801 square feet, with prices starting in the $275s.
• REAGAN POINTE: The gated community in Sanford in Seminole County features two-story single-family homes. Floorplans range in size from 1,608 to 2,329 square feet, with prices starting in the $260s.
• LAUREATE PARK AT LAKE NONA: The master-planned community developed by Tavistock Group offers one- and two-story single-family homes that range in size from 1,422 to 4,284 square feet, with prices starting in the $295s. The southeast Orlando community offers retail, dining, an amenity center, pools, playgrounds and green spaces.
• SERENOA: The gated community in Clermont in Lake County features one- and two-story single-family homes priced starting in the $250s. Floorplans range in size from 1,688 to 3,307 square feet. Amenities include the Serenoa Club, a 6,700-square-foot clubhouse with a 24-hour fitness center, a multipurpose room and a resort-style pool with beach entry. Residents also have access to a playground, a dog park and miles of walking trails.
David Weekley Homes also has its Central Living series, which includes three high-density townhome communities in downtown Orlando locations: Concord Place, priced from $399,990; Eleven on Thornton, priced from $481,900; and Eola North, priced from $428,990. All homes are under 2,000 square feet in size.
Richmond American Homes (richmondamerican.com) offers financial incentives with its "Community Champions" promotion for veterans, active military, police officers, firefighters, nurses, doctors and teachers, says Scott Harwood, Orlando division sales director.
The company has communities across Central Florida, including two in Orange County, three in Osceola County, seven in Polk County and one in Lake County. Single-family home prices start in the low $200s; sizes range from 1,600 to 2,800 square feet.
Harwood says Richmond American's buyers like the ability to personalize the finishes on their homes. "At this price point, it's rare to find the ability to have those choices," he notes. "The open concept is appealing as well."
Why do relocators gravitate to Central Florida? Harwood lists the usual reasons: "Great weather, low cost of living, it's family friendly, there are many outdoor activities, and beaches and theme parks are close by."
Toll Brothers (tollbrothers.com) also offers a "Fly-and-Buy" incentive program to assist relocators. Through the program, the company reimburses some travel expenses and offers luxury accommodations while buyers are in town.
Fanning identified three Toll Brothers communities that would appeal to relocation buyers.
• LAKESHORE: The Horizon West master-planned community in southwest Orange County has plans for 367 luxury, one- and two-story single-family homes and townhomes. They're priced from the low $400s to more than $600,000, and range in size from 2,169 to 4,650 square feet. Many offer spacious outdoor living areas with lake or golf course views and covered lanais. Community amenities include parks, a community dock, a resort-style swimming pool, a state-of-the-art fitness center and flex room and a social room with a catering kitchen.
• ROYAL CYPRESS PRESERVE: The gated community in southwest Orange County features one- and two-story single-family homes priced from the low $500s, with floorplans that range in size from 2,199 to more than 4,100 square feet. The 11 home designs all have master suites, gourmet kitchens and expansive living areas. Many homes also feature large outdoor living areas with covered lanais. Yard maintenance — which includes lawn care, irrigation, tree pruning and fertilization — is included in the community's homeowner fee. Amenities include a resort-style pool, fitness center, open-air pavilion and a clubhouse. There's also a boat launch for small craft.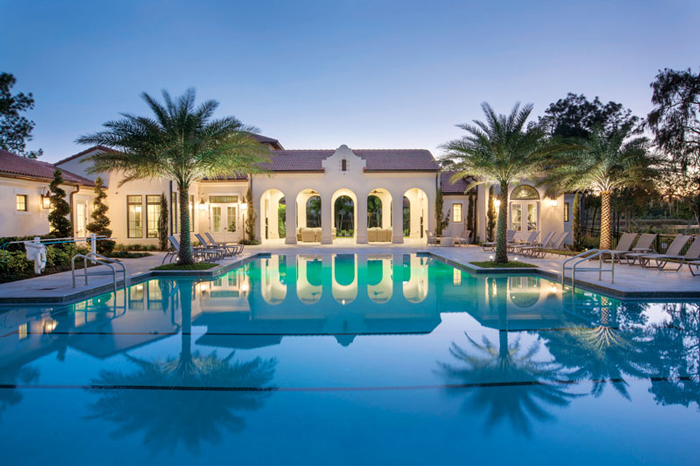 • PARKVIEW PLACE: Located near Lake Jesup in Sanford in Seminole County, this new gated community features 70 one- and two-story single-family homes priced from the mid-$200s, with floorplans ranging in size from 1,400 to more than 2,500 square feet. Features include well-appointed kitchens, spacious living areas and private master suites. The community is near the Seminole County Sports Complex.
Taylor Morrison (taylormorrison.com) has nearly 30 communities in Central Florida for buyers "seeking prestige, panache and the perfect location," says Larry Mull, vice president for sales.
Taylor Morrison's communities feature one- and two-story single-family homes and townhomes. Floorplans range in size from 1,295 to 7,013 square feet, and are priced from the low $200s to the mid-$700s.
Popular features with buyers include planned community amenities, large master suites, designer kitchens with upgraded appliances and granite countertops, and energy-efficient construction.
Mull also notes that the builder is offering a "2/1 Buydown" program that gives buyers reduced interest rates — and reduced monthly mortgage payments — for two years.
"You have the extra cash to get the things you need today while planning ahead for tomorrow," adds Mull.
Three of Taylor Morrison's communities that are popular with relocators are:
• HAVENCREST: The gated community near Windermere in Orange County features one- and two-story homes ranging in size from 3,002 to 4,882 square feet and priced starting in the $600s. Homes have four to five bedrooms, three to four-and-a-half baths and three-car garages.
• LAUREATE PARK: Located in the Lake Nona master-planned community in southeast Orlando, the community offers one- and two-story homes priced from the $500s and ranging in size from 2,700 to 4,900 square feet. It's part of a natural-gas community that provides an aquatic center for homeowners.
• THE CANYONS AT HIGHLAND RANCH: One- and two-story homes in Clermont in Lake County are priced starting in the $260s and range in size from 1,800 to 4,800 square feet. Its location offers easy access to commuter routes and major job centers, such as Maitland Center, downtown Orlando and the theme parks.
If you want to relocate closer to the beach, Geosam Capital is developing two communities just off State Road 44 near Interstate 95 in New Smyrna Beach.
Venetian Bay (venetianbay.info) will have more than 3,000 homes at build-out, and Coastal Woods (coastalwoodsnsb.com) will have about 1,300 homes, according to Christopher Roy, asset manager for the developer.
The homebuilders are the Johnson Group, Platinum Home Builders, Paytas Homes, Adley Homes and D.R. Horton in Venetian Bay. In Coastal Woods, the builders are D.R. Horton, Starlight and Meritage Homes.
"We offer different themes — Mediterranean, craftsman, coastal — and price points ranging from the $200s to more than $1 million for custom estates," says Roy. "We have homes for everybody from move-up buyers to retirees."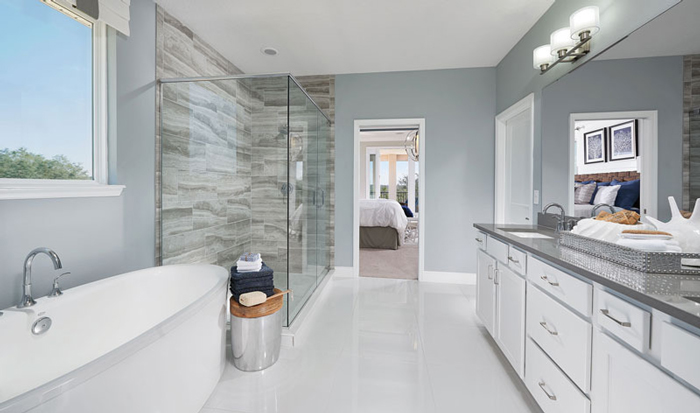 Each community will offer a variety of living options, from apartments and townhomes to single-family homes. Sizes range from 1,700 to more than 5,000 square feet in Venetian Bay and from 1,600 to 2,800 square feet in Coastal Woods.
Community amenities include a golf course, restaurants, a clubhouse, a gym, a pool and walking trails. Roy points out that residents can choose to pay for what they want to use, and the costs aren't included in homeowner dues.
Venetian Bay also offers monthly community events, such as wine walks, food trucks, movies in the park and special holiday gatherings.
Ray says relocators are attracted to the area for several reasons. "There are homes for every lifestyle, and we're close to the beach," he says. "We offer easy access to Interstate 95 and Interstate 4 and are only an hour drive to Orlando."
Relocators will find the welcome mat out in communities all over the region.
"Central Florida has proven to be an excellent place to relocate for people in all stages of life," says Bartholomew of David Weekley. "With warm weather, theme parks, a booming hospitality industry, continued job growth and expansions, as well as proximity to beaches, golf courses and more, there's something for everyone."
---
Helpful Links
---
Relocation Tips
• Stay organized. Much of moving-related stress comes from managing all the logistics, such as leaving your current home and finding a new one. Be organized. Keep to-do lists for both your departure and arrival locations.
• Know what's available to you. Many companies offer a variety of relocation services and most are flexible in what they provide, such as home-hunting trips and assistance in selling or buying your home. Also, if your employer doesn't typically offer relocation assistance, ask for it and negotiate.
• Take time to get to know your new environment before you move. Find the neighborhood that best suits your lifestyle. Talk to people who live there and follow the local news.
• Know the cost of living in the new city. There are significant differences in cost of living among U.S. cities. Do the research and plan accordingly.
• Don't make any long-term commitments. Consider renting at first to avoid buying into a neighborhood you might end up not liking. You might not like the job, either. Some companies offer temporary corporate housing.
• Find out if any of your moving expenses are tax deductible. Even if your new employer doesn't offer any financial assistance for your relocation, you might be eligible for partial reimbursement come tax time.
• Build a social support network. Use online services to find others in the area who have similar interests or hobbies. Your new company may also offer clubs and interest groups to meet new people.
Source: Forbes Magazine