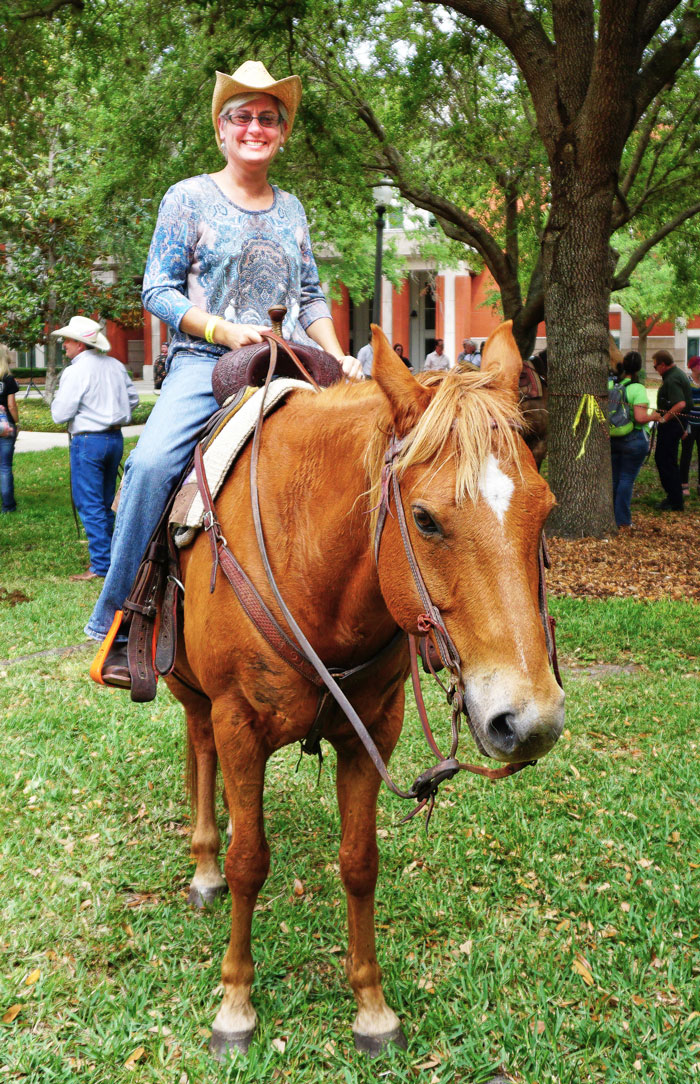 Cheryl Grieb moved to Osceola County in 1974 when she was 6 years old. Now 51, she's a successful businesswoman and chairwoman of the Osceola County Commission.
MORE THAN MICKEY
Cheryl Grieb moved to Osceola County in 1974. She was 6 years old. Walt Disney World, just across the Orange County line, had opened just three years before. Osceola was home to about 39,000 residents who enjoyed the county's rural, small-town charm.
"There are many favorite memories of growing up in Osceola County," says Grieb, now 51, a successful businesswoman and chairwoman of the Osceola County Commission. "I loved to run around in the woods and be one with nature. I used to see deer, all kinds of birds and once I saw a bobcat. Not sure my mom would have been happy about that."
In many ways, Grieb and Osceola grew up together. The Mouse changed everything, as tourism created jobs that attracted new residents who needed places to live.
Today Osceola boasts a growing population of more than 350,000 residents — that's nearly an 800 percent increase from when Grieb moved there. Forecasts say there'll be 560,000 residents within the next 10 years.
Central Florida homebuilders find comfort in those numbers.
"Osceola is growing because it's close to major employment areas, such as Disney, and offers proximity to highways and local shopping," says Anna Almirall, director of marketing for K. Hovnanian Homes. "It's a more affordable area to purchase a new home."
Taylor Morrison, another Central Florida builder, "chose to build in Osceola County because it offers exceptional value when it comes to purchasing property," says Larry Mull, vice president of sales. "It's the perfect destination for first-time homebuyers and growing families."
In January the median price of a new home in Osceola was $216,000, according to the Orlando Regional Realtors Association (ORRA). That's less than in Orange and Seminole counties.
Richmond American Homes is another builder with Osceola projects. Builders and buyers are attracted to the county for an array of reasons, says Scott Harwood, sales director for the company's Orlando division. He cites affordability, proximity to Orlando International Airport and Lake Nona's Medical City as well as good schools, a thriving business community and easy commutes to employment centers.
While much of the economy has centered on tourism and the service industry, city and county leaders are working to bring in more diverse job opportunities.
To that end, the county created NeoCity, a 500-acre technology center in Kissimmee to attract high-tech jobs. The Florida Advanced Manufacturing Research Center, which opened 2017, serves as the site's anchor and will research micro and nano electronics, semiconductors and photonics.
"We're on the brink of creating a high-wage economic hub," Grieb says. "The shift toward higher-wage jobs will add to the high quality of life and simultaneous low cost of living that Osceola already provides. This will be the biggest game-changer we've ever seen — not just in Osceola but all of Central Florida."
Her optimism is shared by leaders in Kissimmee and St. Cloud and by Central Florida homebuilders, who see Osceola as a hot market for new homes.
Kissimmee, just to the west of St. Cloud, is the county seat. Its population of more than 72,000 is expected to climb to 82,688 by 2025. There are more than 1,000 single-family homes and more than 2,200 multifamily homes either underway or in the planning stages, with northwest Kissimmee and downtown leading the way.
"Kissimmee is the perfect spot for investment," says Belinda Ortiz Kirkegard, the city's economic development director. "Strategically located in the heart of Florida, it's minutes from all major transportation highways across the state."
Kirkegard says the county's flourishing medical community not only yields high-paying jobs, it's also increasing medical services available to residents — an important feature to a community's quality of life.
She also notes the benefits of the city's general aviation airport — Kissimmee Gateway Airport — for its proximity to the theme parks and the Orange County Convention Center. "We're the destination of choice for private plane traffic, as well as aerospace companies wanting to maximize the airport's proximity to NeoCity," she adds.
Neighboring St. Cloud is one of the fastest growing cities in Florida, says Economic Development Manager David Rodriguez. The city has more than 51,000 residents — a jump of 45 percent since 2010. As of last November, St. Cloud had approved building of 11,618 new housing units with another 7,200 under review.
"We're ideally located just minutes away from the Florida Advanced Manufacturing Research Center, Orlando International Airport, Lake Nona's Medical City, Florida's Space Coast and NeoCity," he adds.
Plus, Rodriguez says, the city offers affordable housing and a skilled workforce for manufacturing, aerospace/logistics and distribution companies.
In the unincorporated area of Osceola, there are more than 13,000 housing units that have either been approved or are in the planning stages.
In St. Cloud, KB Home (kbhome.com) is building two communities: Hanover Square and Rivercrest at Narcoosee. Both feature single-family homes.
Hanover Square, on the east side of East Lake Tohopekaliga, offers 75 homesites with 10 floorplans ranging in size from 1,760 to 3,530 square feet. Prices start in the mid-$200s and amenities include a pool, a cabana, a tot lot and a walking trail.
Not far to the south, Rivercrest at Narcoosee has 73 homesites and eight floorplans that range in size from 1,760 to 3,016 square feet. Prices start in the mid-$200s and community amenities also include a pool, a cabana and a tot lot.
The area is attractive to builders and buyers for several reasons, says Cara Kane, senior director for KB Home.
Those reasons include short drives to Orlando International Airport and Ralph Chisholm Regional Park — which offers public boat access to East Lake Tohopekaliga — and the St. Cloud Civic Center Complex, which features ball fields, basketball courts, pavilions, playgrounds and pools.
Magnolia at Westside by K. Hovnanian Homes (khov.com/orlando) offers 125 single-family homes in the Four Corners area of northwestern Osceola. Prices range from $280,990 to $360,990, with sizes ranging from 1,969 to 3,636 square feet.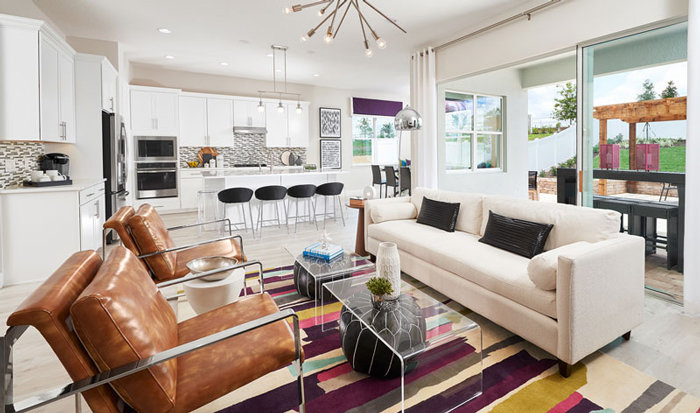 Residents have use of a community pool, resort-style cabanas, an outdoor fire pit, a tot lot, a dog park and an open green field for outdoor activity, according to marketing director Almirall.
"Excellent schools, proximity to major highways for easy commuting and an abundance of shopping, entertainment and dining makes Osceola very appealing to many buyers," she says.
Richmond American Homes (richmondamerican.com) has three developments in St. Cloud. They are Westerly, located southeast of East Lake Toho, Deer Creek and Pinewood Gardens, both located south of the lake.
Each offers single-family homes priced from the low $200s with sizes ranging from 1,600 to 2,800 square feet, according to sales director Harwood.
He says amenities favored by buyers include their ability to personalize their homes. "Our home gallery has thousands of options to select from," Harwood adds. "Your neighbor's kitchen will not look like yours."
Taylor Morrison (taylormorrison.com) offers several single-family communities and one townhome project. The homes are priced starting in the low $200s and range in size from 1,295 to 5,646 square feet. They feature spacious living rooms, luxurious owner's suites, covered lanais, raised ceilings and granite countertops.
One of Taylor Morrison's developments, Hickory Grove in St. Cloud, has one- and two-story homes priced starting at $251,990 with up to 2,800 square feet.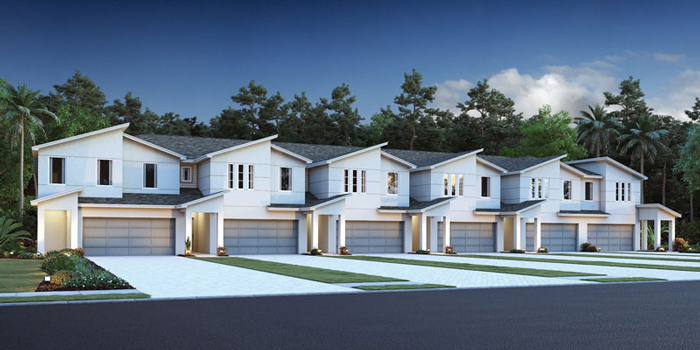 The two-story Bella Parc Townhomes in Kissimmee are priced starting in the low $200s and range in size from 1,931 to 2,063 square feet. They feature three to four bedrooms, two to three bathrooms and two-car garages.
While developers and builders stay busy putting up new houses, city and county leaders work to make Osceola a great place to call home.
A resident since the second grade, Grieb has witnessed sweeping changes in the county. Today she lives with wife Patti Daugherty and their dog and cat in Kissimmee, where she owns Olde Kissimmee Realty.
From her roles in government and real estate, she sees a positive future for Osceola. "New residents flock to our county because it's a community where you're able to live, work, and play," she says, adding that the county is "diverse and embracing."
---
About Osceola County
• Founded in 1887, Osceola County covers 1,500 square miles that reach from Orange County south to Okeechobee County.
• There are more than 50 named lakes, including Lake Tohopekaliga, Florida's sixth-largest lake at 19,000 acres.
• Osceola has three commuter SunRail stops: Tupperware Station, Kissimmee/Amtrak and Poinciana Station.
• There are five hospitals, a free-standing emergency room and many other medical offices and specialists.
• More than 100 languages are spoken in the schools, and students represent more than 100 different countries.
• The high school graduation rate surpasses the state graduation average and ranks 21st of 67 in the state. That's up from the 61st ranking in 2010.
• There are two STEM (science, technology, engineering, math) Schools, NeoCity Academy and Tohopekaliga High School, as well as a SLAM (sports leadership and management) School.
• Valencia College has campuses in Kissimmee and Poinciana.
Source: Osceola County government