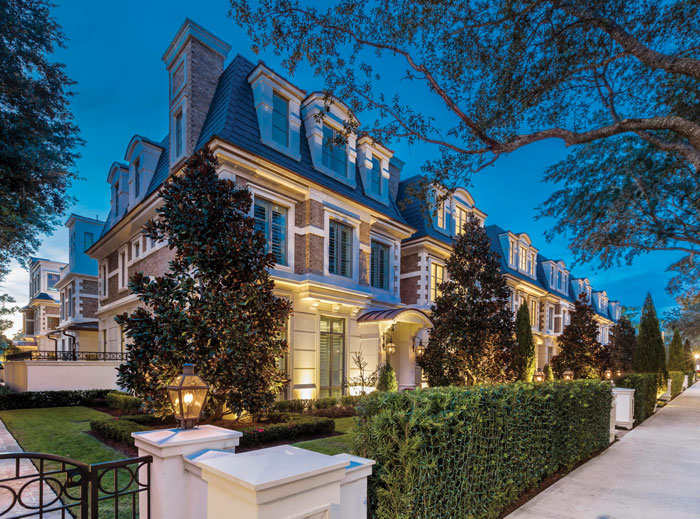 The seven townhomes encompassing Park Hill sit directly on Park Avenue, representing the only new residential construction in Park Avenue's historic downtown district, which is packed with upscale retailers, restaurants and museums.
ONE-OF-A-KIND NEW TOWNHOMES ON PARK AVENUE
Drew Hill, a principal at Oviedo-based Hill Gray Seven Development, isn't shy about extolling the virtues of the company's new Park Hill luxury townhome community in historic downtown Winter Park.
This is a one-of-a-kind, ultra-luxury product," Hill says. "There are luxury products in Orlando. But no one has attempted anything like this, which is comparable to what you'd see in Chicago, Los Angeles and New York. We wanted to bring that to Winter Park."
The community — located at the corner of North Park Avenue and Whipple Avenue, across from the Winter Park Country Club — has been an instant success as well as a legacy development that will almost certainly be as breathtaking in a generation as it today.
"If you drive by, this fits in with Winter Park right away — and 20 years from now it will still stand the test of time," adds Hill, who built the project where a small circa 1960s apartment building had incongruously previously stood.
There are 10 classically styled, three-story townhomes, each encompassing 4,300 square feet, with prices ranging from roughly $2.85 million to $3.7 million, depending upon features.
Seven townhomes sit directly on Park Avenue, representing the only new residential construction along the iconic stretch of the "The Avenue" that encompasses its quaint downtown district, packed with upscale retailers, restaurants and museums.
In fact, Park Hill may well be the last new residential construction along Central Florida's most famous stretch of asphalt — well, of bricks, really. There is no other vacant residential property nearby and no buildings that appear likely candidates for demolition and redevelopment.
A Park Hill townhome comes with fee-simple ownership and a homeowners' association that handles all exterior maintenance.
In terms of materials, look for handmade tumbled brick, soundproof hollow-core floors, slate roofs with copper detailing, high ceilings, window walls, French doors, custom built-ins, intricate trim and crown molding, custom closets and smart-home technology.
Each townhome has three bedrooms plus a bonus room, gourmet kitchen, private elevator, outdoor summer kitchen, rooftop terrace, private entrance and two-car garage.
Posh? Lavish? You'd better believe it. Park Hill townhomes offer everything discriminating buyers would demand in a home five times the price, as company principals repeatedly have stated.
This is 'lock and leave,'" Hill says. "Buyers live in lakefront homes of 8,000 and 12,000 square feet and want to downsize. But they want to downsize into something that's the biggest product in town."
The proof of success for Park Hill? At press time, more than half the units had been sold. Some were purchased before ground was broken, thanks to a Hill Gray Seven publicity blitz and the inherent appeal of a location that was previously thought to be unattainable with new construction.
Further evidence of success comes from Hill Gray Seven Development itself, which has more than 75 years of combined industry experience and has been involved in planning, permitting, financing and building in 15 states.
The principals have been there and done that, as the saying goes — just nothing quite like Park Hill. Then again, nobody else has, either.