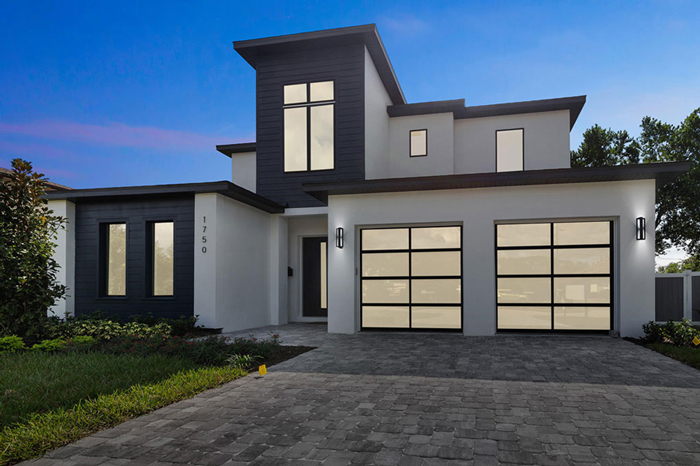 Anchor Homes' recently completed Newport model, on Palmer Avenue in Winter Park, is a modern four-bedroom home with an office, a game room, a summer kitchen and large lanai around the swimming pool. The home was listed at $1.1 million.
ANCHORED BY A COMMITMENT TO CRAFTSMANSHIP
The approach at Anchor Homes is a simple one: Each home is built with personal attention to detail — as if it was intended for a company principal to live there.
Or, as Jordan Suglio, vice president of sales and marketing, describes it: "If a model isn't good enough for us to live in, then we don't expect our buyers to live in it."
With a focus on Central Florida, Anchor Homes is building a business foundation based upon long-term relationships with the region's top craftspeople, subcontractors and real-estate brokers.
Meanwhile, several decades of combined experience among the company founders in both construction and finance mean top-notch homes offering buyers plenty of bang for the buck. "We take a lot of responsibility when it comes to craftsmanship," Suglio adds.
And that all matters quite a bit in the highly desirable neighborhoods where Anchor builds and competes for the attention of savvy buyers.
On Palmer Avenue in Winter Park, for example, construction was recently completed on a modern four-bedroom home with an office, a game room and a summer kitchen and large lanai around the swimming pool. It was listed at $1.1 million.
Available this summer will be a contemporary home on the shoreline of Lake Nona within the guard-gated Waters Edge community. The home will feature an oversized three-car garage, a first-floor master suite, a pool and cabana, and a second-floor "teen loft." It will be listed for $2.2 million.
One more example: In downtown Orlando, Anchor Homes recently completed a 3,200-square-foot home with four bedrooms, 3.5 bathrooms, a large front porch and an oversized covered lanai and pool. It sold for $800,000.
The Anchor Homes co-presidents are Rich Browning and John Suglio (father of Jordan). Browning began his career as a banker for regional homebuilders before entering the profession himself.
John Suglio began his career in Ohio in 1981 with his family's concrete company. After moving to Central Florida in 2001, he founded ODC Construction, which grew to be one of Florida's largest framing and shell contractors. At its peak, ODC had more than 160 employees in multiple states.
ODC was sold in 2010. A year later, Browning and Suglio came together to create Anchor Homes along with other veterans from other successful homebuilders such as Ryland Homes and Rey Homes.
Now, Anchor Homes is making quite a name of its own and appears to be firmly anchored in Central Florida's most desirable submarkets.