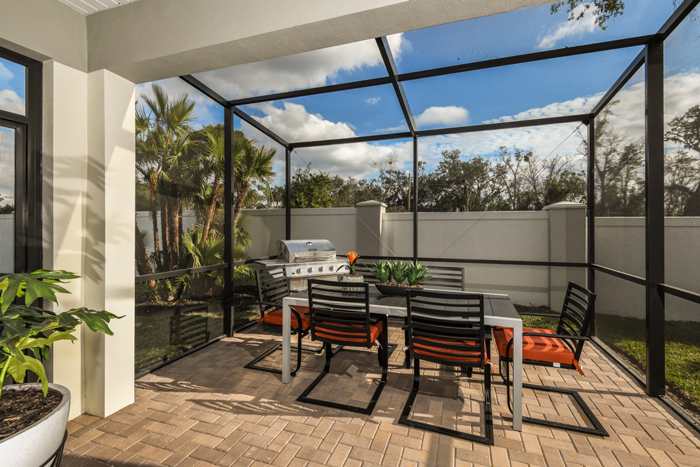 David Weekley Homes' Lubbock model, at 2,174-2,188 square feet, is priced from $312,290. It boasts a well-equipped and welcoming outdoor living area.
WHAT'S HOT FOR 2019
By Mick Lochridge
With the holiday shopping season over, it's time to focus on that one big gift you promised yourself for the new year: a new home. Just as you spent hours poring over the latest and greatest toys and gadgets to buy the kids and grandkids, you'll want to research what's hot, what's not and what's timeless in new-home building and design.
Not surprisingly, many features that have gained popularity in recent years still are on the list — such as large kitchens and bathrooms, open floorplans and plenty of storage.
In addition, there are many amenities once thought of as upgrades that are now becoming commonplace — such as seamless indoor-outdoor design, smart technology, three-car garages and a healthy living environment.
One thing that's not so hot anymore is the formal dining room, which has given way to more open space in the home. All those trends hold true in production and custom homes.
"Open-plan design is huge due to its practicality," says David Pillsbury, principal designer with Keesee Associaties (gokeesee.com), an architectural design firm in Apopka. "Families want to spend time together. They have less desire for formal dining and compartmentalized rooms.
Pillsbury says that open floorplans offer more efficient use of space, which translates into less square footage needed. The less square footage, generally speaking, the lower the price.
With mortgage interest rates expected to tick upward, affordability is no small concern.
The median price of a new home in 2018 was $269,754 in Lake County, $280,637 in Osceola, $331,578 in Seminole and $350,490 in Orange, according to John Weeden, Southeast regional sales director for Meyers Research.
The median price of a new home in the Orlando-Kissimmee-Sanford statistical area was $310,122 for 2018 — down 1 percent from the previous year. Still, many of us can remember a time when a $100,000 home was considered pricey.
Pillsbury was one of several Central Florida architects and homebuilders who shared their expertise on what potential homebuyers will encounter as they begin their hunt for a new place to live.
Tony Weremeichik, principal architect with Canin Associates' Architectural Design Studio (canin.com) in Orlando, identified four key trends that homebuyers will find in Central Florida in 2019.
• Homes that are smaller overall but encompass welcoming open space.
• Homes with plenty of designed-in storage areas.
• Homes that cater to casual lifestyles.
• Homes with clean, simple architecture, such as transitional, contemporary or modern farmhouse.
Driving those trends, according to Weremeichik, are "affordability, cost of housing, entertaining friends and family, comfort and flexibility." He listed several popular features that homebuyers can expect to find both inside and outside new homes.
• High ceilings.
• Interior barn doors.
• LED lighting.
• Large kitchens with islands for seating.
• Walk-in pantries.
• "Whatever rooms" that can be used as wine rooms, pet suites or storage.
• Bonus rooms that can be outfitted like sports bars or "man caves."
• Outdoor living rooms with kitchens.
• Pocket glass doors that connect the indoors with the outdoors.
• Flex rooms that can serve home offices (with a bathroom) or guest rooms.
• Sheds that have separate entries, either attached or detached from the main home, and used as exercise rooms, workshops, "she sheds," sound studios or hobby rooms.
• Large showers in master bathrooms.
David Weekley Homes (davidweekleyhomes.com), one of the area's busiest builders with new communities throughout Central Florida, offers many of the trending features. Its homes range in size from 1,400 to 3,800 square feet and are priced from the $250s to $925,000-plus.
"In 2019, home design and décor will include an emphasis on luxury and low maintenance," says Brent Bartholomew, division president at David Weekley Homes.
That means, among other things, hard surfaces in place of carpet, including wood flooring on stairs and patterned floor tiles in bathrooms and kitchens. Also look for scratch- and water-resistant quartz countertops.
Plus, Bartholomew says, interior design is bringing the outside in with earth tones for walls and cabinetry, medium- and warm-tone wood flooring, and mixed metals for fixtures and finishes.
In the owner's bath, expect luxurious, spa-like features such as freestanding soaking tubs and Super Showers with tile that carries up to the ceiling, he adds.
The low-maintenance lifestyle for the home overall is important, too, with townhomes, garden homes and bungalows with small yards or provided lawn care growing in popularity.
Bartholomew notes that potential homebuyers collect ideas and inspiration from reading new-home magazines, watching home-design TV shows or surfing the internet to catch the latest trends.
"People want to see what the final installation looks like and then bring that inspiration to life in their own home," he says. "Builders then work to make it a reality."
Outdoor living areas are among the most popular trends with homebuyers, Bartholomew says, which is no wonder, considering Central Florida's temperate year-round climate.
"These spaces aren't simply extended covered patios," he explains. "Homebuyers are creating entire rooms as extensions of their indoor living areas, with plush furniture and outdoor kitchens or fireplaces to complete the space."
Minto Communities (minto.com), another homebuilder with projects in several Central Florida counties, provides its buyers with similar choices.
"A continuing trend is consumer demand for eco-friendly, energy-efficient, low maintenance homes," says William Bullock, Minto's division president.
Homebuyers also respond to spaces that flow seamlessly from indoor to outdoor living, creatively designed outdoor living spaces and private retreat areas. And don't forget multifunctional, easy-to-access cabinets in kitchens.
Bathrooms are becoming pampering places, with master suites encompassing walk-in showers, soaking tubs, double vanities and walk-in closets. Energy efficiency is important, as are two- and three-car garages and distinctive architectural details, Bullock says.
Phil Kean Design Group (philkeandesigns.com) in Winter Park, one of Central Florida's best-known custom builders, not only follows trends but has set quite a few itself.
Company president Phil Kean identified some trends that homebuyers can expect to see.
• Smart-home technology.
• Warm, earthy colors.
• Wood in kitchens.
• Brass tones in fixtures, hardware and furnishings.
• Hidden pantries.
• Wet rooms (a bathtub inside a shower).
• Multifunctional rooms.
• Indoor-outdoor living spaces that share the same finish materials.
"Also, our clients are asking for sustainability and green certifications, and some ask for electric car chargers," he says. "We're seeing an upswing in requests for basements, wine rooms and safe rooms."
Some clients ask for specific pet spaces and several have asked for so-called "dirty kitchens," which means there's a main kitchen but also one that's out of sight and need not be as pristine all the time.
Also, because of the proliferation of porch thieves, Kean is seeing more requests for outdoor lockable rooms where home-delivered merchandise can be stashed.
Kean summed up key trends this way:
• Seamless design from inside to outside, which has been a Kean trademark for years.
• Walkability to amenities.
• Open floorplans.
• Large garages that encompass storage space.
• Big bathrooms and spa-like master suites.
• Smart technology.
• Oversized kitchens.
• Value per square foot.
• Multigenerational/in-law spaces.
Pillsbury, with Keesee Associates, notes trends in architectural styling.
"Surprisingly, it looks like there may be an alternative to the contemporary look that everyone just had to have last year," he says. "'Transitional,' although not actually a style, is still a word being used to describe where people want to take their designs."
The farmhouse style is more popular now, Pillsbury adds, but a cleaner and more refined version. He also agreed that smart-home technology will be one of the key trends in 2019.
"Tech is king," he says. "We live in such a fun time as it relates to how high-tech offerings can improve our living experience. Not only has it become more affordable to include electronics and automation, it's become practical."
High-tech LED lighting, cellular security options and solutions for universal living have made it possible to live more comfortably than would otherwise be possible without technological advances and the decreasing prices of once-exotic features.
For Pillsbury and other designers and builders, creating the perfect place to call home is still the No. 1 goal.
"For more than three decades, I've believed it's about crafting a design for a family like a well-tailored suit," he says. "Life is stressful. People work hard to make a good living and they deserve to live in a place that provides a sense of calm and rejuvenation. Some modern amenities provide this — while for others it may just be having the ability to live in a trend-setting home."