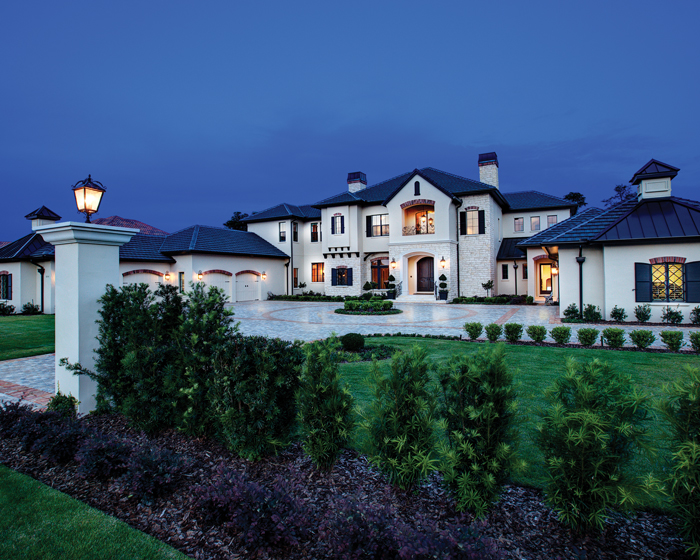 This stately Stonebridge Homes custom home in Keene's Point in Windermere exemplifies the company's painstaking attention to detail. Stonebridge builds just three or four homes annually, so every project gets the undivided attention of the company's owners.
MANOR: THE GUIDE TO CENTRAL FLORIDA'S LUXURY BUILDERS AND COMMUNITIES
By Michael Candelaria
BUILDING WITH FEELING
CUSTOM BUILDER PROFILE:
At Stonebridge Homes, pure instinct sometimes dictates design decisions.
Valery Tucker lets out a hearty laugh as she describes a typical walk through one of her homes under construction. She talks about painstaking attention to detail plus almost a sixth sense for design. Tucker simply calls it "a feeling."
"The house kind of transforms itself as it goes along. To me, a house has a certain feeling about it," says Tucker, co-owner of Stonebridge Homes, a Windermere-based custom-home builder. "And until you get some of the walls and the drywall up, and it starts becoming a home and feels a certain way, you can move that way in design."
Even if it means some last-minute changes. Like maybe removing all the crown moulding because "without" emerges as a better option for a more modern look:
"If you can do without changes, you don't need to make them. But when you walk around and you're feeling them, you just know you want to be able to make it as perfect as you can."
For good measure, Tucker adds: "Nothing is cookie cutter."
Such precision, often instinctive, is one of the reasons Stonebridge Homes has steadily ascended in Central Florida's ultracompetitive market for custom-home builders — the true start-from-scratch custom-home builders for buyers who insist upon one-of-a-kind homes.
Formed in 1996, Stonebridge Homes has built in Winter Park, Maitland, Orlando and Windermere. Today, much of its activity is at Golden Oak (near the Walt Disney World Resort), Isleworth, Keene's Point and Lake Nona. A contract hasn't been signed for less than $1.8 million — excluding land — in the past two years, Tucker notes.
Valery Tucker runs Stonebridge Homes, along with husband Gary Tucker and business partner Todd South. Each is a licensed contractor, with Gary also holding a Class A General Contractor's license.
He mostly handles the field supervision of construction work, while South, also an attorney, concentrates on the details of operation, including real estate acquisitions and financing.
That leaves Valery, who was a teacher until 1989, to make certain homes pass her scrutiny. She's also the client liaison, guiding them through each phase of construction and making certain that the company's foundational principles of "integrity, personal attention, communication and organization" are more than words.
With the company building just three or four homes annually, the principals can be omnipresent. That way, Valery says, decisions can be made on the spot and buyers can freely communicate with the people in charge. "We really love what we do, and we like to be involved," she explains.
Then comes another laugh. With her eye for detail, Valery likes to draw. "Somewhere in my ancestry somebody could draw," she speculates, pointing out that she's able to visualize descriptions from buyers and sketch them on paper.
"They're not fabulous sketches, but they're enough to communicate," she says. "I've actually framed them and given them as gifts. I say, 'Remember when your bathroom or your family room looked like this? And now look where we are.'"
In all, Stonebridge uses a team approach that includes an architect or home designer, a full-service interior designer, a landscape architect, and lighting and structural wiring experts, among others.
The results? Stonebridge has won numerous industry awards for design excellence, with homes typically featuring open floorplans, outdoor living rooms with summer kitchens and fireplaces, grand entrances, sweeping staircases and plenty of stone.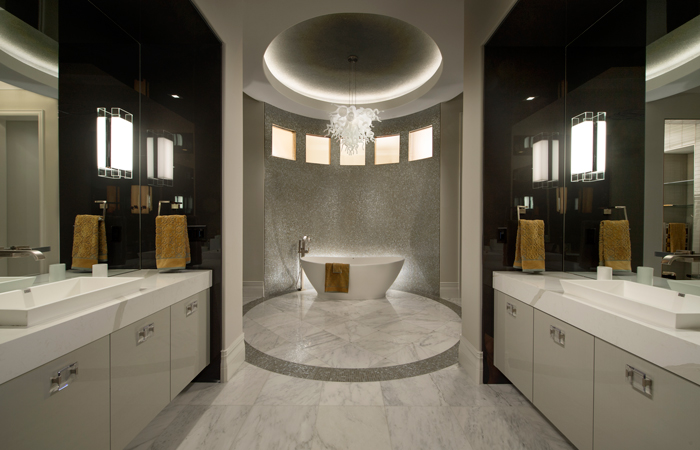 Other highlights of most Stonebridge creations are custom cabinetry and granite countertops, disappearing corner sliding doors, interior architectural ceilings, sports lounges and theaters.
Not coincidentally, Stonebridge Homes is a member of the highly selective Master Custom Builder Council, with South serving as a member of the organization's steering committee for the past two decades.
Participation with others in the industry is a must, according to Valery, who notes: "It's a constant learning process that we need to do and understand. And it's just giving back to the community."
Lately, just giving back hasn't been too difficult. The market has been strong, and as 2018 drew to a close Valery expected Stonebridge Homes to "flow nicely into 2019."
"I don't expect too many changes," she says. Of course, there will be changes — but likely she'll be the one making them during her walks through construction sites.
For more information call 407-879-8198 or visit stonebridgecustomhomes.com.