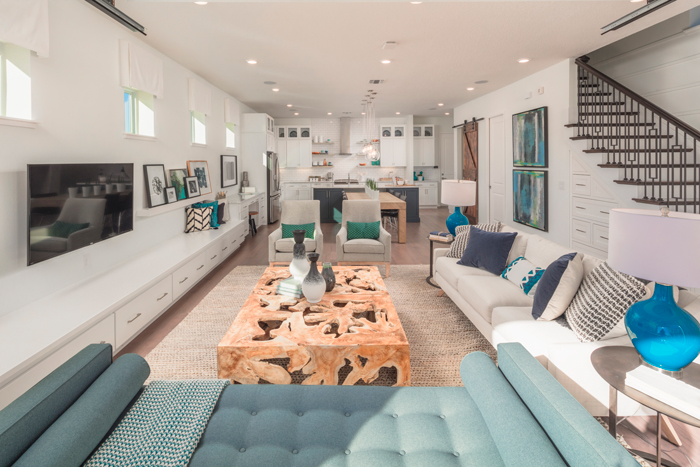 Craft Homes is building within Laureate Park, a vibrant community in the heart of Lake Nona. Lake Nona's commitment to innovation, sustainability and healthy living aligns perfectly with the company's commitment to forward-thinking design and homes built for active lifestyles. Shown is the Brewer "Mod" model living room. It's priced starting at $429,900.
AT CRAFT, VISION AND INNOVATION ARE THE WATCHWORDS
Craft Homes is one of the most innovative homebuilders in red-hot Lake Nona, a 17-square-mile master-planned community in southeast Orlando.
Lake Nona features a variety of popular neighborhoods along with a health and life sciences cluster, a sports and performance district, diverse workspaces and a variety of retail centers.
Among those neighborhoods is fast-selling Laureate Park, with its brightly colored bungalows, townhomes, cottages and multistory homes that are complemented by landscaped green belts, pocket parks and 44 miles of trails.
Craft Homes is smack-dab in the middle of it all — which is a good place to be considering the record-setting numbers posted by Laureate Park, a forward-thinking neighborhood with high-tech underpinnings where the streets are named for Nobel Prize winners.
Essentially, Craft Homes' charge is to creatively construct new homes in an ultra-fertile setting. For good measure, the company also built WHIT (Wellness Home built on Innovation and Technology), a living lab connected to the Lake Nona Institute that features an integrated set of health and wellness solutions and technologies.
Craft Homes is on the leading edge when it comes to working with buyers as well. Its collaborative approach is highlighted by "experience guides" who work with buyers along each step of the homebuilding journey. The Craft Homes premise: Build a home that the owners want — but one that also enhances their lives.
At Craft Homes the watchwords are vision and innovation — much like Lake Nona itself.
Generally, buyers can expect floorplans that are light and airy, green and livable, and tech-ready with modern styles and clean lines. Expansive kitchens open to living areas. Master suites are neatly hidden. Garages are oversized.
Homes are built for wellness with hypoallergenic carpets. Living walls, indoor herb gardens and light-infusing glass garage doors help bring the outside in. Natural lighting is abundant. Greenspaces and outdoor living areas are also de rigieur.
Storage areas are designed in, including high-support trusses built above the garage, and optimized storage features installed in kitchens and bathrooms. USB smart plugs are installed in special hidden drop zones.
Director of Construction Ernie Jaime likes to call the approach "crafted with thought." Jaime joined Craft Homes as a construction manager in 2016, shortly after the company was formed. He quickly advanced up the ranks, motivated by a goal to "make a difference in new-home building."
It's happening.