MANOR: THE GUIDE TO CENTRAL FLORIDA'S LUXURY BUILDERS AND COMMUNITIES
By Mike Candelaria
FOUNDING PRINCIPLE
CUSTOM BUILDER PROFILE: CHAD CAHILL'S PASSION FOR PERFECTION WAS INSTILLED EARLY.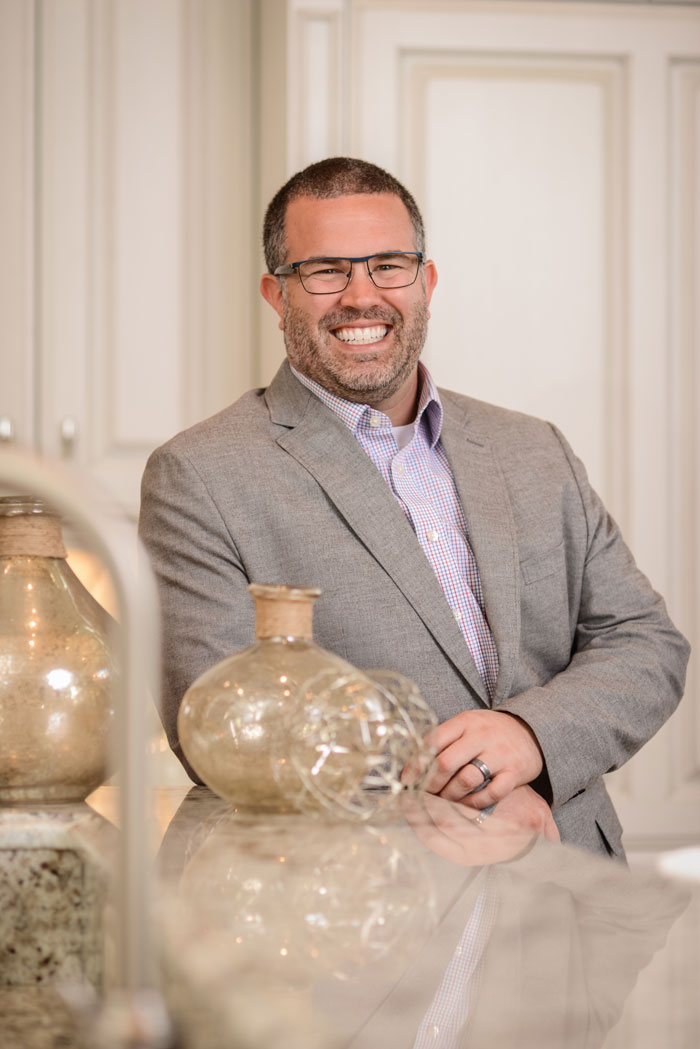 Chad Cahill recalls the conversations. They were years ago, when he was literally growing up in the homebuilding industry — yet the words still resonate.
His father, Steve Cahill, had founded Cahill Homes in 1977, just two years after graduating from the University of Florida, and distinguished himself, along with his company, as a builder of stunning high-end homes.
The hallmarks were creative design, top-notch craftsmanship and customer satisfaction. Also, there was an emphasis on trust between the builder and its trade partners.
"My father instilled in me the same principles he used in running his business," says Cahill, a native of Orlando. "So, I choose my words very carefully when I deal with my homeowners and my subcontractors. I want to be somebody who's trusted. The moment you lose that trust, it's very difficult to get back."
Attorneys, Cahill says, insist upon contracts. Of course, proper paperwork is necessary for everyone's protection and peace of mind. But as far as Cahill is concerned, his word is his bond. "I like to do things with a handshake," he says. "That's how we like to do business."
Today, decades later as a husband and father of two young boys, Cahill is continuing the same conversation: "I always hear my boys say, 'I promise you; I promise you.' What I say to them is, you don't need to promise. I say, 'Let your yes be yes, and let your no be no. Mean what you say and give thought to what you're saying.'"
That philosophy of business and life is why Cahill Homes has maintained a rock-solid reputation as a Central Florida custom builder, with success built on a foundation of honesty and integrity undergirded by what Cahill calls his three company pillars: realistic budgets, on-time delivery and great communication.
"Those pillars are really the central points of just about every decision we make," he says. "They're our filter."
Efficiency is an especially high priority, Cahill adds, noting: "Efficiency is a matter of using resources well and being smart with our time. It's also about hiring well and keeping the right people in the right seat on the right bus — all going in the right direction."
Cahill know his clients, many of whom are entrepreneurs, are busy in their day-to-day lives. "Surprises are meant for birthday parties — not for building a custom home," he says. "Before signing a construction agreement with Cahill Homes, our homeowners will know their bottom line and exactly what they are paying for. No surprises."
Cahill Homes is a design-build company, which means it oversees every aspect of a project, including hiring the architect and interior designer all the way through finishing touches to make moving day the exciting experience that it ought to be.
All the while, Cahill remains the sole point of contact, so customers don't need to worry about whether a change was communicated correctly or how it might impact the schedule or the budget.
"We've worked very hard to create a system that allows you to enjoy the process, without feeling overwhelmed or burdened," he says. "On the day we hand you the keys, I want you to walk in and say, 'Wow.' I want your expectations to be exceeded and for your home to be everything you hoped for."
Cahill is currently president of the Master Custom Builder Council, which represents 26 of the area's top custom and luxury homebuilders. It's an exclusive organization, with potential members carefully and thoroughly vetted for financial stability and customer satisfaction, among other criteria.
MCBC members are also true "custom builders," in that they're able to offer one-of-a-kind homes built from unique sets of plans or allow their customers to choose from existing plans that may be significantly modified if requested.
Not everyone who wants to join can meet MCBC's rigorous requirements. "We expect a lot of each other," says Cahill, whose father led the organization years ago and, in 1977, was named its Builder of the Year. The elder Cahill is now CEO of Cahill Homes while his son, a fellow University of Florida who also has an MBA from Bellhaven College, is its president.
Additional expertise is provided by Judd Webster, Cahill Homes' executive vice president, another Orlando native. Webster joined the company in 1980 and is the hands-on manager of everything related to construction.
Fun fact: There are two "Cahill" builders in the area. The original Cahill Homes is the one founded by Steve Cahill in 1977. The Dave Cahill Company, which also operates in the custom home market, is operated by Chad Cahill's uncle, Dave.
These days, Cahill Homes largely is focused on building primarily move-in-ready homes throughout expansive and amenity-rich Golden Oak at Walt Disney World Resort. The community's popularity keeps the company busy.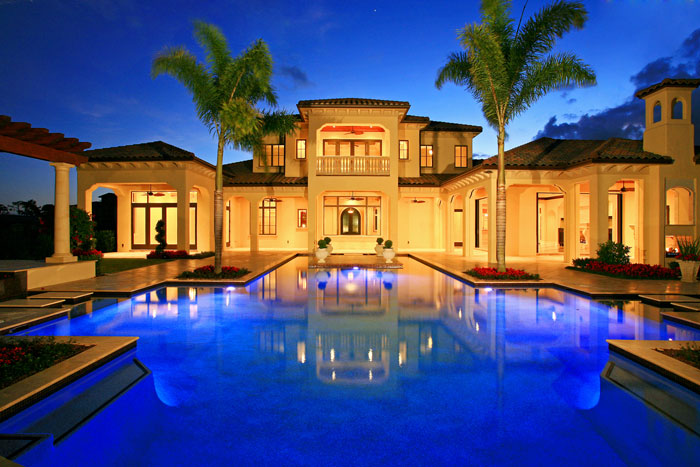 The company also builds custom masterpieces in Lake Nona Golf & Country Club, one of the region's most prestigious private communities. Its Tom Fazio-designed championship golf course is bordered by more than 1,000 acres of sparkling lakes, and residents include many world-class athletes as well as top-tier executives and their families.
In the City of Winter Park, where Cahill Homes is headquartered, the company's custom homes can be found on scattered homesites. Winter Park, where property values have soared, has lately been a hotbed for new-home building, mostly on lots where more modest homes had been.
But despite the activity in this affluent small city known for its brick-lined streets and cultural amenities, only a handful of builders — Cahill among them — are most often sought out by discerning buyers.
According to Cahill, the company's "sweet spot" is custom houses ranging from 4,000 to 4,500 square feet in size with four or five bedrooms. Buyers are looking for more open space, with great rooms and loft play areas being especially popular. An average Cahill home, including the lot, is priced at about $2.5 million.
Clients are happy. A recent review of Cahill homeowner feedback revealed this commentary: "Your experience and craftsmanship are unparalleled. Your patience and willingness to help us with some of the design changes are truly a gift."
Cahill is quick to attribute much of that success to his youthful past, lessons learned. "In our household," he says, "there wasn't much room for anything but excellence."
For more information visit cahillhomes.com or call 407-422-0733.
---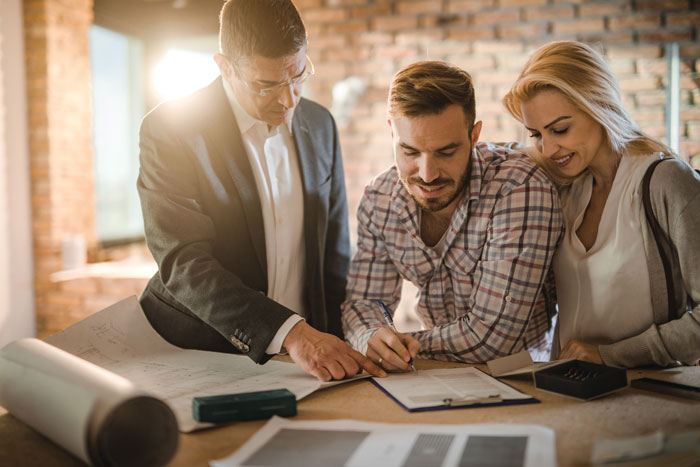 A REFLECTION OF YOU
A true custom home is a major investment. That's why experts say picking the right builder is key.
A true custom home reflects the individual tastes, needs and dreams of the homeowner. Building it is one of the largest investments you'll make during your lifetime — so the highest-quality craftsmanship and the most attentive service possible are mandatory.
Yet many people spend more time researching and investigating the purchase of a new car than the building of a custom home.
These days, people in every profession are pressed for time. So, how can you ensure that you'll get your money's worth from a custom builder — both during and following completion of your project?
The Master Custom Builder Council (MCBC), based in Winter Park but with members throughout Central Florida, can help you find the right custom-home builder. MCBC is a highly selective consortium of competitors who actually root for one another.
"MCBC builders have ideas that they don't share with others," says Pamela Davis, the group's executive director. "However, they recognize that if their competitors are successful and profitable, it might be easier for them to be successful and profitable as well. One member isn't the least bit threatened when another member is doing well."
All 22 MCBC members have undergone a detailed vetting process before membership is offered. In addition to checking on MCBC membership, though, there are other steps a buyer should take before signing a contract:
• Speak to at least five former clients. These references can provide invaluable information, and a builder should readily offer their names when he or she makes an initial presentation.
• Verify licensing. Is the builder a state-registered or state-certified contractor? All MCBC builders have a contractor's license from the State of Florida and own their companies. Visit myfloridalicense.com, call 850-487-1395 or download the free Department of Business and Professional Regulation (DBPR) mobile app to check for yourself.
• Evaluate track records. How long has the builder been in business? To become an MCBC member, a builder must be a permanent resident of Central Florida and must have been in the business of building custom homes for at least the preceding three years.
• Scrutinize business practices. Ask the builder for at least five credit references and contact the vendors to find out how the builder meets his or her financial commitments. MCBC members have their credit monitored monthly.
If everything checks out, you should then consider what style home you'd like. Look for a builder who has experience working in your chosen architectural genre and can make valuable suggestions on designs, material and finishes.
"Many of our members have niches," says Davis. "A niche isn't just a specific location. It can also be a style or design of a home, a marketing technique, a price range or a customer profile."
Also, consider personal rapport. All the ingredients of a good relationship — including trust, communication and compatibility — must be present. After all, the builder you select will be a constant presence in your life for at least eight months.
MCBC members believe you can't cut corners on integrity, craftsmanship or personal service. That's why they follow a strong Code of Ethics set forth by the organization.
Finally, a builder who is truly astute about buyer relations will continue to offer service after your home has been completed and you've moved in.
And remember: MCBC membership is an honor reserved for builders whose reputations have been established and sustained over time. Only MCBC builders' homes carry the MCBC Seal; The Seal of Homebuilding Excellence.
Contact the MCBC at 407-875-2121 or visit custombuilt.com for more information.
---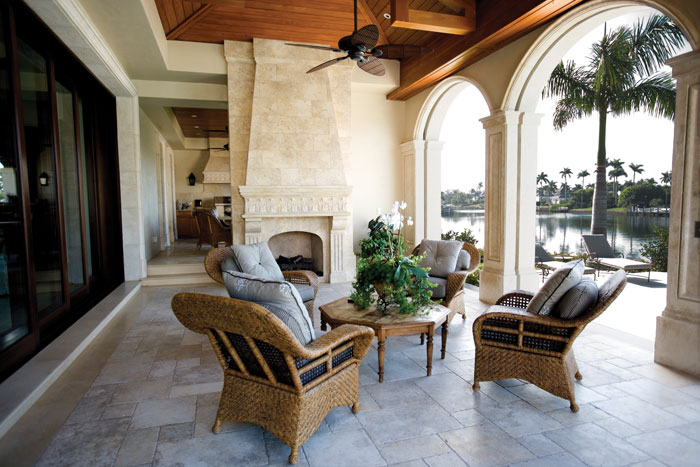 HERE'S WHAT'S HOT IN CUSTOM BUILDING
Master Custom Builder Council (MCBC) members keep up with what's going on in the industry. The group visits innovative homes across the U.S. and hosts speakers who discuss what's new and what's coming. Knowledge — along with craftsmanship, creativity, stability and service — is their competitive edge.
So, when we wanted to find out what's hot in custom-home building, we naturally asked MCBC members first. Here's what they pinpointed as the latest trends:
Although custom homes are usually larger, today's homeowners are placing less emphasis on square footage and more on the quality of materials. Also topping the wish list are more elaborate outdoor dining spaces with courtyards and fireplaces.
First-floor guest suites are popular these days, while secondary bedrooms now often have private bathrooms. Taller vanities, fireplaces and fountains adorn lavish master bathrooms, as well as his-and-her vanity areas with stone flooring and lots of mosaic tiles. Black accents are being used along with polished nickel and brushed chrome fixtures.
As for kitchens, cooktop hoods are getting special attention. Hoods, of course, are essential for proper ventilation. But today they've become akin to signature pieces of art, handcrafted from copper, glazed tile, stainless steel and various stones.
It's common now to see more contemporary kitchens equipped with large commercial stainless-steel appliances. Colored concrete countertops are now being used for outdoor summer kitchens.
There are also notable trends in flooring. Lower-pile carpets with woven patterns and textures and even high-end commercial carpeting is being used in new custom homes. More exotic woods, such as bamboo, are becoming more popular.
Entry doors are much larger, with wrought ironwork, glass etchings and detailed panels. Interior doors are also taller and wider, with glass and wood inlays and unique detailing.
Exteriors include more architecturally correct details and deeper colors. Large, intricately detailed fixtures that complement the home's architecture are being used extensively. Oversized chandeliers, for example, are popular in dining rooms.
Large patios that offer a resort-style vibe with comfortable furnishings and fireplaces are important — particularly to homeowners who enjoy entertaining.