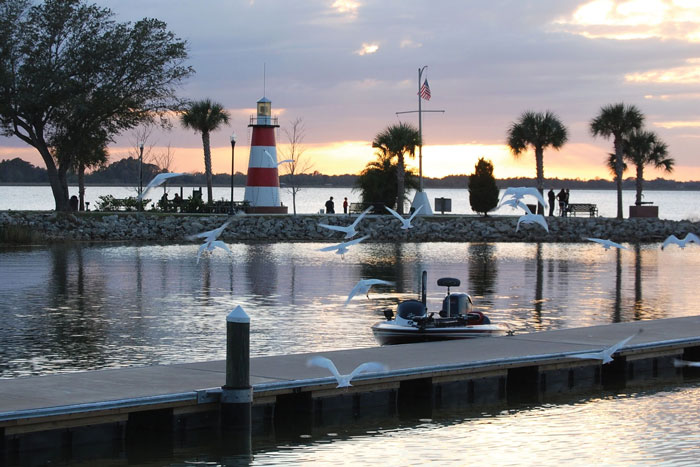 One of Lake County's iconic structures is the Mount Dora Lighthouse in Grantham Pointe Park, next to the Mount Dora Marina. The lighthouse, which functions and is registered with the state as an inland navigation aid, was created from road rubble in 1988.
GROWTH WAVE WASHES OVER LAKE COUNTY
SMALL CITIES ARE BECOMING BIGGER CITIES AS MORE HOMEBUYERS DISCOVER THE RURAL CHARM — AND UNEXPECTED CONVENIENCE — OF LIVELY ORLANDO'S NEIGHBOR TO THE NORTH.
By Mick Lochridge
Sitting in the center of the Florida Peninsula, Lake County offers boundless outdoor recreation and a collection of Mayberryesque small cities — all boasting easy access to major urban centers and area attractions.
Home to more than 346,000 people and growing, the dogleg-shaped county covers 1,157 square miles that stretch from the northern tip of the Ocala National Forest to its southern border with Polk County.
There are more than 1,000 freshwater lakes and rivers — it's called Lake County for a reason — including the St. Johns and Wekiva rivers, which form the county's eastern border with Seminole and Volusia counties.
But, like most Florida counties, Lake faces a considerable challenge when trying to balance protection of its abundant natural resources with creation of a positive environment for the development of new homes and businesses.
"Central Florida is one of the state's fastest-growing regions, and we continue to carefully look at how to absorb that growth in a well-planned manner — with emphasis on protecting our quality of life," says Brandon Matulka, executive director of the county's Agency for Economic Prosperity.
There are two distinct areas of the county where major road and residential projects will draw the map for the future:
• South Lake, where growth expands from Orange County to the cities west along State Road 50 and south along U.S. Highway 27.
• East Lake, where the Wekiva Parkway will connect Mount Dora and its neighbors to State Road 417 and Interstate 4 in Sanford, completing the Central Florida beltway.
SOUTH LAKE
Hot spots include the cities along State Road 50 and on thousands of acres that abut the massive Horizon West development in southwest Orange County — all the way south to the Four Corners area.
"South Lake County offers a unique quality of life with a large amount of housing options," says Matulka. "It's also home to a diverse business community."
And that's not all. South Lake offers hundreds of lakes and rivers, miles of beautiful bike trails, a strong family orientation and an emphasis on health and wellness.
So far, the area has maintained a peaceful — and in places rustic — ambiance, although big-city amenities are nearby. From some areas of south Lake, for example, downtown Orlando and the attractions can be as close as a 15- to 30-minute drive.
In addition to growth in the cities of Clermont, Groveland and Mascotte, there are two other areas pegged for significant development.
There's The Hills of Minneola, which includes 4,200 residential units and is within the city limits of Minneola (population 11,500); and Wellness Way, which is capped at about 16,000 residential units and bordered by Horizon West and U.S. Highway 27.
At more than 1,800 acres, the Minneola master-planned project straddles all four corners of the Florida's Turnpike interchange that opened last year. Plans call for a mix of office, retail and residential uses.
At 15,500 total acres, Wellness Way contains about 12,000 buildable acres with about a tenth of that —1,200 acres — slated for nonresidential development, according to Matulka.
"Some of the major areas of focus Wellness Way are open-space requirements, trail development and connectivity, environmental protection, water conservation and technology infrastructure," he adds.
One of the most critical Wellness Way elements is the proposed infrastructure network, which includes three east-west connectors linking U.S. 27 to State Road 429.
South Lake — with its lakes, pastures and plant nurseries — is known for its rural charm and its highly rated schools, including the private Montverde Academy and the Clermont campuses of Lake-Sumter State College and the University of Central Florida.
In terms of continued growth, the Four Corners area — where Lake touches Orange, Osceola and Polk counties — has been growing steadily for years. Now the pace is quickening, as evidenced by the opening of a satellite hospital facility by South Lake Hospital in Clermont.
To balance growth with environmental concerns, Matulka says, the county focuses on clustering developments — condensing growth into smaller areas while leaving larger areas untouched.
With a population of 35,700, Clermont is the largest municipality in Lake County. Another 10,000 residents are expected to arrive in the next 10 years.
Currently, there are more than 3,000 single-family homes either under construction or in the planning stages in six projects — chiefly in the southern and eastern sections of the city, according to Development Services Director Curt Henschel.
Adds Clermont City Manager Darren Gray: "City leaders are committed to preserving the most popular characteristics that draw people to Clermont — its hills and lakes."
For example, because Clermont is a bicycle-friendly city, new roads must include bike lanes. Building standards are tough, and new development must show that roadways can accommodate more traffic and that schools can accommodate more students.
Homebuilders know that the market holds plenty of opportunity.
AV Homes, for example, offers two developments — Louisa Grande and Sawgrass Bay — south of the city along U.S. 27. Plans call for 163 homes in Sawgrass Bay and 75 in Louisa Grande.
Homes in Sawgrass Bay are priced from $241,000 to $300,000, while homes in Louisa Grande are priced from $255,000 to $313,000. Homes in both developments range in size from 1,687 to 2,800 square feet, according to Kelley Finley, vice president of marketing for AV Homes.
Construction on both neighborhoods started this past summer, and Finley says the company has plans to start a new Clermont-area development — Crestview — next year.
South Lake is attractive to homebuyers for several reasons, not the least of which is value. Finley says buyers appreciate open floorplans, large kitchen islands, large master showers and oversized pantries — and often find that they can get more bang for their buck in Lake County.
Both Forbes and Money magazines have listed Clermont as one of the top U.S. cities for retirees, while the Orlando Business Journal named it the 2016 Best City in Central Florida to Live In. It's on the Clermont Chain of Lakes and the Florida Coast-to-Coast Trail.
The city's two major crown jewels are Waterfront Park and the Clermont Arts and Recreation Center on U.S. 27.
The two-square-mile park hugs Lake Minneola and includes a trail, a swimming beach, a splash pad, a boat ramp and a waterfront restaurant as well as fishing piers and playgrounds.
The 69,000-square-foot rec center includes three swimming pools, a gymnasium and the county's largest performing arts center.
Groveland lies a few miles west of Clermont on S.R. 50. Its population is 15,200 but is expected to climb beyond 27,000 by 2030. There are more than 3,000 homes currently underway, with another 2,000-plus in the planning stages, according to City Manager Mike Hein.
Many of those developments are between S.R. 50 and S.R. 27.
One of the most popular is Eagle Pointe, built by AV Homes. It offers homes priced from $220,000 to $267,000, with sizes ranging from 1,687 to 2,802 square feet.
Homebuyers are attracted to Groveland's natural beauty and its variety of housing options, which include everything from energy-efficient, gated communities for active seniors to lakefront estates and homes targeted toward first-time buyers.
"With rolling hills overlooking a vista of lakes and breath-taking sunsets, Groveland residents are immersed in a 360-degree view of old Florida beauty that's just minutes from Disney and downtown Orlando," Hein says.
The farthest west of the cities on S.R. 50, Mascotte also is the smallest in population, at just 5,600. But it's expected to grow to 7,500 in the next 10 years, according to City Manager Jim Gleason.
Residential growth hot spots are north of S.R. 50 along County Road 33, and in southwest Mascotte along South Bay Lake Road. The city issued 100 single-family residence permits from October 2017 through August 2018, Gleason says.
"That's not a lot in some cities, but it's a significant increase for the City of Mascotte," he notes. "The city is encouraging not only single-family home developments, but also infill projects, townhomes and duplexes to provide a variety of homeownership options."
Gleason's description of his city could apply as well to the other communities of south Lake County, where new residents are discovering that there are still places to live beyond the urban noise.
"Mascotte is a city that offers an escape from the hustle and bustle of bigger cities, but also provides its residents short drives to the amenities and jobs in the bigger cities," Gleason notes.
EAST LAKE
"A road to the future" may be an apt phrase to describe the Wekiva Parkway, the metro Orlando beltway's final section that will cut through east Lake County and connect Mount Dora and its neighbors to the area's highway systems.
In doing so, the 25-mile roadway project will bring thousands of new homes to the rural area known for its stands of pine trees, greenhouses and black bears.
Running north from State Road 429 in Apopka, the toll road forks just south of Lake County, with the main section running south of the small communities of Sorrento (population 861) and Mount Plymouth (population 4,011).
Upon completion, it will cross the Wekiva River and connect to State Road 417 and Interstate 4 in Sanford. The final section is scheduled to open in 2022.
The western spur — State Road 453 — ends at State Road 46 near Mount Dora. That area is the future home of the Wolf Branch Innovation District, a 1,300-acre site that will feature a mix of residential, office, retail, industrial, high-tech, educational and institutional uses — as well as a network of bike trails, outdoor spaces and natural features.
"The area is expected to be a vibrant and impactful job-generating community," says Matulka of the county's Agency for Economic Prosperity. "We believe this project will open the region to new and accelerated economic opportunity, and it advances Lake County's objective to increase job creation and wages."
Increased job creation and wages will attract homebuyers and enhance the City of Mount Dora's reputation as a creative and eclectic community. "These characteristics are attractive to technology-based companies and will advance higher quality job creation in the Wolf Branch Innovation District," adds Matulka.
Population forecasts call for more than 2,400 residents in the district by 2024 and more than 4,200 by 2030, says city Planning Director Vince Sandersfeld. Mount Dora's population of about 14,000 is expected to soar to about 20,000 in 10 years.
Mount Dora Mayor Nick Girone says the city already has started installing lines for water, reclaimed water, sewerage and high-speed internet along the roads leading to the Wolf Branch Innovation District.
"This gives the city the ability to handle a number of residential and commercial developments," he says, adding that the entire city will benefit from the Wekiva Parkway.
"The parkway gives Mount Dora an exit off a major highway system," Girone says. "It will bring a whole group of people who have heard about us and will now have a way to reach us on a safe and friendly roadway."
In the face of growth, he adds, city officials will have to be extra vigilant to make certain that the character of Mount Dora's bustling, picture-postcard downtown — with its festivals, mom-and-pop shops and eclectic restaurants — will be preserved.
Tavares, the Lake County seat and Mount Dora's neighbor just up U.S. Highway 441 — also stands to benefit from proximity to the Wekiva Parkway. With a population of 16,300, the county seat expects to grow to 25,000 in the next 10 years, according to City Administrator John Drury.
The city boasts a range of homes at all price points and sizes. Many homes front lakes and are near parks, schools, healthcare facilities and an entertainment district.
Central Florida homebuilders have long known that Lake County was a hot spot for growth. The Wekiva Parkway and the Innovation District will bring more attention to the fast-growing area north of Orlando.
M/I Homes, for example, is building Serenity at RedTail on S.R. 46, just more than a mile from the highway's current intersection with the parkway. Homes there are priced starting in the low $300s and range in size from 3,000 to more than 5,000 square feet. The neighborhood adjoins the RedTail Golf Course.
Not too far north of the Innovation District, the Lakes of Mount Dora offers an active-adult community. Developed by Medallion Home, the 55-plus neighborhood offers homes priced from the mid-$200s that range in size from more than 1,500 to more than 3,200 square feet.
With homes either on the water or with a water view, residents have easy access to fishing and boating, says Sarah Ozgun, Medallion's director of marketing.
Residents also are close to the "Golden Triangle" of Mount Dora, Tavares and Eustis.
"Each one of these cities hosts an array of activities and events, and each is within 10 to 15 minutes of the Lakes of Mount Dora," Ozgun notes, adding that the neighborhood is just 30 to 60 minutes from the beach, the attractions and Orlando International Airport.
---
WEKIVA PARKWAY
THE FINAL SECTION OF ORLANDO'S BELTWAY
The Wekiva Parkway (State Road 429) is a 25-mile toll road that will complete the beltway around metropolitan Orlando. Costing an estimated $1.6 billion, the road is scheduled to be completed in 2022. This year, 13 miles have opened to traffic.
Beginning just north of Apopka, the parkway connects with the Daniel Webster Western Beltway (State Road 429). From there it runs north to a fork just south of the Lake County line. The western spur, State Road 453, ends at State Road 46 east of Mount Dora. Work is underway to rebuild the intersection of U.S. Highway 441 and S.R. 46.
The parkway's main section runs east and north along the S.R. 46 corridor until it connects with the Central Florida GreeneWay (State Road 417) in Sanford.
Designed to reduce traffic congestion on U.S. 441, S.R. 46 and other area roads, the parkway will feature all-electronic tolling so motorists won't need cash.
Because the parkway crosses the environmentally sensitive Wekiva River Basin, the project sets aside more than 3,400 acres for conservation.
In addition, there'll be three wildlife bridges and a new longer, higher-profile bridge over the Wekiva River. Much of the parkway will be elevated to reduce accidents between vehicles and wildlife.
A multiuse trail will parallel sections of the parkway, further opening the area's state-owned natural lands to hikers and bikers.
The Wekiva Parkway Trail is planned to tie into a proposed extension of the West Orange Trail in Orange County, the Lake-Wekiva Trail in Lake County and a planned extension of the Seminole-Wekiva Trail in Seminole County.
The S.R. 46 corridor is largely being replaced by the parkway and by parallel, non-tolled service roads, according to Mary Brooks, public information officer for the Florida Department of Transportation.
A few remnants of S.R. 46 will remain to provide private property access in east Lake County. There'll also be some short connector roads to get people to the service roads.
For more information, go to wekivaparkway.com.
— By Mick Lochridge