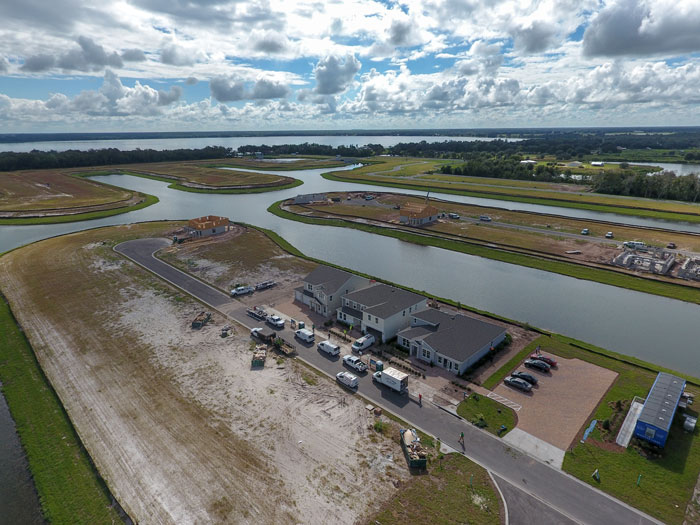 Each home will be built on a canal system (below and facing page) offering access to 3,400-acre, spring-fed Alligator Lake, which is part of the Alligator Chain of Lakes. The chain encompasses lakes Trout, Lizzie, Coon and Brick.
CANALS AND LAKES HIGHLIGHT LATEST HANOVER PROJECT
You can't talk about a Hanover Family Builders project without a little history lesson. The word "family" isn't used figuratively; this is really a family, with deep Central Florida roots and a homebuilding lineage that goes back for generations
Hanover Family Builders dates to the early 1900s, when William S. Orosz Sr. became a successful real estate entrepreneur in Royal Oak, Michigan, a suburb of Detroit. His only son, William Orosz Jr., followed his dad into the business and in the 1980s made his way to Orlando, where he became an industry icon.
Orosz Jr. was president of Catalina Homes, a regional homebuilder that grew to more than 1,200 starts annually. He then led Cambridge Homes through the recession of 1991, establishing it as one of the region's largest privately-owned homebuilders.
Then came Royal Oak Homes, which was recognized as the Fastest Growing Homebuilder in the nation by Builder Magazine in 2014 and 2015. That company was bought by AV Homes in 2016, and Hanover Family Builders was up and running shortly thereafter — with sons Matt, Steve and Andrew at the helm.
The siblings were raised in Central Florida, where they continue to live, work and raise their families. In an industry where decisions are often made in far-flung locales, Hanover's partners believe that their market knowledge and their ability to react quickly to changing conditions gives them a distinct advantage.
The result is a commitment to personal service, accompanied by the kind of craftsmanship you'd expect from third-generation builders who are steeped in tradition, but aren't shy about trying new approaches.
Consequently, the two-year-old company is making its own history by creating communities that are not only vibrant, but also a bit different. Hanover Lakes in the Osceola County city of St. Cloud is the latest example.
With construction just underway, Hanover Lakes is designed to be a community for people who want the ultimate in Florida waterfront living, according to Matt Orosz, co-president of Hanover Family Builders.
Think canals as well as lakes. Each home will be built on a canal system offering access to 3,400-acre, spring-fed Alligator Lake, which is part of the Alligator Chain of Lakes. The chain encompasses lakes Trout, Lizzie, Coon and Brick.
A lift will allow residents to get their boats from the canal into Alligator Lake, and the Kissimmee Chain of Lakes lies just beyond. Therefore, Hanover Lakes residents will be able to launch boats from their own backyard docks and have direct access to 85,000-plus acres of waterways that are brimming with largemouth bass, crappie, bluegill and shellcracker.
Additional community amenities range from a resort-style swimming pool/cabana and gated entrance to lush landscaping, tennis courts and easy roadway access — 6 miles from the Canoe Creek Road/Florida's Turnpike interchange, with U.S. Highway 192 and State Road 417 also nearby.
The price points are similarly uncommon. One- and two-story homes, situated on lots measuring 50 and 60 feet wide, are priced starting in the high $260s and reaching the low $400s. There are relatively low homeowner's association dues, too. Homes range in size from 1,711 to 4,418 square feet.
At the same time, all Hanover homes include a variety of popular and innovative features, such as Kohler digital showering systems, covered lanais, Samsung "SmartThings" hubs and flexible floorplans — components that make up the aptly named Hanover 4 Point Advantage.
Floorplans, for example, emphasize open kitchens and integrated living spaces to maximize square footage. Meanwhile, the hubs aren't simply an accumulation of multiple apps; they are expandable and adaptable.
Higher-end features are built in as standard, enabling buyers to receive desirable amenities without having to pay for numerous upgrades. It's reflective the company's "Hanover Bold" approach, which emphasizes innovation.
Finally, Hanover believes in the power of customization. The Hanover New Home Design Studio, built based on decades of experience, fosters an environment that caters to, not dictates, the tastes of buyers.
But the best amenity of all is the water. Last February, as Hanover was announcing plans for the new community, Matt Orosz made the statement: "Whether it's boating, fishing, jet skiing, kayaking or wildlife viewing, Hanover Lakes has it all."
That isn't just hype. Find out for yourself by visiting hanoverfamilybuilders.com.