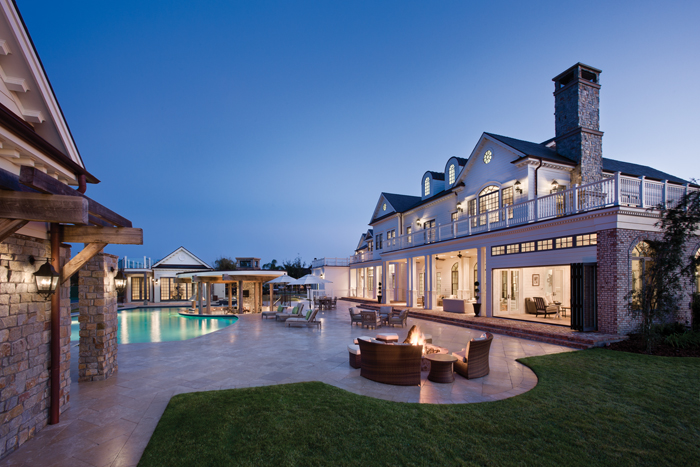 The aptly named "Big House" in Oviedo was by far the biggest project Zoltan Construction had ever undertaken. But it paid off, winning the Grand Award in the 2014 Spring Parade of Homes. The outdoor living area, with its pool, fire pit and gazebo, is nearly as luxurious as the indoors. Just outside of view is a tennis court.
WELCOME TO THE MAJOR LEAGUE
ZOLTAN KECSKES KNEW HE COULD BUILD ANYTHING. THIS $5 MILLION SHOWPLACE PROVED HE WAS RIGHT.
By Randy Noles
Although he was no newcomer to the homebuilding industry, Zoltan Kecskes had operated under the radar as a superintendent and project manager for large builders. He decided to start his own company in 2008, just as the real-estate market was beginning to crash, and recalls that his first job was a $150 stucco repair on a garage.
By 2014, though, everybody was talking about the friendly, unassuming native of Hungary. That year, he completed a $5 million custom home for a private client. The 15,125-square-foot mansion, located in Oviedo, won the prestigious Grand Award in the Spring Parade of Homes, sponsored by the Greater Orlando Builders Association (GOBA).
The spectacular, neotraditional showplace also won first place in its category, which included custom homes priced at more than $1.9 million.
"I'm booked all year," says Kecskes, whose company, Zoltan Construction, is based in Winter Park. "This was always my goal. I'd been a superintendent, and I enjoyed it. But I thought I could do better. So I persevered and I'm very proud of what we've done."
Kecskes came to the U.S. with his family when he was in high school. He earned a soccer scholarship at Florida International University in Miami, but had to quit school due to family issues.
"I thought I was destined to be a soccer pro," Kecskes says. "I'm a huge sports fan."
Instead, he worked as a general laborer before becoming an assistant superintendent for Maitland-based CED Construction; a superintendent for Kissimmee-based Avatar Holdings (now AV Homes); and a project manager for Howey-in-the-Hills-based Midday Constructors.
He met Gregg Hill, CEO of Hill Gray Seven, an Oviedo-based private commercial development and real-estate investment firm. Hill is also president of 7 Bo of Central Florida, which owns and operates Bojangles chicken restaurants throughout the region.
Kecskes was hired as a concrete subcontractor for a Bojangles outlet, and Hill was impressed with his savvy, his work ethic and his commitment to quality. One thing led to another, and Hill hired Kecskes to build his personal home.
"When we finished, we knew that home could win an award anywhere in the country," Kecskes says of "The Big House," which was designed by Reid Smith Architects in Montana. "But I wasn't well known. I started shopping it around to national magazines."
He was never daunted by the scope of the project, says Kecskes, even though it was orders of magnitude bigger and more elaborate than anything he had attempted before. "I knew what I could do," he states, adding quickly that he finds it distasteful to boast.
Still, Kecskes can be forgiven for expressing pride. After all, this is a truly amazing home. And by winning the parade, it also won Kecskes attention from potential customers and respect from the region's close-knit custom-home building community, some of whom had never heard of his company before.
Although he describes himself as "more of a builder than a businessman," Kecskes is taking his success in stride, learning to manage a staff — now numbering four — while remaining a hands-on builder. His company has completed more than 100 projects, including new homes, custom additions and commercial work.
Zoltan Construction also offers a thorough home-maintenance program that provides everything from pest control to pool repair and maintenance.
"We are truly a custom builder," says Kecskes, who lives in Maitland with his wife Sol and daughter Stephanie. "We're true to the custom name. That means we start from a blank canvas, and build one-of-a-kind homes. We get to know our customers, and build homes specifically for their lifestyles."
Zoltan Construction can build from an existing set of plans. But as a design/build company, it typically works with an architect starting at the design stage and takes responsibility for the entire project, from conception to completion.
The company had a $400,000 home in the 2015 Spring Parade of Homes. Although winners were announced after press time, the Oviedo home was sold even before the parade opened and was not available for public viewing.
Kecskes' clients aren't just the wealthy, however. He's worked with the YMCA to build affordable homes in the Dominican Republic and donates serviceable items salvaged from his remodeling projects to Habitat for Humanity Orlando.
In fact, even if someone else is remodeling your home, Kecskes will arrange for Habitat to get your usable fixtures, cabinets, mantels and countertops.
"Donating serves so many purposes," he says. "It saves room in our landfills and dumpsters. Plus, donations help fund jobs and, ultimately, someone might just be looking for your product that they can re-purpose."
Zoltan Construction's mission, in part, is "to provide customers a hassle-free and joyful building experience from start to finish."
"We're versatile," Kecskes says. "Our style is not modern. I'd say we're more rustic contemporary. But as long as it's tastefully done, we'll do any style. We don't limit ourselves."