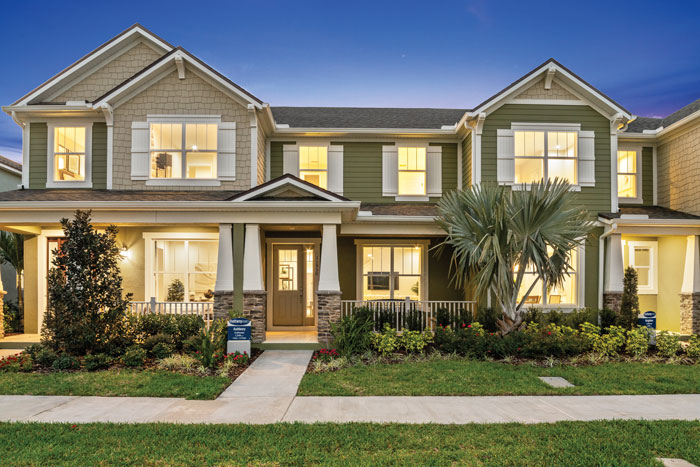 In the Meridian Parks neighborhood, Mattamy Homes offers the Ashbury townhome. Priced starting at $274,990, it encompasses 1,548 square feet with three bedrooms and 2.5 bathrooms.
BUYERS ARE FINDING LOTS TO LOVE ABOUT THE LAKE NONA AREA
IT'S BOOMING IN ORANGE, OSCEOLA COUNTIES.
The Lake Nona area is more than just the master-planned community. Sparked in large part by the 17-square-mile development, growth in southeast Orange County and north Osceola County has exploded in recent years and shows no sign of slowing.
Narcoossee Road, once a rural strip of asphalt snaking its way from U.S. Highway 192 in Osceola into southeast Orlando, is now a major thoroughfare lined with new-home developments and all manner of commerce. It seems that almost every business, school and neighborhood has the words "Lake Nona" in their names.
"In less than 20 years, the Lake Nona area has transformed from a mostly rural and inaccessible region to a vibrant and modern community," says Orange County Commissioner Maribel Gomez Cordero, whose District 4 includes Lake Nona. "It rivals downtown Orlando in terms of amenities and convenience."
Continues Cordero: "The ideas developed in this area have proven to be successful — and it has helped Lake Nona become a great place to live and work."
It was inevitable that such growth, while starting in Orange County, would avalanche into adjacent Osceola County. In fact, the company behind Lake Nona is playing a key role in driving that development.
Tavistock Development Company plans to follow its Lake Nona success with an even bigger master-planned community: Sunbridge.
With a range of neighborhoods, employment centers and commercial districts built around more than 13,000 acres of conservation land, the 24,000-acre development will be attractive to companies and residents who want to be near Lake Nona proper while enjoying Florida's natural landscape, according to Tavistock.
Drawn up in two sections, Sunbridge sits on nearly 5,000 acres east of Lake Nona in Orange County and on nearly 19,000 acres in northwest Osceola County. Plans call for a road to eventually connect the two.
Homebuilder Del Webb will provide the first residential neighborhood in Sunbridge. It's currently selling new homes in a gated 55-plus community in Osceola called Del Webb Sunbridge, which offers single-family homes priced starting in the mid-$200s with two to five bedrooms.
Plans call for more than 1,300 single-family homes and attached villas, ranging in size from 1,543 to 3,452 square feet. At press time, there were six model homes open at the site.
Community amenities will include a 27,000 square-foot clubhouse — set to open next year — which will feature a fitness center, a movement studio, an arts and crafts area, a kitchen, a ballroom and a multipurpose space.
There'll also be a health and wellness center, a resort-style pool, tennis and pickleball courts, and an event lawn and amphitheater for shows and other entertainment.
Other new-home communities in the Lake Nona region include:
Hanover Lakes (from the mid-$200s) and, coming soon, Wireglass off Jack Brack Road, both by Hanover Family Builders.
Woodlake Park (townhomes from the mid-$200s and single-family homes from the high $200s), Woodland Park (townhomes from the mid-$200s and single-family homes from the high $200s) and Hickory Grove (single-family homes from the mid-$200s), all by Taylor Morrison Homes.
Meridian Parks (townhomes from the $260s and single-family homes from the $310s), Randal Walk (townhomes from the $260s) and a 730-acre master-planned community, Tohoqua (townhomes from the $230s and single-family homes from the $250s), all by Mattamy Homes.
Moss Park Reserve (single-family homes from the mid-$300s) by Beazer Homes.
Sola Vista (single-family homes from the $300s) by K. Hovnanian Homes.
Creekstone (single-family homes from the $300s) and Rivercest at Narcoossee (single-family homes from the $270s), both by KB Home.
Arbors at Meadow Woods (townhomes from the mid-$200s) by Meritage Homes.
Sawgrass Plantation (single-family homes by Park Square Homes from the $320s and Beazer Homes from the $370s).
East (single-family homes from the $300s) and Twin Lakes (an age-restricted community with single-family homes from the $200s), both by Jones Homes USA. The company is also continuing in Eagle Creek (townhomes from the $350s and single-family homes from the $360s to more than $1 million).
Lakes of Harmony (an age-restricted neighborhood within the Harmony master-planned community with Jones Homes USA and Lennar Homes offering single-family homes from the mid-$200s). Both companies are also building elsewhere in Harmony.