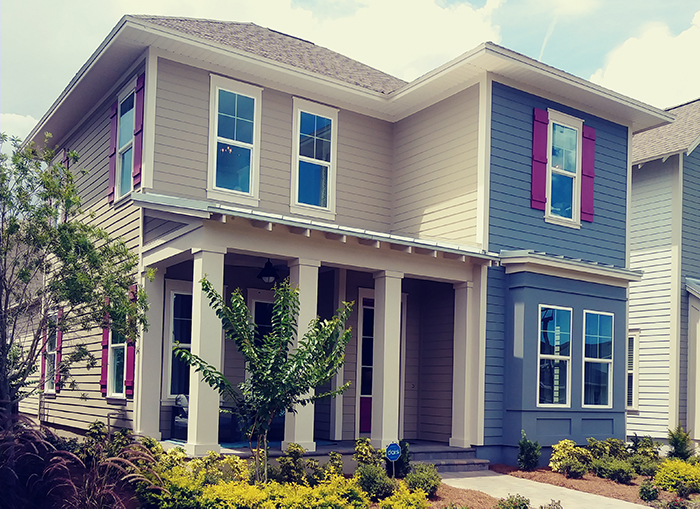 Dream Finders Homes' Mableton (exterior, above) features a breezeway that leads to a two- or three-car garage that can double as a guest entrance. Owners can get homes with an apartment or bonus room atop the garage.
IN LAUREATE PARK,THIS FLOORPLAN OFFERS FUN AND FUNCTIONALITY
Dream Finders Homes boasts the ability to personalize homes to fit lifestyles with an accent on practicality, functionality and fun. The privately owned national builder's two-story Mableton floorplan in Lake Nona's popular Laureate Park neighborhood offers ample evidence.
Total living area of 2,343 square feet comes with four bedrooms and three bathrooms and is priced just above $400,000. The floorplan measures nearly 96 feet deep and slightly more than 29 feet wide.
The Mableton's true value, however, lies beyond the numbers. Not coincidentally, it's among Dream Finders Homes' most requested floorplans.
Want practicality and functionality? The second floor contains both the master bedroom and two other bedrooms with respective adjoining bathrooms, making it ideal for young families — no fear of separation from the little ones.
Similarly, on the first floor the back area of the plan is reserved for "home central" — a clustered laundry room, closets, large areas for storage and an office, which comes standard.
Nearby on the first floor is a fourth bedroom, which makes for a cozy, private place for guests, along with an adjoining bathroom. A covered porch and breezeway that leads to a two- or three-car garage can double as a private guest entrance.
Owners even can build an apartment or bonus room atop the garage. A two-car garage apartment is priced at $82,390, with a three-car garage apartment at $115,390. And all the standard items included in the home also are included in the garage apartments.
Notably, the Mableton is the builder's least expensive floorplan that accommodates a garage apartment.
Looking for fun? The entry of the floorplan opens to expansive living and dining spaces, with 10-foot ceilings, while the kitchen is secluded off to the side, leaving plenty of room for entertainment. A gourmet kitchen is optional, as is a fireplace in the living area. Other options are also available.
As for flooring, if buyers opt to upgrade it's typically to a hard surface instead of carpet. In addition, the Mableton can accommodate a pool, even given Laureate Park's typically smaller lot sizes.
The Mableton, as promised, doesn't sacrifice style or value.