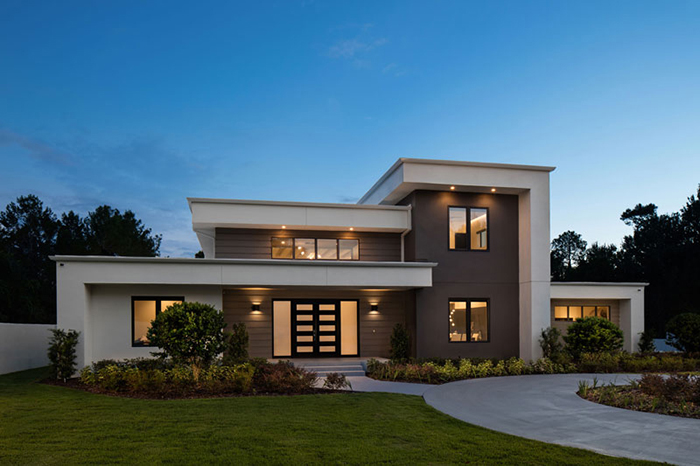 Check out this gorgeous custom home in the Dr. Phillips area designed by Phil Kean Design and built by Hardwick General Contracting. The front elevation reflects the home's modern style. But Hardwick is comfortable building in any architectural genre.
MANOR: THE GUIDE TO CENTRAL FLORIDA'S LUXURY BUILDERS AND COMMUNITIES
A COMBINATION OF GOOD BUILDING SCIENCE AND MOM-AND-POP SERVICE
Greg Hardwick Has Created a State-of-the-Art Business Using Old-School Values.
Hardwick General Contracting has built a successful company with a simple philosophy of "good building science" and "technical sense" combined with "mom-and-pop" service.
For a building industry professional with multiple awards and accolades to his credit, coupled with respect from his peers, Greg Hardwick, who earned a master's degree in engineering from the University of South Florida, certainly has an unusual method of self-promotion.
He begins by stating something his company doesn't offer: "We don't do specs or my own home designs," he says without hesitation.
Such is life (or business) when you're at or near the top of the food chain among the region's general contractors. Buyers know that Hardwick is more interested in building a home that makes a statement about its owner than he is in building a home that pushes a personal aesthetic.
"We can really build anything you bring to us," he adds. "That opens us up to unlimited styles and types of homes."
Hardwick, as the saying goes, is comfortable in his own skin. And why shouldn't he be?
The president/owner of Hardwick General Contracting is also the president of the Master Custom Builders Council (MCBC), which represents an elite and selective cadre of 26 of the area's leading custom home builders.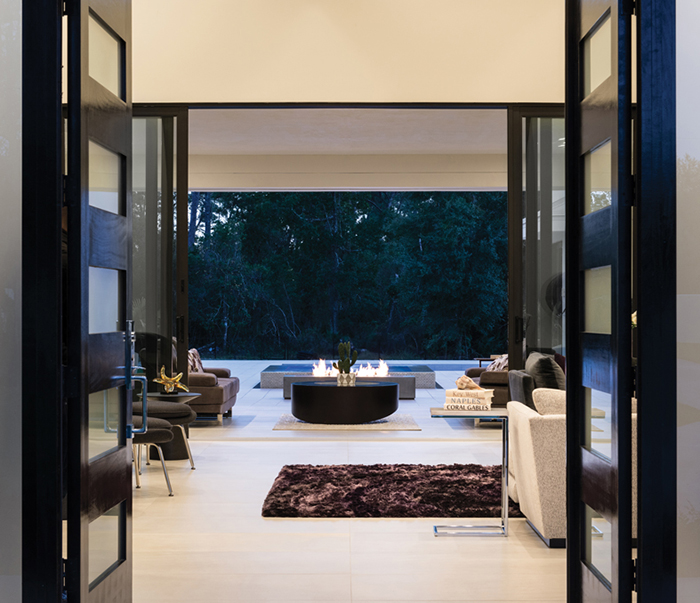 He's a proven winner. Hardwick has earned Builder of the Year from the MCBC, Remodeler of the Year from the Greater Orlando Builders Association (GOBA) and Project of the Year in Green Remodeling from the National Association of Home Builders (NAHB).
He's a proven leader, too. In addition to heading MCBC, Hardwick is a past president of GOBA and has served in various NAHB leadership capacities. He's also vice president of the Florida Green Building Coalition (FGBC) and has held numerous leadership positions within NAHB.
"There's nothing more educational than learning together with your peers and discussing issues among your peers," Hardwick says of his industry involvement. "Everybody is helping each other to become better."
Although Hardwick is a building industry lifer, he wasn't raised in the business. His father was an Air Force fighter pilot.
Instead, he started in construction in 1992, after earning his undergraduate degree in civil engineering from Florida State University. He moved to Orlando in 1997 and Hardwick General Contractors was incorporated in 2004.
Another key player in the family business is Hardwick's wife, Donna, whom he met at FSU. She's a CPA who brings more than 25 years of construction management experience to the enterprise.
Since he started building, Hardwick has cultivated a reputation for his "commitment to excellence," according to Rick Caccavello, president of Central Kitchen & Bath, who describes Hardwick's company as "one of the most professional builders in all of Central Florida."
Adds Caccavello: "They have a systematic, team-oriented approach to custom home building, and excel in project leadership and seamless job coordination. Their commitment to excellence in customer service is evident on every project."
Likewise, Mike Keesee of Keesee Associates — one of the regional building industry's top design firms — lauds the company's ability "to understand the building sciences and how to integrate them into the design process." Hardwick himself, Keesee says, has the "skills necessary to make it easy to design homes for his clients."
Hardwick takes such praise in stride. He even deflects plaudits of his forward-thinking approach on green construction. His company has achieved several firsts in the sustainability arena, including the first-ever FGBC Platinum Level certification almost a decade ago.
Yet, Hardwick calls being green nothing more than "good building science" that makes technical sense and saves buyers money while minimizing environmental impact. It's also good business, he says.
Hardwick and his wife rely on a handful of other principal contributors, including Justin Lednar, construction manager, who has a degree in physics and engineering. Office manager Jennifer Aldana plays a key role, he says.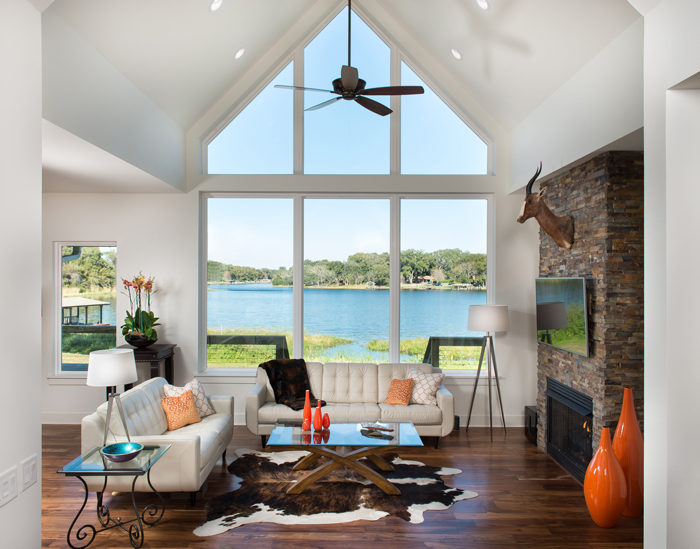 Not coincidentally, collaboration, customer service, personalized service and attention to detail are trademark characteristics of Hardwick General Contractors.
For good measure, Hardwick's two teenaged children, Grady and Haley, are involved. He notes that son Grady can name each of the company's recent projects and when they were completed.
Although there aren't plans to push the children into the business, Hardwick enjoys the fact that Grady and Haley "take a lot of pride in the company, the company's image, and in what we do."
And there's plenty to be proud of across Central Florida — even if the president/owner isn't especially boastful.
"Quality is our mainstay," says Hardwick. "And we're relationship-driven. You must be, in this business. We try to be very accommodating to our clients, to our owners."